The Xiaomi Redmi Note 5 is perhaps one of the best selling smartphones here in the Philippines, and if you haven't seen our review, you can check it out here. Today, Xiaomi announced a new color for the device – Flame Red. The phone will be available with 4GB RAM and 64GB storage.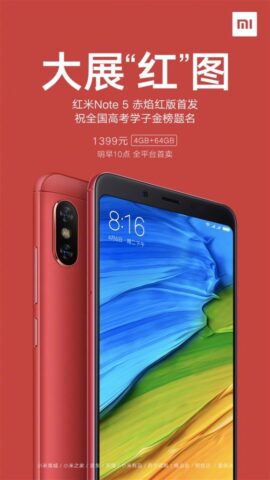 This fiery color will be available at a price tag of CNY 1,399 which is roughly $213 and sales start today. The total color choices for the Redmi Note 5 will now be five namely: Flame Red, Black, Gold, Rose Gold and Blue. We're also hoping that this variant becomes available locally.
Gianfranco is the co-founder of GadgetPilipinas.net. He graduated from Far Eastern University. A Psychology student turned tech-savvy. He's currently the HR Supervisor of Blip Media and one of the content producers of Gadget Pilipinas. He enjoys playing competitive video games and binge-watch American TV series.