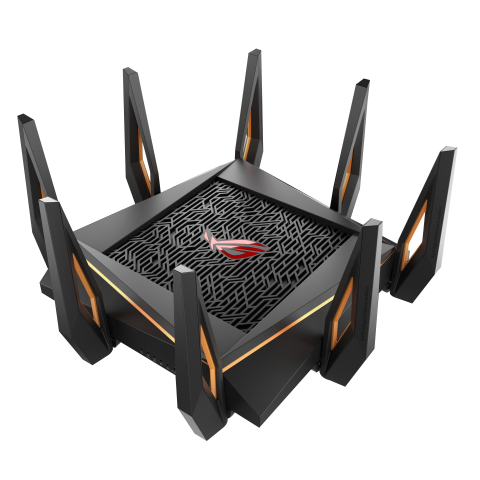 Apart from the new Delta Gaming Headset, ASUS ROG also unveiled a new high-end gaming router – the ROG Rapture GT-AX1100.
The ROG Rapture GT-AX11000 is the world's first 10 Gigabit Wi-Fi router that supports the 802.11ax Wi-Fi standard, which allows for 2.53x higher data compared to the 802.11ac 4×4 router. Furthermore, OFDMA support in the 802.11ax Wi-Fi standard allow for multiple devices to be grouped in each channel. This results to improved network efficiency by up to 4 times and reduced latency.
The device provides triple-level game acceleration for game traffic from the device to game servers. It also features a 2.5-Gigabit gaming port which prioritizes the device connected to it with 2.5 times transmit speeds, making ti a very good companion for 5 Gigabit LAN.
Users can turn Game Boost mode on and off to prioritize gaming traffic on the network, resulting to even better performance without the need for a mobile interface or a dedicated app. Lastly, it offers support for a GPN or Gamer's Private Network to ensure the use of the shortest possible route between the user's home and the game server. This means lower ping times and latency.