You know that we're a big fan of UGREEN. This 12.12, the company is once again offering a a deal on their latest portable fast charger. This time, our friends at UGREEN sent over a smaller version of the fast charger they sent last month. They also sent over a new USB-C to Lightning Cable PD Fast Charging Cable that definitely matches with the new charger.
Christmas is just around the corner and you're probably looking for the best gifts for your friends and relatives. If they happen to have treated themselves with a new smartphone, laptop or portable gaming console, they may certainly be interested to get themselves a charger that can help them simultaneously charge their gadgets.
UGREEN GaN X 65W charger
UGREEN chargers like this one is the perfect solution for those who own Ultrabooks that use PD charging bricks and supports fast charging. In fact, this charger, when used as the sole charger for a MacBook Pro 13, can charge it to 75% in just an hour. In my experience, it managed to fully charge my iPhone 13 Pro Max in just an hour. Of course, it'll be a different case if you simultaneously charge your devices using the UGREEN GaN X 65W charger.
Safety is Top Priority
Safety is UGREEN's top priority. Similar to the GaN charger we featured last month, this tiny 65W also packs the same safety technology. The charger uses third-generation gallium nitride semiconductor, which helps the charger generate less heat making it more efficient and safe in charger your devices. Just as usual and as I expected, the charger did not heat up, which is definitely a good sign.
The device also has Auto Matching Power feature, which intelligently assigns the right amount of charging delivery to specific devices connected to the ports. If, for instance, a single laptop that is compatible with PD65W is connected to the charger, it will automatically match the required power to optimize charging performance. However, if two or 3 ports are used for charging three devices, the charger will distribute it according to the connected device's charging technology.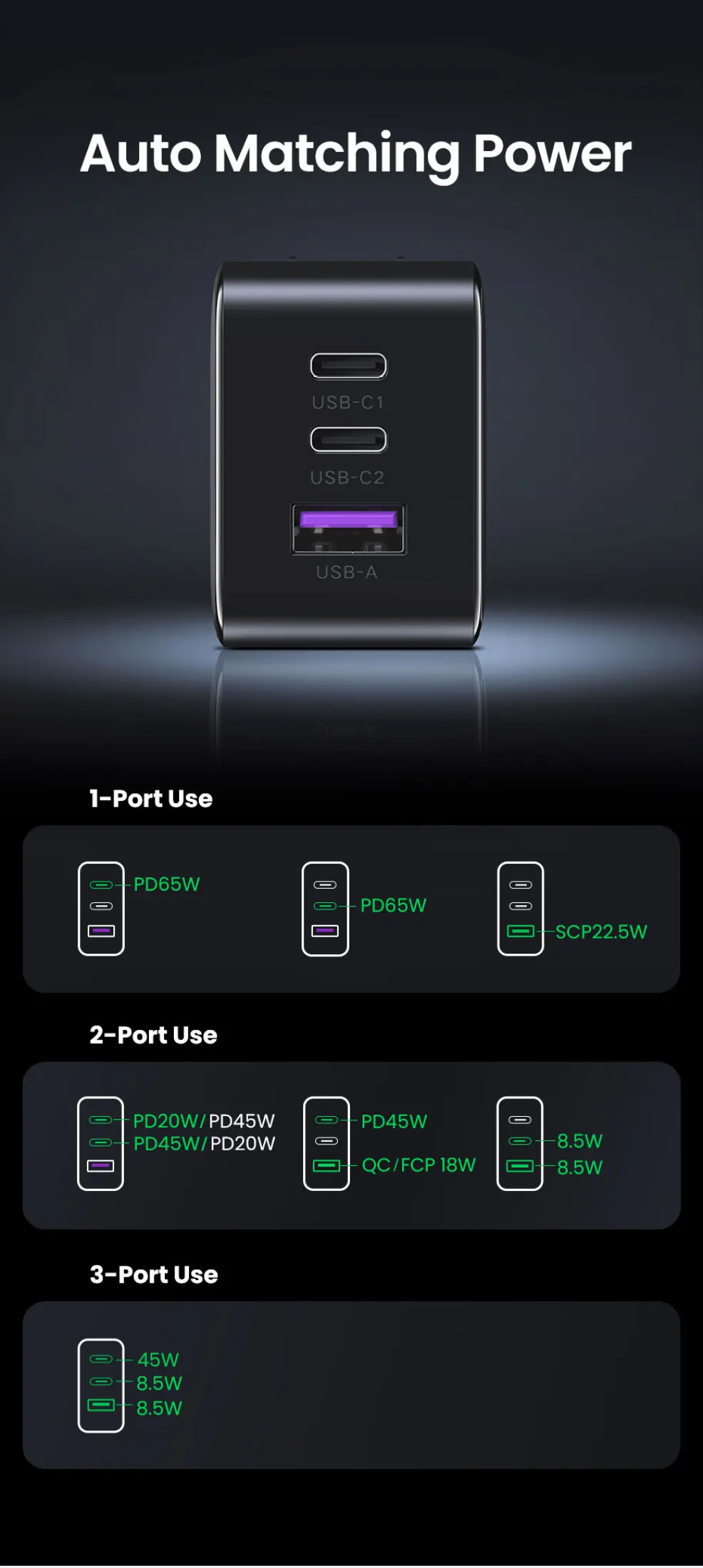 UGREEN's timing is perfect as I just recently bought an iPhone 13 Pro Max. Since they also sent their finest PD-compatible USB Type-C to Lightning, my phone got pampered with the accessories fit for it.
Availability and 12.12 promo
The new UGREEN 65W GaN X Fast Charger is now available via Lazada for PhP1,999. This 12.12, UGREEN is slashing off its price to PhP1,215. Check it out via this link.
Giancarlo Viterbo is a Filipino Technology Journalist, blogger and Editor of gadgetpilipinas.net, He is also a Geek, Dad and a Husband. He knows a lot about washing the dishes, doing some errands and following instructions from his boss on his day job. Follow him on twitter: @gianviterbo and @gadgetpilipinas.