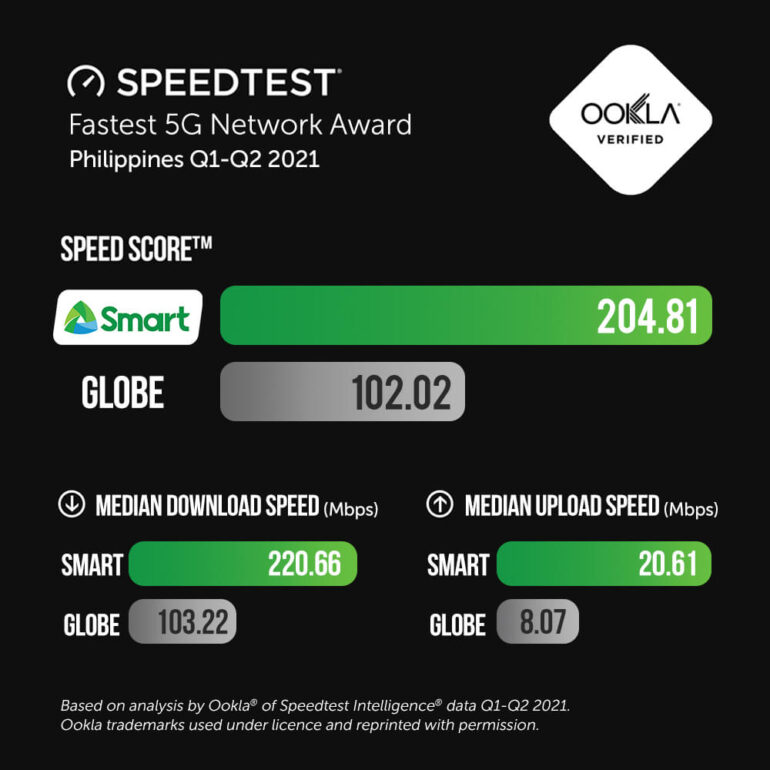 Smart is the fastest 5G network in the Philippines for the first half of 2021, according to the latest report by Ookla, the global leader in Internet testing and analytics. It has also reasserted its dominance as the Philippines' fastest mobile network for the fourth year in a row, based on Ookla's analysis of tests taken using Speedtest covering the first half of 2021.
The company won the Fastest Mobile Network Award with a Speed Score of 44.70, a big improvement from the previous year's score of 24.99, based on 4,949,931 user-initiated tests with Speedtest in the Philippines for Q1 to Q2 of 2021.
On the other hand, the newly-released Fastest 5G Mobile Award report shows that Smart notched the top place in the country with a speed score of 204.81, posting median download and upload speeds of 220.66 Mbps and 20.61 Mbps, respectively from 237,142 user-initiated 5G tests taken with Speedtest in the Philippines for Q1 to Q2 of 2021.
The Speedtest Award for top providers is determined using a Speed Score that incorporates a measure of a provider's upload and download speed to rank network performance. Ookla assesses the average of test results taken using Modern Chipsets, regardless of the connection technology used, as long as they are taken on devices that are capable of achieving the fastest speeds available in the market. After this filtering, Speed Score is applied as outlined above to determine the best speeds available in a country.
Fastest 5G network in key areas
Initial data included in Ookla's country reports showed that Smart's 5G speeds are way ahead in key areas such as Manila, Cebu City, and Davao City, with download and upload speeds that are faster compared to its nearest competitor.
In the City of Manila for example, Smart's 5G download speeds are at 268.01 Mbps, with the nearest competition at 81.82Mbps. In Cebu City, Smart registered 5G download speeds of 239.03 Mbps, while the competition is at 99.99 Mbps, while in Davao City, Smart notched 5G speeds of 209.76 versus the competitor's 145.18 Mbps.
All-out government support
According to the National Telecommunications Commission (NTC), the government's all-out support in expediting the release of LGU permits required for the ramped-up improvement of telco infrastructure has helped increase internet speeds in the country. As of July 27, 2021, PLDT and Smart have secured more than 25,000 fixed and wireless permits since the government fast-tracked approvals for telco firms last year.
These include the Anti-Red Tape Authority (ARTA)'s issuance last year of the Joint Memorandum Circular fast-tracking the issuance of permits and the Department of Public Works and Highways (DPWH)'s recently issued Department Order No. 29 (DO 29), which allows telecommunications companies to occupy a portion of the government Right of Way (ROW), subject to prescribed conditions. DO 29's issuance also assists in ensuring the timely maintenance of PLDT's fiber infrastructure as well as Smart's cell sites.
Emman has been writing technical and feature articles since 2010. Prior to this, he became one of the instructors at Asia Pacific College in 2008, and eventually landed a job as Business Analyst and Technical Writer at Integrated Open Source Solutions for almost 3 years.