The 3C has certified several Xiaomi upcoming devices and their charging capacities. Among them are the M2105K81AC and M2105K81C, two variants of the Xiaomi Mi Pad 5.
The latter supports 5G, making it the first 5G tablet of the company. It also supports 67W wired fast charging.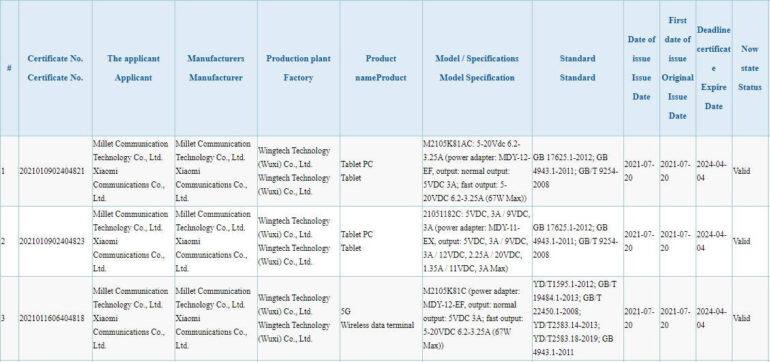 Additionally, a third tablet was also spotted with model number 21051182C with 33W wired fast charging support. This is speculated to be a Lite model of the Mi Pad 5.
The Xiaomi Mi Pad 5 is said to have a Qualcomm Snapdragon 870 chipset at the helm, an 11-inch panel with a 120Hz refresh rate, and a 48MP main camera.
The supposed Lite variant is expected to arrive with a Qualcomm Snapdragon 860 SoC and a 12MP main camera.

3C has also certified the Mi Mix 4 (model number 2106118C) and the Mi CC 11 (model number 2107119DC). These are listed to support 120W fast charging and 33W fast charging, respectively. The two devices are expected to arrive in August along with the Mi Pad 5 tablet.