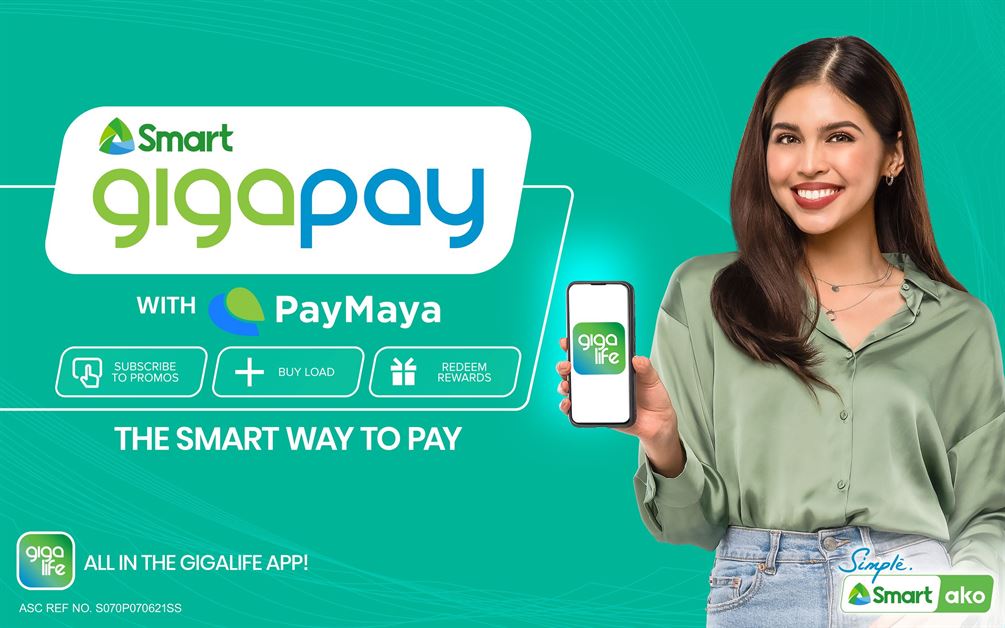 Running out of data in the middle of online activities such as sending and urgent file, holding a watch party for your favorite series, checking out your food order, or battling it out with friends on a mobile game can be a big hassle.
As such, Smart continues to build the GigaLife App experience with GigaPay with PayMaya, a groundbreaking in-app payment solution that makes it easier for customers to buy load and subscribe to data promos, among others with a simple swipe on their phone's screen.
Smarter Way to Pay
Through GigaPay, all subscribers of Smart Prepaid, Smart Postpaid, Smart Bro, Prepaid Home WiFi, and TNT can link their PayMaya account to the GigaLife App to make it their payment source for all their in-app transactions.
Now, there's no need to switch between apps and do multiple log-ins to multiple accounts just to top up one's Smart account or avail of data promos. Subscribers can now make these purchases without getting off the GigaLife App and just use its GigaPay feature for a much smarter and more seamless way to pay.
Be unstoppable with GigaPay
"When we launched the GigaLife App last September, our vision has always been to build a one-stop app that puts all the digital needs of our customers within easy reach. GigaPay with PayMaya is a huge step towards that direction as it makes transactions on the GigaLife App simple and hassle-free."
"Our subscribers can now rely on GigaPay with PayMaya on the GigaLife App to stay connected and be unstoppable when it comes to pursuing their passions. This capability also opens doors for more powerful and innovative functionalities that enrich the digital experiences of our customers."
– Jane J. Basas, SVP and Head of Consumer Wireless Business at Smart
Get started on the GigaLife App
To start using GigaPay with PayMaya, subscribers of Smart Prepaid, Smart Postpaid, Smart Bro, Prepaid Home WiFi, and TNT must first download or update the GigaLife App on the Apple App Store or the Google Play Store.
Upon logging in to the app, simply tap the GigaPay icon to link your existing PayMaya account as a payment source. You can easily create a new one and just link to GigaPay without having to leave the GigaLife App.
Once GigaPay has been activated, buying load and subscribing to promos on the GigaLife App is as easy as clicking your preferred offer and swiping across the screen to confirm your purchase.
PayMaya is regulated by the BSP and has robust and AI-backed security capabilities consistent with global standards to ensure safe and secure transactions for customers.
To know more about GigaPay, click here or follow Smart's official accounts on Facebook, Twitter, and Instagram.
Emman has been writing technical and feature articles since 2010. Prior to this, he became one of the instructors at Asia Pacific College in 2008, and eventually landed a job as Business Analyst and Technical Writer at Integrated Open Source Solutions for almost 3 years.