Smart Bro has just announced the return of Double Data for Prepaid Home WiFi users. This offers twice the open-access data allocation on Famload and GIGA offers to cover all online activities for all your needs.
Prepaid Home WiFi customers can avail of Double Data exclusively on the GigaLife App. With the offer, if you register to Famload Video 999 via the GigaLife App, you'll enjoy 140GB of open-access data. This is twice the regular 70GB of open-access data. Additionally, you get 1GB YouTube Every Day valid for a total of 170GB for the same price.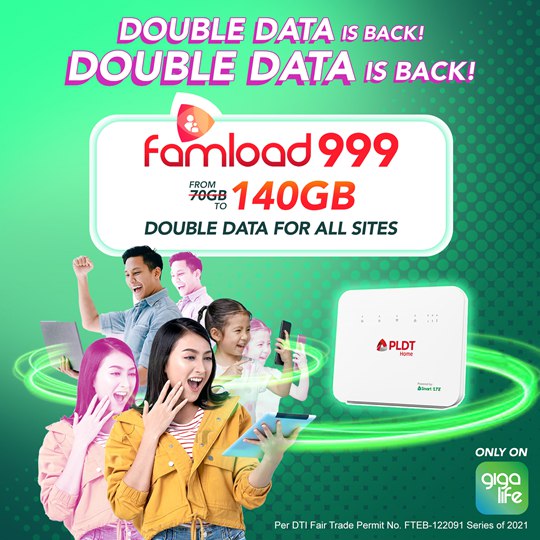 Double Data applies to other Famload Video and Famload Video Plus denominations. This includes Famload Video 199, 599, and 1499, as well as Famload Video Plus 199, 599, 999, and 1499.
Moreover, Smart Bro Pocket WiFi users can enjoy Double Data on GIGA and GIGA Pro offers via the Giga Life App. Among these are GIGA Video 50, 99, and 299; GIGA Stories 50, 99, and 299; GIGA Video Pro 199 and 999; and GIGA Stories Pro 199, to name a few.
The return of Double Data coincides with Smart Bro's latest push to make it easier for Filipino families to connect online through the Prepaid Home WiFi . It is an easy-to-use plug-and-play device that provides instant connectivity for the whole family.
Smart Bro is offering up to a 50% discount on select Prepaid Home WiFi devices until July 15, 2021. Prepaid Home WiFi units originally sold for PHP 995 will be available for only PHP 495 during the promo. Prepaid Home WiFi Advance with carrier aggregation, on the other hand, is available for PHP 995 from its original price of PHP 1,995.
Moreover, Pocket WiFi devices will also be on sale.
For more information, click here.