Building a Gaming PC in these trying times a tough ordeal even for long-time enthusiasts especially if there's a certain niche in mind. Building an ITX PC is definitely a challenge because not only do you have to focus on compatibility with various PC components but the associated costs as well. ITX PC Components inherently cost more than mAtx and ATX components due to their compactness and the high-quality components used to maximize the small space. Ever since the global silicon shortage and cryptocurrency hype, PC components now have absurd prices to the points where gamers hold off their purchase, and even the second-hand market is affected. Luckily, the slow stock movement of ITX components didn't affect the parts as much. In this Gaming PC Build Guide, we will be building the cheapest, triple-A capable ITX Gaming PC despite current market conditions. As always, we will provide decent alternatives in case our current recommendations are not in stock. We also have benchmarks for this Php 60,000 Gaming PC Build Guide as I have personally built this PC for a friend.
Notes
The prices listed are based on PCHub's Online Pricelist.
All parts in the PC Build Guide are brand new, getting second-hand parts is an option though you should be aware of the risks involved.
The prices listed below are CASH prices, not SRP nor Promo prices unless stated in this build guide.
The prices used are based on the time of writing. Prices may change in the future. Please refer to PCHub's pricing for updated prices
Php 60k ITX Gaming PC Build Guide
Php 60K ITX Gaming PC Build Guide 2021
Component
Model
Price
Processor
Ryzen 5 3600
₱ 10,600.00
Cooling
Stock Cooler
——
Motherboard
ASRock A520MITX AC
₱ 5,450.00
RAM
Kingston 16GB Fury RGB 3200Mhz
₱ 5,350.00
Storage
PNY CS900 480GB SSD
₱ 3,150.00
Graphics Card
RTX 2060
₱ 28,400.00
Power Supply
FSP Dagger Pro 650W GOLD
₱ 5,350.00
Case
DarkFlash DLH 21 / AIGO YOGO S1
₱ 3,830.00
Total
₱ 62,130.00
CPU: AMD Ryzen 5 3600 6-Core Processor
The AMD Ryzen 5 3600 remains to be one of the best price-to-performance CPUs especially those wanting their PC to last a bit long before upgrading or would like to indulge in productivity as well as streaming. The Ryzen 5 3600 is also our CPU of choice in our Php 50,000 Gaming PC Build Guide.
Alternative: The Ryzen 3 3300X is a solid alternative in case the Ryzen 5 3600 is not in stock as its the next best value CPU in AMD's Ryzen CPU lineup. The Ryzen 5 3500 is also a viable candidate and may seem to be the better option in gaming but the extra thread count on the Ryzen 3 3300X might prove to be superior in some use cases, especially in productivity.
Motherboard: ASRock A520M ITX AC
In ITX Gaming PC Builds, motherboards are usually the second or third-most expensive component in the build due to the earlier mentioned compactness and high quality components that come with it. That said, most ITX motherboards are basically highend models and usually sport the highest, overclocking ready chipset from either AMD or Intel. Luckily, the rise in popularity incentivized brands such as ASRock to release budget ITX boards. Our motherboard of choice is the ASRock A520M-ITX/ac for Php 5,450. The A520M-ITX/AC has Bluetooth & WiFi support as well as support for AMD Ryzen 5000 series processors. The only draw back with the A520M-ITX/ac is it does not have PCIE Gen 4 which is frankly not needed in this budget level.
Alternative: The next bang for buck ITX motherboard is the ASRock B550M ITX/AC as its basically the upgraded version of the A520M-ITX/AC – it has better VRMs, better chipset, and PCIE Gen4 suppport.
Memory: HyperX Fury RGB 16GB (8GBx2) 3200Mhz DDR4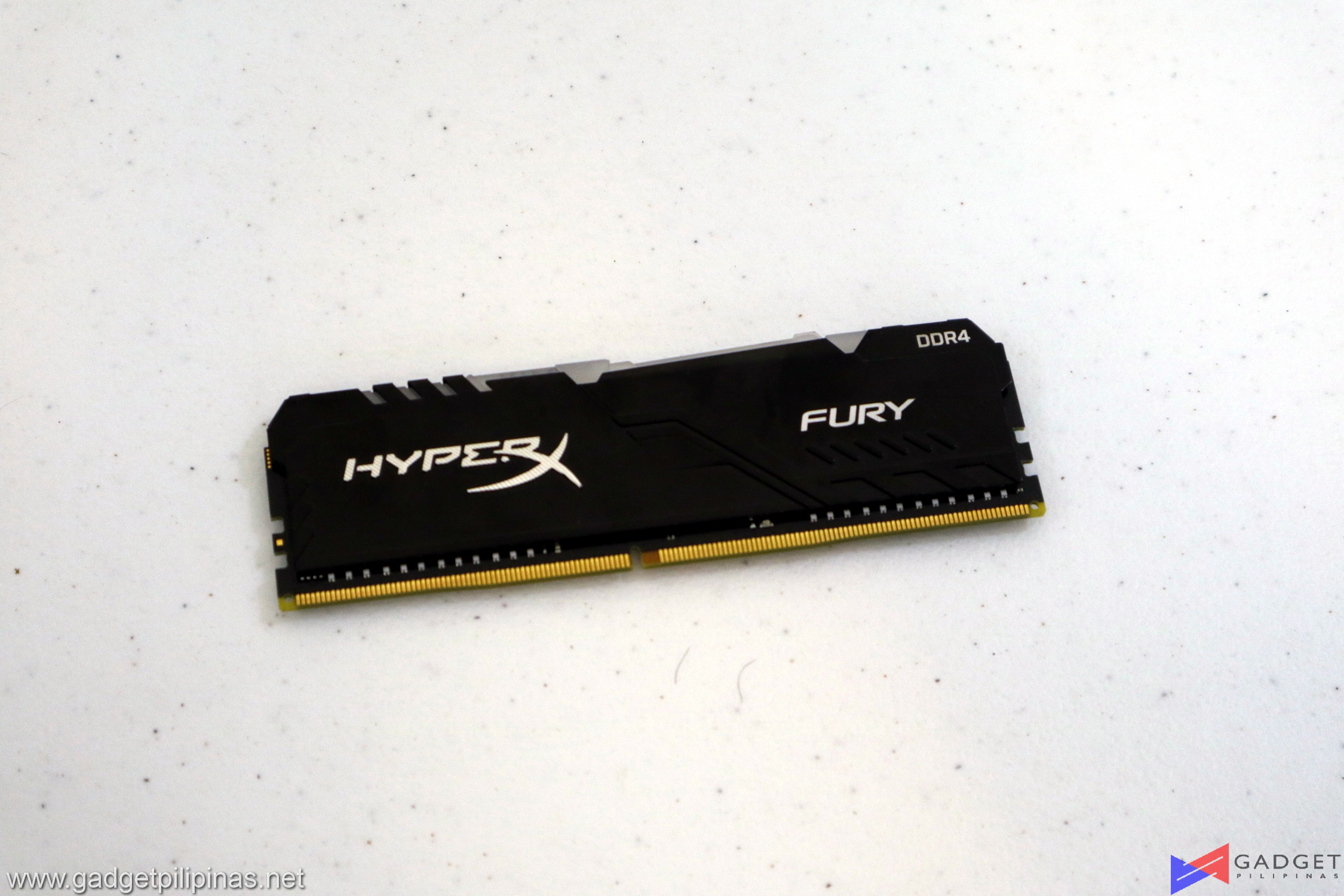 RAM and even some solid-state drives are also rising up in price due to supply shortages. In our build guides, we usually pick the best price-to-performance memory modules that fit our specific criteria for our build guides. In this case, we require at least 3000Mhz and prefer a dual-channel memory kit to maximize the Ryzen 5 3600. As of writing, the HyperX Fury RGB is one of the cheapest kits for this build guide.
Alternative: A decent RAM alternative would be either to go for a similarly specced RAM at a lower price(at the time of reading). Of course, you can opt for an 8GB module now and add another one later down the road once you have the budget. Alternatively, you can opt for a 16GB single stick and add another one if your use-case needs more memory.
GPU: Zotac RTX 2060
Like in our most recent Php 50,000 Gaming PC Build Guide, getting a suitable graphics card is the #1 challenge for this build due to the shortage and crypto-hype. Prices have slightly decreased but are still overly expensive. We choose to go for an RTX 2060 as it is still viable for today's games. That said, the cheapest RTX 2060 that we were able to find landed at Php 28,400 in the form of the Zotac RTX 2060 Amp.
Alternative: The second-hand market might be a good option considering the tight supply of graphics cards. Or if you happen to read this in the future where the prices are back to normal, then go for an RTX 3060 or RTX 3060 Ti instead as the Php 28,400 budget should land you to the RTX 3060 or even RTX 3060 Ti price range.
Storage: PNY CS900 480GB SSD
An SSD is definitely a must for an ITX build as most ITX cases don't have support for 3.5″ drives. But as mentioned earlier, prices of SSDs are also rising thanks to supply shortages. That said, NVMe SSDs are slightly expensive so we settled with the PNY CS900 480GB SATA SSD for Php 3,150
Alternative: For the 3,150 budget you could opt for a 250GB NVMe SSD if speed really matters, or if you happen to get an ITX case that supports 3.5″ drives then the classic 240GB SSD+1TB HDD is an enticing option.
PSU: FSP Hydro 650W Powersupply
One big chunk of the budget goes to the Power Supply for safety reasons, but for ITX build guides it's also because SFX PSUs are inherently more expensive than their ATX counterparts. The cheapest peso-per-watt yet reliable SFX PSU we could find is the FSP Dagger Pro 650W Gold rated SFX PSU. The key here is to get a capacity of no more than what you need. Based on the specs of this ITX build, 650W is pretty plenty but also leaves room for upgrades such as the option to go for a Ryzen 7 CPU and an RTX 3070.
Alternative: You can opt for the 550W model or other 600W SFX PSUs to save money. We recommend at least a Bronze rating though most SFX PSUs are already GOLD rated which is another reason why they are expensive.
Case: DarkFlash DLH21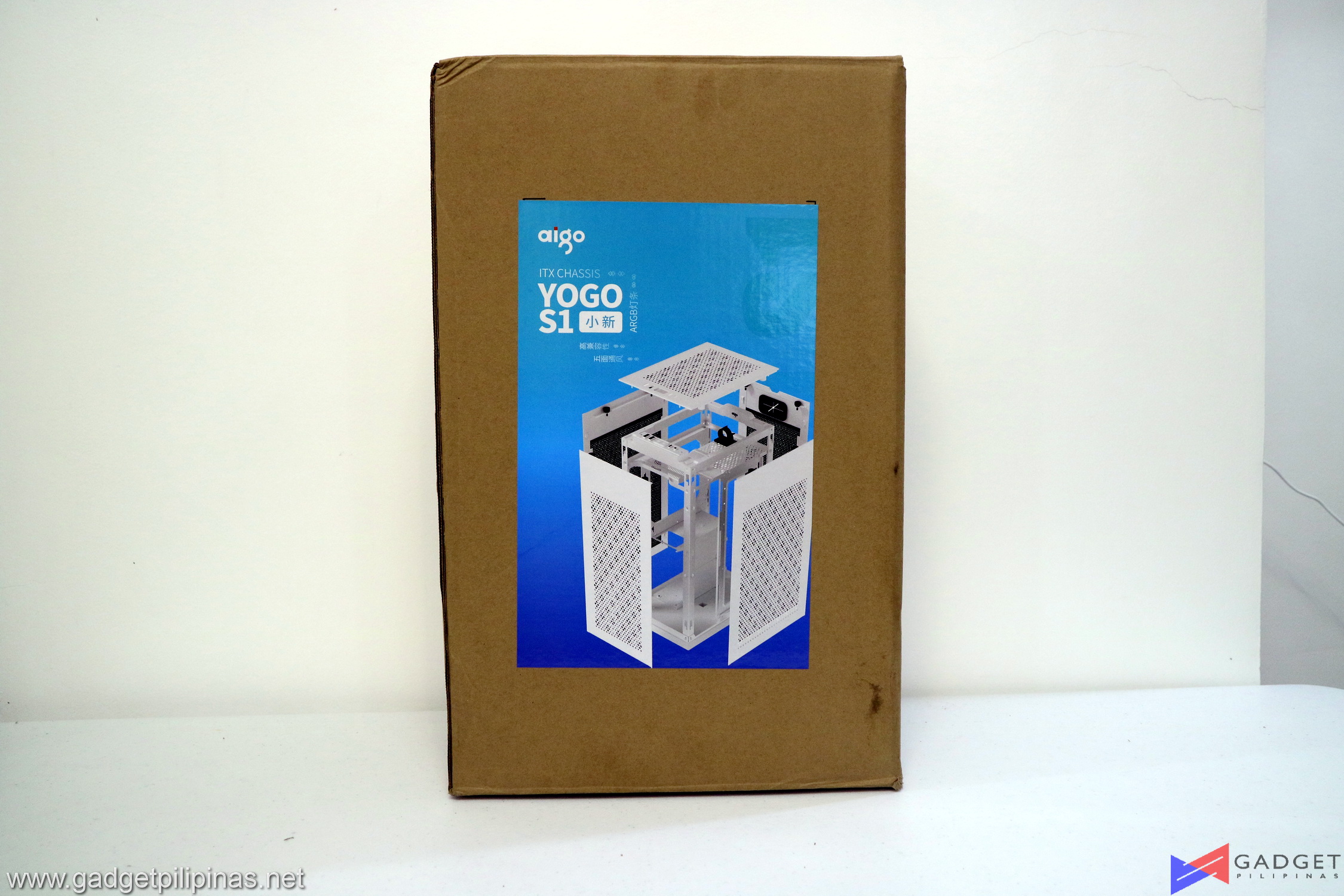 One of the cheapest yet compact-sized ITX cases we could find is the Aigo Yogo S1or internationally known as the DarkFlash DLH21. Priced at Php 3,830 sets you at the same price range as a decent mATX or entry-level ATX case. Its size allows for full-sized graphics card support as well as radiator support up to 280MM. It's not too small to require FlexATX PSUs, low profile cooler, and a single-slot card, yet it's smaller than mATX cases and occupies a small desk footprint thanks to its vertical orientation, much like the NZXT H1. Note that there's no difference if you get the Chinese model or the international mode apart from the actual name, there are some stores selling the Yogo S1 for much less than the DLH21 due to the difference in packaging and of course, from where the case came from as far as tariffs are concerned.
Alternative: There's really no cheap alternative that can provide what the Yogo S1 / DLH21 has. So you can either take it further with the crowd favorite Cooler Master NR200P for around Php 1,500 more. Of course, Cases are definitely the most subjective component in a build so feel free to pick up any ITX case as long as you take into consideration its compatibility with the rest of the PC components that you have.
Benchmarks
Since this ITX Gaming PC is built for a friend, we were able to quickly benchmark it at 1080p resolution to give you an idea of its performance in various games. Do note that we used an MX500 SSD instead of the CS900 as there were some last-minute changes in our buying process but that should not affect the benchmarks results in any way.
We used CapFrameX version 1.6.3 as our benchmarking tool. Nvidia 486.54 drivers were also installed.
DOTA 2
Most gamers play at least one of the following free-to-play titles: League of Legends, CS: GO, Dota 2, and/or Fortnite. Dota 2 is a good representation of the F2P titles as it is the most demanding game in the spectrum. The benchmark will give you an idea of the laptop's relative performance on other lesser demanding titles. Our benchmark sequence is based on a replay of OG vs. Liquid in the TI9 grand finals from the team fight that happened on 28:30 to 29:30
F1 2020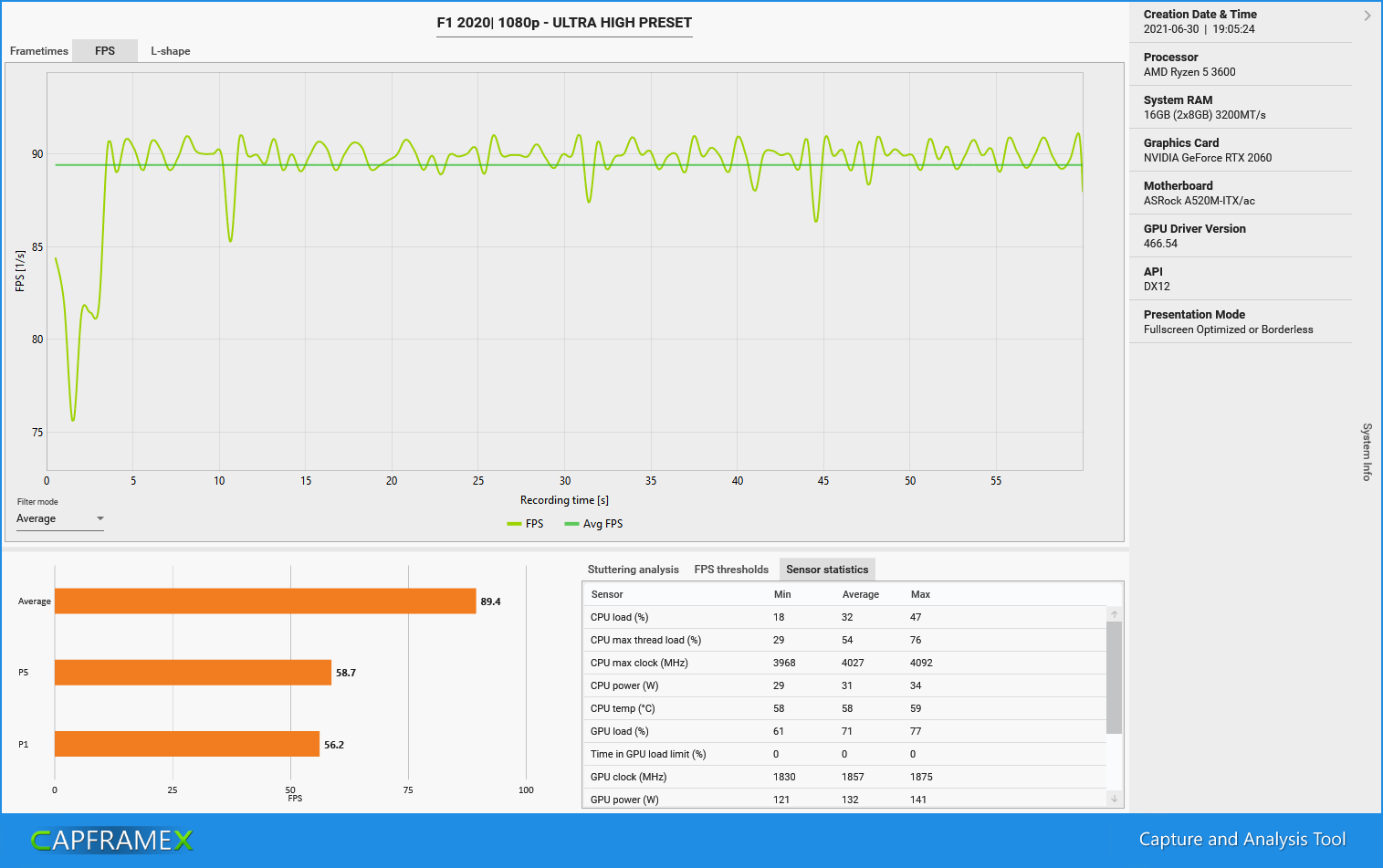 F1 2020 is the official video game of the 2020 Formula 1 and Formula 2 championships developed by Codemasters. F1 2020 is the twelfth installment in the franchise and uses the Ego Engine 3.0. F1 2020 is a good representation of racing games thanks to its realistic graphics and fairly demanding spec requirements.
Valorant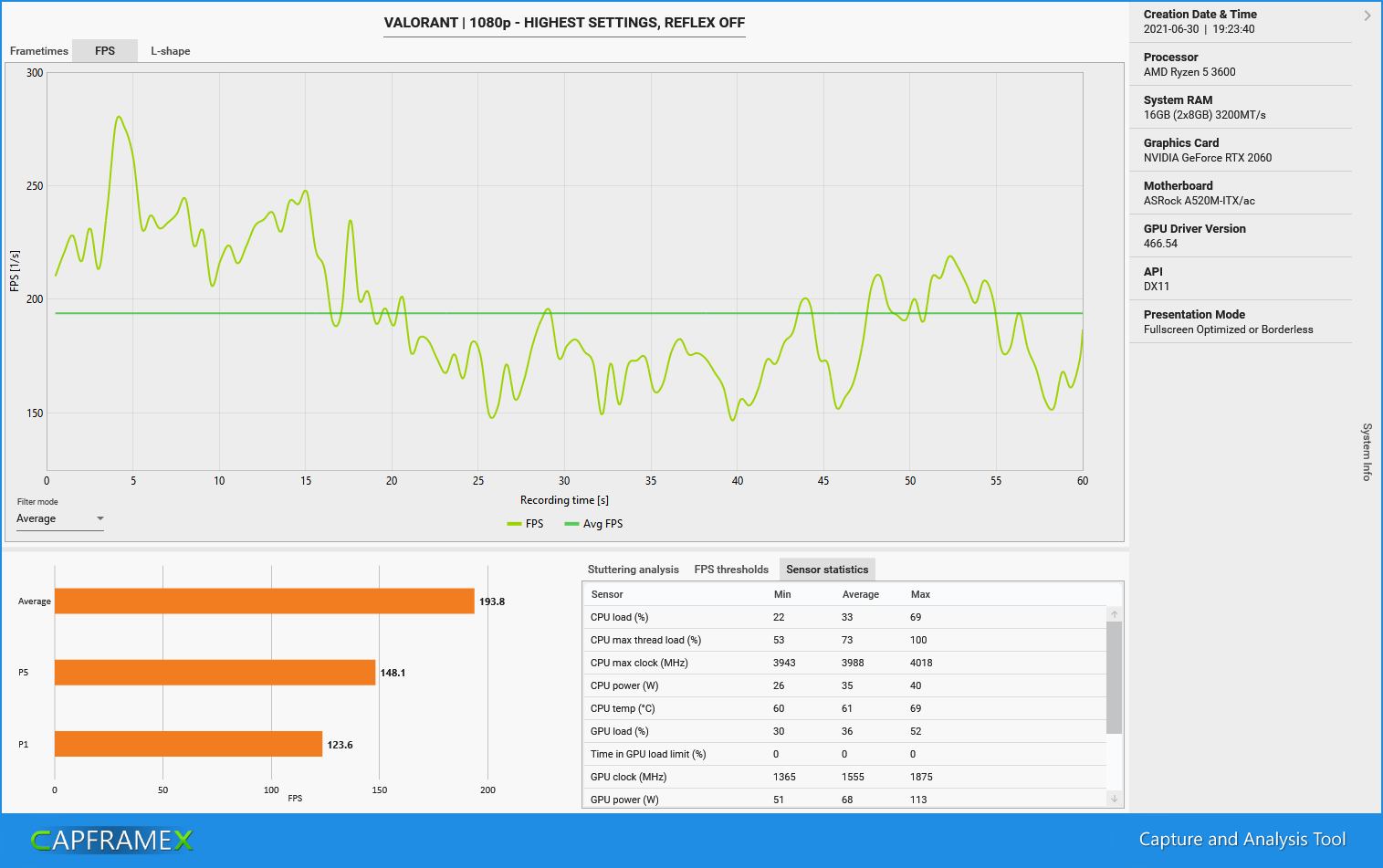 Riot Games, the makers of League of Legends, launched their first competitive FPS game dubbed Valorant. Valorant is a character-based tactical shooter with mechanics similar to both Overwatch and CounterStrike Global Offensive. Valorant uses Unreal Engine and is frankly a poorly multithreaded game with the minimap, HUD, and parts of the UI offloaded to other threads while a single core handles the rest.
Horizon Zero Dawn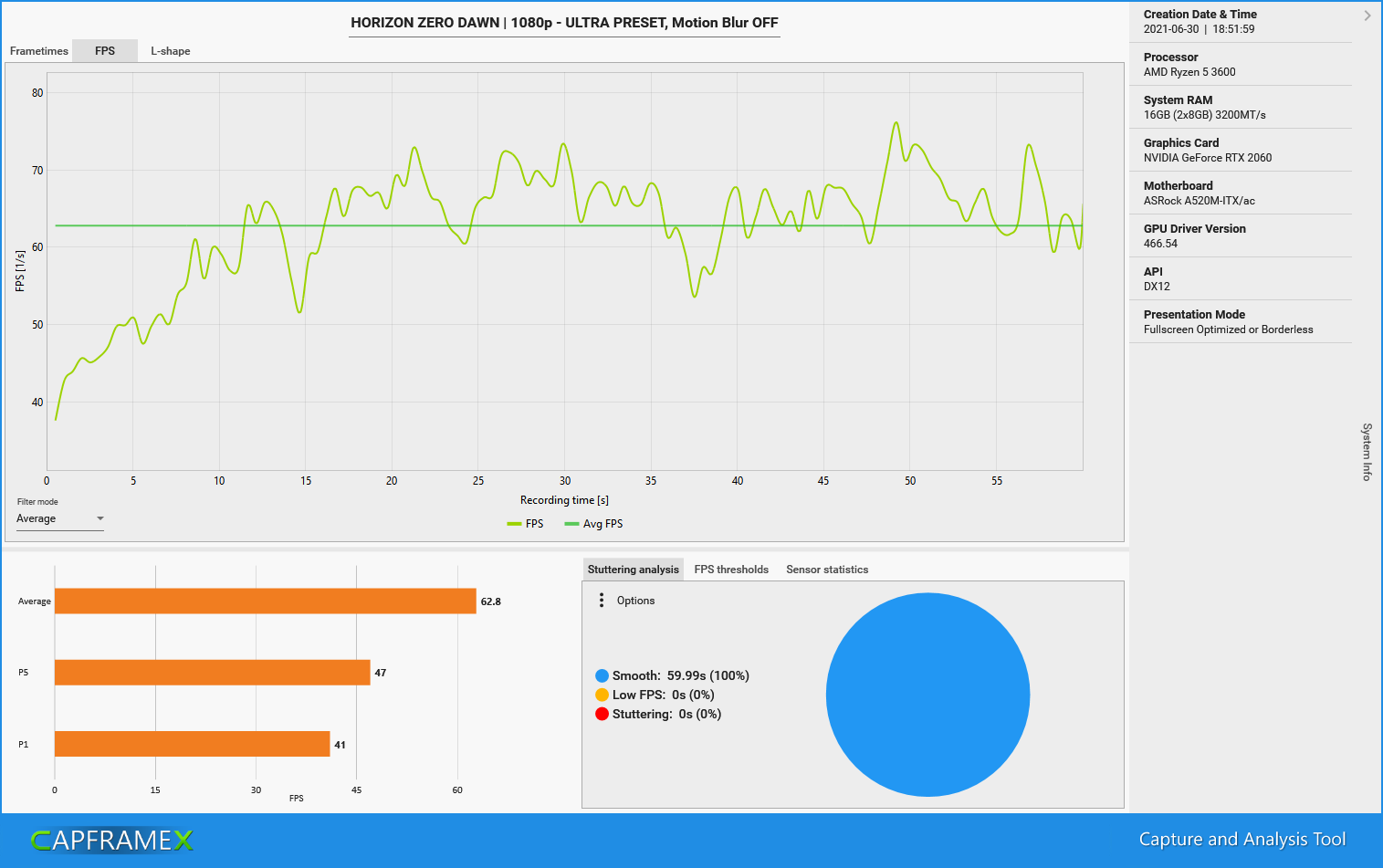 Far Cry 5 is an FPS game published by Ubisoft and uses the Dunia engine. It heavily relies on and takes advantage of DirectX 11 to render a realistic environment that makes it taxing to both the CPU and GPU.
PlayerUnknown's Battle Grounds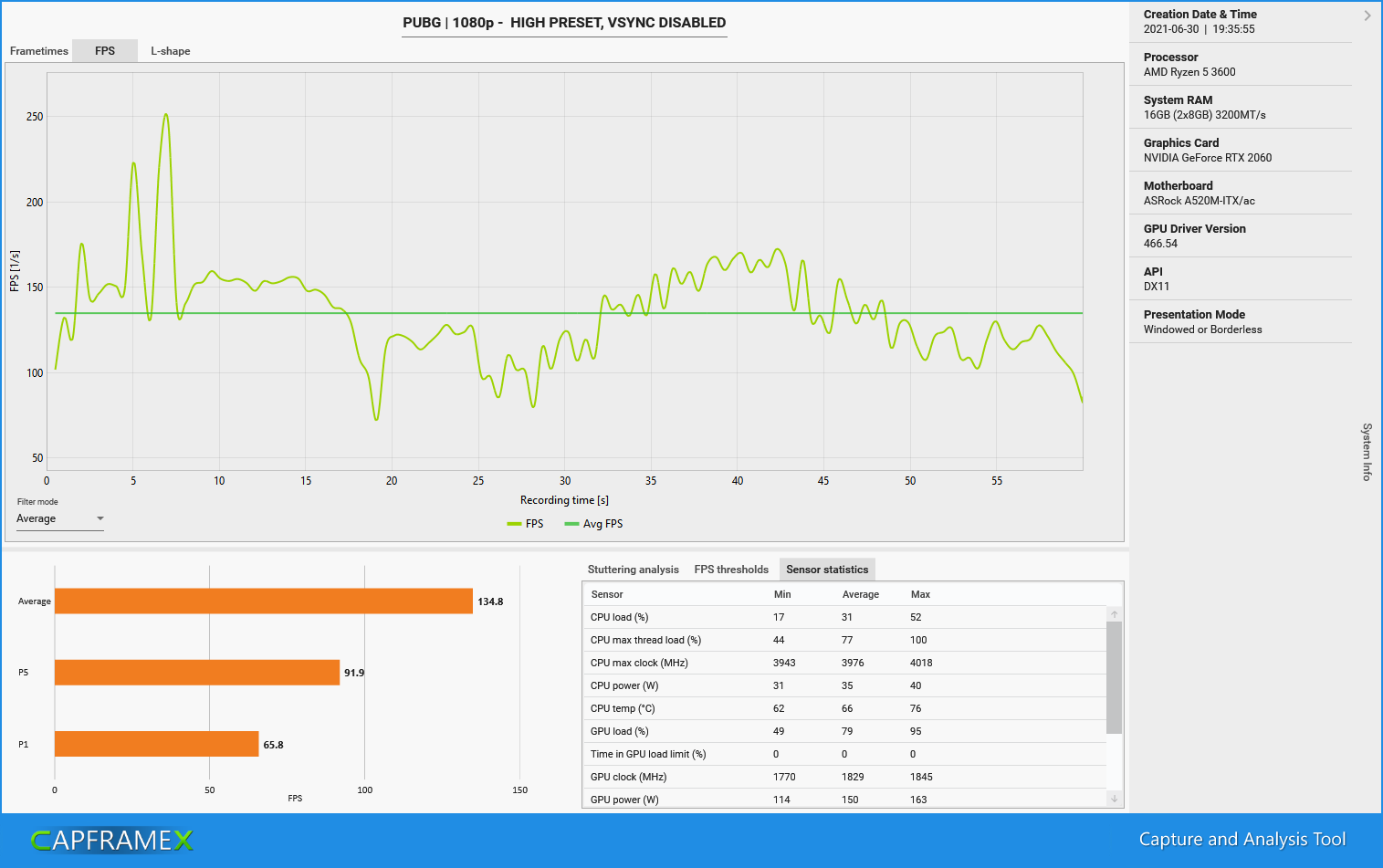 PUBG definitely became the most demanding game when the GTX 10 series launched as it also prompted most gamers to upgrade their rig in order to play PUBG at decent frame rates. With stronger GPUs and better optimization, most rigs can now run PUBG with ease.
Shadow of the Tomb Raider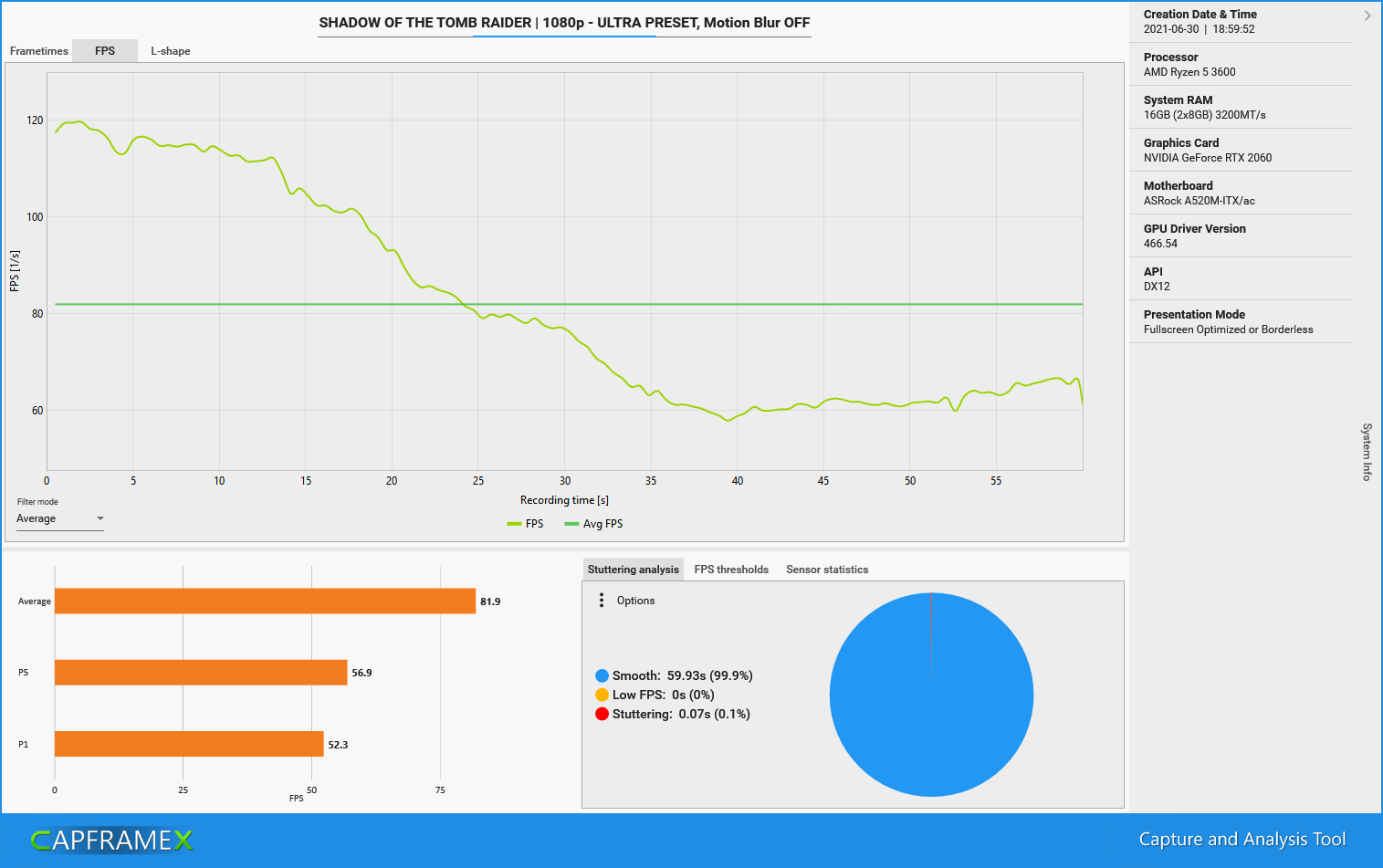 Shadow of The Tomb Raider or SOTR is the latest installment of the Lara Croft Tomb Raider franchise. Developed by Square Enix, SOTR uses the Foundation engine and is further enhanced by Eidos Montreal. STOR is also one of the first games to come out with Ray Tracing and DLSS support.
Check out the rest of our Gaming PC Build Guide Articles
Grant is a Financial Management graduate from UST. His passion for gadgets and tech crossed him over in the industry where he could apply his knowledge as an enthusiast and in-depth analytic skills as a Finance Major. His passion allows him to earn at the same time help Gadget Pilipinas' readers in making smart, value-based decisions and purchases with his reviews and guides.