Earlier today, Nvidia held an Executive keynote at Computex 2021 a few hours after AMD's presentation. At Nvidia's virtual keynote, Jeff Fisher, Senio Vice President at Nvidia, revealed the most awaited Nvidia GeForce RTX 3080 Ti and RTX 3070 Ti.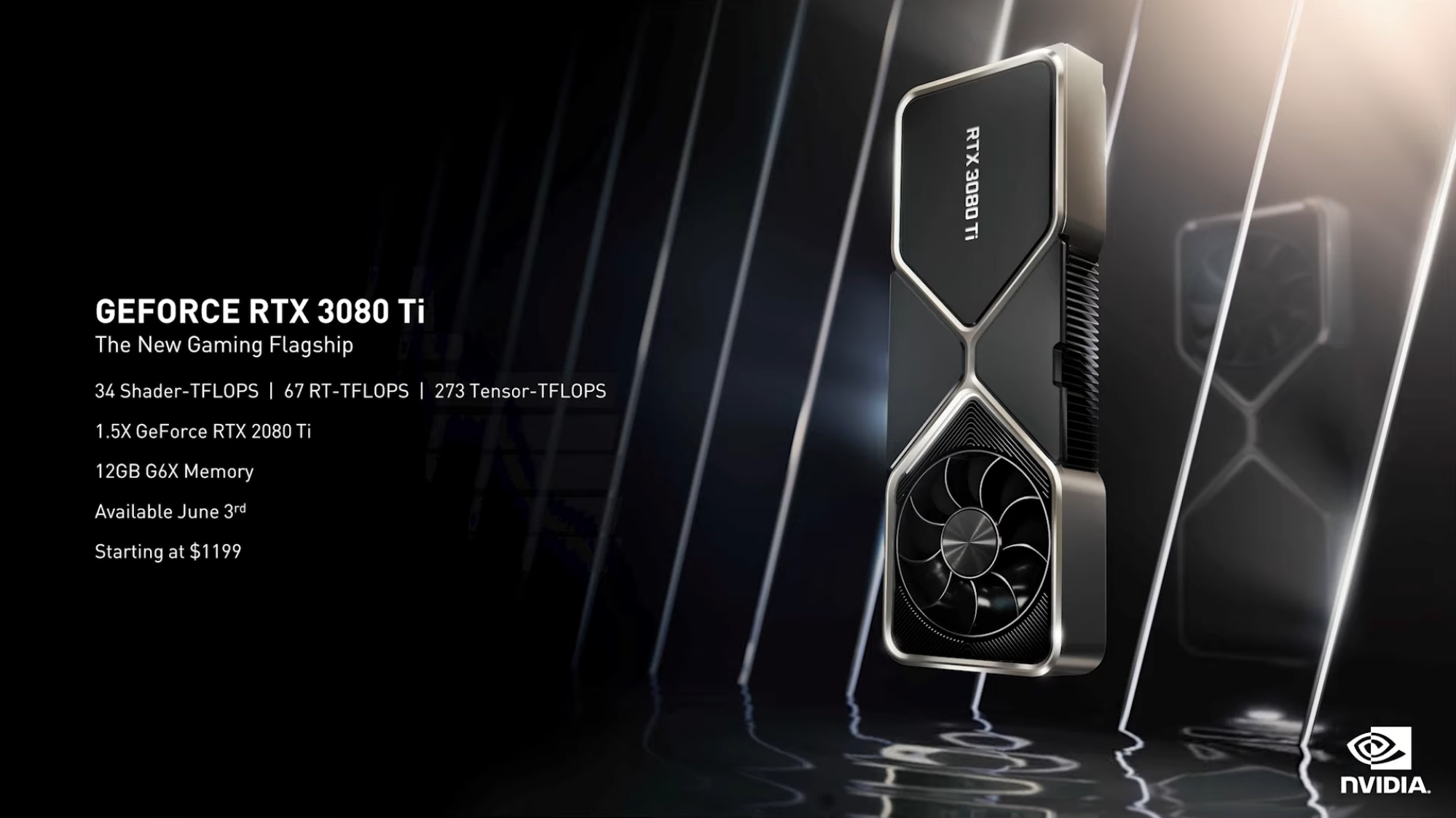 The Nvidia GeForce RTX 3080 Ti is the successor to the previous flagship, the RTX 2080 Ti. Key specs of the RTX 3080 Ti include 10240 CUDA cores, 12GB GDDR6X memory and a whopping $1,1199 Price Tag.

Like the previous launch of the RTX 3080, Nvidia showed a vague FPS graph of the RTX 3080 Ti against the RTX 2080 Ti and GTX 1080 Ti. Nvidia claims the RTX 3080 Ti's performance to be 1.5x faster than the RTX 2080 Ti. Oddly enough, the RTX 3080 Ti has a slower 1.37Ghz base and 1.67 boost clock compared to the non-ti variant at 1.44Ghz and 1.71Ghz respectively. Unfortunately, Nvidia hasn't shown relative performance numbers against the RTX 3080 and RTX 3090. We'll have to wait for the review embargo to lift as we explore more details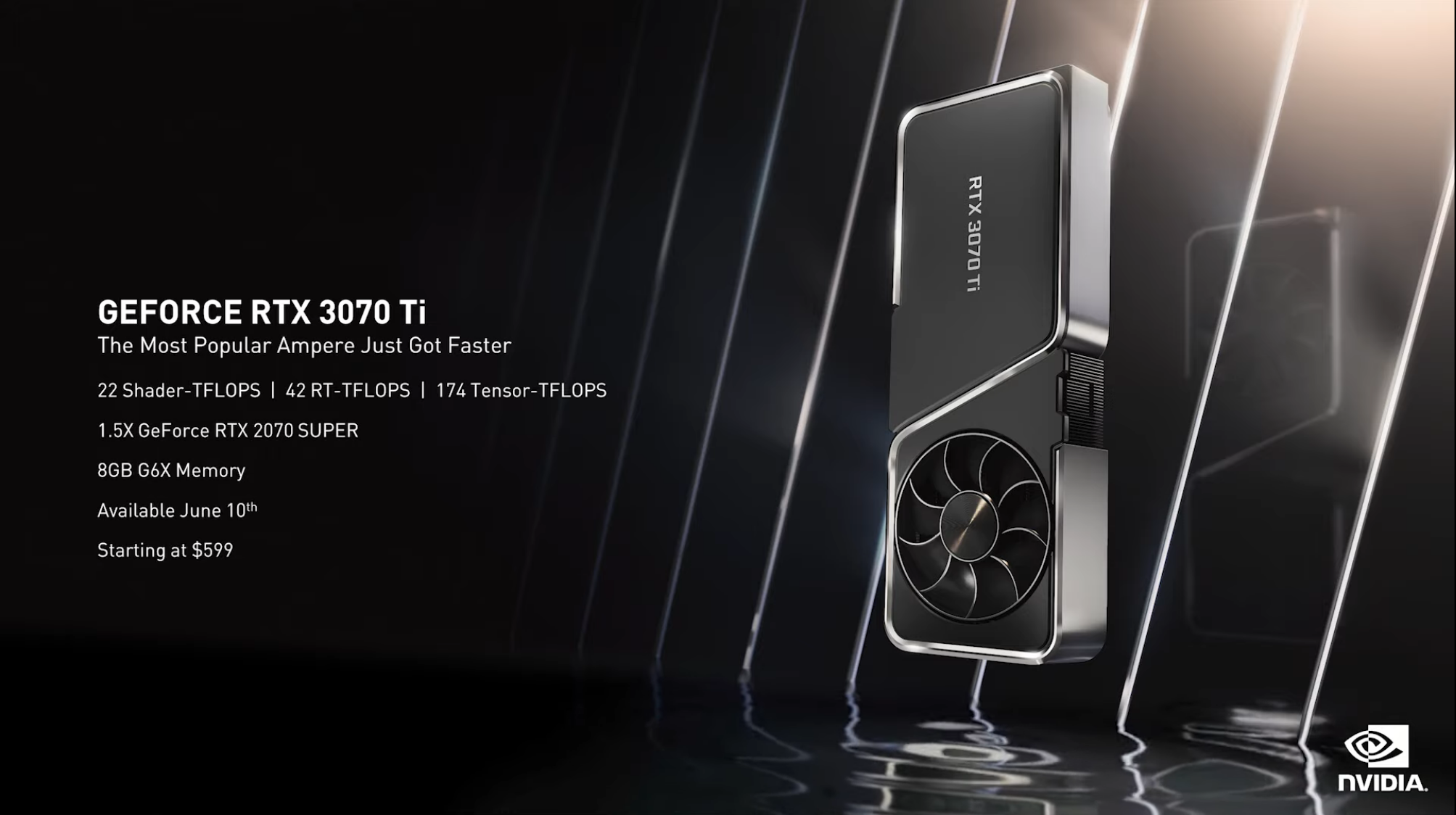 According to Nvidia, RTX 3070 is the most popular card in the ampere lineup probably due to its spectacular price to performance. Unlike the RTX 3080 Ti, Jeff Fisher didn't show any performance graphs and only mentioned that the RTX 3070 Ti is 1.5 times faster than the RTX 2070 Super which should bring us to equal or more than RTX 2080 Ti performance since the RTX 3070's performance sits between the RTX 2080 Super and RTX 2080 Ti. Interestingly enough, the RTX 3070 Ti sits at an equal $100 difference between the RTX 3070 and RTX 3080 Ti.
RTX 3080 Ti and RTX 3070 Ti PH Pricing and Availability
As mentioned earlier, the RTX 3080 Ti and RTX 3070 Ti will retail for $1,199 and $699 respectively. Considering today's pricing due to the supply shortage and crypto mining craze, the RTX 3080 Ti should be priced around Php 120,000 while the RTX 3070 Ti should be at Php 80,000. Several retailers have already started pre-selling the RTX 3080 Ti which is slated for release on June 3 while the RTX 3070 Ti will arrive a week later.
Grant is a Financial Management graduate from UST. His passion for gadgets and tech crossed him over in the industry where he could apply his knowledge as an enthusiast and in-depth analytic skills as a Finance Major. His passion allows him to earn at the same time help Gadget Pilipinas' readers in making smart, value-based decisions and purchases with his reviews and guides.