In case you missed it, Sony Philippines has just announced its Summer Snaps Gadget Deals to help your vlogging and content creation at home.
Up to PHP 25,000 off and freebies for vlogging cameras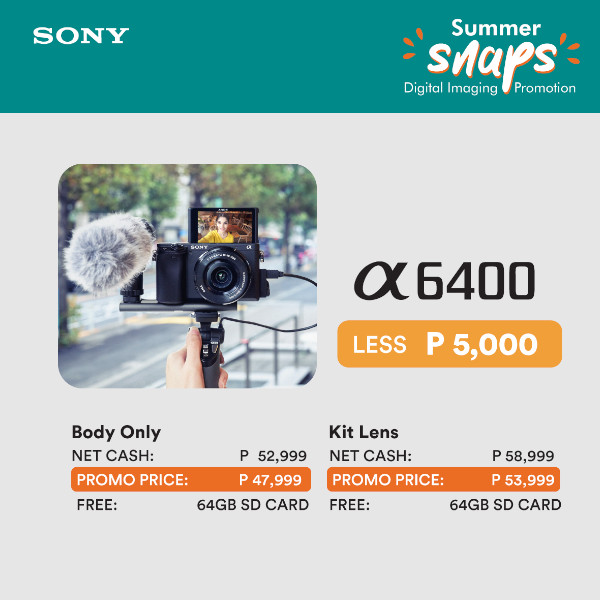 The Sony A6400, a budget-friendly camera is among the cameras included in the Summer Snaps Gadget Deals. You can get it for PHP 5,000 off its original price and is available for PHP 47,999 for body only and PHP 53,999 for the kit package. In addition, you get a free 64GB SD card.
Other APS-C cameras like the Alpha 6600 is on a PHP 25,000 discounted bundled with a 64GB SD card and GP-VPT-1 grip. The Alpha 6100 is on a promo price of PHP 37,999 that comes with a free 16GB SD card and a leather strap.
In addition, the Sony Alpha 7SIII, Alpha 7RII, Alpha 7RIII, and Alpha 7SII are available for a 12-month installment with 0% interest. If you get the Sony A7SIII, you can also cop free two 64GB SD cards, ECM-XYST1M, and a Peak Design Strap.
Complete your kit with accessories up to 35% off
The GP-VPT2BT Bluetooth shooting grip is available at 35% off, currently priced at PHP 4,875. The GP-VPT1 shooting grip is discounted at 15% off which now retails for PHP 4,590.
Other accessories like the HVL-F45RM flash, microphones, battery pack, and charge are all on 15% off for this month.
Sony G Master Lenses are also available on an installment scheme and cash discounts
Sony G Master Lenses are also available for 24 months with 0% interest as well as enjoy cash discounts when you purchase select Sony full-frame cameras.
Other senses like Zeiss, G and other versatile lenses are also on sale up to PHP 16,000 off its original prices.
Avail of the special deals from Sony Authorized camera dealers or official Sony Lazada and Shopee stores. Sony's Summer Snap Gadget Deals runs until May 31, 2021.