Introduction
Samsung has recently expanded its Galaxy-A series with the release of the Galaxy A32, A52, A52 5G, and the A72. It not only upgraded the A-series devices but also introduced a new design to Samsung's mid-ranged series, specifically the Galaxy A52, A52 5G, and A72.
We checked out the Galaxy A52 and A52 5G in a recent comparison. Now it was time to take a look at the Galaxy A72, the supposed 'bigger' sibling. Here's my experience with the Galaxy A72 after using it as a daily driver for two weeks. 
Specification Rundown
| | |
| --- | --- |
| | Samsung Galaxy A72 |
| Display | 6.7″ FHD+ sAMOLED Infinity-O, 90Hz |
| Processor | Qualcomm Snapdragon 720G |
| RAM | 8GB |
| Storage | 256GB |
| Rear Cameras | Main: 64MP f/1.8, OIS |
| | Ultra-Wide: 12MP f/2.2 |
| | Macro: 5MP f/2.4 |
| | Tele: 8MP 3x f/2.4 OIS |
| Front Camera | 32MP f/2.2 |
| OS | One UI 3 + Android 11 |
| Battery | 5,000mAh |
| Fast-Charging | 25W |
| Water Resistance | IP67 |
| Colors | Awesome Violet |
| | Awesome Blue |
| | Awesome Black |
| | Awesome White |
| SRP | PHP 23,990 |
Build and Design
The Samsung Galaxy A72 has a plastic body with a matte rubber-like back panel built around a 6.7-inch FHD+ Super AMOLED panel with a 90Hz refresh rate. Not only was the finish of the back panel unique but also the camera module looks new with a slight bump that looks like it was molded thanks to its smoother edges. After using devices with very prominent or sharp camera bumps, the smoother approach to a camera module felt fresh. 
The first time I saw the new Galaxy A-series devices, I was skeptical about the design. But after two weeks with the Galaxy A72, it has really grown on me. The finish is soft in the hands and helps avoid fingerprints. The latter of the two is definitely a welcome change in a landscape of mostly glass or glass-like finishes.
A 6.7-inch display is pretty much close to normal at this point but because it is a Samsung device, I wish it had even a slightly slimmer body just to make it easier to use with one hand. It isn't that bad though because it does offer enough real estate to enjoy watching videos or livestreams as well as play games.
On the right hand side of the device are the power button and volume rockers, while the SIM tray is found up top alongside a mic. 
At the bottom, it has a USB-C port flanked by a 3.5mm headphone jack, microphone, and speaker grill. The last of which is just one of the two stereo speakers with the earpiece above the front camera serving as the second one. 
Performance
Under the hood, the Galaxy A72 has a Qualcomm Snapdragon 720G coupled with 8GB RAM and 128GB expandable storage up to 1TB via microSD card.
It scored a 548 in the single-core test and 1653 in the multi-core test in Geekbench which in itself is decent. 
On 3DMark, it scored 1035 in the Wild Life test and 2109 in the Sling Shot Extreme test. Both tested the GPU performance.
The processor was quite a surprise because it is the same chipset used in the Galaxy A52 and with a higher price tag on the A72, you'd expect a more powerful processor. However, this clearly wasn't the case.
That said, the combination of the processor and ample RAM coupled with the 90hz refresh rate still offered a very smooth experience both in day-to-day tasks like scrolling through social media as well as playing video games. I didn't come across any hiccups throughout the two weeks that I used the phone.
I tried seven games on the A72 namely Auto Chess VNG, Mobile Legends: Bang Bang, League of Legends: Wild Rift, Asphalt 9, Black Desert Mobile, and Genshin Impact. Apart from Genshin Impact, I was able to play the rest of the games with max settings with little to no lag.
I was able to play Genshin Impact at Medium settings with a bit of lag especially when panning the camera in addition to the device getting a bit warm. It was playable but I found myself going back to Low settings just to lessen the lag. 
One thing that I enjoyed thoroughly was the stereo speakers with Dolby Atmos support. It made watching videos, listening to music, and even playing more immersive. It still isn't as good as using either wired or true wireless earphones/headphones but it isn't as bad as your typical smartphone speaker.
Camera
The Galaxy A72 features a 64MP main camera with OIS, a 12MP ultra-wide angle camera, an 8MP telephoto lens with 3x optical zoom and OIS, and a 5MP macro lens in the back. 
As a Samsung device, it's unsurprising to see punchy colors in the shots across all lenses. The main camera is able to capture good detail and sharpness even in dimmer environments. 
The ultra-wide snapper, as I've said many times, is always a welcome addition to a camera module as it allows you to get more in your shot. In this case, the ultra-wide camera delivers roughly the same level of detail and color as the main camera, making it a great addition.
The 8MP telephoto lens is what differentiates the A72 from both versions of the A52 as it replaces the depth sensor, which I think is a good trade. The telephoto lens shoots up to 3x optical zoom and maxes out at 30x zoom which isn't too bad especially with OIS helping you take your shot. Practically though, I think 3x is the most I'll use unless it's a concert, which in 2021 still isn't feasible. 
The 5MP macro lens, on the other hand, is decent at best. It offers better detail and sharpness in some situations but has more noise than when using the main camera up close. Because of the noise in the macro lens, I found myself using the main lens more than the dedicated macro mode. 
The front camera is a 32MP snapper that's pretty impressive. The separation offered in Portrait mode is actually pretty impressive even with a dark background behind your head it was still able to separate the background and my hair. In addition, the camera includes a wide-angle shot as well which offers just a bit more room. 
Battery
The 5000mAh battery of the Galaxy A72 survived 14 hours and 16 minutes in the Work 2.0 battery life test of the PCMark benchmark. The test simulates tasks like browsing the web and editing photos and videos. 
My experience with the phone is pretty similar as far as battery life goes but replace the photo and video editing with a good amount of gaming, which is impressive. Do note that I did these with a 90Hz refresh rate, if you want even longer battery life, I suggest lowering the refresh rate to 60Hz when watching videos.
The A72 supports 25W fast charging and comes with a Super Fast Charge charger in the box. Both offer a charge time of a little over one hour for a 0%-100% charge.
The included Super Fast Charge charger is pretty nice to have especially in an age of phone companies omitting it from the box.
Software
Samsung has really improved the experience on One UI. This further drives the point. I enjoyed the fact that upon booting up the device, it allowed me to choose from a list of additional apps, most of which were Samsung apps.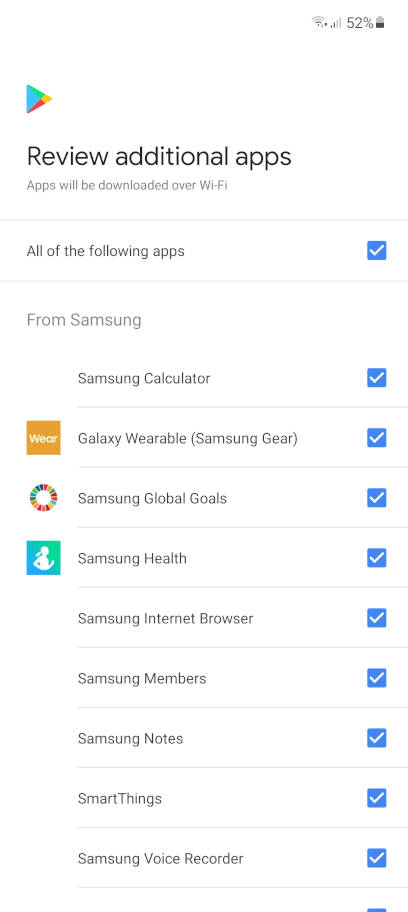 Apps like Samsung Health, Samsung Calculator, Samsung Notes, and Samsung Voice Recorder were among the list of the apps that I was given the choice to install or not. These would normally be pre-installed, so having the choice to pick some or one or none at all is very much welcome. It isn't totally devoid of bloatware though but it was kept minimal, which I am a huge fan of. 
One thing I didn't enjoy though was that Bixby was linked to the power button by default. While it does teach you how to turn off your device, I would've preferred just having you choose if you prefer Bixby or the more traditional power off menu from the get go. 
Verdict
The Samsung Galaxy A72 is a pretty decent device that handles most games with medium to high settings. It also offers a good battery life even with a 90Hz refresh rate and a good amount of gaming, in addition to a pretty formidable camera.
At the price point, I'm sure the non-glass feel to a device could be a turn-off for some people, but I say, try it out for yourselves. If you find a chance to hold the device yourself, give it a go. It actually has a very satisfying feel to it.
However, the fact that the Galaxy A72 shares the same PHP 23,990 price tag as the A52 5G but the latter offers a higher refresh rate, better processor, and 5G-support is pretty unusual. If all that the Galaxy A72 has over the A52 5G are the telephoto lens, a slightly bigger display, and a slightly bigger battery pack, I can't help but think that the pros of the A52 5G make it a better bang for your buck.
We'll be doing a comparison article for the the Galaxy A-series devices. Stay tuned for our comparison article.

Phone photos taken by Rianne Ronquillo
Samsung Galaxy A72 Review: Is Bigger Better?
What's Good
Unique and fresh design
90Hz refresh rate
Smooth overall experience
Can handle most games at Medium to High settings
Great battery life
Stereo speakers with Dolby Atmos support sounds amazing
What's Not
Snapdragon 720G at this price point is disappointing
90Hz refresh rate (just because the A52 5G packs a 120Hz refresh panel for the same price)
Not much differences between the Galaxy A72 and A52
Strangely looks even weaker in the spec sheet than the Galaxy A52 5G