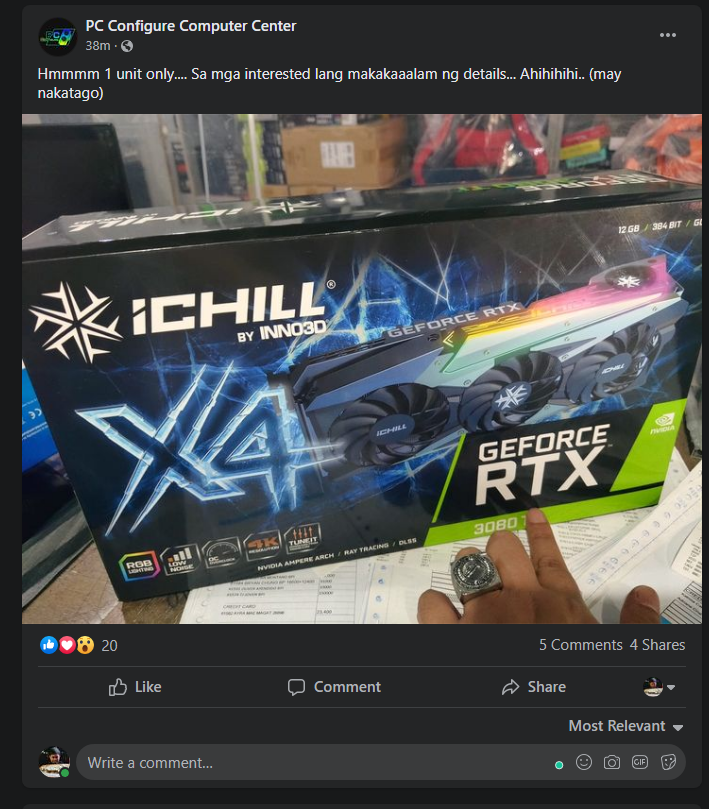 News, leaks, and rumors regarding Nvidia's upcoming RTX 3080 Ti have been consistent recently as we approach its rumored release date of May 31, 2021. It seems that the Philippines won't have a paper launch this time around as we spotted a major retailer pre-selling an AIB variant of the RTX 3080 Ti.
Earlier today, PC Configure Computer Center posted a picture of what seems to be the Inno3D RTX 3080 Ti iChill X4 model. The finger is blocking the obvious "Ti" text next to the 3080. Moreover, the written text on the upper right says "12GB / 384 Bit / GDD__ " which as we all know, the RTX 3080 only sports 10GB RAM while the RTX 3090 has 24GBs of GDDR6X memory.
Prices were not posted but we expect the RTX 3080 Ti to be priced in between the RTX 3080's current price of 100,000 and the RTX 3090 at Php 140,000. In terms of pre-mining prices, we are expecting the RTX 3080 Ti to have an MSRP of Php 60,000. We expect more details to be revealed as we approach the rumored May 31, 2021 release date.
Update: The Facebook post is now deleted
Grant is a Financial Management graduate from UST. His passion for gadgets and tech crossed him over in the industry where he could apply his knowledge as an enthusiast and in-depth analytic skills as a Finance Major. His passion allows him to earn at the same time help Gadget Pilipinas' readers in making smart, value-based decisions and purchases with his reviews and guides.