Kingston recently launched the NV1 – a new entry-level M.2 SSD for first-time NVMe users with laptops and small form-factor PCs. s With read and write speeds of up to 2,100/1,700MB/s respectively, it outperforms a SATA type SSD by up to three times. The brand claims that it also uses less power, runs cooler, and offers quicker load times.
To find out if these are all true, we pitted the 1TB variant of the NV1 against a bunch of other SSDs in a series of tests, to see if this one can deliver good performance for its price.
Kingston NV1 Specifications
| | |
| --- | --- |
| Read/Write Speeds | Up to 2,100/1,700MB/s (all capacities) |
| Ideal for | Thin laptops and small form factor PCs |
| Capacities | 500GB, 1TB, 2TB |
| Form Factor | M.2 2280 |
| Interface | NVMe PCIe Gen 3.0 x 4 Lanes |
| Endurance | 500GB – 120TBW |
| | 1TB – 240TBW |
| | 2TB – 480TBW |
| Power Consumption | 500GB: 5mW Idle / 205mW Avg / 1.1W (MAX) Read / 3.3W (MAX) Write |
| | 1000GB: 5mW Idle / 220mW Avg / 1.1W (MAX) Read / 3.3W (MAX) Write |
| | 2000GB: 5mW Idle / 340mW Avg / 1.1W (MAX) Read / 3.3W (MAX) Write |
| Storage Temperature | -40°C~85°C |
| Operating Temperature | 0°C~70°C |
| Dimensions | 22mm x 80mm x 2.1mm |
| Weight | 7g (All capacities) |
| Vibration Operating | 2.17G (7-800Hz) |
| Vibration Non-operating | 20G (20-1000Hz) |
| Warranty/Support | Limited 3-year warranty with free technical support |
Kingston NV1 Pricing
| | | |
| --- | --- | --- |
| Product | Capacity | MSRP |
| SNVS/500G | 500GB | P3,050 |
| SNVS/1000G | 1TB | P5,475 |
| SNVS/2000G | 2TB | P10,550 |
Test System
Processor: AMD Ryzen 7 3700X
Cooler: ASUS ROG Strix LC 240 AIO
Motherboard: ASUS TUF Gaming X570 Plus
RAM: 16GB TForce Nighthawk 3200MHz CL16
Storage: 1TB Kingston NV1 M.2 NVMe PCIe SSD , 1TB Seagate 7200RPM HDD, Kingston KC600 512GB SATA3 SSD, Kingston KC2500 M.2 NVMe PCIe SSD
PSU: Seasonic Prime 750W 80+ Gold
GPU: Colorful RTX 3080 Ultra OC
OS: Windows 10 20H2 Build 19042.985
Benchmarks
CrystalDiskMark
CrystalDiskMark test how fast files can be read from and written to a storage device.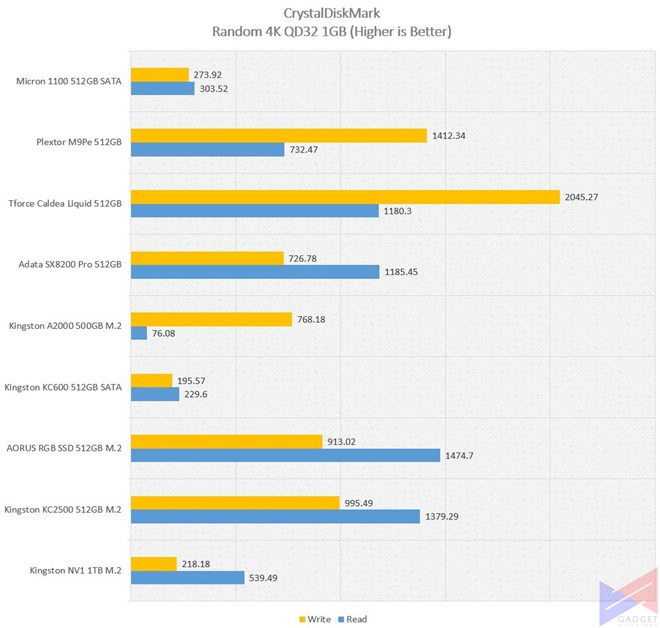 Compared to Kingston's own KC600 which is a SATA SSD, the NV1 managed to churn out significantly better sequential read and write performance, as well as random read performance, but only slightly leads on random write performance. Against other M.2 SSD's like the popular Adata SX8200 Pro, Kingston's offering is left trailing.
AS SSD Benchmark
This tool shows how responsive a storage device is, as well as the time that it takes to copy three types of files – Games, Programs, and ISOs.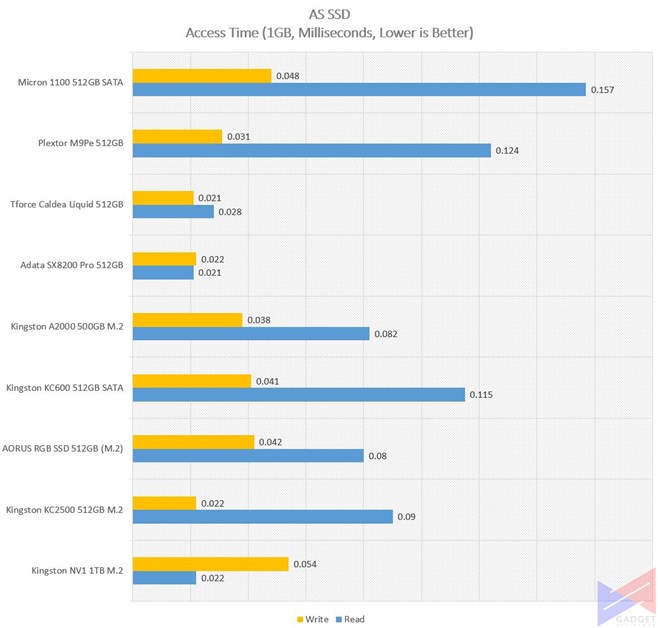 Using a 1GB file sample, the NV1 flexes its muscles, outperforming most of the other items in the list in terms of read performance, with a tie against Kingston's own KC2500 M.2 SSD, and coming in very close to the SX8200 Pro.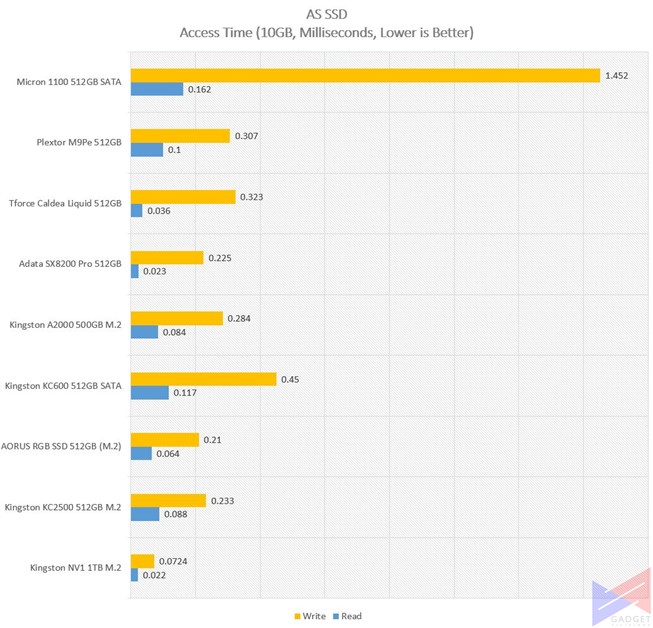 With a 10GB file sample, the NV1 remains an exceptional performer. In fact, it tops the chart in both read and write performance.
IOPS (Input/Output Operations per Second) determines the number of inputs and outputs that an SSD can do in a short period of time. In this regard, the NV1 comes in fourth in both read and write performance.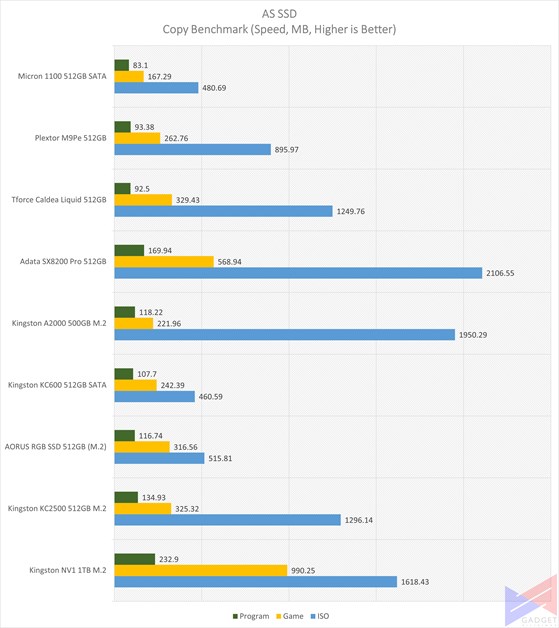 Among the products in the list, the NV1 offers the best rates in for copying programs and games, while coming in third for ISOs.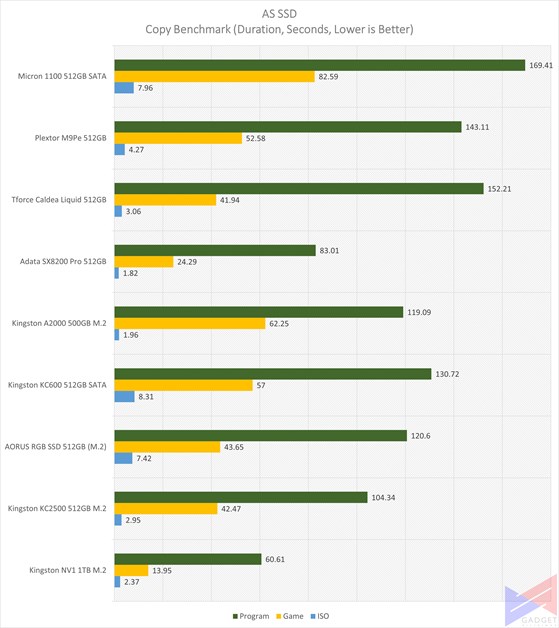 As for which one can fully transfer files the quickest, the NV1 proves its mettle, topping the chart for programs and games, and coming in third for ISOs.
As for operating temperature, the NV1 isn't exactly the coolest running in the list, being one of the warmest in idle, and the third warmest when running in load.
Verdict
For those who don't want to shell out a lot of money for a decent M.2 SSD, the NV1 was actually able to put out some good values even against a number of more expensive products like Kingston's own KC2500 and the very popular SX8200 Pro, and topping the charts in some of the tests.
The NV1 can also be used as an external SSD using a compatible bridge box, offering great performance for a budget-friendly price compared to actually purchasing a branded portable SSD.
On the flip side, it's not the best in terms of thermal performance, and it's probably not a good choice if you're transferring a lot of ISO files. Regardless, it's still a great choice for starters.
Emman has been writing technical and feature articles since 2010. Prior to this, he became one of the instructors at Asia Pacific College in 2008, and eventually landed a job as Business Analyst and Technical Writer at Integrated Open Source Solutions for almost 3 years.