Introduction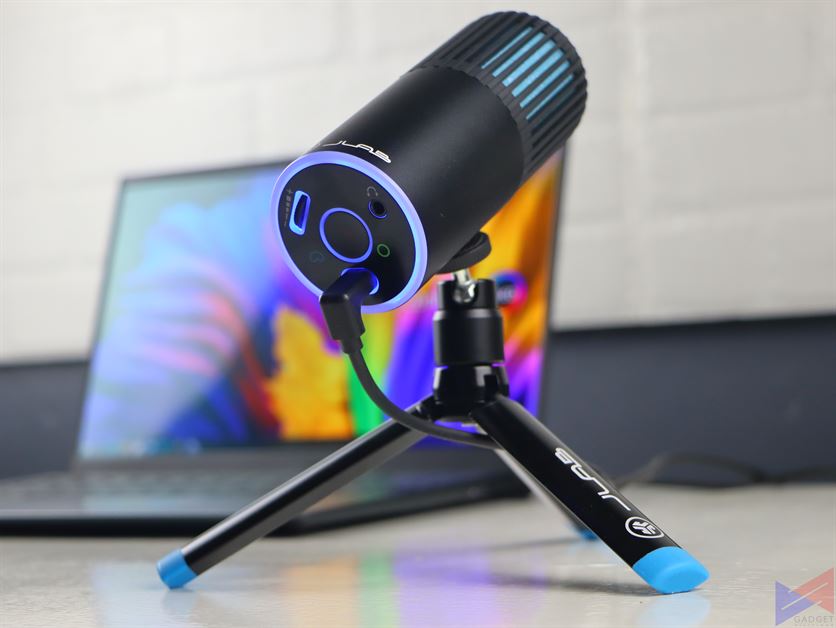 I would not say I have zero experience when it comes to microphones. But so far, I've been sticking to my Cloud Alpha's detachable mic for everything – online meetings via zoom, discord chat, and on a number of occasions, for streaming. It's decent, but certainly not the best.
That's why I didn't give up on the chance to try out the JLAB Audio Talk Go USB Microphone, as it sparked my curiosity on how different it is to have a mic that's not on the headset, but rather, on your desk or an arm, just like most streamers that I follow. Does it sound better? what features does it offer? and for its PhP3,990 price tag, is it a good deal?
JLAB Audio Talk Go Specifications
| | |
| --- | --- |
| Transducer Type | Condenser, Pressure Gradient with USB digital output |
| Polar Patterns | Cardioid or Omnidirectional |
| Frequency Response | 20Hz – 20kHz |
| Max SPL | 118DB |
| Sample Rate | 96k |
| Bit Depth | 24 |
| Capsules | 1 x 14mm, 1 x 9mm condenser capsules |
| Weight (Body Only) | 130g |
| Weight (With Stand) | 200.3g |
| Dimensions | 127 x 55 x 55mm |
| Dimensions with Tripod | 150 x 195 x 195mm |
| Cable Weight | 46.5g |
| Latency | 0 |
| Where to buy | Link |
Unboxing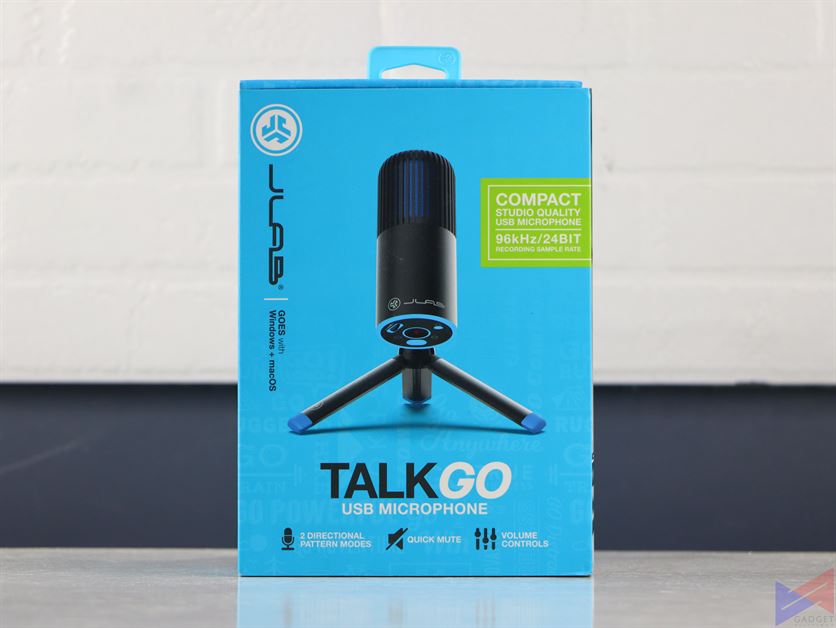 The JLAB Talk Go neatly packed in a blue box, which basically talks about its features. Inside, you get a mini tripod, the microphone itself, the ball head attachment, a 5ft. USB-C cable, and a Quick Start Guide.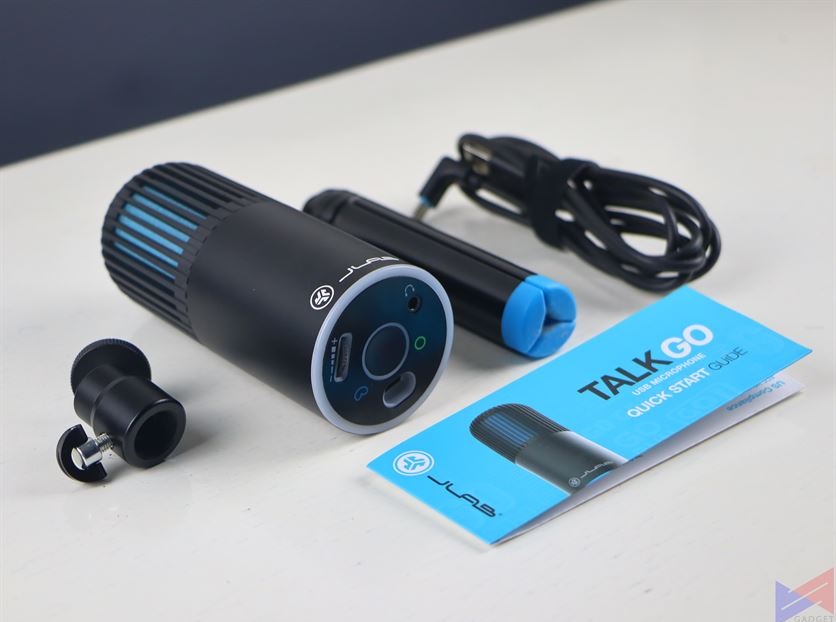 The USB Type C cable included in the package is long enough for me to position the microphone in the middle of my desk, which is around 60cm in distance, with some cable left to spare.
Stand Assembly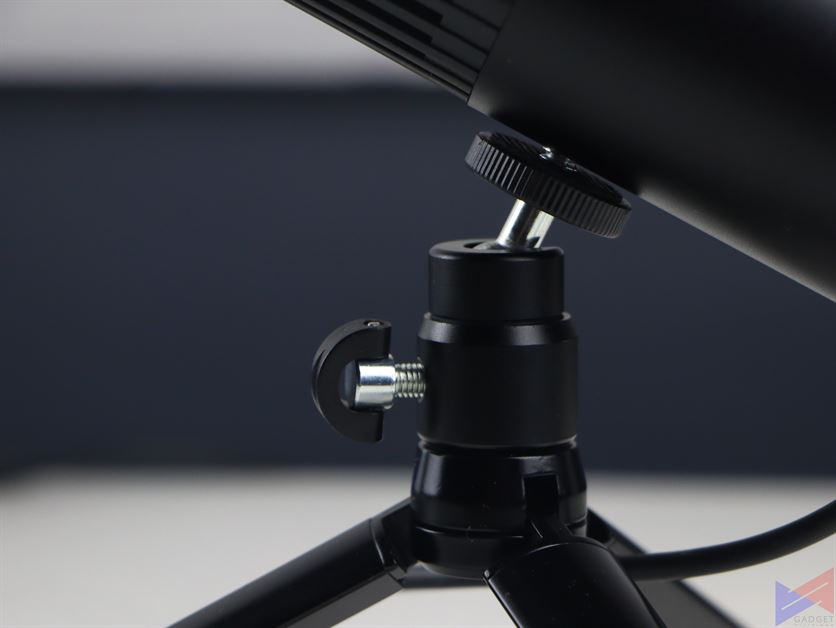 Using the stand attachment, you can connect the microphone to the mini-tripod in a few easy steps. It's quite straightforward that you probably wouldn't need the manual.
The end that connects the ball head to the microphone has a lock that's similar to some camera accessories wherein you'll need to twist a round piece of plastic to lock and unlock. The ball mechanism also allows for easy repositioning of the microphone.
Design and Build Quality
The microphone itself uses a combination of metal on its housing and plastic for the head. Both the stand attachment and the mini tripod are also made of metal, which means you get a very sturdy setup once everything is locked.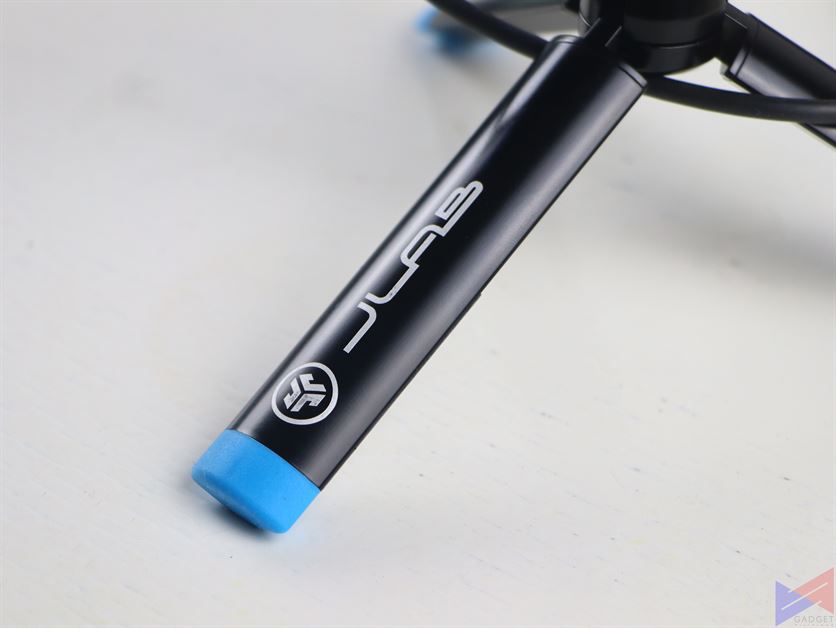 The microphone uses a black and blue motif with the JLAB branding on the lower section of the device as well as on the mini tripod. Speaking of which, the mini-tripod also user rubber material on its feet, to prevent the entire setup from sliding around your table, or falling off.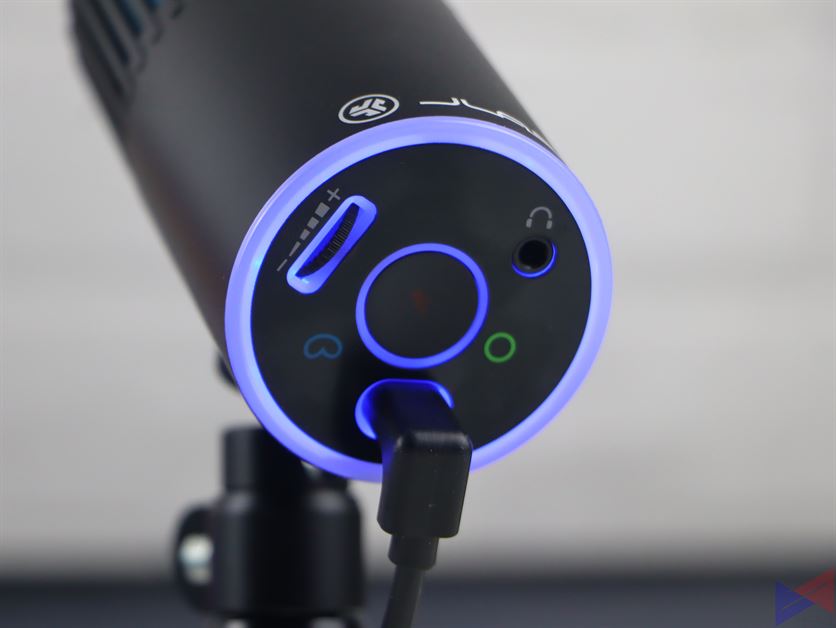 At the back of the microphone, you get a single button for mute and changing the polar pattern, a volume control knob, a USB-C port, and a 3.5mm headphone jack for monitoring, which is a nice plus. The bottom section even lights up to indicate which mode you're in, or if the microphone is muted.
Performance
To check how this microphone performs, we conducted a number of tests – one to test the sound on different polar patterns, one to check how I will sound from different distances, and how the microphone will perform on an actual livestream on Facebook.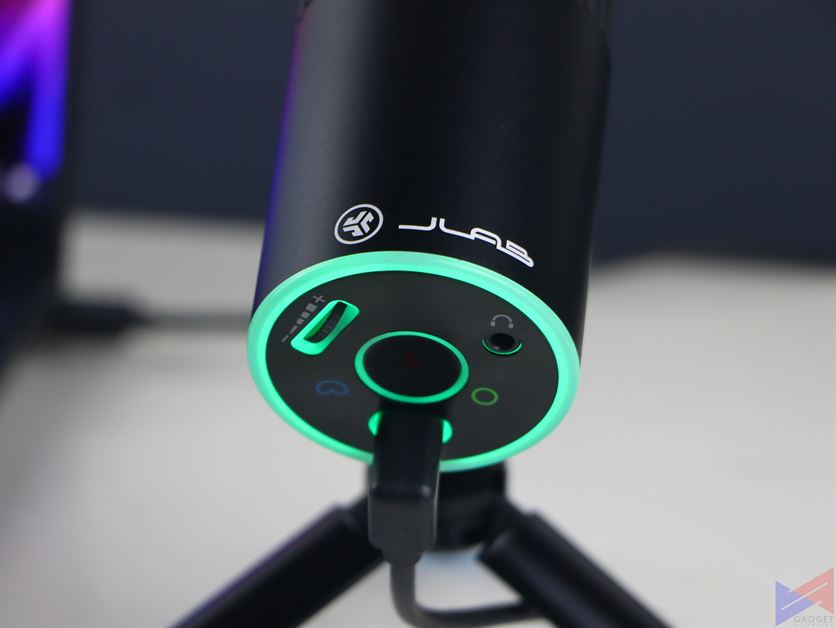 JLAB Audio Talk Go has two polar patterns – Cardioid, in which it becomes more sensitive to sound from the front, less sensitive to sound from the sides, and no sensitivity to the sound from behind, and Omni Directional, which means it'll pick up sound at equal levels from all sides. To change the polar pattern, simply press and shortly hold the button at the bottom of the microphone. A Blue light means you're in Cardioid Mode, while a Green light means you're on Omni Directional Mode.
The former is good for streaming and virtual meetings where you're the only one talking to an audience. The latter, on the other hand, is great for interviews, and group calls where people can speak to the mic from any direction.
As for actual sound quality, you may check out the recording below, demonstrating how the microphone perfoms on both modes.
As you've heard, the microphone is able to clearly pickup the sound of my voice, loudness is also good, and it doesn't put any bit of unwanted color to the sound. There's also good clarity, though the upper range can be a bit piercing depending on the volume. It's very sensitive, so much that it even picks up the sound of cars outside. It retains the same quality when in Omni-directional mode. though you can tell the slight change in volume.
The microphone also does a great job of clearly pickup up my voice even from a farther distance. Unfortunately, I didn't have a lot of room to begin with, so I was only able to try it until 2 meters.
The JLAB Talk Go also performs very well for a live stream in terms of clarity. GameCaster's noise suppression feature works well too, taking out the background noise and leaving only my voice.
Verdict
At PhP3,990, the JLAB Audio Talk Go offers some nice features and good performance for those who want a decent microphone without burning a big hole in their wallets. The build quality is excellent, it's easy to set up and use, you get a 3.5mm headphone jack for monitoring, and having two polar patterns which you can switch to in an instant makes it a very flexible option.
Lastly, it's able to pick up sound and produce it clearly on the other end without adding any unnecessary coloration. The high end can be a bit piercing at high volume, but it's something that's manageable.
It also easily picks up nearby noise. This, however, can easily be solved by software. Gamecaster, for example, has its own noise suppression feature.
In general, the JLAB Audio Talk Go offers a good combination of nifty features, good performance, and affordable pricing, and should be in the list of those who want a decent microphone to jumpstart their streaming career.
I
Emman has been writing technical and feature articles since 2010. Prior to this, he became one of the instructors at Asia Pacific College in 2008, and eventually landed a job as Business Analyst and Technical Writer at Integrated Open Source Solutions for almost 3 years.