ZenFone is officially back in the Philippines! Just in case you missed it, ASUS Philippines did not make the ZenFone 6 and 7 officially available in the country. We can only assume or guess the reasons behind it, but during those times, the landscape was too competitive for them to dip their toes in.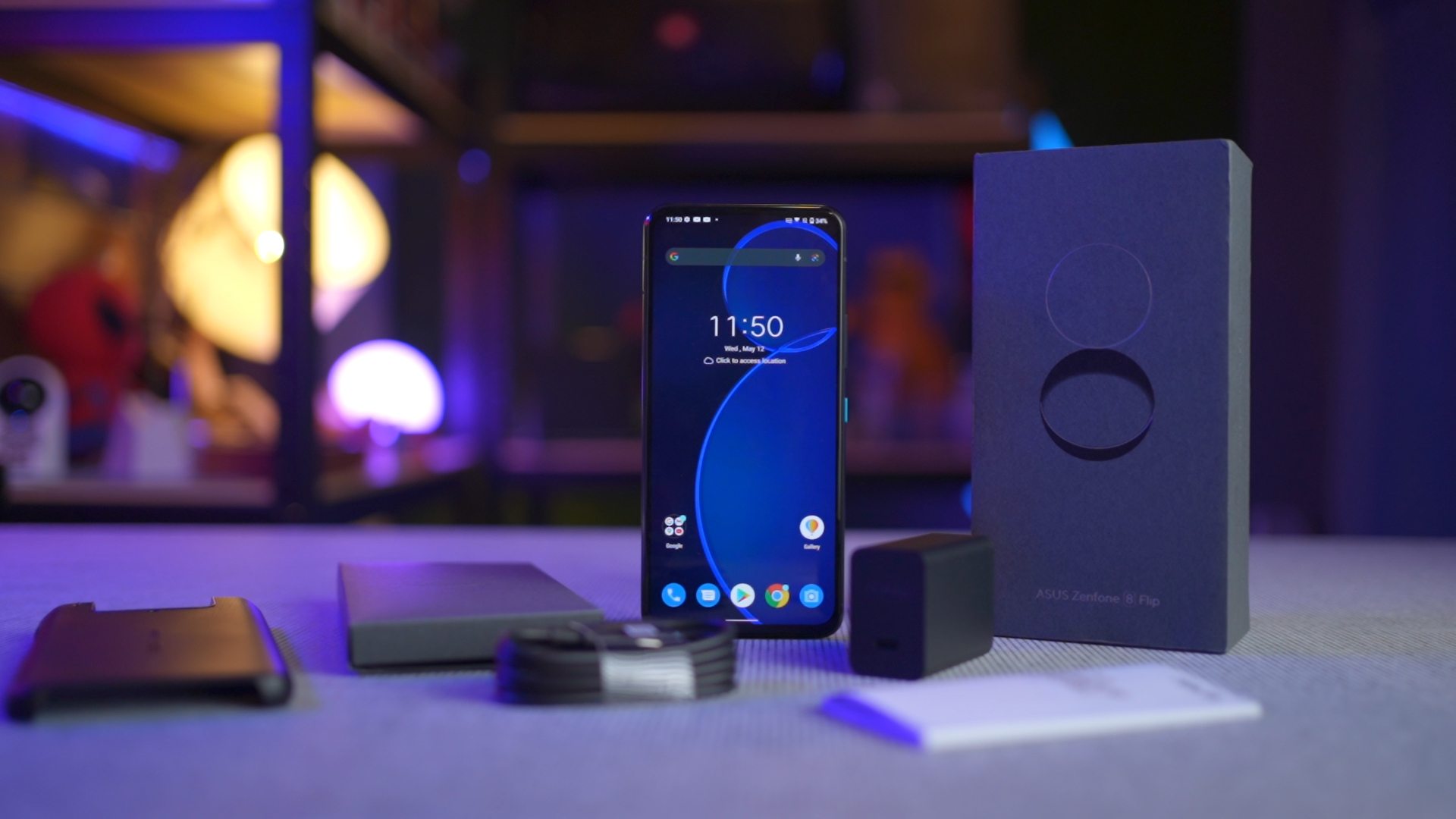 Fast forward to today, the new ZenFone 8 series is now available for pre-order in the Philippines. The ZenFone 8 sports a compact build, IP68 rating, and a flagship-level chipset by Snapdragon. In this review, however, we'll focus on what ASUS sent over – the ASUS ZenFone 8 Flip. This is "technically" the 3rd iteration in the ZenFone series to sport a vertical flipping camera module: the first one was ZenFone 6 Flip, ZenFone 7 Pro, and ZenFone 8 Flip. Join me as I give you my take on this device andmy thoughts if it's a good buy or not.
Build and Display

The ZenFone 8 Flip is a thiccboi. It's heavier than my Galaxy Z Fold 2, and weighs almost the same compared to the ROG Phone 5. There's a lot of things to cover here so let's get started with the most important one – the overall build.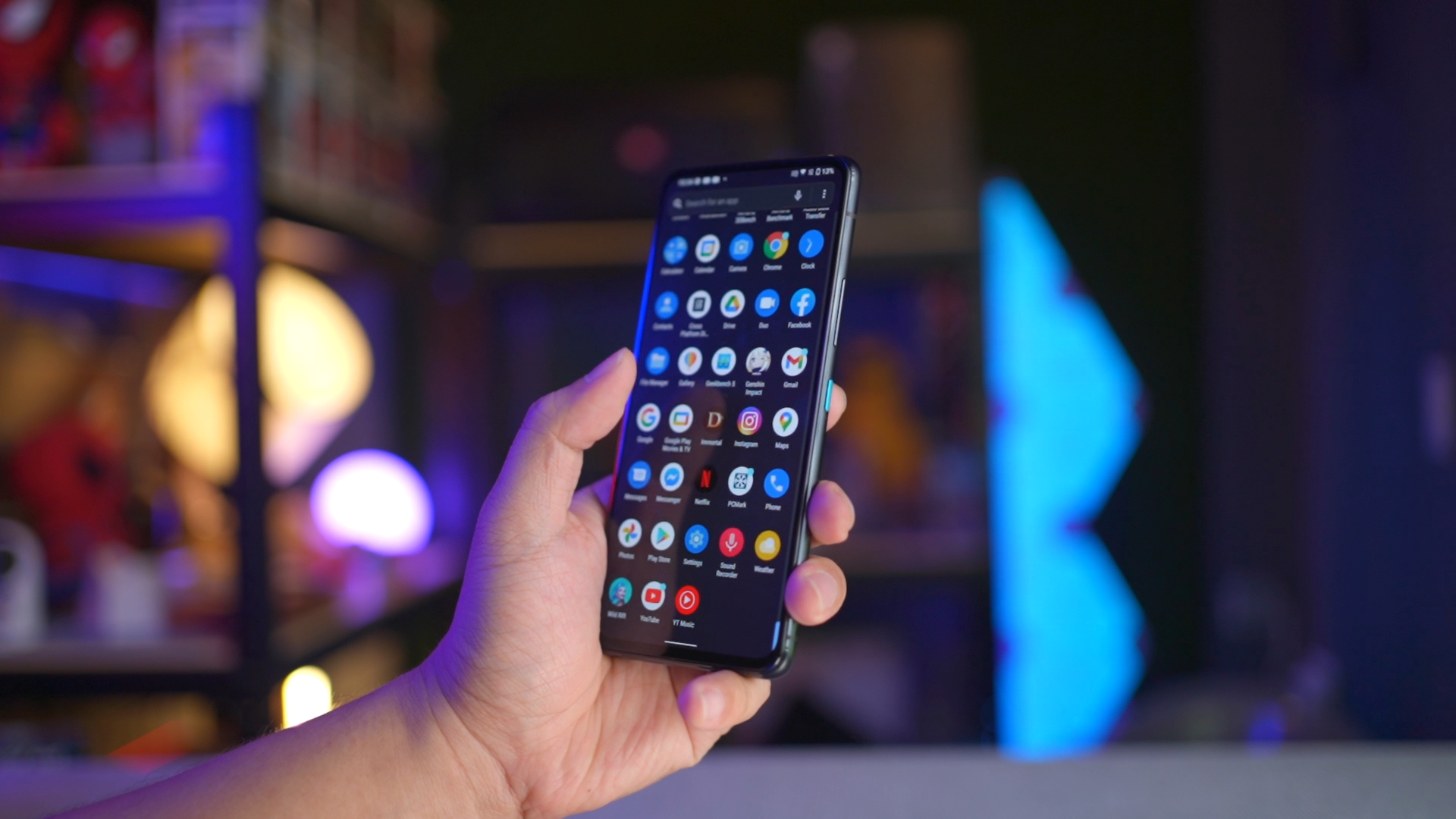 This smartphone sports a 6.67" All-Screen NanoEdge Display! As this one has a flipping camera, you won't see any punch-hole or notch on its screen. The body is built with 3 major parts: the rounded back cover protected by 3D Curved Corning Gorilla Glass 3; a midframe made out of a single block of series 6000 Aluminum, and the Corning Gorilla Glass 6-protected FHD+ AMOLED display. Oh yes, this one is screaming flagship with its overall build, but I'm somewhat perplexed why they chose a 7-year old Gorilla Glass 3 on the back panel and a 3-year old Gorilla Glass 6 for its display. Some of its competitors have been using Gorilla Glass Victus on their flagship smartphones, so ZenFone 8 Flip's case is concerning, to say the least. The only reasonable explanation that I'm seeing here is they wanted to bring the cost down as much as possible to make it more competitive versus its major competitors.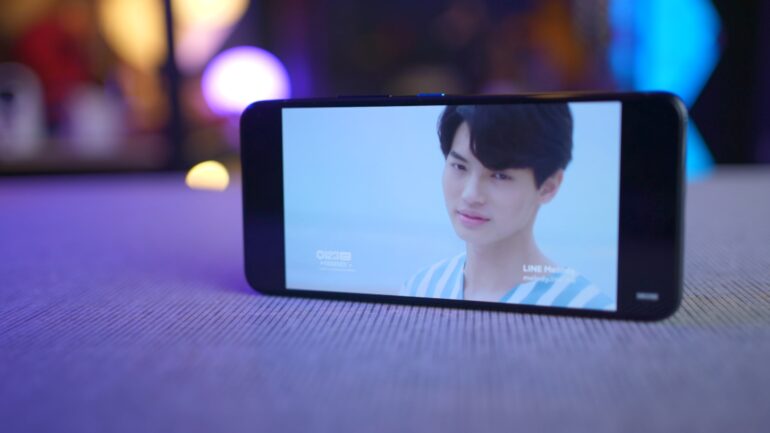 Despite this setback, I'm a big fan of the quality of its display. It's almost perfect on a smartphone, which makes it stand out in the competition. Since this device has a huge all-screen display, then ASUS might as well flaunt and maximize it by giving it the best features available. It's bright even under direct sunlight; it has unbelievably good color reproduction; and it's super responsive, thanks to its 200Hz touch sampling rate.
Its Samsung-powered AMOLED display has 90Hz refresh rate, a tad lower than what the ROG Phone 5 and Galaxy S21 Ultra can do. It is, however, a sweet spot for flagship smartphones, which have a huge impact on performance and battery life. I'll get more on this later.
As for I/O and physical switches – the ZenFone 8 Flip's Type C port is at the bottom beside its stereo dynamic speaker. There is no 3.5mm headphone jack so you can either use a bluetooth headset or buy a Type C to audio jack adapter so you can use your existing audio equipment. Unfortunately, ASUS did not include an audio adapter in the box so your only option is to buy separately.
The smartphone also has three internal microphones with ASUS Noise Reduction Technology, which is excellent when recording videos with audio or chatting with friends.
Physical buttons are located on the right side of the phone: there's blue-colored sleep wake button and volume rockers. There is no LED notification, so you'll have to stick with vibration or sound alerts. In terms of camera, it only has a single flipping set which includes a 64MP f/1.8 Sony IMX686 sensor, a 12MP dual pixel Sony IMX363 f/2.2 sensor, and an 8MP OmniVision. I'll talk about the cameras later.
Performance
There is no question that Snapdragon 888 is the fastest among the flagship mobile chipsets right now. In the end, it'll be about optimization and thermal management that will push it to its performance boundaries.
My experience with the ASUS ZenFone 8 Flip confirms this with its 811,000 Antutu Score and impressive gameplay performance on games like Genshin Impact, Diablo Immortal, and Wild Rift.
Based on artificial benchmark, ZenFone 8 Flip outperformed all flagship smartphones we tested based on Antutu Score. It is also considerably faster than Xiaomi Mi 11 and Huawei Mate40 Pro on 3D Mark Wild Life, PC Mark 2.0 and Geekbench Single Core scores.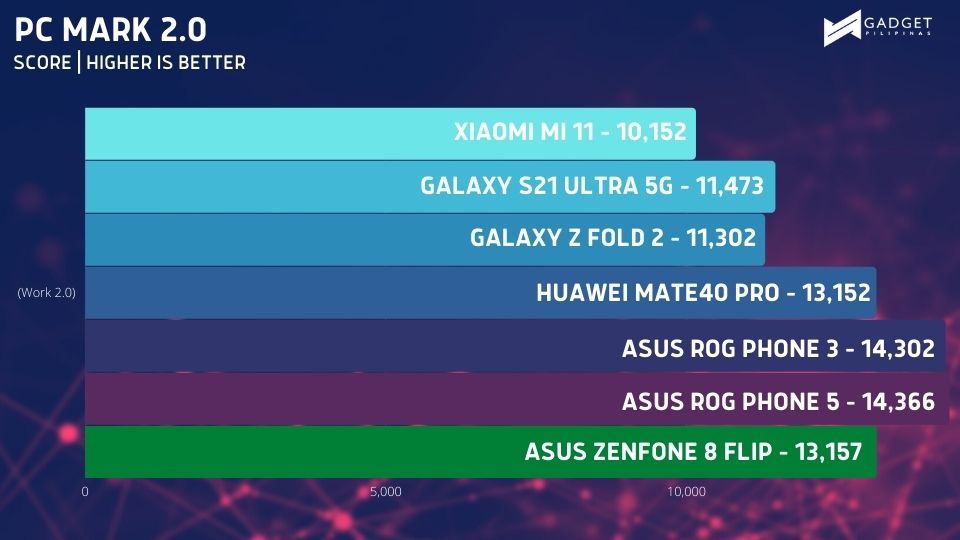 Its performance is outstanding while playing Genshin Impact, Diablo Immortal and Wild Rift. Framerate is consistent and does not drop below 59fps even at max settings. The only downside is its thermals, which usually shoot up to 65C during long gameplay minutes. It does not get too hot compared to Xiaomi Mi11, but note that this can affect performance and battery life.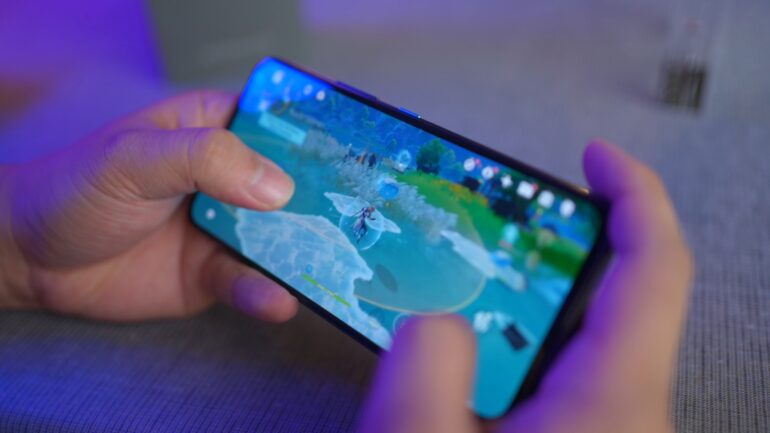 Software
ZenFone 8 Flip runs on the latest version of Android 11 and ZenUI 8. As usual, Zen UI has been one of my favorite UIs, and everything I love has carried over on this latest version. Convenience and experience are its key features and it's neatly spread in all aspects of the software. The phone feels 100% Google and 100% ASUS. I know – it's beyond 100% and that's because ASUS did a great job in balancing and bringing the best of both worlds.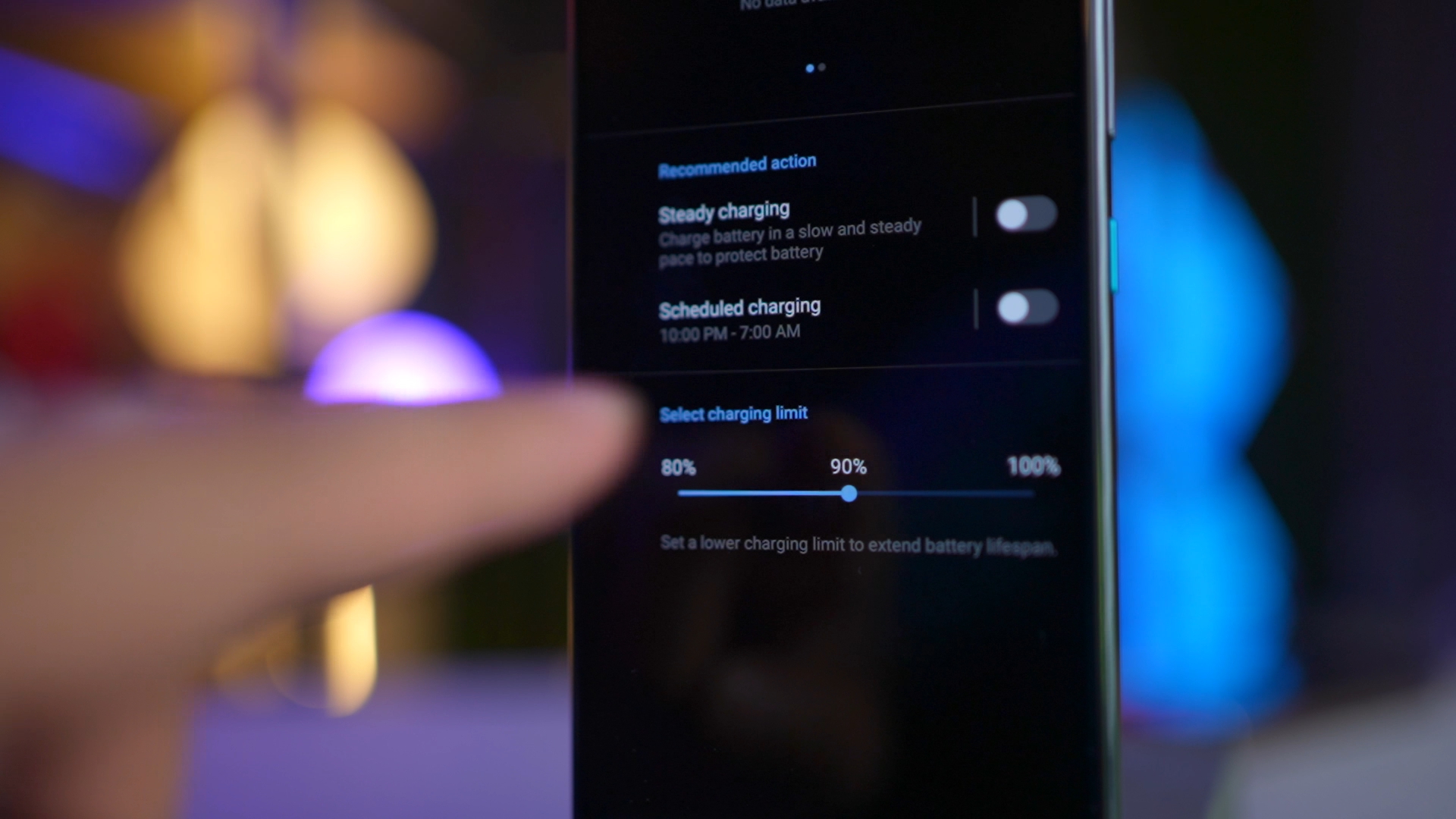 I honestly don't have time to discuss everything but here are the features that are worth mentioning.
The phone does not have Armoury Crate but it has Game Genie, which mimics some of the features you can find on ROG Phone 5. While playing a game, swiping from the left edge of the screen brings out this feature, which allows you to change the refresh rate, show real-time information, mark a clip, record, change crosshair, and a lot more!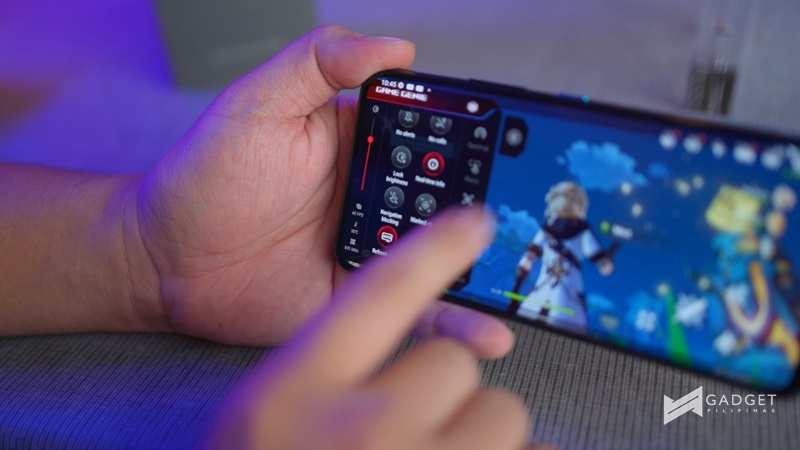 I also love its Battery Care features, which help users set the right knobs to protect the integrity and efficiency of battery. You can limit the maximum percentage it will charge the battery to preserve its efficiency. You can also find this on ROG Phone 5, and it's super useful especially if you leave your phone charging throughout the night.
Another software feature, which Zen UI 8.0 enhanced is the camera. This brings me to the next topic, which is one of its best aspects.
Camera
ZenFone 8 Flip packs a flipping camera module, which houses three sensors from two manufacturers – Sony and OmniVision. You will not go wrong with these manufacturers – Sony is known for making top-of-the-line sensors for mobile, consumer and prosumer cameras; while Omnivision is the same company that developed the sensors for the PlayStation Camera, ASUS ZenFone 4 Selfie and the autopilot camera of most Tesla car models.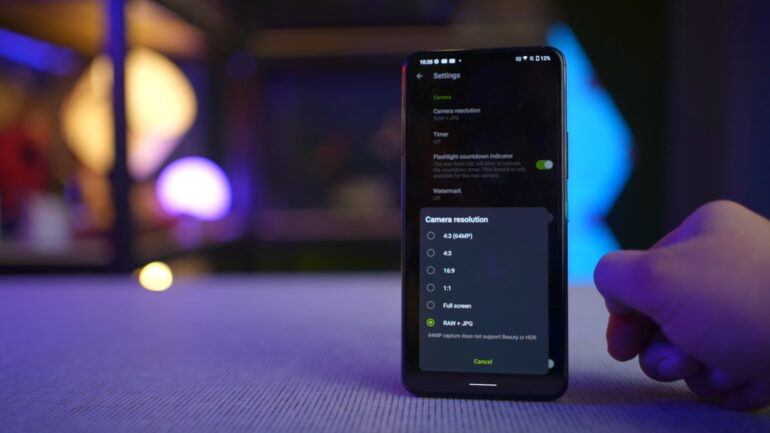 In the case of this smartphone, its main camera is a 64MP IMX686 by Sony that can shoot 8K with EIS. This is the same camera that is on the ROG Phone 5. Its second camera is a 13MP Sony IMX363 with 4-centimeter macro shot support and real-time distortion correction. Its third camera is an Omnivision OV08A sensor that has 3 times telephoto zoom support and digital zoom up to 12 times.
For your appreciation, I prepared some sample photos taken with the ASUS ZenFone 8 Flip and Huawei Mate40 Pro. Huawei Mate40 Pro is one of the best camera smartphones around using Leica camera technology. Again, my apologies for having almost similar subjects since the start of the pandemic.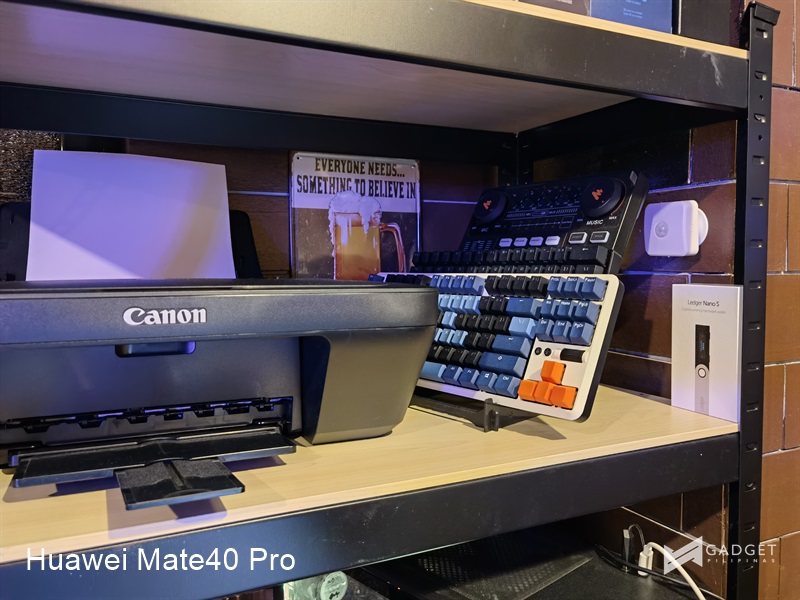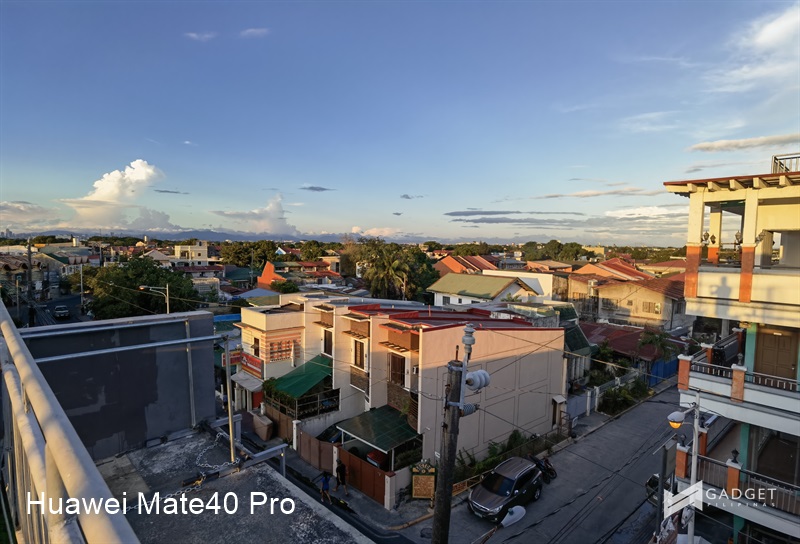 As you can see, while Huawei Mate40 Pro's camera set seems superior, ZenFone 8 Flip's cameras can definitely keep up with it. Color reproduction, saturation level, sharpness are almost identical in most instances, but ZenFone 8 Flip is far better than Huawei Mate40 Pro in terms of selfie. This is obviously because of the nature of Flip's flipping cameras. You're getting the same quality you get but now more optimized for selfie photos or videos. You're literally just flipping the main camera to the front, so you're maximizing its full potential even for selfies. This is genius and I now understand why they chose to stick with this design for 3 years in a row. I never got the chance to experience its past iterations and honestly, I didn't like it until now. This experience I've had with the ZenFone 8 Flip changed my perception of it.
The flipping camera has unique features up its liquid metal sleeve – yup, you heard that right and I'll get onto that later. There's quick-angle and free-angle shooting, which lets you manually adjust its flip settings; there's also motion tracking and automatic panorama, which works on horizontal or panoramic shots.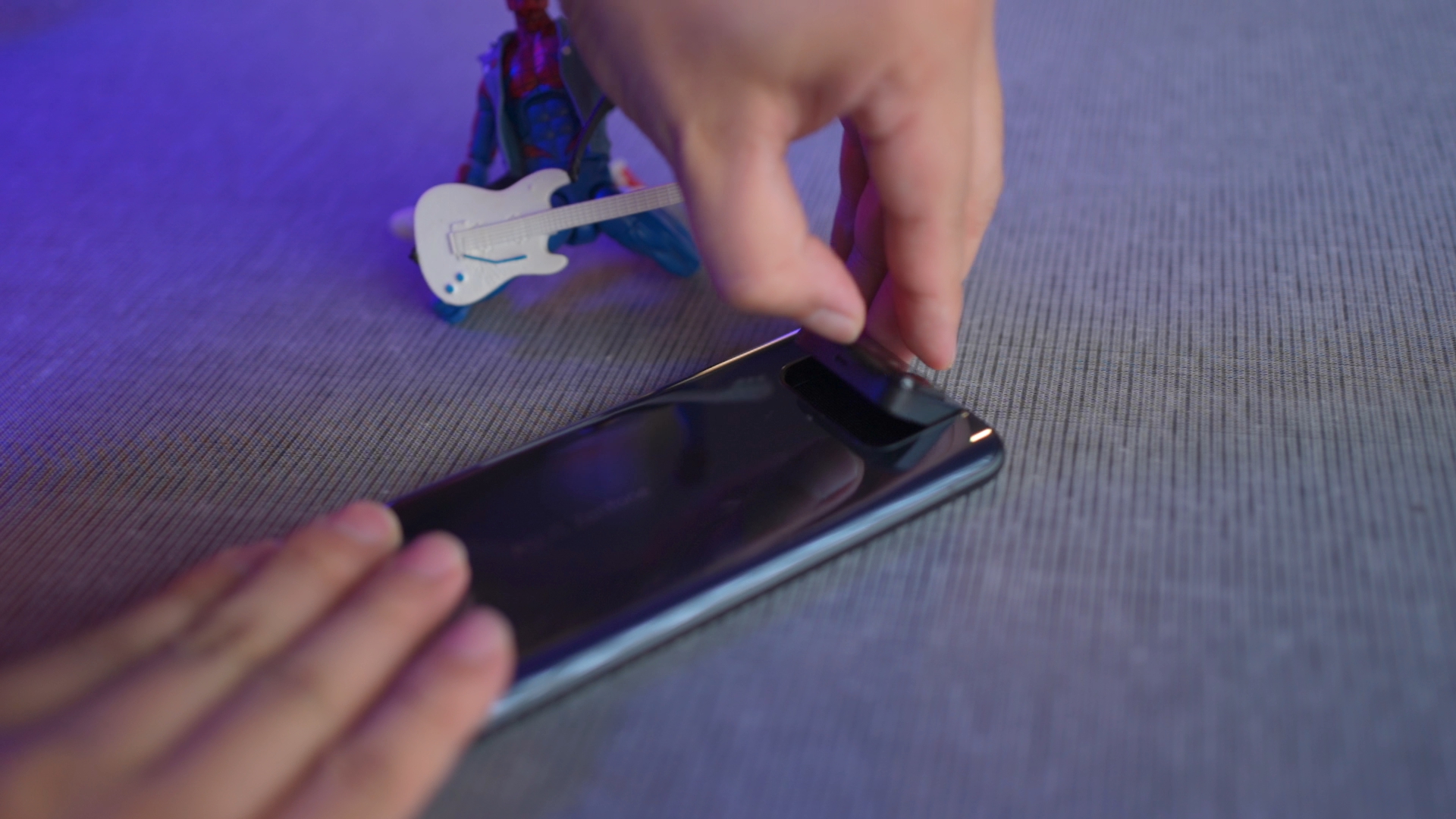 For video shooting features, you get a slew of impressive features on this one. There's support for 8K 30fps with EIS that I mentioned earlier, ultrawide-angle 4K 60fps video recording (also with EIS) and 4K slow motion at 120fps that is perfect for broll shooters out there! The phone also has triple microphones if you want to produce a video with good audio quality. Perhaps the best one that I truly enjoyed with this smartphone is its object focus feature, which seamlessly switches to foreground mode at a fraction of a second. This is best for those who showcase certain products while vlogging or simply shooting a promotional TikTok video.
If you're a professional videographer, you will probably appreciate the Pro Video features that this smartphone has. It has Wind Filter, Mic Focus, Acoustic Focus, Hyperstead and Free Zoom. However, the lack of manual settings for aperture; and, absence of additional assistive settings like focus peaking and exposure verification are quite disappointing. For photography, despite some lacking manual settings, I'm happy that it supports RAW + JPEG mode, which allows professional photographers further play around with contrast, saturation, exposure and a lot of details on photos. However, I would suggest ASUS to make it easier for users to select this feature from Pro Mode.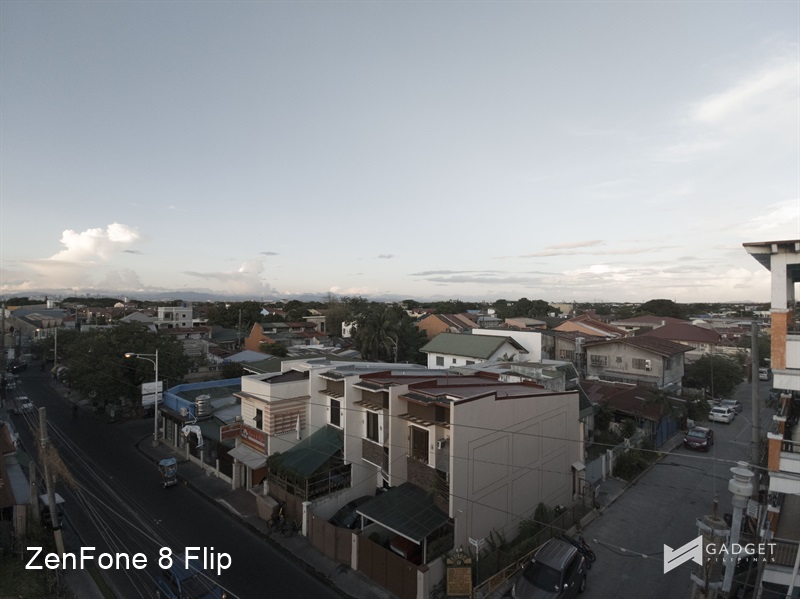 I'll probably have a dedicated video about this soon in order for me to cover and show you how these things work. This is a smartphone that can definitely put Huawei Mate40 Pro to shame and can be a worthy competitor to the iPhone 12 Pro Max.
Before I move on the next topic, I would like to talk more about the mechanism behind its flipping camera. Moving parts are susceptible to wear and tear. This was anticipated by ASUS so they did everything they can to make it last and withstand the nastiest of drops. It has a sensor that automatically flips its back to safety when it senses that it's falling.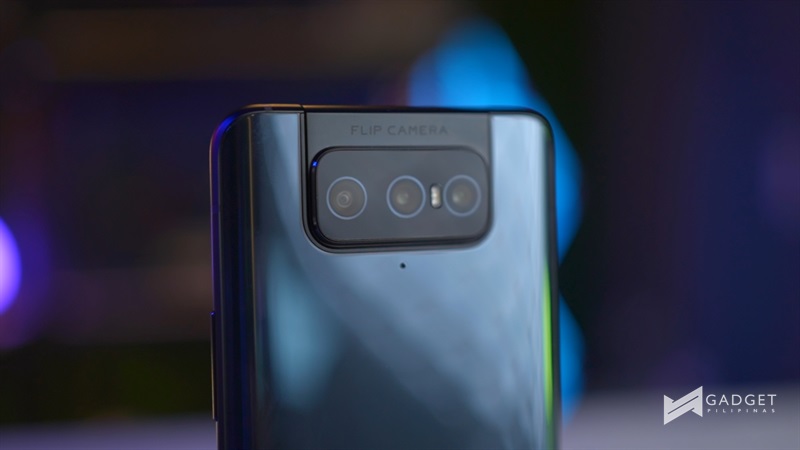 As for the build, ASUS used liquid metal for the camera module and 18 layer flexible printed circle with 110 signal outputs compared to the previous iteration. ASUS is confident that ZenFone 8 Flip's camera can endure up to 300,000 flips. Based on their calculation, this is about 150 flips per day for more than 5 years. Honestly, that's good enough with me, and I hope that ASUS Philippines is prepared to entertain valid warranty claims with swiftness and precision.
Sound
Now, let's briefly talk about this phone's audio. This has impressive audio performance, thanks to its two speakers, which is powered by NXP TGA9874 amp. It is Hi-Res Audio certified, which means it can play your high resolution audio at 24-bit settings when paired with Hi-Res Audio certified output devices. Perhaps, my colleague Emman can do a drilldown of this feature when I pass this over to him.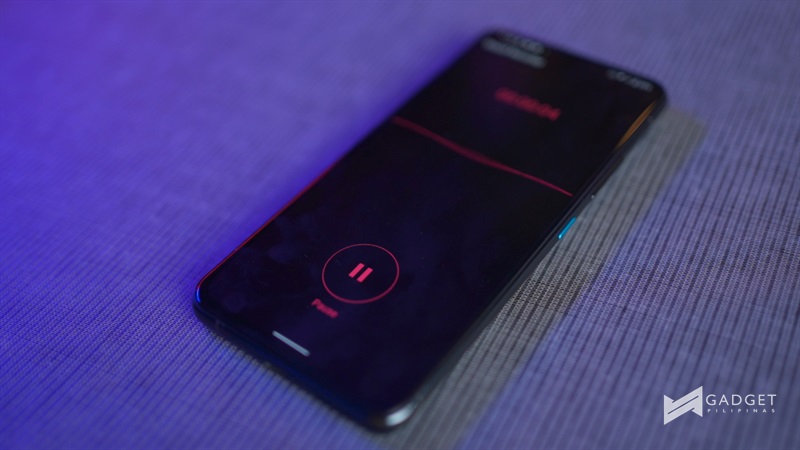 As this device does not have 3.5mm headphone jack, its support for aptX HD, aptX adaptive, LDAC and AAC can let you use your bluetooth audio equipment. You can also make tweak sound settings through AudioWizard, and has a dedicated game mode, which lets you maximize its built-in speakers and ASUS ROG headsets for better audio gameplay experience.
The AudioWizard app is pretty robust and gives access to sound equalizer, presets and audio profiles. This is perfect for those who want full control over their auditory experience.
Battery
ASUS ZenFone 8 Flip packs a 5000mAh battery that should be enough to power it up all day. Based on my experience from its fully charged state, it managed to stay up for 10 hours straight with 22% battery remaining. Brightness is at 60% the whole time and performance mode is enabled. GSM is turned off but WiFi is up the whole time. This is highly acceptable by my standards, and I expect its battery performance will get better as I use this often.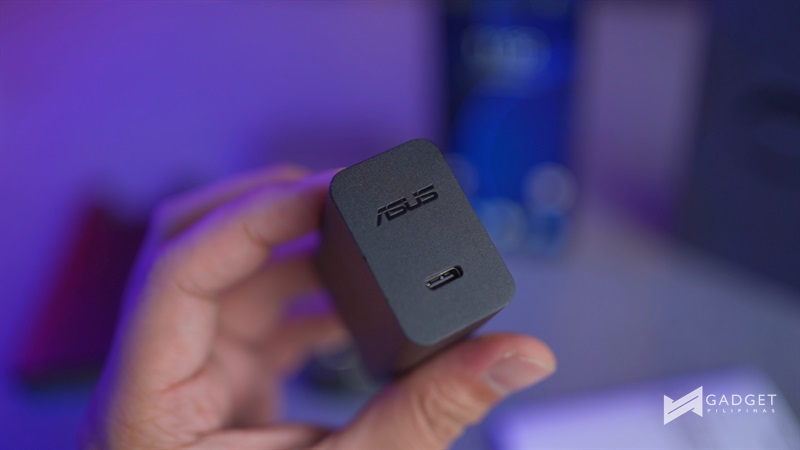 ASUS included a 30W HyperCharger in the box of ZenFone Flip 8. It fully charges the phone in less than 2 hours and 15 minutes. As I mentioned earlier, this smartphone has battery protection features installed so you won't have to worry about its efficiency over time.
Verdict
ASUS needs to put a brave face when they open their stores – virtual or brick and mortar – to sell the ZenFone 8 Flip. Its price will ultimately determine its chance to win in the flagship category because they are playing in this field dominated by OnePlus, Xiaomi, Samsung, and Apple.
I am certain that all the new features they are waving to their consumers can take on what other brands can do. If they price this below OnePlus 9 with Hasselblad's camera technology or Xiaomi Mi11 Ultra 5G, ASUS might have a winning chance. If its price gets too close to ROG Phone 5 or the Galaxy S21+, then ASUS must have hardworking marketing and sales activities to push this to consumers. Also, let's not forget the part where ASUS would need to honor its commitment to after-sales service.

**UPDATE**

ASUS Philippines just dropped the price of the ASUS ZenFone 8 Flip – PhP39,995 for its 8GB RAM/256GB Internal Storage. Now, we're talking! This is a very competitive price and definitely recommendable to people who are looking for a flagship smartphone. What do you guys think?
Giancarlo Viterbo is a Filipino Technology Journalist, blogger and Editor of gadgetpilipinas.net, He is also a Geek, Dad and a Husband. He knows a lot about washing the dishes, doing some errands and following instructions from his boss on his day job. Follow him on twitter: @gianviterbo and @gadgetpilipinas.