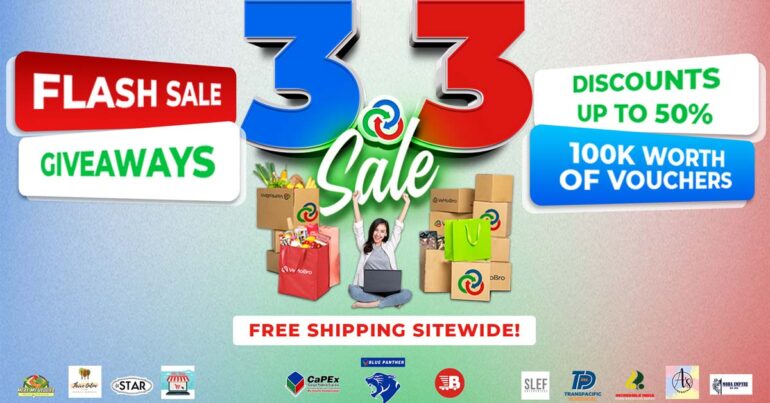 VeMoBro, PH's newest e-commerce platform, is having its own 3.3 sale, and invites shoppers to experience worry-free shopping and leveled-up shipping during its whole day of non-stop promos.
Tons of Exciting Deals and Promos
VeMoBro is treating every Juan to an entire day of exclusive sales and promos. Keep yourself logged on to vemobro.com.ph or to VeMoBro's mobile app to catch these exciting deals.
PhP300 off for the first 33 buyers – For a minimum cart value of PhP1,000, VeMoBro is slashing PhP300 off the total checkout price for the first 33 buyers.
Up to 50% discount on flash sales – Catch flash deals of up to 50% off. Need a hint? These deals will appear on the website's home page and the mobile app. Keep your gadgets close on 3.3 to get first dibs on discounted items such like this macaroon earphones and this Android television box.
Further markdowns on essential items: VeMoBro is offering huge discounts on some of its essential items. Score this wearable Air Purifier at 15% off or this Wireless Bluetooth Earbuds at 20% off. You can also get your favorite breakfast items such as bacon and franks at 6% off.
More savings with bundled items: Double up the shopping fun with VeMoBro's BOGO deals! Purchase two of the select items such as these eye roller serums or clay masks and get the second item at 20% off.
PhP100,000 worth of exclusive discount vouchers: VeMoBro will also be treating its customers to free shipping courtesy of trusted logistics partners – Blue Panther, Cargo Padala Express, and Byaheros Express.
Guaranteed Authentic Products from Trusted Merchants
VeMoBro's utmost mission is to become a digital shopping platform that Filipinos can trust. Each of its merchants has underwent a stringent screening process before they were allowed to officially sell their products on the platform.
With its fail-safe measures, you will not only be treated to various deals and discounts this 3.3, but you will also have that peace of mind knowing that your purchases are from legitimate sellers.
Bonus: A Post-Sale Giveaway!
The fun does not stop on 3.3! VeMoBro will have a special giveaway from March 4 to 12 where shoppers can win up to PhP10,000 worth of prizes!
For more information on VeMoBro's post-sale giveaway, stay tuned to VeMoBro on Facebook and Instagram.
"VeMoBro is excited to kick off our first sitewide sale since our official launch in the Philippine market. Our platform is created with the convenience of our customers in mind and through our 3.3 sale, we hope to better communicate our commitment of emphasizing excellent digital shopping services by giving our customers a safe and hassle-free shopping experience."
– Engr. Vergil Bargola, VeMoBro CEO
Fill up your cart by creating your VeMoBro account at vemobro.com.ph or by downloading VeMoBro's mobile app from the Google Play Store.