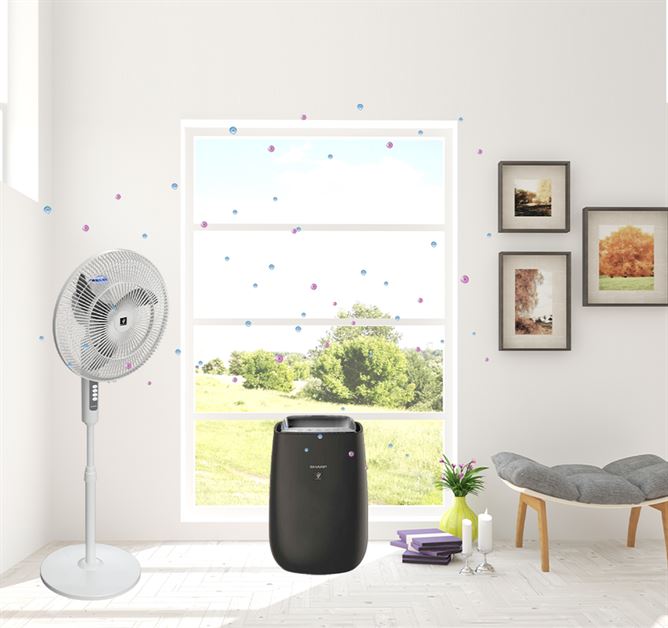 The lack of good indoor air quality can bring two common health problems to your family – allergy and asthma. Removing airborne irritants in your place will allow those who suffer from such conditions to gradually find relief from their symptoms. Not to mention that more people are now prioritizing cleaner air due to the looming threat of airborne viruses which may harm our family.
The benefits of clean air are extensive – ranging from a better quality of life, increased productivity, improved sleep, quality rest, and in general, greater comfort.
As such, Sharp Corporation and Associate Professor Masashi Yamakawa conducted a study to prove how its Plasmacluster Ions and Airflow technology effectively collect airborne particles. Masashi Yamakawa is from the Kyoto Institute of Technology with expertise in the analysis of airborne virus droplets. With his assistance, it was confirmed that an air purifier with Plasmacluster ions is much more effective than the conventional ones.
In this simulation, they utilized Sharp's proprietary airflow air conditioner and an air purifier with the proprietary 20° Angled Rear-Directed Airflow. After which, they examined the effects of airflow from air conditioners and air purifiers on virus droplets in living spaces.
They also calculated the speed and direction of the airflow of air conditioners and air purifiers and analyzed its movement in a living space under simulated usage.
In this simulation, there's a comparison between a general air purifier that sends air directly above the product with an air purifier with the proprietary 20° Angled Rear-Directed Airflow. They also did an analysis and comparison using an air conditioner equipped with a general filter with high air pass-through efficiency.
A general air purifier releases a direct upward flow that causes the virus droplets to diffuse in several directions. Sharp's Air Purifier, on the other hand, causes the air to circulate so virus particles are effectively captured without being dispersed.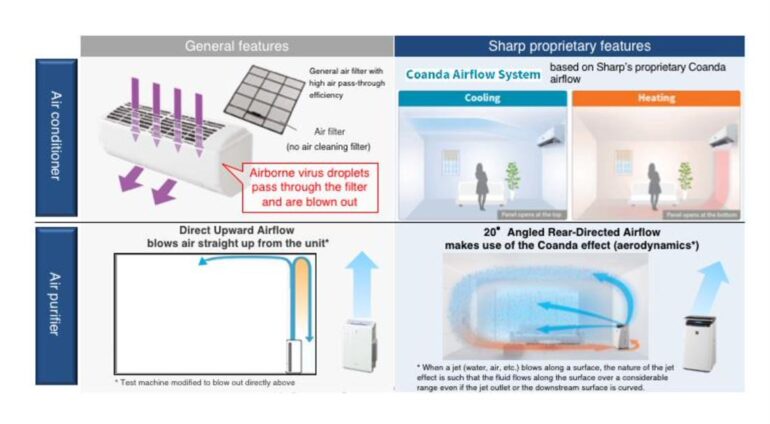 It's the same thing with Sharp's proprietary airflow air conditioner against a traditional one. For the regular air conditioner, airborne virus droplets are carried on air currents and drawn into the air conditioner so they're not captured. These droplets are diffused into the room on the air flowing out from the device.
With a Sharp Air Conditioner, the air is blown upward. Placing an air purifier directly underneath creates an airflow that circulates around the room, allowing airborne virus droplets to be captured effectively.
Check out the latest appliances from Sharp equipped with Plasmacluster Ion Technology:
Sharp FP-J50P-H Air Purifier – Ideal for those living in a small condo or house, this can cover 40sqm of space with its high-density PCI generator and fan. No need to worry about high electricity bills thanks to its inverter operation. In addition, it can be controlled using a smartphone.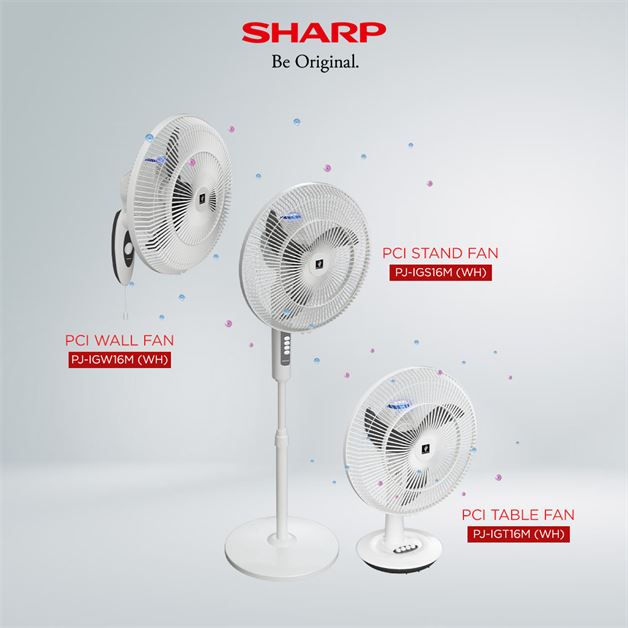 Sharp Plamacluster Ion Electric Fans – Being in a tropical country, electric fans are sort of a necessity for every household. Sharp is leveling up your typical electric fan with Plasmacluster Ion Technology to fight off germs, molds, allergens, and viruses. It also uses an Anti-Overheat Motor for long hours of usage and consumer safety, 160 degrees rotation, and a three-speed setting. It comes in three different models – Stand Fan, Desk Fan, and Wall Fan.
Pricing and Availability
| Product | Price | Where to Buy |
| --- | --- | --- |
| Sharp Air Purifier FP-J50P-H (40sm) | PHP 16,988 | Sharp authorized dealers nationwide including Abensons, Anson's, and SM |
| Sharp PCI Table Fan PJ-IGT16M (WH) | PHP4,398 | Lazada |
| Sharp PCI Wall Fan PJ-IGW16M (WH) | PHP4,398 | Lazada |
| Sharp PCI Stand Fan PJ-IGS16M (WH) | PHP4,998 | Lazada |
Emman has been writing technical and feature articles since 2010. Prior to this, he became one of the instructors at Asia Pacific College in 2008, and eventually landed a job as Business Analyst and Technical Writer at Integrated Open Source Solutions for almost 3 years.