PayMaya has awarded Stefan Ema Mae Corregidor PHP 1 million as the PayMayaguinaldo grand winner. The company has also turned over its PHP 1 million donation to Gawad Kalinga's School for Experiential and Entrepreneurial Development (GK-SEED) for the benefit of entrepreneurial scholars across the country.
Stefan, a 31-year-old employee from Quezon City, is sharing and giving back joy to her family by building a home for her mother who is currently residing in Davao City.
She discovered PayMaya during the community quarantine. After using the app for government bills payments for the first time, she has been continuously enjoying the convenience and rewards every time she pays bills, shops online, buys load, among others.
"PayMaya helped in making my life easier amid the pandemic as it offered a safer, more convenient, and rewarding way to pay for my transactions whether online or in-store. With this, I'm able to enjoy the benefits of going cashless and avoid the use of cash which can be the source of the virus."
Stefan Ema Mae Corregidor, PayMayaguinaldo Grand Winner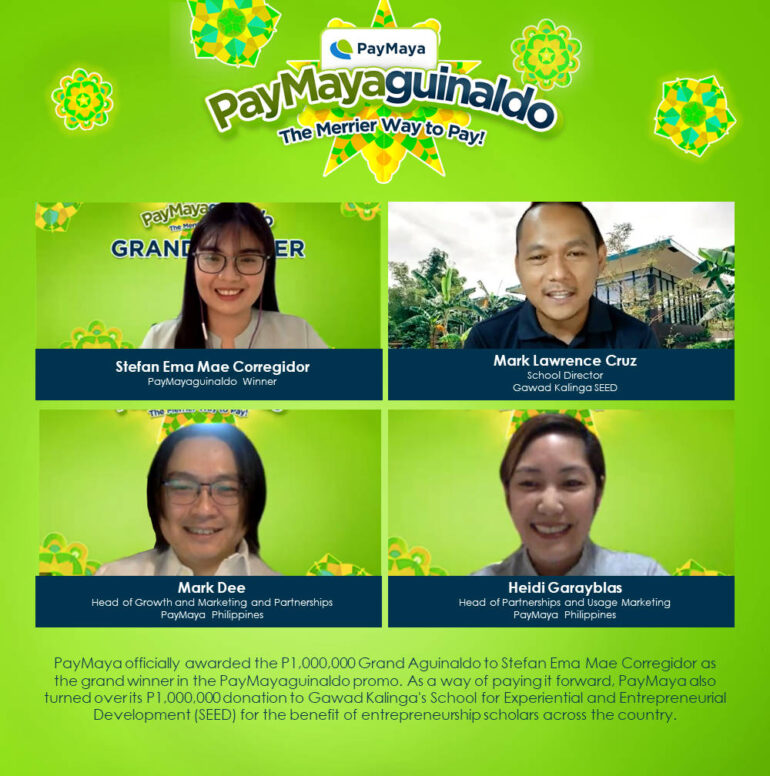 The company aimed to share the blessing with agri-entrepreneurs from underpriviliged communities through GK-SEED Philippines. It has chosen GK-Seed as campaign beneficiary for the past three years because of its track record in helping the youth overcome poverty through education and entrepreneurship.
The "aguinaldo" from the company will go to providing a combination of live and virtual mentorship of GK-SEED's graduate scholars and kickstart resources to support their agri-enterprises.
"We'd like to thank PayMaya for the continued support for our young students who are the greatest gems of our institution. This 'PayMayaguinaldo' will help strengthen our mission in empowering agri-entrepreneurs to build a better and stronger country."
Mark Lawrence Cruz, GK-SEED School Director
Get your own account and enjoy the rewards of going cashless by following the steps here.