Ahead of the March 26 launch of the OPPO A94 in the Philippines, the company kindly lent us a unit to experience its latest A-series device for ourselves. With this, I decided to do a quick test of the phone's performance in some of the games I play.
No spoilers but I must say the OPPO A94 held up fairly well.
Do note that I won't be going through any benchmarks or offer anything in-depth.
Mobile Legends: Bang Bang and League of Legends: Wild Rift
Mobile Legends and Wild Rift are the lighter games that I played on the OPPO A94. I was pretty confident in playing both mobile MOBAs at the highest settings possible because of this. Unsurprisingly, I was able to go through my many matches without a hitch in either of the game.
Despite these being MOBA titles and with more focus on hitting skills and outplaying your enemies, being able to play them at high settings at 1080p resolution is always welcome. How else will you enjoy the scenery while you're waiting to respawn, after all. All that's missing is a higher refresh rate.
Call of Duty: Mobile
Call of Duty: Mobile is what I consider a mid-tier game as far as requirements go but I was still very comfortable in testing the FPS title out in high settings. Like the two mobile MOBAs, the OPPO A94 delivered a smooth and stutter-free gaming experience even with multiple explosions and players on-screen.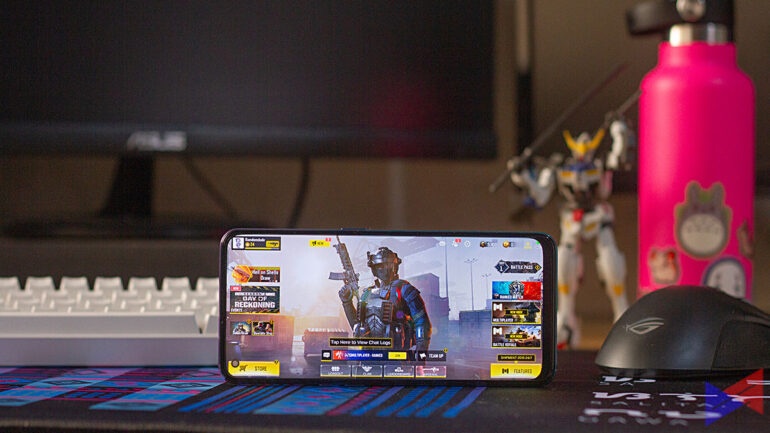 High settings at 1080p resolution is even more welcome in a shooter like Call of Duty: Mobile and it did exactly that.
Black Desert Mobile
Moving up in difficulty, I booted up Black Desert Mobile which requires a bit more power from the device with more things to load. But like the three other games, I was able to crank it up to high and still not get stutters. It did, however, get a bit warm as I left my character to auto-battle for a few minutes. It wasn't enough to be of discomfort but it was warm nonetheless.
Genshin Impact
Last, but definitely not the least, was Genshin Impact which I could tell was the toughest. It was the only title I was able at Low settings while I did try to play at Medium, as soon as I left the settings screen the lag was definitely real.
That said, Genshin Impact at low settings is still definitely playable on the device. There were some stutters every now and then but it was able to perform well enough for me to play for a good while. Although like Black Desert Mobile, it warmed up the longer I played.
Initial Thoughts
The OPPO A94 is definitely capable in the gaming department of being able to handle even heavier games like Genshin Impact albeit on low settings.
The device itself is pretty slim and not so tall making it pretty easy to play. At around 172g, it was also pretty easy to play in prolonged gaming sessions.
Given these factors, I think price will be the deciding factor on whether it'll be a good device or just a decent one.
Stay tuned for more information about the OPPO A94.
Photos courtesy of Rianne Ronquillo