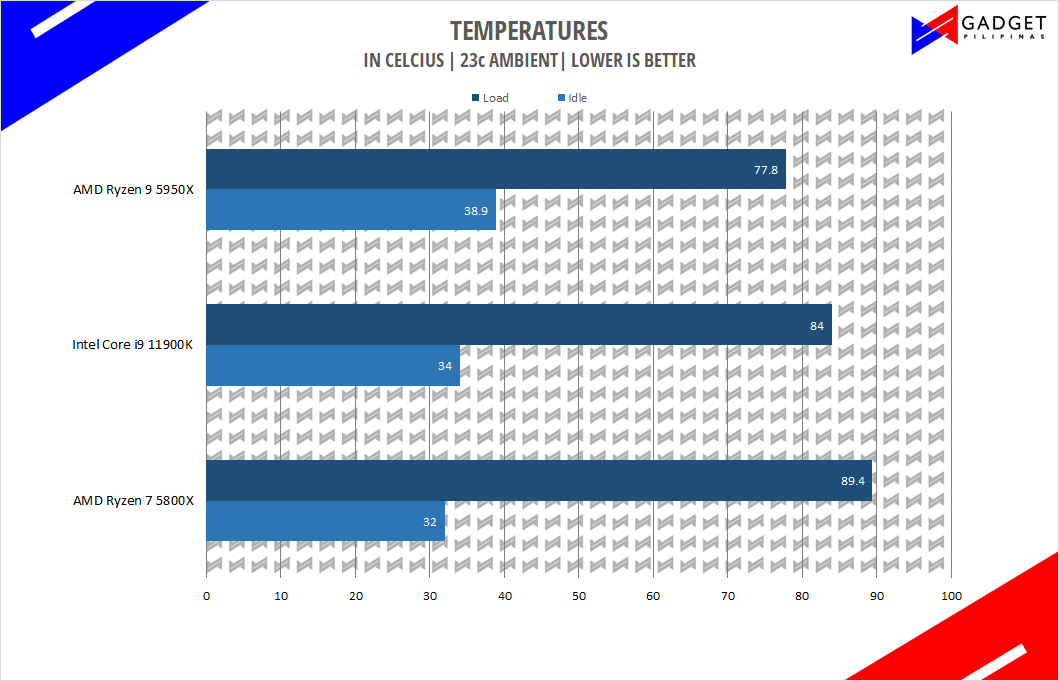 During our benchmark run, the Intel Core i9 11900k ran at a peak temp of 84°C with a relatively cool idle temp of 24°C. 84°C peak load temp is relatively in between what I consider cool and hot for a processor running stock clocks.
Looking at the recorded power consumption, the 84c peak temp of the Core i9 11900K isn't really that bad considering its competitor's wattages. The Core i9 11900K is one power-hungry CPU with a peak recorded consumption of 257watts compared to the 5950X which has double the core count, not to mention the more efficient Ryzen 7 5800X at 142-watts with the same core and thread count.
Intel Core i9 11900K 8-Core Processor Review – Cutting It Close
Cutting It Close
That said, we still stand by with our words that the Intel Core i9 11900K is a "great" processor.  What makes it great is its pricing. Priced at Php 32,000, the i9 11900K sits in between the 5800X and 5900X. The Php 2,000 premium over the Ryzen 7 5800X is attributed to superior single-threaded performance, gaming, and in some cases, productivity. Frankly, the i9 11900K serves as a great alternative for the currently rare Ryzen 5000 series CPUs provided you're not coming from an Intel 10th gen Ryzen 3000 series processor. So, if you're looking to upgrade your dated CPU with gaming as your priority but you're not closing the idea of doing productivity-related tasks such as streaming or editing, then the Core i9 11900K is the processor you should consider buying.
Single Threaded Performance
9.6
Multi Threaded Performance
9.2
What's Good
Exceptional Single Threaded Performance
Decent Multithreaded Performance vs Last Gen
Thermals
Two-lesser cores than its direct predecessor
What's Not
No Included Stock Cooler
Power Hungry
WHERE TO BUY THE INTEL CORE i9 11900K
Grant is a Financial Management graduate from UST. His passion for gadgets and tech crossed him over in the industry where he could apply his knowledge as an enthusiast and in-depth analytic skills as a Finance Major. His passion allows him to earn at the same time help Gadget Pilipinas' readers in making smart, value-based decisions and purchases with his reviews and guides.