ASUS ZenBook Duo 14
ASUS ZenBook Duo is one of the most innovative laptops that ASUS has in its lineup. I own the first generation ZenBook Duo, and it has proven itself to be very useful, especially when education and streaming somehow "demand" having a device with more than one monitor.
Today, we are looking at their latest ZenBook Duo and comparing it with an older version. What new? What changed? And, is it a better upgrade? Let's find out!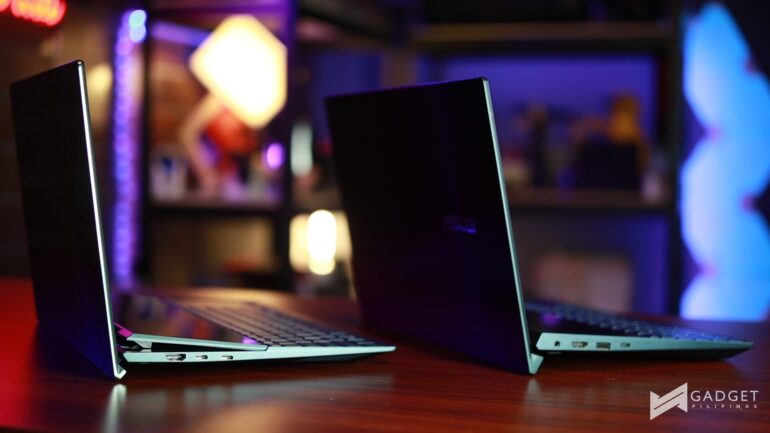 Right off the bat, we're looking at one of the most significant changes in this new version of ZenBook 14 Duo – the processor. This laptop is now powered with the latest 11th Gen Intel processor, built on Intel's 10nm SuperFin process. Intel's latest processors feature new CPU & GPU optimization, AI acceleration, and faster connectivity thanks to the new Willow Cove architecture.
If you're getting the new ZenBook Duo, you're given two options to choose from: one with an Intel Core i7 1135G7 with Intel Iris Xe graphics and another one with Intel Core i7 1165G7 with Iris Xe and Nvidia GeForce MX450. The price difference is night and day – the first one costs PhP79,995 and the beefier and more upgraded one costs PhP99,995.
This is a huge leap in terms of performance versus the OG one I've got and the same goes with the refreshed version, which sports an Intel Core i7 1065G7 processor. I ran a few benchmarks with the review unit they sent, and the performance is indeed better than I expected. I also compared this with the Dell Inspiron 14 7400, which rocks also rocks an Intel Core i7 1165G7 processor, 16GB RAM and an MX350 GPU. Here are the results: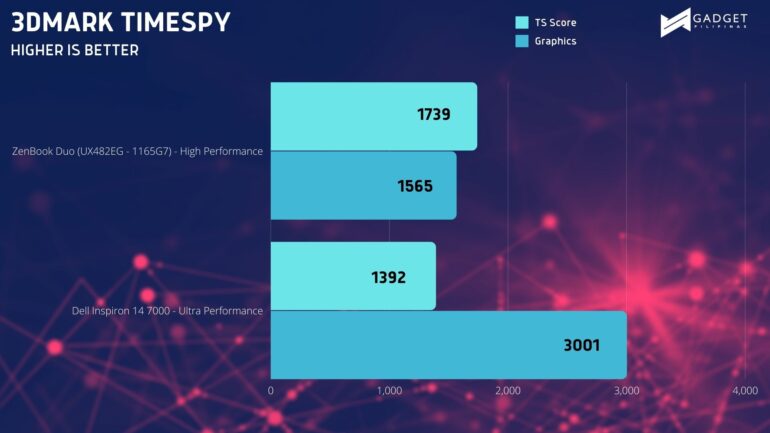 The following biggest change is how the ZenBook Duo looks! For two years, I have been using my OG ZenBook Duo, I am accustomed to its flat secondary display. I enjoy using it; however, I find it uncomfortable to use for a long time. I often find myself leaning forward just to be able to easily read what's on the secondary panel or what ASUS calls ScreenPad Plus. This entirely changed in the new ZenBook Duo, which now features 12.6 ScreenPad Plus that tilts to 7 degrees. Combine this with 400 nits of brightness, and you get yourself a 2-monitor laptop that promotes maximum usage comfort.
I would not need to lean forward or flick the window up from the ScreenPad Plus to the main display to view certain contents easily. This new setup is really designed for comfort, and this alone gives a lot of reason for those who own the original ZenBook Duo to upgrade or for those who are looking for a laptop to consider this one.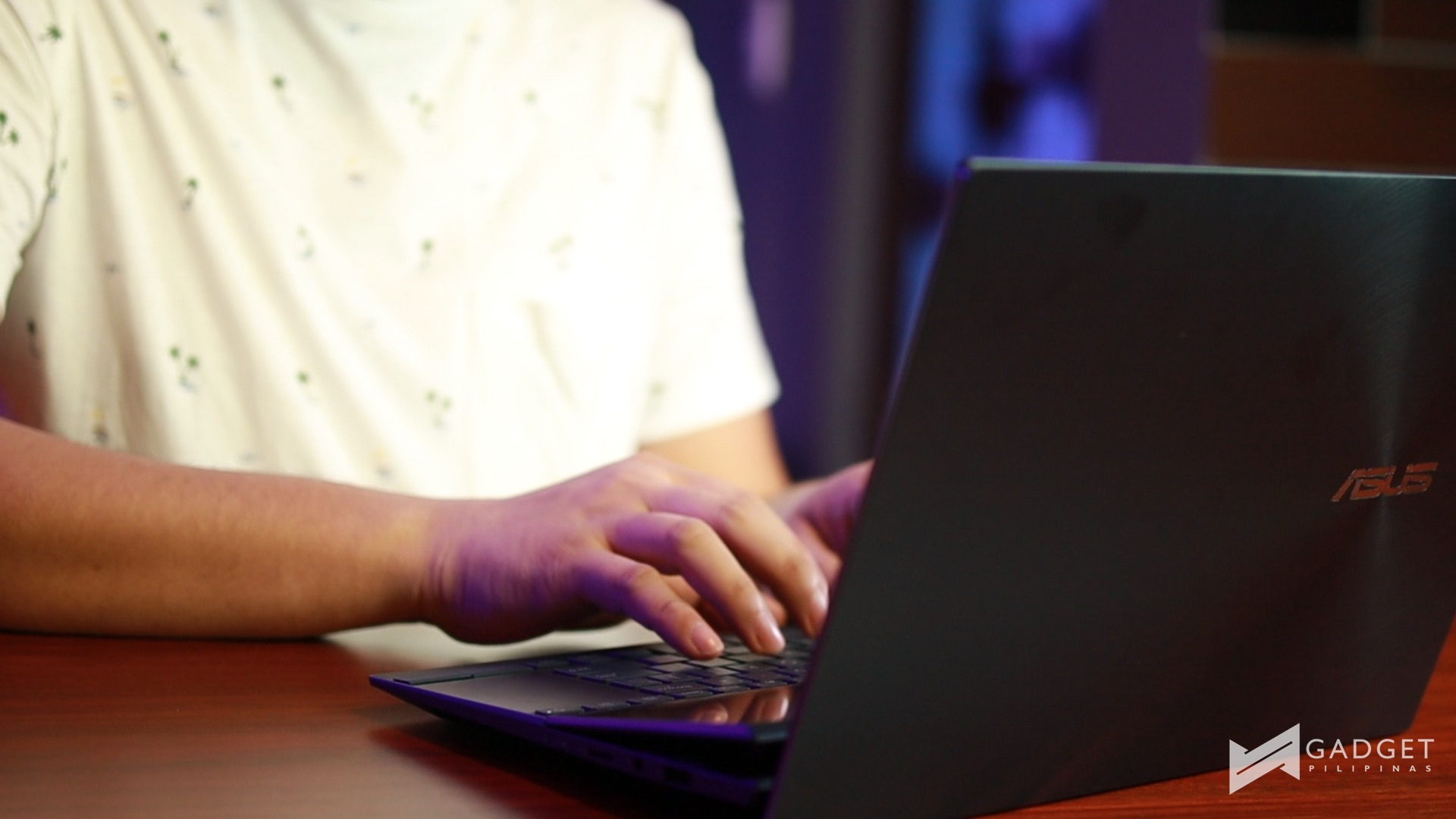 The new titling ScreenPad Plus display features a secondary purpose. While it helps in the visual and accessibility departments, underneath this display is the new Active Aerodynamic System + (or AAS+) that helps improve the airflow by 49%. Technically, you're getting two major mechanisms that help the laptop manage thermals – the ergolift hinge, which lifts the laptop; and the AAS+ with a new hinge design that lifts the ScreenPad Plus that is responsible for taking in airflow to cool the motherboard and GPU. It's an intelligent design, and this is a welcome upgrade from the previous generation.
Another big change is the display. The new ZenBook Duo now sports a main touch display. When the first ZenBook Duo was announced, the only touch-enabled is the ScreenPad Plus. This is not the case in the new iteration. The new Pantone-validated display features 4mm bezels and made to save as much energy at it can at 150nits brightness. According to ASUS, at 150 nits is only 1W, which is over 50% lower than most laptop panels' panel power consumption.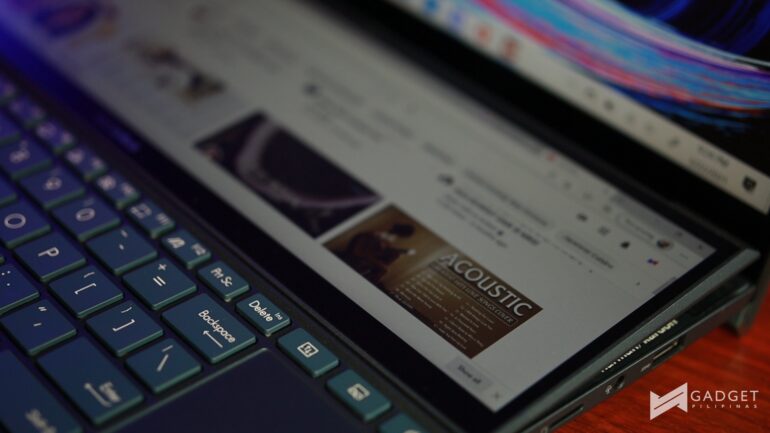 How about the other changes that are worth noting?
The previous ZenBook Duo did not sacrifice anything in the IO department. This is still the case in the new ZenBook Duo, but they improved two USB ports to Thunderbolt 4.0. So you're looking at the following IO: (2) Thunderbolt 4.0 USB, (1) Type A USB 3.2 Gen 1, a 3.5mm headphone jack, a full-sized HDMI and a microSD card.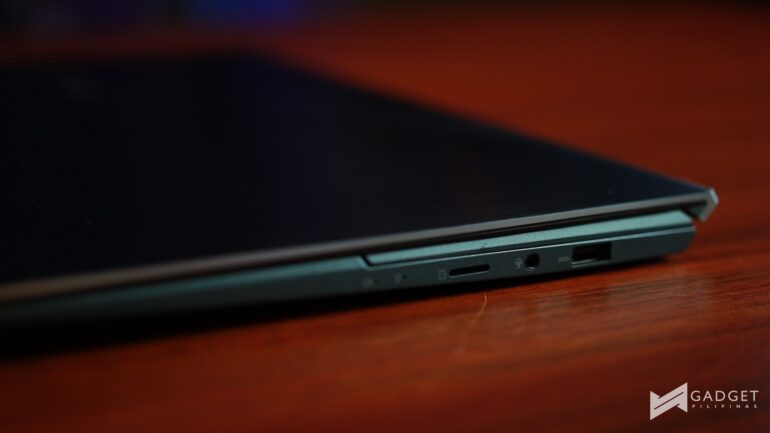 It is also worth mentioning that the new ZenBook Duo now features AIPT or ASUS Intelligent Performance Technology, which boosts CPU power setting from 15W to 28W to improve performance. This dynamically plays around with power consumption based on the laptop's requirement and load performance for maximum optimization. This results to better performance without sacrificing thermals and noise. In fact, based on the benchmark results I gathered, its performance toppled its competitors at performance-priority settings.
Now, is this is a good buy? At PhP99,999, this Intel-powered ZenBook Duo has all the necessary components to satisfy consumers who are looking for a laptop perfect for desktop publishing and video editing. While I would have wanted this to have an Nvidia GTX 1650 like my ROG Flow X13 (which is by the way costs the same without the XG Mobile), the additional ScreenPad Plus is a fair trade-off especially if you're looking for a dual-display laptop. I believe that with all the features that this laptop can offer, you're getting this at a good bargain.
Giancarlo Viterbo is a Filipino Technology Journalist, blogger and Editor of gadgetpilipinas.net, He is also a Geek, Dad and a Husband. He knows a lot about washing the dishes, doing some errands and following instructions from his boss on his day job. Follow him on twitter: @gianviterbo and @gadgetpilipinas.