OPPO is offering a trade-in program exclusive to all F-series users on February 27 to trade in their F-series devices for a Reno5 4G.
"As we enter a more digital-heavy lifestyle, people have become more interested in investing in smartphones with better specs to enable them to keep up with the modern-day lifestyle. With this special Reno5 trade-in program, OPPO has made it possible for F series users to switch to the latest Reno5 4G. This is just one of the ways how we are showing our continued commitment to providing our loyal users the excellent customer service that they deserve."
– AARON GUEVARRA, OPPO PHILIPPINES AFTERSALES ASSISTANT DIRECTOR
If you're an owner of an OPPO F1, F1s, F1s Upgraded, F1 Plus, F3, F3 Plus, F5, F5 6GB, F7 Youth, F7, F7 128GB, F9, F11 6GB, F11 Pro 64GB, F11 Pro 128GB, or F11 Pro Marvel Avengers Limited Edition, you are entitled to get up to a PHP4,499 discount when you trade in their smartphone for the Reno5 4G.
OPPO F1, F1s, F1s Upgraded, F5, and F5 6GB users will get an appraisal value of PHP1,499
OPPO F3 Plus, F3, and F9 users will get an appraisal value of PHP2,999
OPPO F11 6GB, F1 Plus, F7 Youth, and F7 users will get an appraisal value of PHP3,499
OPPO F11 Pro 128GB, F7 128GB, F11 Pro 64GB, and F11 Pro Marvel Avengers Limited Edition users will get an appraisal value of PHP4,499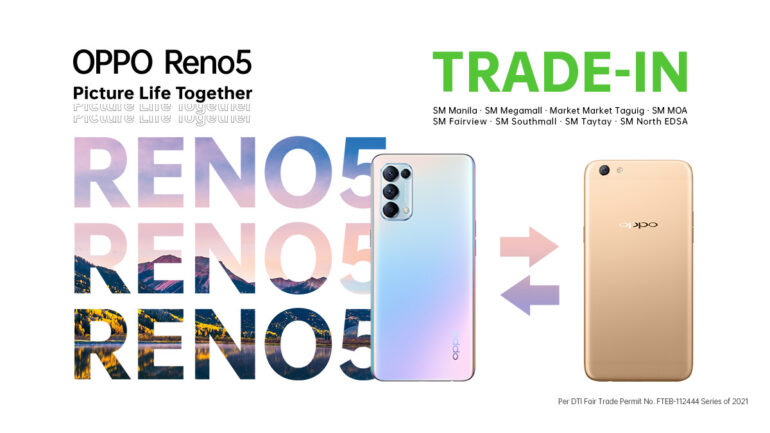 As an initial step, all units for trade-in will be inspected by OPPO Service Center's Technical Support Assistant. All devices for trade-in must be in good working condition.
Smartphones with defective functions or physical damages will be subject to a deduction on the unit's purchasing/appraisal value and are limited to damages related to top cover assembly, battery cover, battery, and small parts like buttons, antenna plate, and board to board. Beyond these damages like liquid-caused damage or other damages that would incur higher than the appraisal value, OPPO has the right to deny applicants to participate in the program.
After the diagnosis, you'll receive a signed Reno5 Trade-In Voucher indicating the final appraisal value that will be applied as a discount when presented in selected OPPO concept stores upon purchase of the new Reno5.
The Trade-In Voucher is non-transferable and non-convertible to cash, in addition, the program is not in conjunction with any other existing promos of OPPO Aftersales and Concept Stores.
In addition to the discount, you'll get to enjoy the special warranty program available for the Reno5 series.
The trade-in program is valid to one transaction per customer only. The Reno5 unit purchased under the program is not entitled to receive freebies or giveaways similar to the regular purchase.
The Reno5 4G retails at PHP 18,999 and features a Qualcomm Snapdragon 720G along with 8GB RAM and 128GB of internal storage, to name a few.
Participating OPPO Concept Stores and Service Centers include SM Manila, SM Megamall, Market Market Taguig, SM North EDSA, SM Fairview, SM Mall of Asia, SM Southmall, and SM Taytay.
For more on the trade-in program and updates, visit the OPPO Philippines website or its Facebook page.