Having a reliable internet connection is very important nowadays especially for online classes, work from home setups, and gaming. The Huawei Wifi AX3 router is one of the cheapest Wifi 6 enabled routers available in the Philippines. Its price of Php 4,000 is the sweet spot for users looking to replace their stock, ISP-provided routers. If you're looking at replacing your old router then you're in luck as we take a closer look at the Huawei AX3 Router from the unboxing process all the way to the setup guide.
Model
WS7200
Processors
Gigahome Quad-core 1.4 GHz CPU
Wi-Fi
• 802.11ax/ac/n/a 2 x 2 & 802.11ax/n/b/g 2 x 2, MU-MIMO
• Wireless speed is up to 2976 Mbps (2.4 GHz: 574 Mbps; 5 GHz: 2402 Mbps)
Interface
• WAN: One 10/100/1000 Mbps Ethernet port
• LAN: Three 10/100/1000 Mbps Ethernet ports
Security
TrustZone Security, Anti-brute force algorithms, WPA3, Firewall, DMZ, PAP/CHAP, DMZ/DoS attack protection
Button
H button for one-key pairing and WPS compatible
Independent Reset
LED Indicator
1 state indicator light
Software Functions
• APP: HUAWEI AI Life App
• Huawei Share (Tap to Connect), Huawei HiLink & 802.11v protocol, IPv4/IPv6, PPPoE/DHCP/static IP address/Bridge WAN connection methods, Wi-Fi timer, Guest Wi-Fi, Device speed limiting, MAC address filter, Parental control, VPN pass-through, DMZ / virtual server
Colour
White
Dimensions
225 x 159.2 x 39.7 mm (8.86 x 6.27 x 1.56 inches)
Weight
About 403 g (0.89 lbs)
Unboxing and First Impression
The packaging on the Huawei Wifi 6+ AX3 Router is very elegant; it shows a render of the AX3 Router in a white background with its core specs listed under the name. The box is considerably smaller compared to most routers, even budget ones.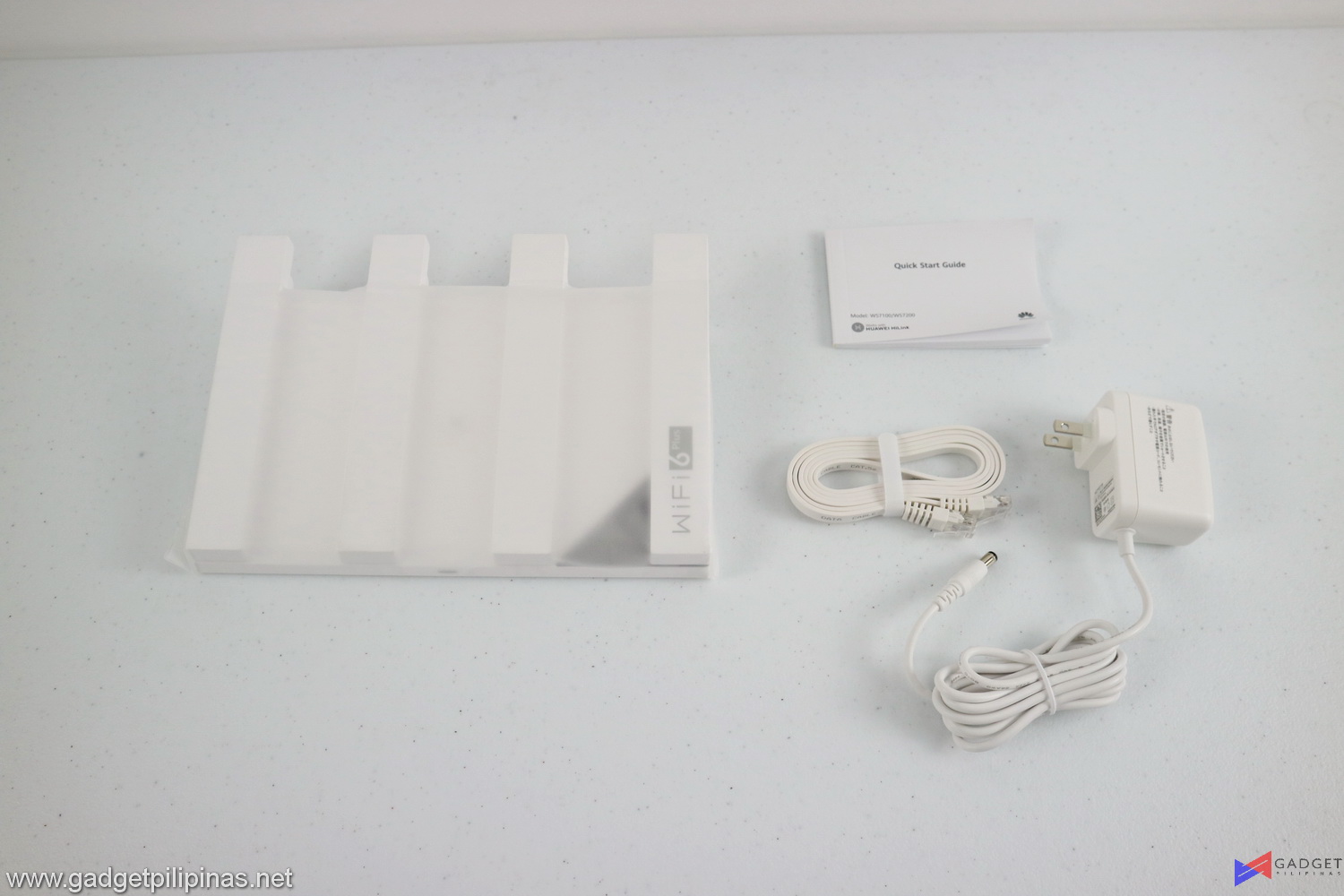 The packaging contains the Huawei AX3 Router, a power adapter, manual, warranty card, and a 1-meter CAT 5e ethernet cable.
The main reason why Huawei was able to do such very slim and compact packaging is due to the Huawei AX3's antennas. The router's antennas are slim and can fold, unlike most routers where the antennas are detachable.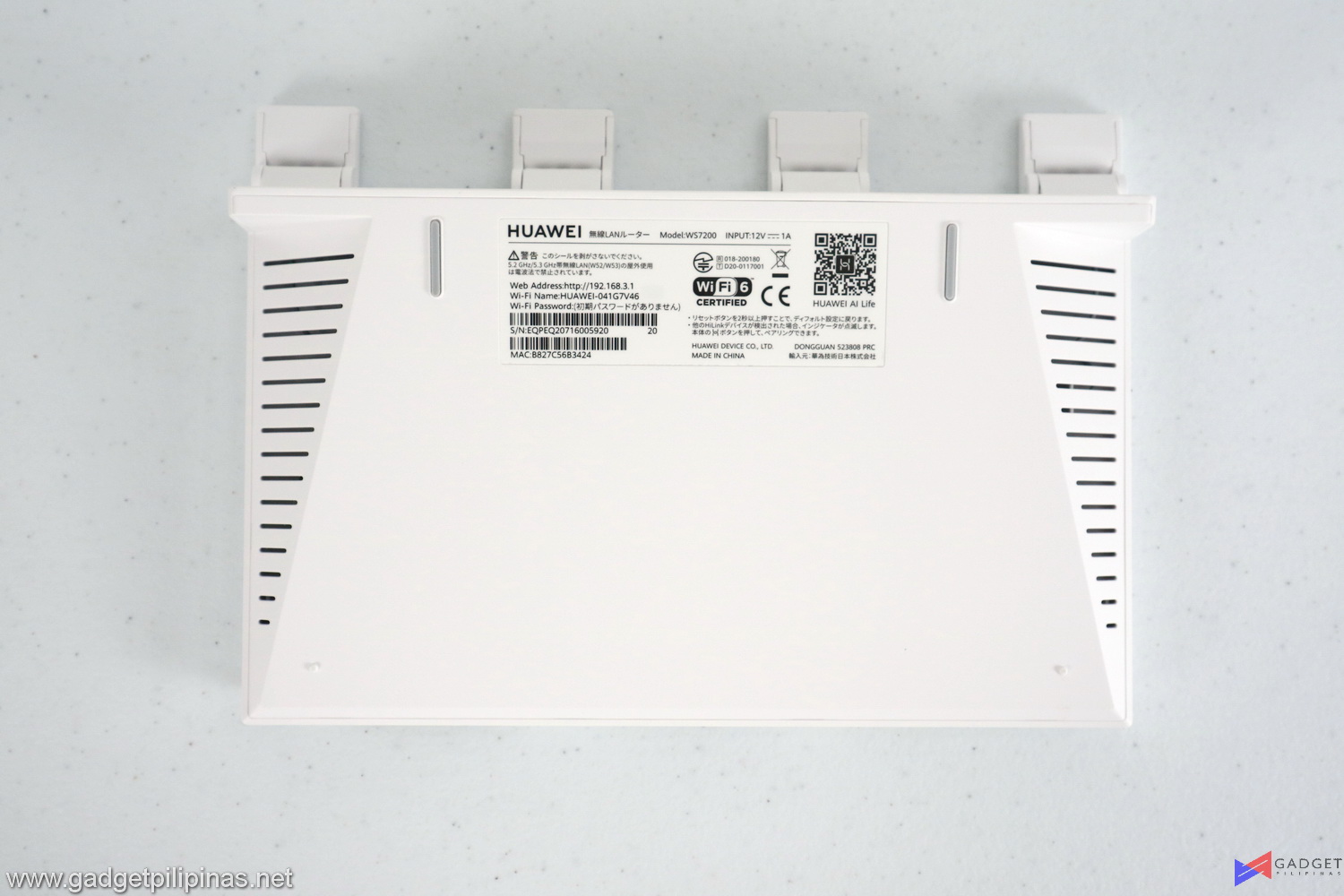 Underneath you can see two grills for ventilation as well as the label sticker where you can see the default WiFi name and password. Our unit seems to be a Japan SKU as Japanese characters are seen in the packaging and on the back of the router.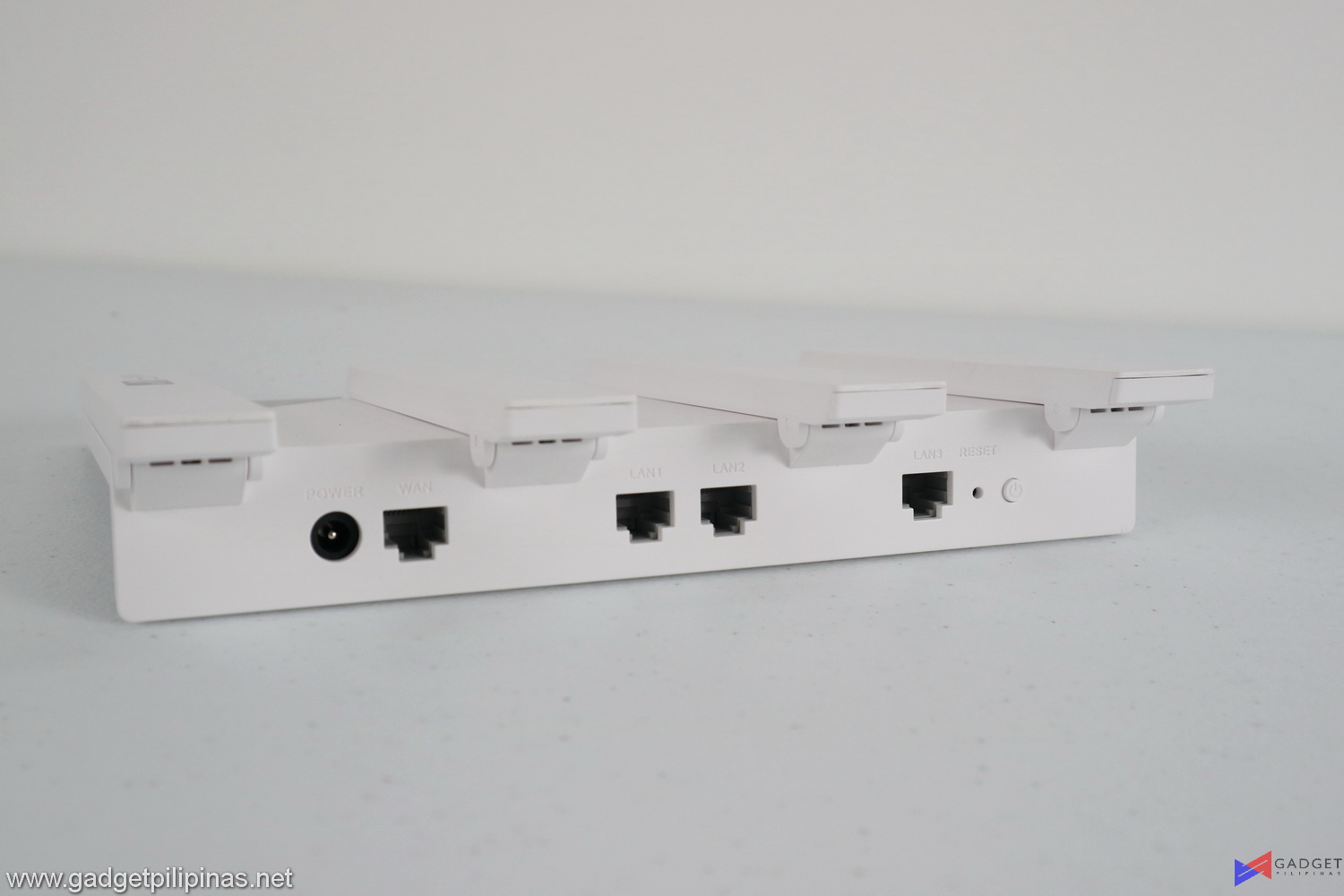 Connectivity-wise there are three LAN ports available aside from the dedicated WAN port, reset button, power button, and DC-in.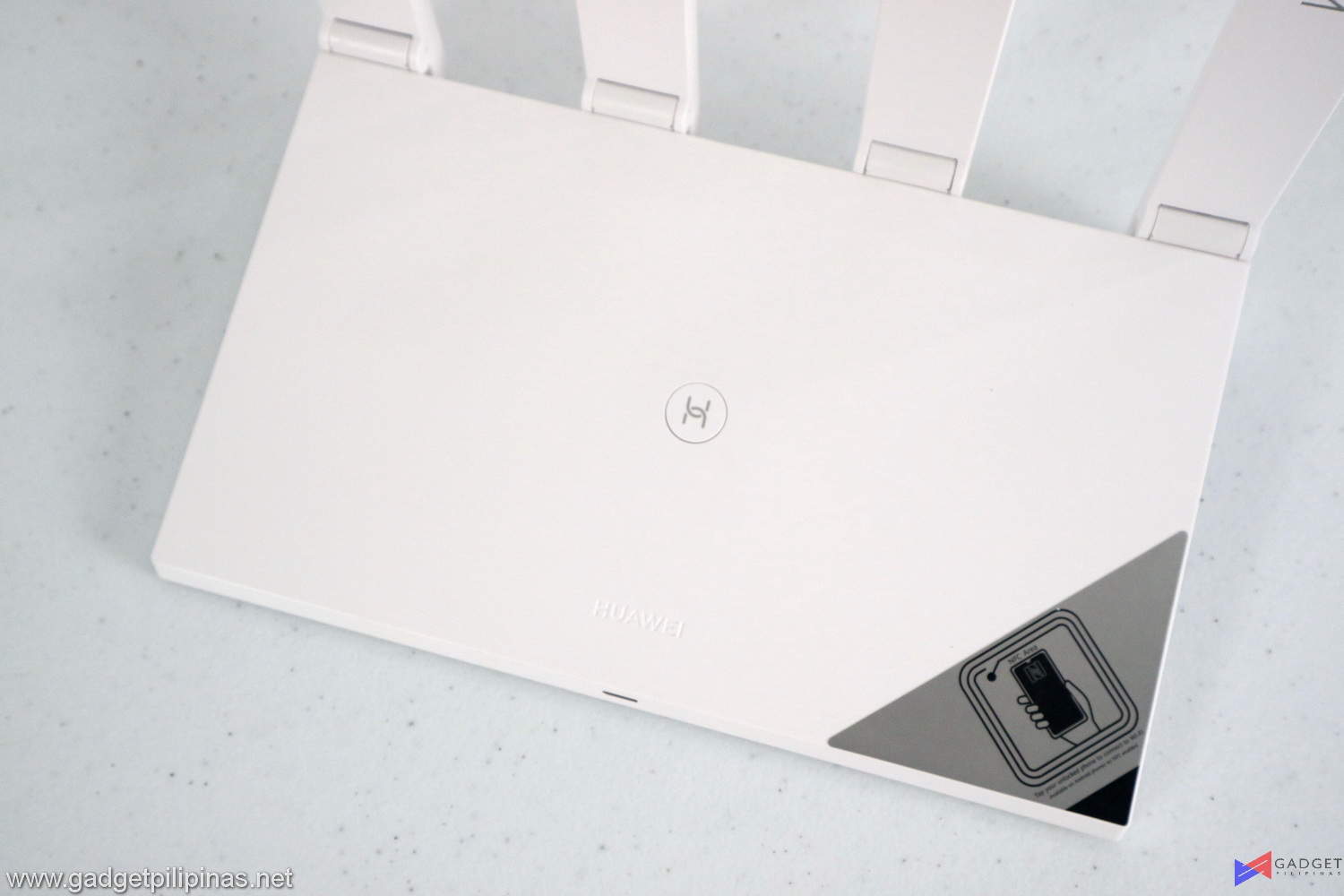 One of the most unique features of the Huawei Wifi AX3 Router is its NFC ability. The NFC implementation allows users to simply tap their phone to the router in order to connect to the WiFi.
Mobile Setup Guide – Huawei Life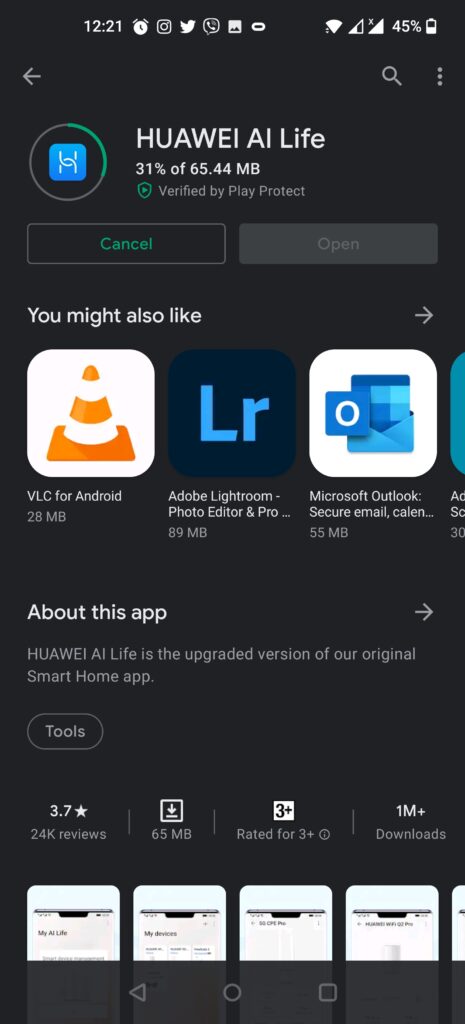 Setting up the Huawei Wifi AX3 Router is very convenient thanks to the help of the Huawei AI Life app. You can download the Huawei AI Life App on the Google Playstore or Huawei's very own App Gallery.
Once you've plugged in the router, all you need is to let the app scan for devices. Once you see the router, simply press connect, agree to the terms and conditions. The next step requires you to simply fill up the Wifi credentials and router login credentials. If you can't seem to find your device after scanning, you can also use the AI Life app to scan for the QR code located at the back of the Huawei AX3 router.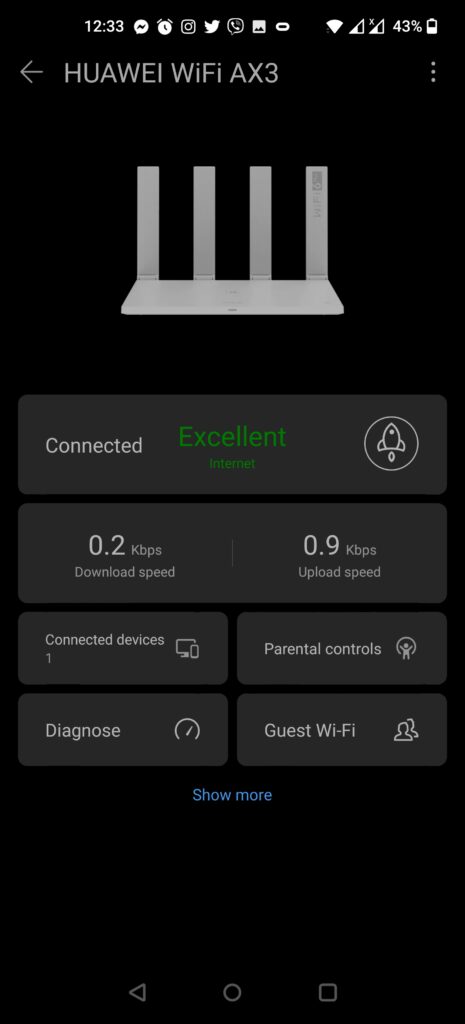 After completing the setup, you will be redirected to the dashboard where you can tinker with the Huawei AX3's settings. We'll explore this in our upcoming Huawei AX3 Review.
Huawei Wifi AX3 Browser Setup Guide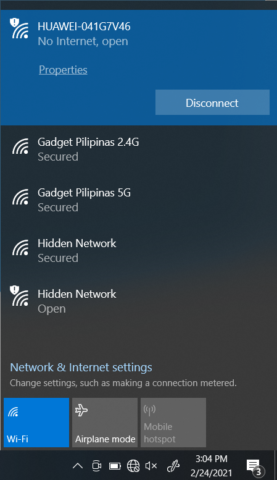 Connect to the Huawei AX3 Wifi
Open your browser and go to 192.168.3.1
Check the terms and conditions and press the connect to internet button.
Fill up the Wifi credentials as well as router login credentials
Huawei WiFI AX3 Router Promo
Huawei is currently running a promotion for buyers of the latest Huawei WiFi AX3. Purchasing the Huawei WiFi AX3 Router from February 15 to March 4, 2021, will come with a free Huawei Band 4 worth Php 1,890. Stay tuned for our upcoming Huawei WiFi AX3 Wifi 6 Plus router review.