Tech Companies as advocates of tech revolution and innovation
Revolution and innovation often change and shift current standards to a new one. Time and again, ASUS has been advocating these things, which somehow leads them to steal every tech show in the world. In 2017, the world saw the thinnest gaming notebook in the ASUS ROG Zephyrus. In 2018, they introduced the ROG Phone, which was then the fastest gaming smartphone in the world. Back in 2019, the ASUS ROG Mothership received too much attention for its revolutionary design and power. In 2020, ASUS unleashed the Zephyrus Duo, which took a lot of inspiration from the ASUS ZenBook Pro Duo but made specifically for gamers.
Encapsulating these turn of events put ASUS ROG into the spotlight as the brand that harbors significant change in the industry – an impetus of new standards in the world of gaming.
Last CES 2021, while the world is still suffering from the havoc of this dreaded COVID-19 diseases, tech companies around the world virtually gathered together to introduce solutions to aid both productivity and enjoyment. Brands like ASUS Republic of Gamers joined the show and pitted their products that will appeal to the consumers who understand the needs of the so-called "new normal".
There is a widespread sentiment that while this virus poses a threat to human lives, the necessity to work for a living and to be entertained has been clearly established. Companies (and consumers) have started to fully accept the importance of having work-from-home setups; creators have realized that they need to have the necessary tech to enable them to create amazing things; and, gamers have dreamt of spicing up their system to play triple-A titles that they can truly enjoy.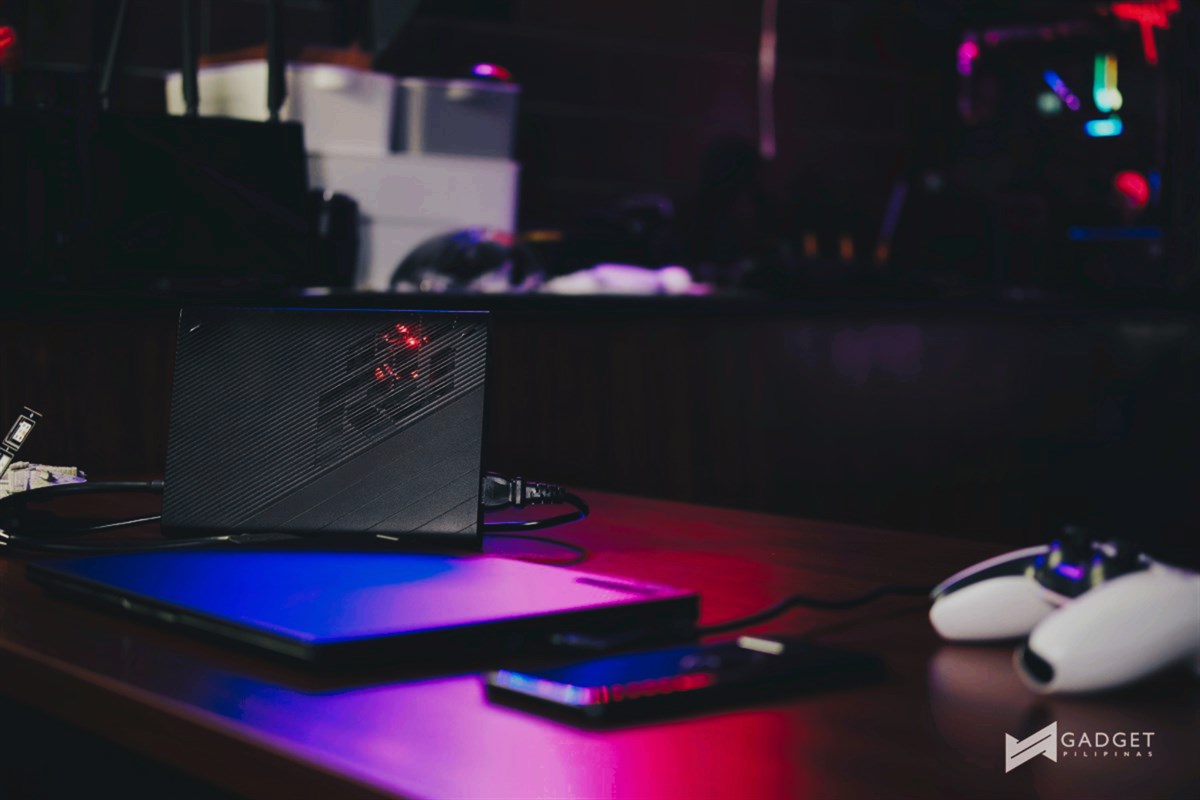 While these necessities have been clearly established, the issue of availability of parts – especially RTX 30 series cards – has been the subject of global discourse. The emergence calpers and issue of 'low supply' have caused consumer nightmares, which ultimately discourages the intention to purchase. During CES 2021, tech companies started to introduce laptops with both GTX 16-series and RTX 30 cards, which somehow gives hope to troubled buyers. They can now finally buy a capable system in a smaller and more portable form factor. While most brands introduced run-of-the-mill designs, ASUS Republic of Gamers – in their usual style and fashion – dared to present something different. This is where the ASUS ROG Flow X13 comes in, and it's revolutionary.
ASUS ROG Flow X13 Specs
ATTRIBUTES
ASUS ROG Flow X13 (GV301)
CPU
AMD Ryzen 9 5900HS
GPU
AMD Renoir 7nm Enhance VEGA graphics (iGPU)
NVIDIA GTX 1650 (Dedicated)
Panel
13.4″ 16:10 Touch display, UHD IPS 60Hz, 116% sRGB, pantone-validated
4.9mm slim side bezels, Gorilla Glass
Memory
Onboard 2 x 16G LPDDR4X 4266MHz Dual channel
Storage
1 x M.2 2230 PCIe SSD 512G/1TB
Camera
HD 720P Webcam
I/O PORTs
1 x ROG XG Mobile interface
(PCIe® 3.0 x8)
1 x USB 3.2 Gen 2 Type-A
2 x USB 3.2 Gen 2 Type-C
(DisplayPort 1.4 + PD support)
1 x Audio combo jack (mic-in &
headphone)
1 x HDMI (HDMI 2.0b support)
Network Connectivity
Wi-Fi 6 (802.11ax)
Bluetooth v5.2
Audio
2 x Speakers + Smart Amp
Array microphone
Hi Res / Dolby Atmos
Battery
62Whr
Touchpad Size
104 x 62mm
Adapter
100W USB-C 75 x 75 x 28.8mm / 300g
Dimension/Weight
299.4 x 222.9 x 15.75 mm / 1.3 kg
Area 6590 cm2
ASUS ROG Flow X13 – Daring and Revolutionary
ASUS ROG Flow X13 Review
The ASUS ROG Flow X13 is an amalgamation of the design of both Mothership and Zephyrus G14. It spouses the form factor of Zephyrus with 360° hinge and a 4K touch display, which allows it to shift from various positions. Flip it to become a tablet or tent mode, and you get a pocket-sized Mothership that can let you dock your peripherals and play your favorite games. ASUS ROG calls this design "Gravity Wave", and marks the Flow X13 as their first ultraslim 2-in-1 gaming laptop.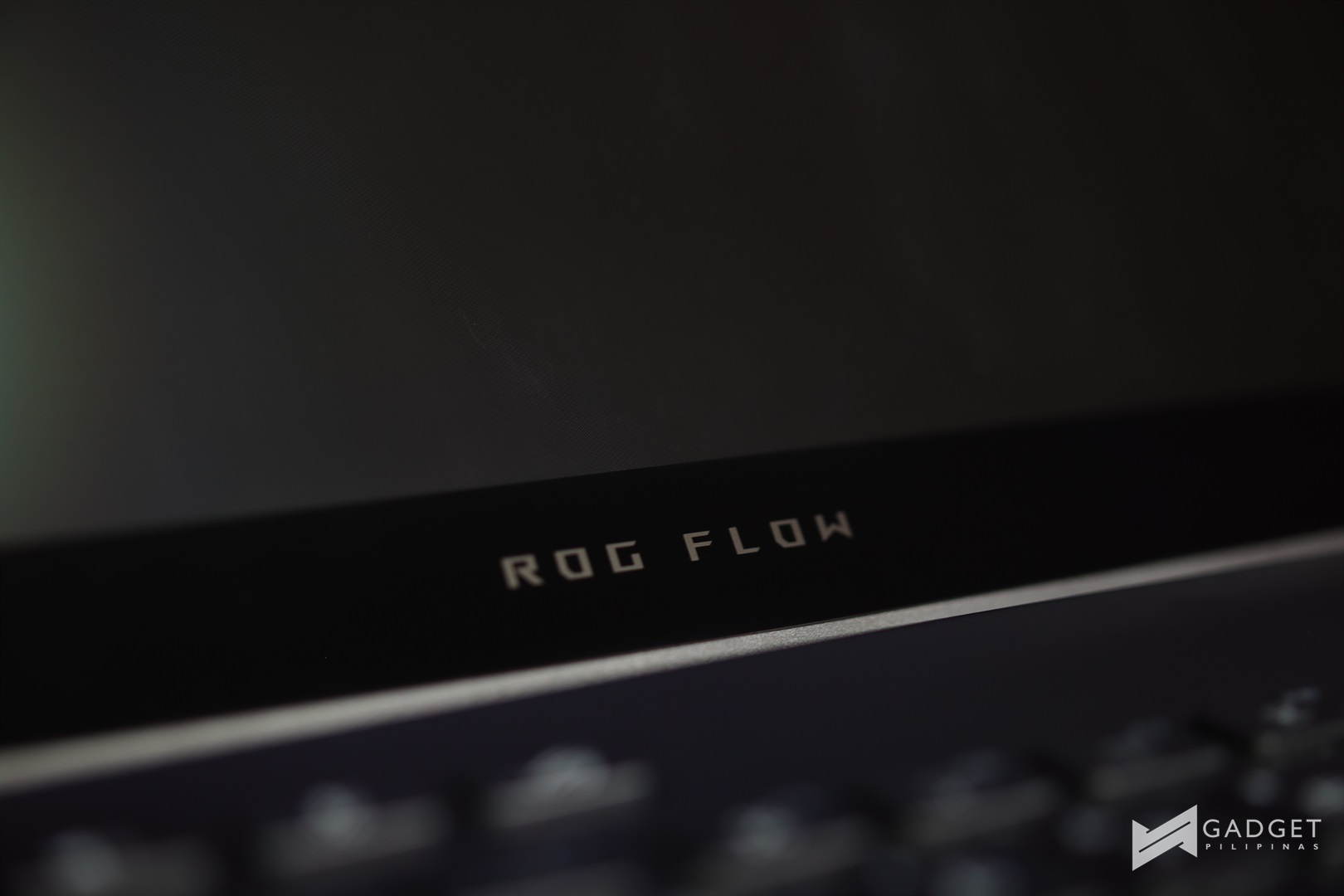 The laptop weighs just 1.3kg and just as thin as my iPad Pro docked on a Magic Keyboard case. As for its physical design, Flow X13 has textured lines across its magnesium allow surface with a sandblasted finish.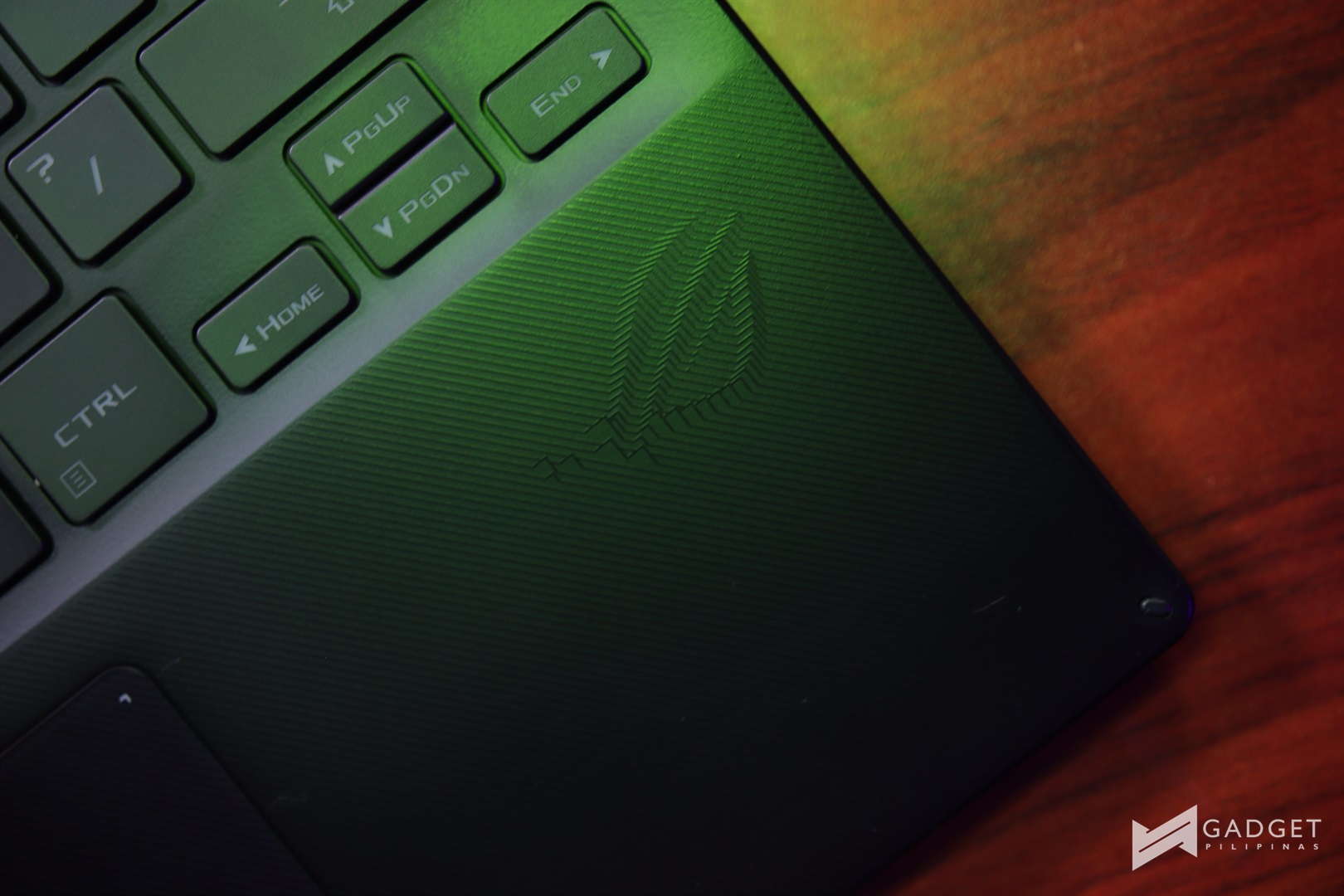 The touch display of X13 is made with Corning Gorilla Glass, which makes it scratch-resistant. This added layer of display stability make it easier for consumers to be confident at using it in various modes: laptop, tent, tablet and stand. The idea of having this flexible design is to bring various experiences for consumers. My personal favorite is the stand mode, which lets me use my peripherals and secondary monitor to emulate a desktop PC experience.
Flow X13 espouses a 15-inch desktop-style keyboard in a 13-inch form factor. Each keycap has a .15mm curve, which fits the standard size of the fingertip. Travel distance is 1.7mm, which gives consumers the maximum amount of comfort and accuracy. I managed to type at 89 WPM with 95% accuracy using this keyboard, which is somewhat comparable to my average of 92 WPM.
The laptop also has extra keys atop the main keyboard: volume keys, mute and Armoury Crate. I definitely approve this, but I question their decision to not put it elsewhere so they can bring the keyboard up and increase the size of the trackpad. More on this later.
In an effort to maintain its sleek and minimalist design, ASUS ROG opted for an anti-RGB look this time around. The colorful and sometimes psychedelic light flair usually found on ROG laptops is absent and I like it. Besides, RGB lights psychology do not offer major skill advantage when playing games; or do they?
There are some concerns I would like to address though. While the laptop is structurally impressive, it's a mess when it comes to repelling oil and touch stains. There is minimal flex right above the keyboard, and the mouse is really small to accommodate multi-touch gestures. I understand that this has a touch display, but the fact that there's still enough room to raise the keyboard up diminishes its appeal to trackpad users like myself. Besides, if ROG Flow X13 – in laptop mode – is meant to be portable and comfortable to be used, ASUS should have at least considered increasing the size of the trackpad.
Cool Form Factor
Apart from the cool form factor, Flow X13 is literally cool because of its form factor. The 360° lift is mainly responsible to this, and it provided the laptop with maximum thermal advantage. On laptop mode, the extra 6mm space it creates allows the vents to work optimally. The best mode, however, is Tent mode where all the vents are unobstructed allowing for better thermal management.
Crucial inputs (WSAD and adjacent section) on the keyboard have also been given further attention to give off cool air for better typing comfort.
Perhaps, apart from the design, there are 2 various components that make this one of the coolest laptops I have used to date: fans and the choice of thermal paste. Flow X13 now has better and upgraded Arc Flow fans, which reduces turbulence and regulates airflow to lower noise and improve long-term reliability. Each arc flow fans has 84 blades, which promises 13% increased airflow.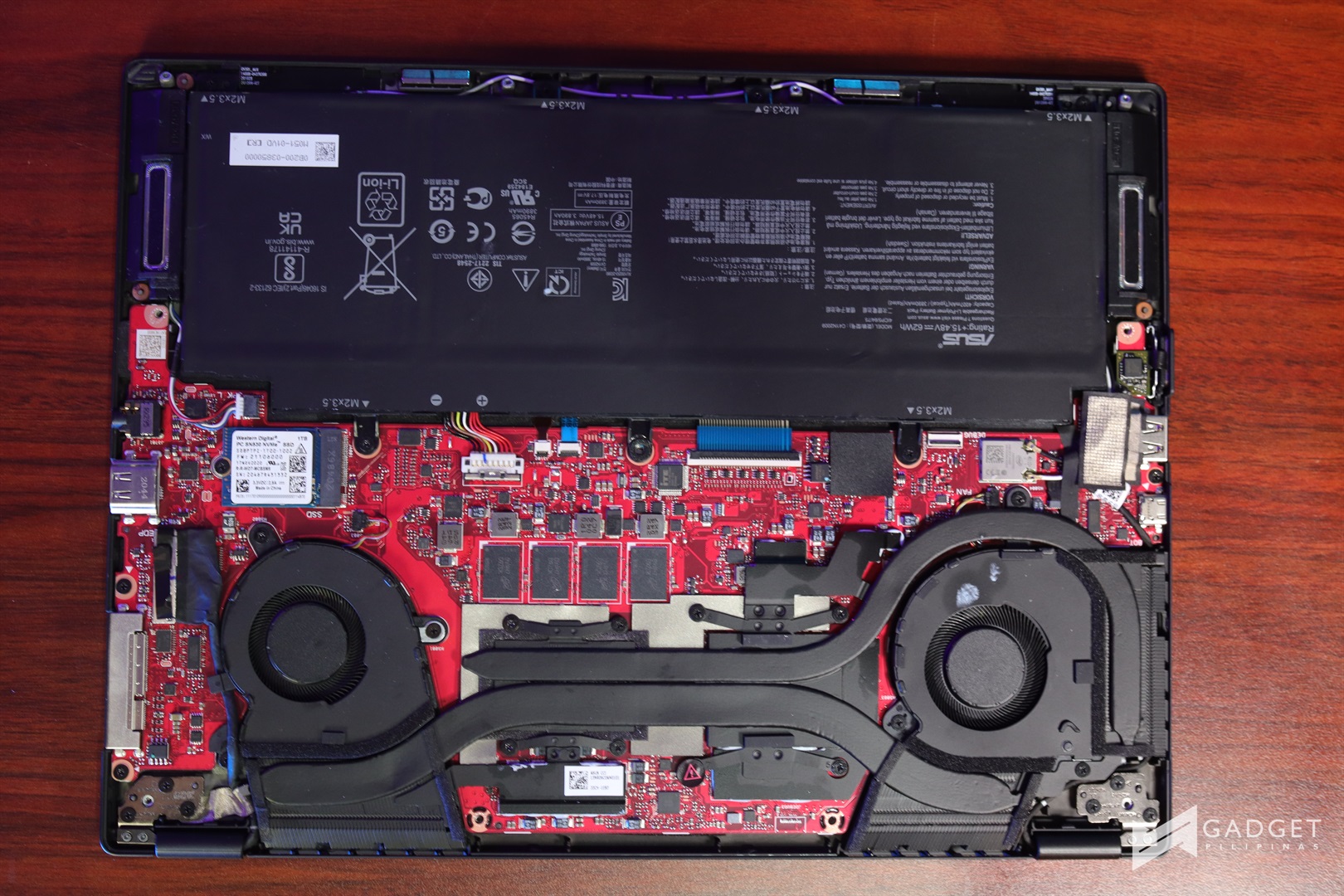 They also improved the self-cleaning cooling of the thermal modules significantly. Our benchmark shows that thermals are indeed impressive, even when using the laptop at its maximum settings – i.e., with the XG Mobile connected. More on this later.
If you want complete technical insights regarding the design of its components, I highly suggest that you check out the full review of Back2Gaming. We will also prepare additional data in our thermal benchmark section in this review soon.
Display
There are two variants of the Flow X13: (1) a 60Hz WQUXGA (3840 x 2400) IPS 16:10; and, (2) a WUXGA (1920 x 1200) IPS 16:10. The product we reviewed packs the former and my experience was downright impressive. I love it, and I don't see any reasons why I wouldn't appreciate its 4K display with Pantone-Certified quality.
[su_spoiler title="Editor's Note" open="yes" style="simple" icon="arrow"]At the time of the production of this review, we have not yet received our Spyder X Calibration tool to further gather display data. Rest assured that we'll add these data on soon.[/su_spoiler]
This, however, comes with a lot of reservations because I'm coming off from very limited experience with laptops with 4K displays. The 16:10 aspect ratio was also a new thing for me, and this essentially gives a taller perspective compared to my previous experience.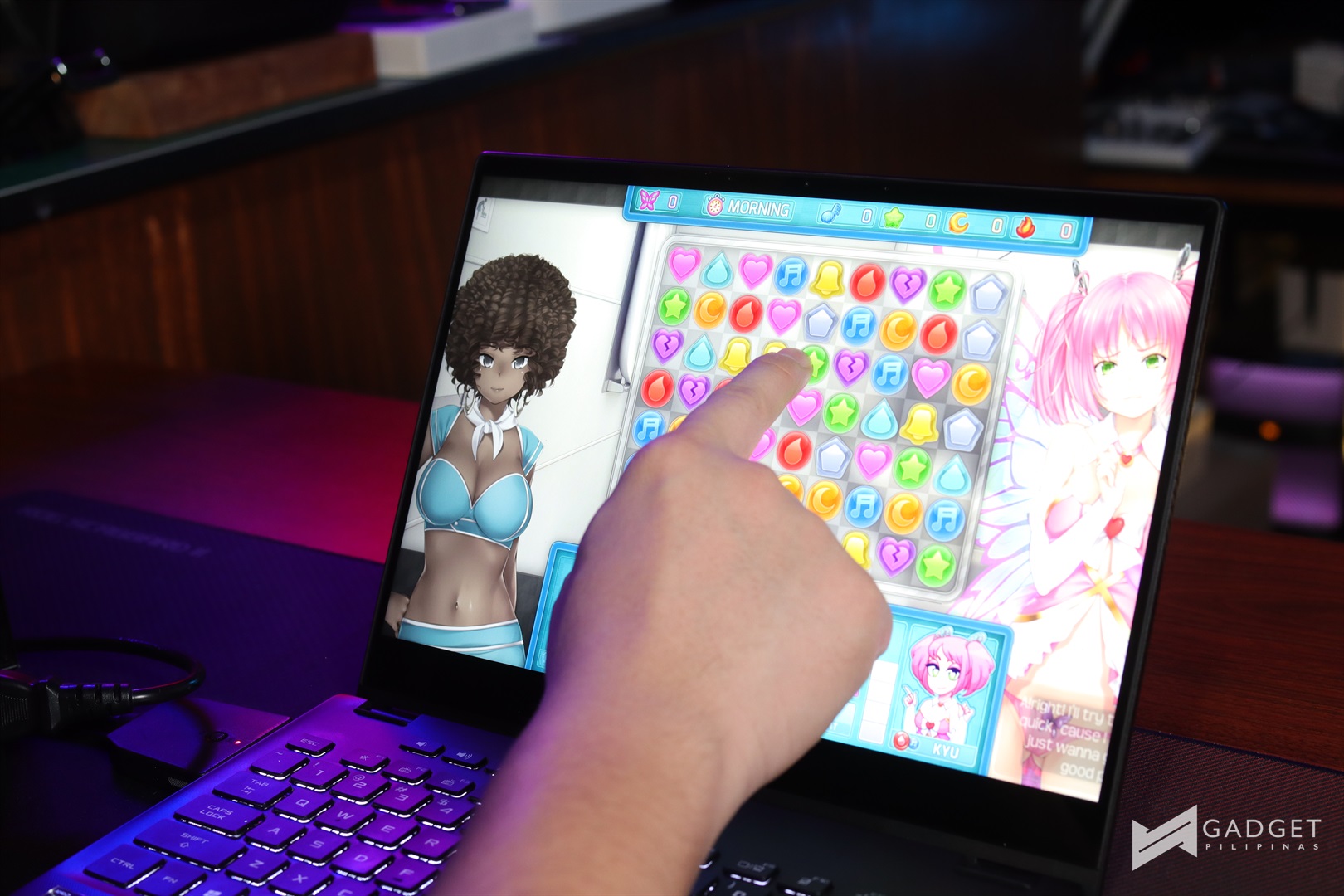 Since the Flow X13 has a WQUXGA display, playing games will conform and default to its native resolution. While the laptop has a quite capable dedicated GPU (a GTX 1650, with a new update coming 2Q of 2021), triple A titles will definitely struggle to run on this system unless you jack in the XG Mobile. I'll talk more about this later on.
We're talking here of a laptop with a 13-inch display, which led me to question ASUS' decision to assemble a variant with a 4K display with 60hz refresh rate. The tendency is to force scale the apps to 300% in order to optimize the size on its 4K native resolution. Thankfully, I didn't have any significant problems because most of the native and third-party applications I'm using on laptops have proper scaling and compatibility with 4K displays.
In terms of backlight bleed, ROG Flow X13 did not show any that would warrant it to cause an alarm. It's minimal and forgiving because of the quality you will experience with it. On the display of the variant I've got, you're getting a max of 300 nits of brightness, 1000:1 contrast and DCI-P3 of 85%. These numbers are translated when you start consuming content, be it playing games or watching a 4K video of "I Can't Stop Me" by Twice. It's glorious.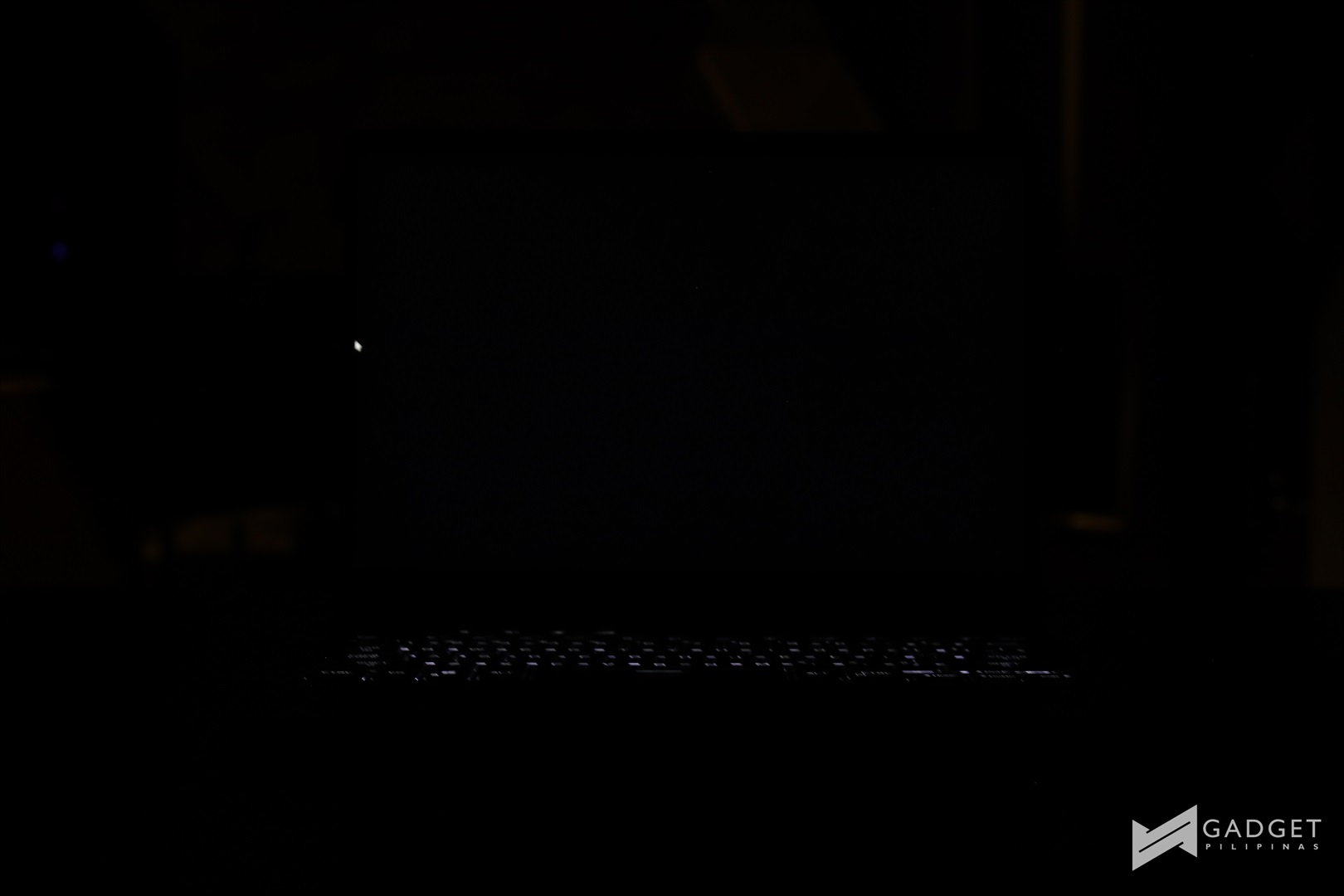 As an added bonus, the display is multi-touch enabled and with pen support. This further increases the function of its Gorilla Glass-protected display, which can undoubtedly delight content creators.
XG Mobile, the wonder maker
XG Mobile eGPU (GC31)
GPU
RTX3080 16GB VRAM
Extended I/O Port
1 x HDMI 2.0
1 x DP 1.4
1 x RJ-45 Jack
1 x DC input jack
4 x USB 3.2 Gen1 port
1 x SD Card Reader (Standard)/UHS-II
(312MB/s)
Connection
ROG XG Mobile Interface (PCIE Gen3x8) and
USB Type-C combo port
Internal Power Supply
280W
Dimension
208 x 155 x 29.6mm
Weight
1 kg.
The magic of the ROG Flow X13 does not end with its Vega 8 integrated GPU or the GTX 1650 Max-Q design GPU. One of the unique features of the new laptop is the dedicated 8-lane ROG XG Mobile Interface. This is ROG's first laptop that features this proprietary connection.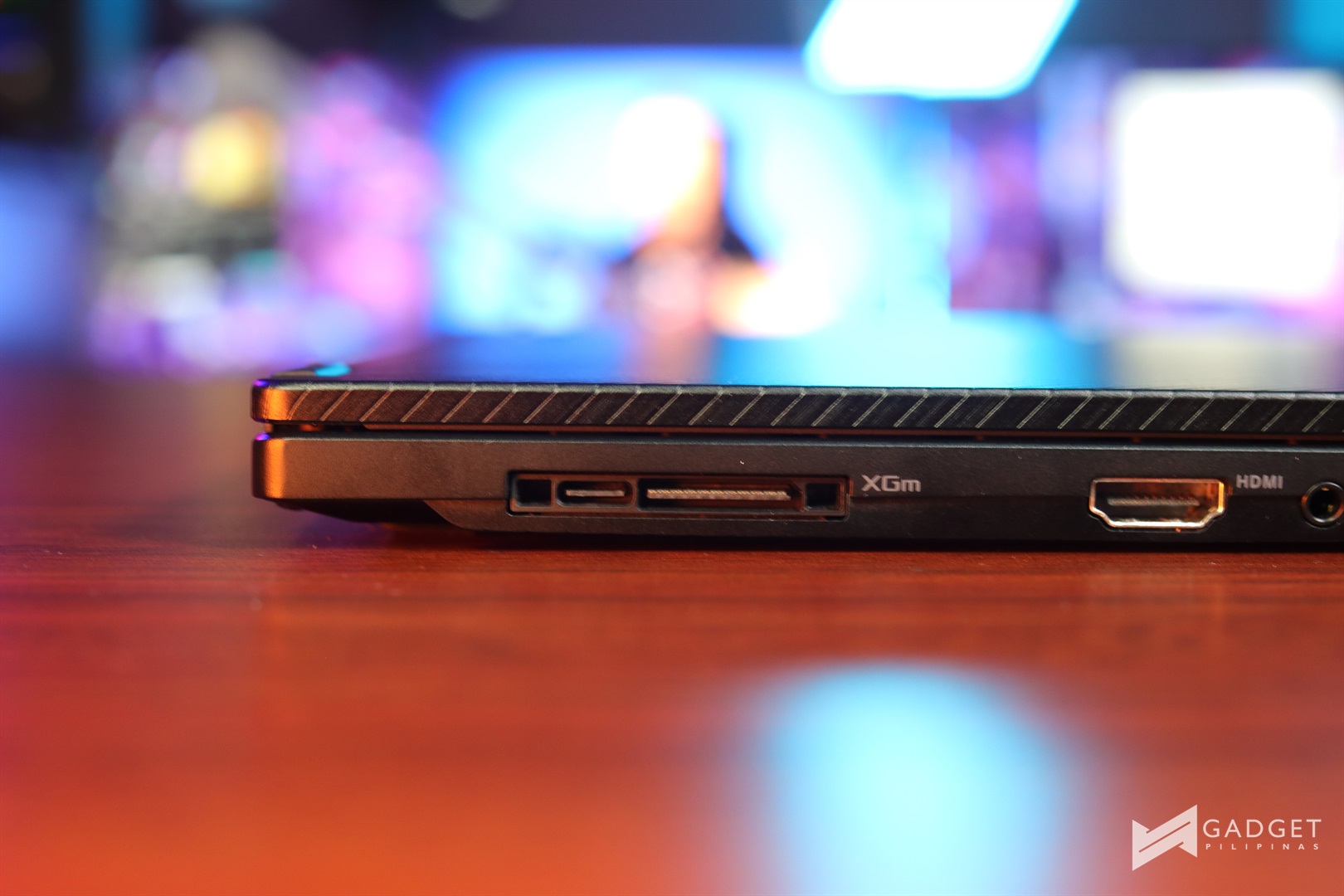 Since this is rocking an AMD APU and does not obviously use Thunderbolt interface, ASUS opted for something that can utilize all the bandwidth needed to avoid bottlenecking. This is the reason why ASUS needed to use this new XG Mobile interface to fully utilize all the available bandwidth to boost performance up to 63 Gb/s versus the usual 40 Gb/s on traditional eGPU with Thunderbolt technology. This maximizes the utility of the XG Mobile with RTX 3080 GPU, which performs just as well as the RTX 3070 desktop counterpart. Performance is really impressive despite its small fall factor (it is smaller by 6% versus other eGPUs).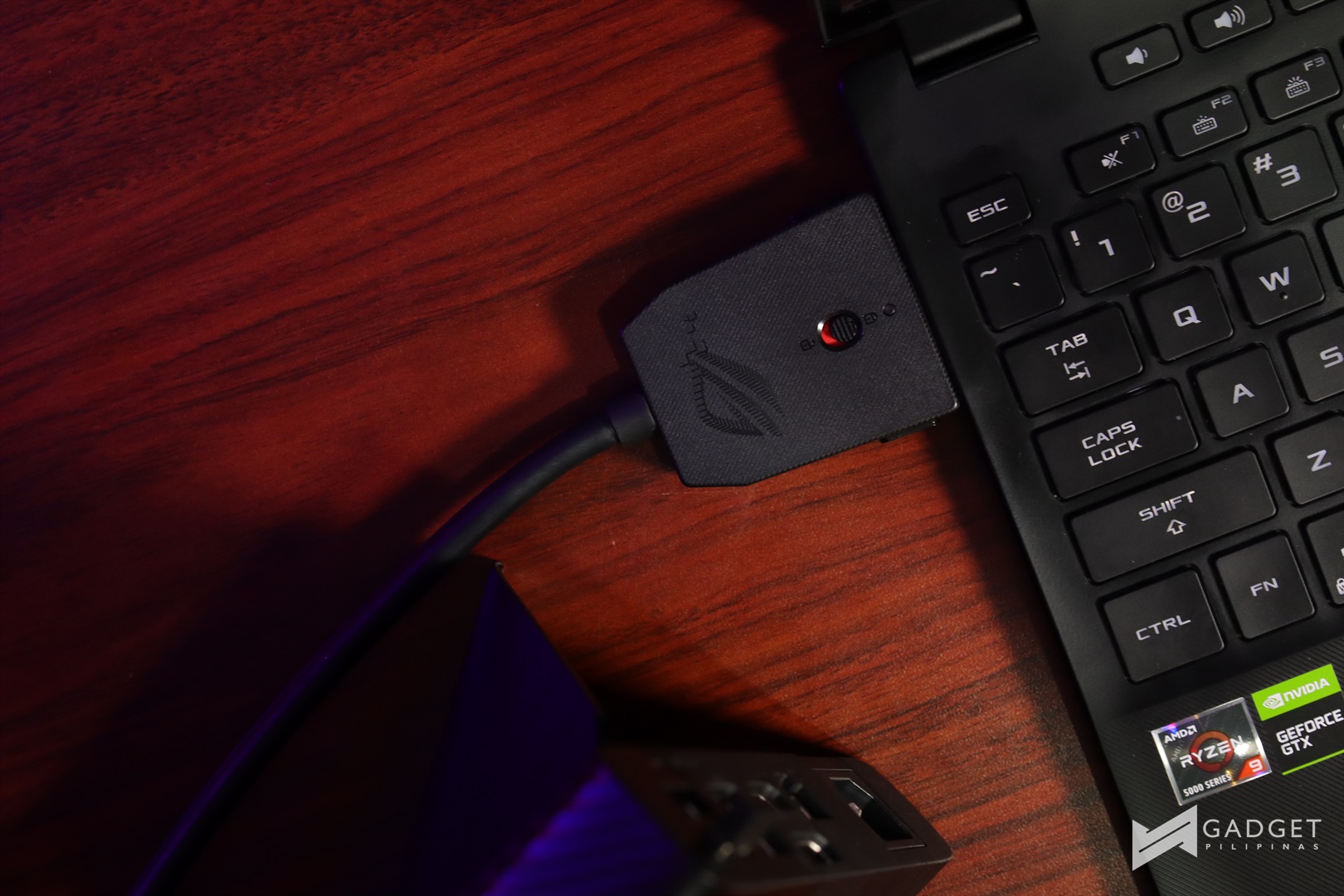 The XG Mobile, however, is more than just an eGPU. This is also an all-in-one hub, that will allow you to connect 4 USB devices, RJ-45, DisplayPort 1.4 and an SD Card with transfer speeds of 312MB/s. I managed to connect this to my XG438 and play my favorite games up to 4K 120fps.
This, however, is an early technology, and having first dibs has some significant drawbacks. Don't get me wrong; by drawbacks, while this device is less than a kilogram or 2.2 pounds, this is an appendage to the Flow X13 that you'll likely always bring with you. The XG Mobile is an indispensable accessory to the Flow X13 – the Clara to her Mara; or the Clyde to his Bonnie. There is also some level of anxiety whenever it is attached to the laptop despite having a security measure for accidental disconnection. The connection can sometimes be finicky and the application that controls it requires more refinement. I am looking at you, Armoury Control.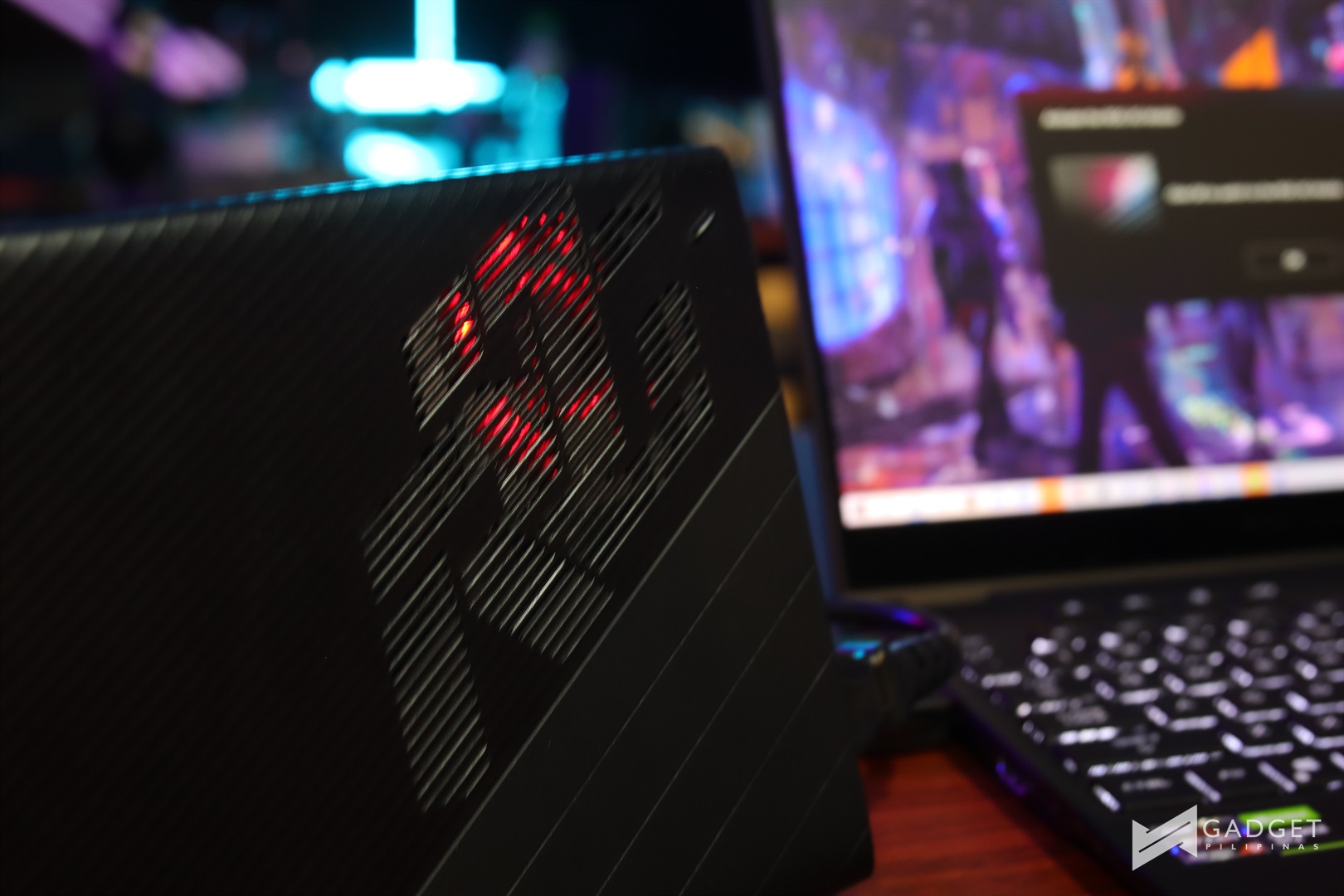 ASUS needs to pull some weight to improve Armoury Crate, which acts as the central hub that connects ROG Flow X13 and XG Mobile. Nevertheless, its current state does not diminish my overall wonder to what ASUS just pulled off with the XG Mobile.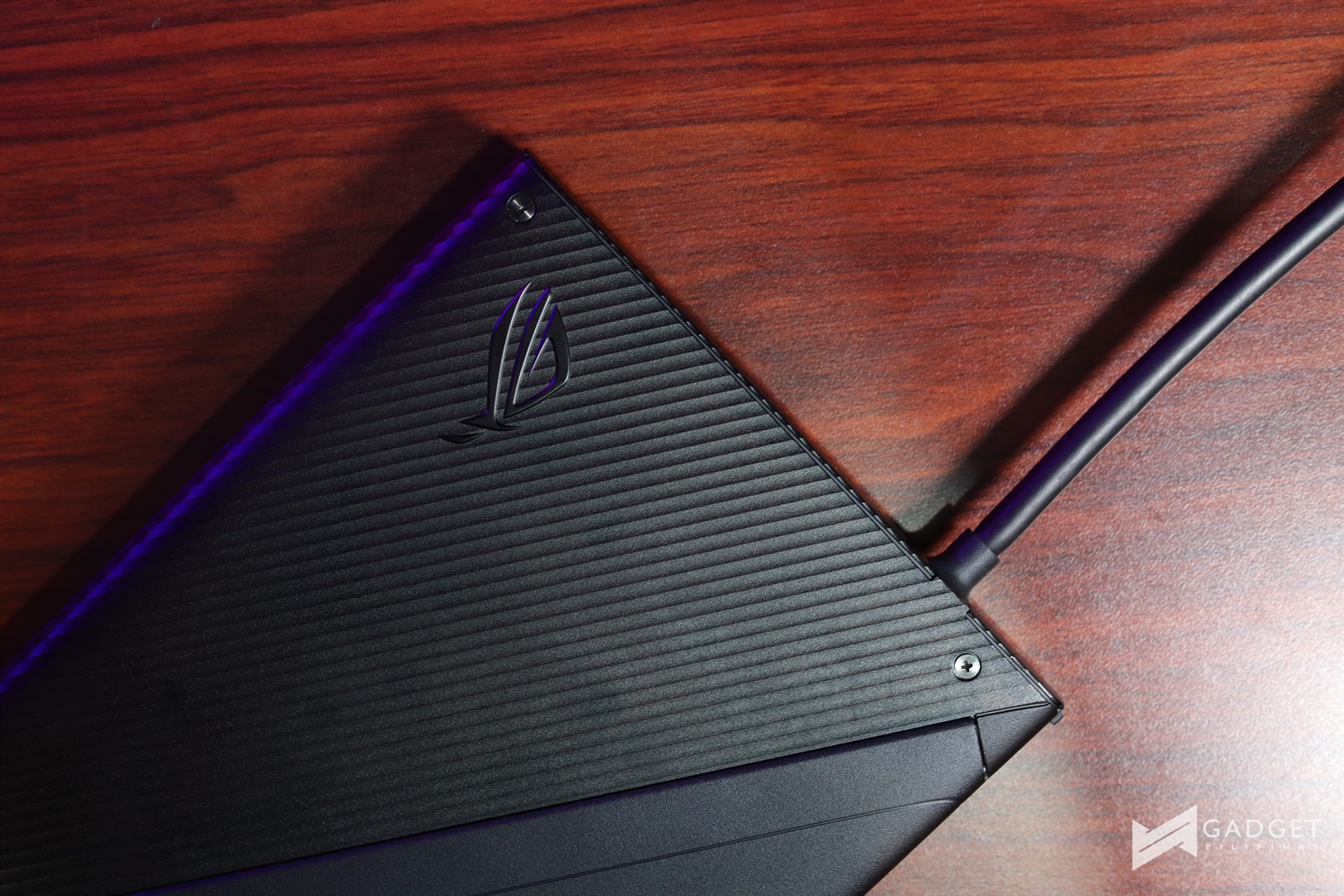 Synthetic Benchmarks
We benchmarked the ASUS ROG Flow X13 together with its different power settings found in the Armoury Crate. The main purpose of benchmarking power profiles will show how aggressive or conservative the manufacturer is in thermal management. These profiles will affect the CPU and GPUs' boosting behavior in terms of duration and max clock speed which will translate to higher scores and stable framerates.
There are special executions per benchmark tools though. Due to the uniqueness of Flow X13 with the XG Mobile, there are certain methodologies where we compared its performance using specific MODES, rather than Power Plan. This means that some of methodologies – especially that involve the use of GPU – will show results using iGPU Mode, Dedicated Mode and XG Mobile Performance Mode.
Note that the benchmark results are based on the current Nvidia Firmware 94.04.3D.00.A9. We'll push an update based on the new 94.04.43.00.05 upgrade soon.
Benchmark results will show how the AMD Ryzen 9 5900HS processors work on the Flow X13. We are aware of the current throttling issue of Ryzen 9 5980HS that Kitguru pointed out. So far, we have not experienced this issue on our Flow X13 with a different processor variant (Ryzen 9 5900HS).
wPrime 1024M
wPrime is a benchmark tool similar to SuperPI, but the former takes on finding prime numbers using Newton's Method. The benchmark is set to calculate 1024M, and measured according to calculation time.
GeekBench 5
Geekbench is a multi-platform benchmark that's used to gauge CPU performance and compare them across Windows, Mac, and Mobile. Geekbench 5 is the latest version and doesn't rely on memory as much compared to the previous Geekbench 4, making it a great tool to measure both single-core and multi-core CPU performance.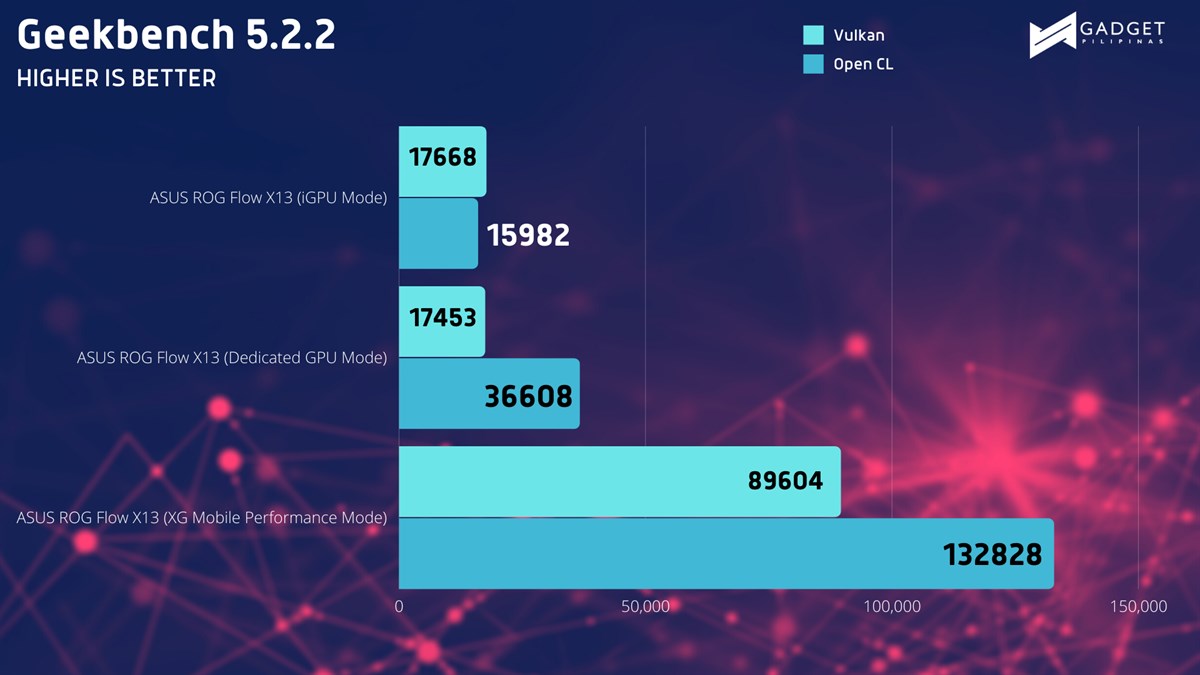 CINEBENCH R20 and R23
Maxon's Cinebench benchmark is one of the most iconic benchmark applications used by reviewers and enthusiasts. The latest Cinebench R20 uses the latest rendering architectures, including Intel's Embree ray tracing technology and other advanced features from AMD and Intel that allows users to render the same scene on the same hard. Cinebench R20 uses a larger and more complex testing scene than Cinebench R20 by about 8x computational power and requires 4x the memory.
Cinebench R23 on the other hand has updated compilers and has minimum runtime versus R20.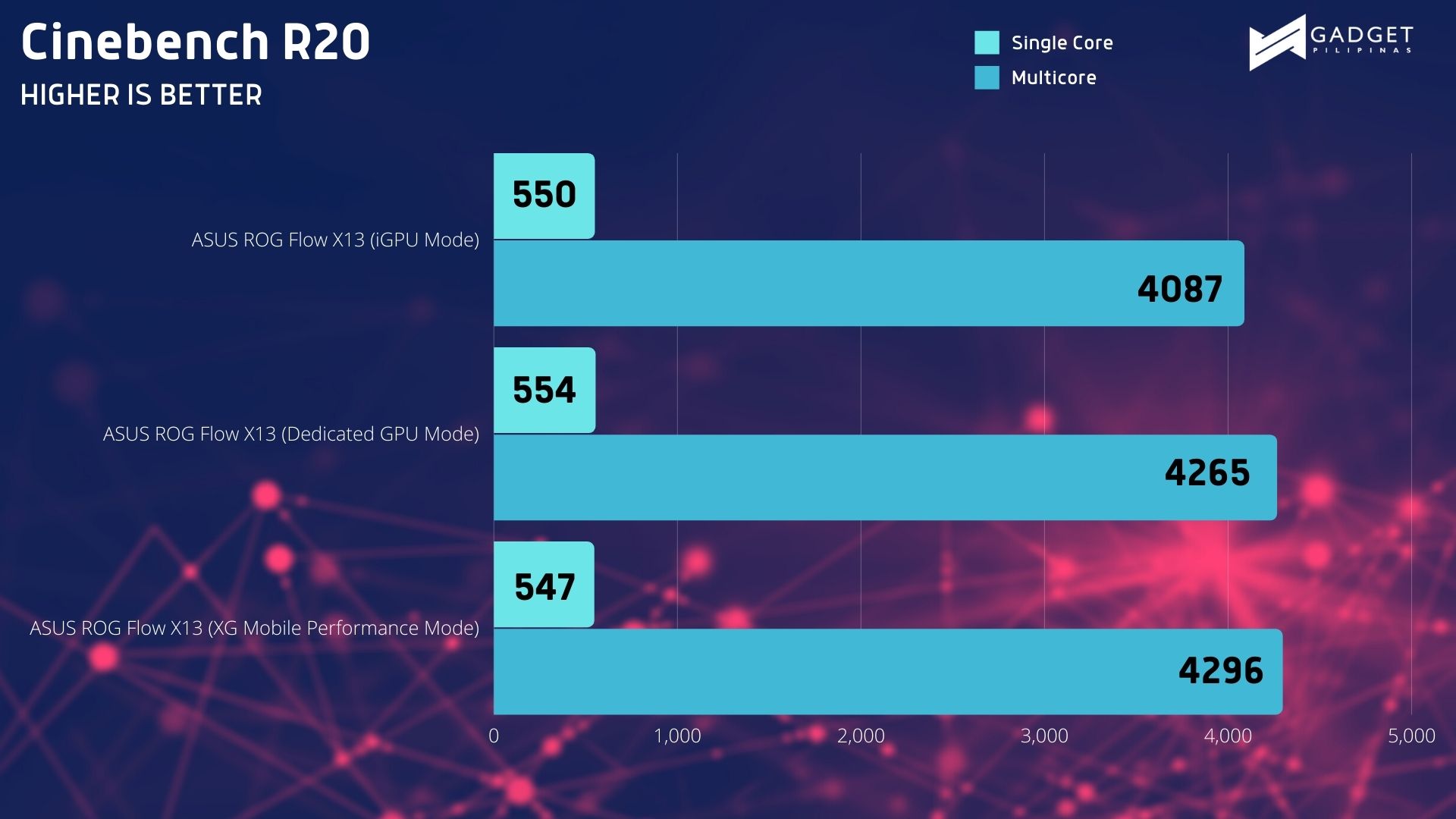 V-RAY
V-Ray Benchmark is a stand-alone version V-Ray developed by Chaos Group. It is designed to test the CPU and GPU by rendering sample scenes at a fixed amount of time. V-Ray is plug-in mostly utilized by 3D computer graphics software applications mainly for industrial design, product design, architecture, film, and video game production. V-Ray is not limited to 64-threads as it supports multi and mega threading.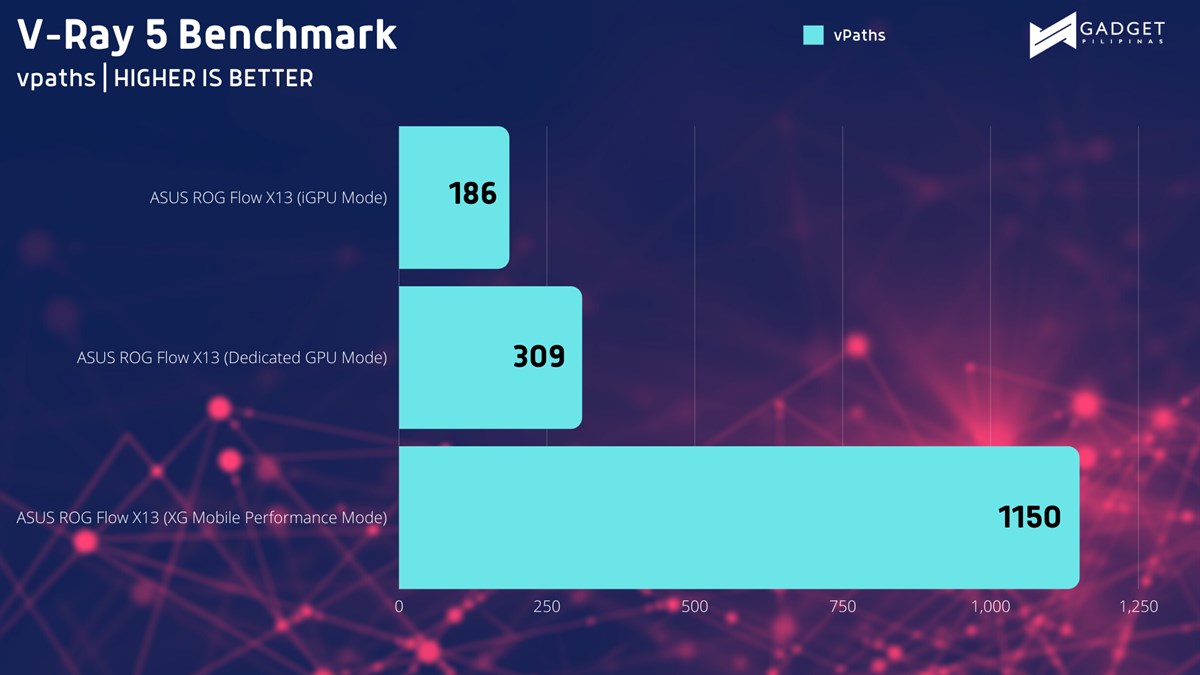 BLENDER
Blender is a widely used, free, opensource 3D creation suite. It supports the whole 3D pipeline process from modeling, rigging, animation, simulation, rendering, and even motion tracking. Blender has become a standard for CPU benchmarks with the BMW27 and Classroom scene most used. This prompted the company to release Blender Open Data Benchmark in 2018, a benchmark-specific version which allows users to run a preset benchmark and share the results online similar to 3D Mark.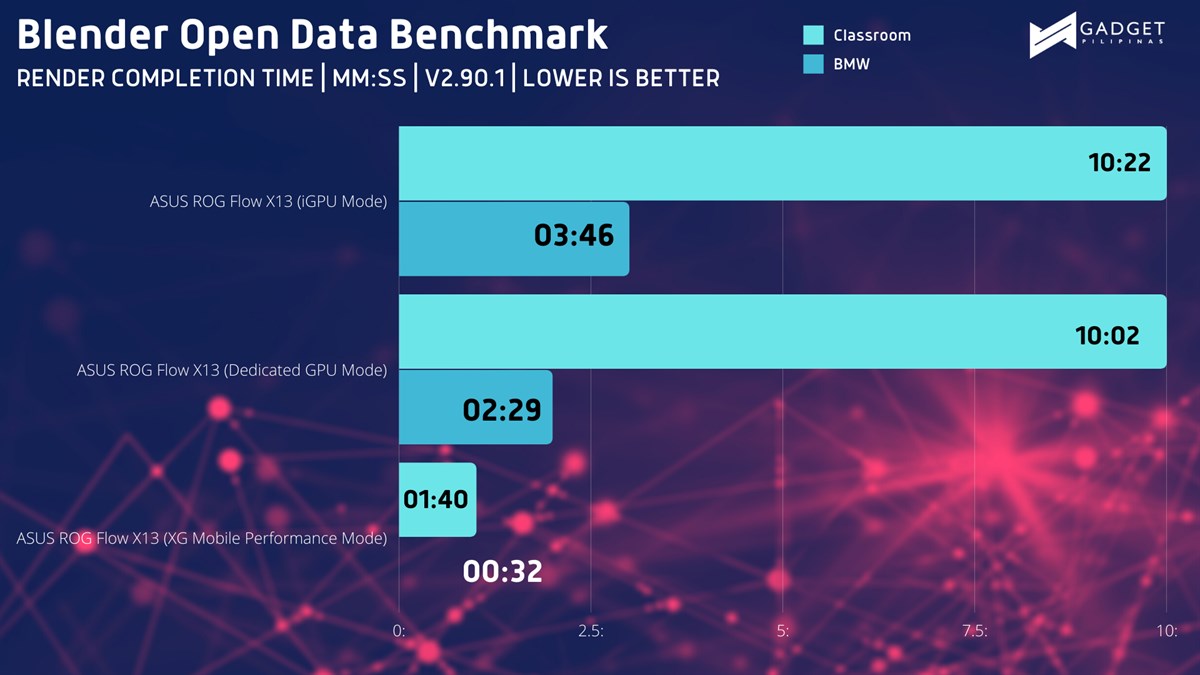 CORONA RENDERER
Corona Renderer is an unbiased photorealistic render available for Autodesk 3Ds Max, Maxon Cinema 4D, and as a stand-alone application. Its popularity, similar to Blender, led Chaos Group to develop a benchmark version of the app which runs using Corona Renderer 1.3. Workstation systems, especially CPUs, can utilize Corona Benchmark as up to 72 threads can be used in the benchmark, making it very suitable for CPUs with various price segments.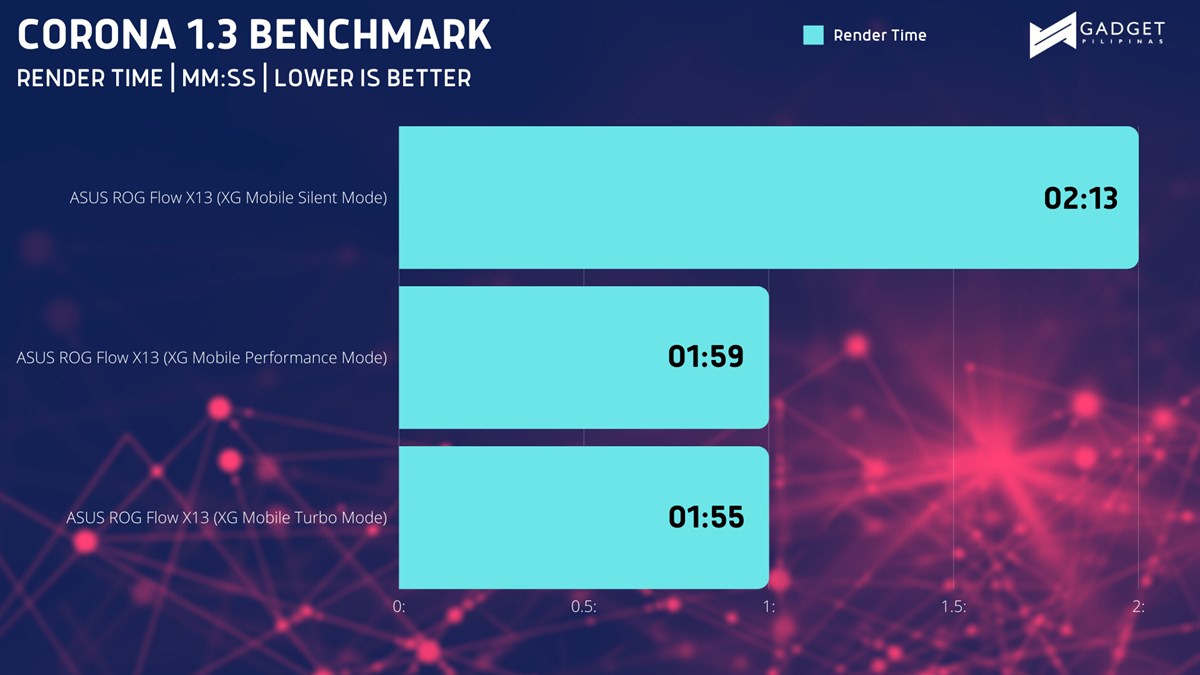 SSD Benchmark
Developed by Noriyuki Miyazaki, CrytalDiskMark is a free benchmark tool that is being used by thousands of experts. This tool measures SSD's sequential read and writes speeds. That means how fast files can be read from and written to the drive, usually measured in MB/s.
PCMark 10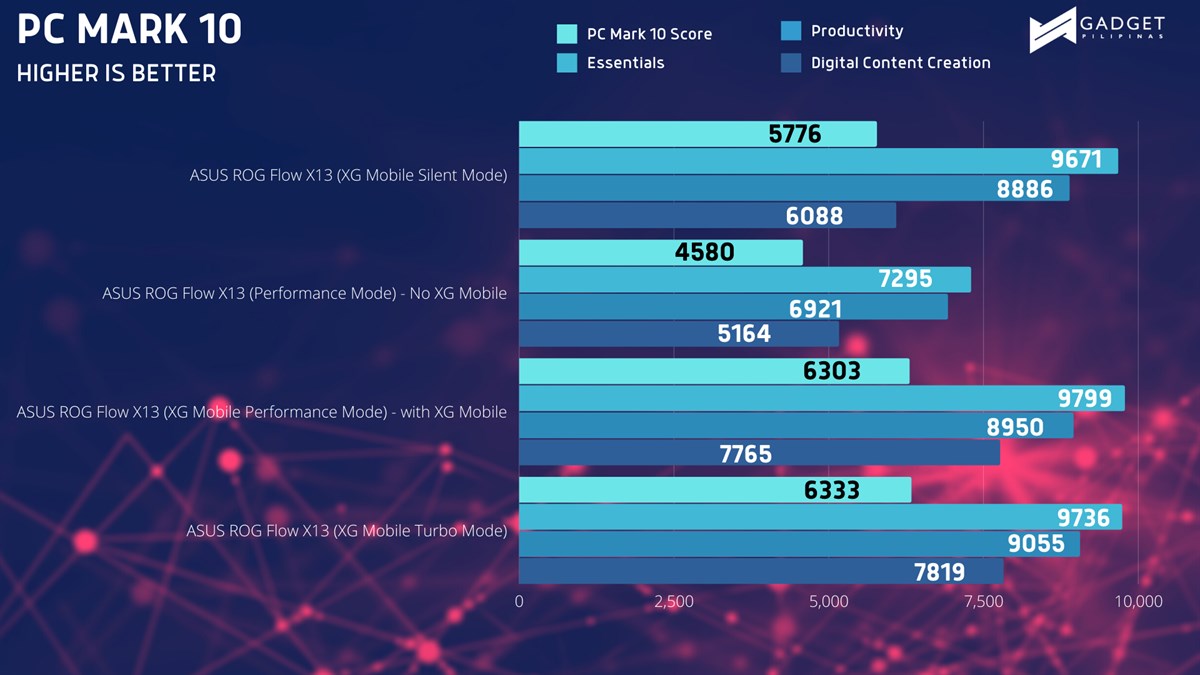 3DMARK
3DMark is the go-to benchmark for gamers because of the ability to share and compare results online. We used Time Spy DX 12 benchmark Fire Strike and Port Royal since the RTX 3080 in XG Mobile supports Ray Tracing.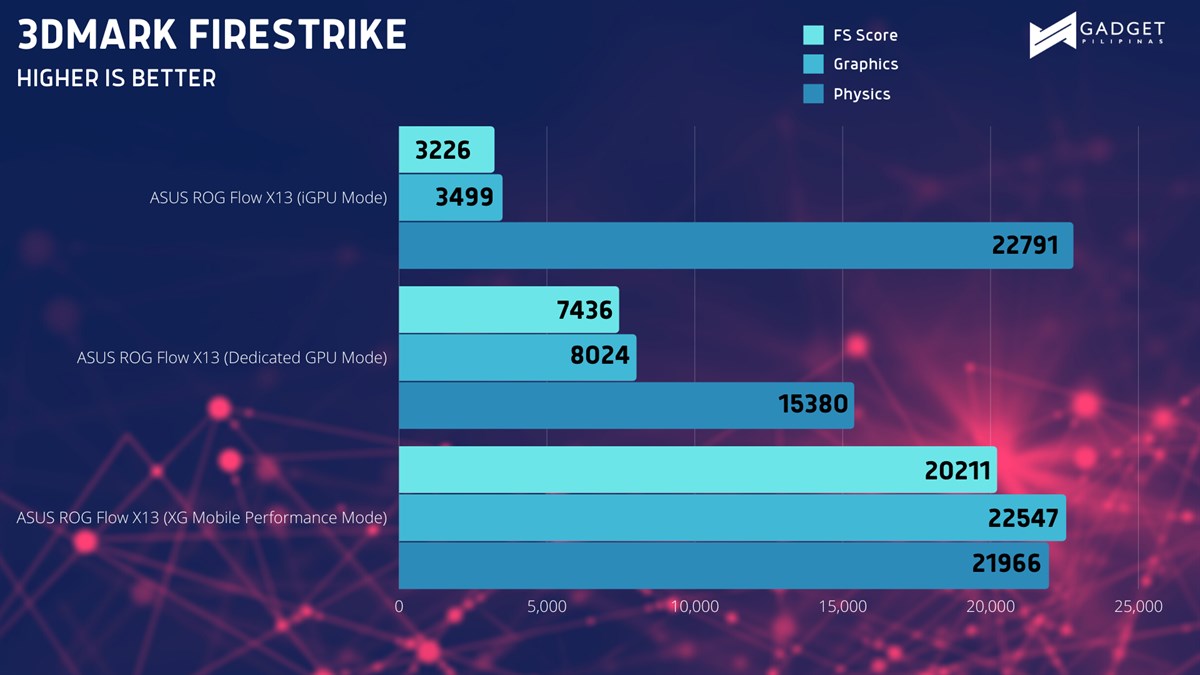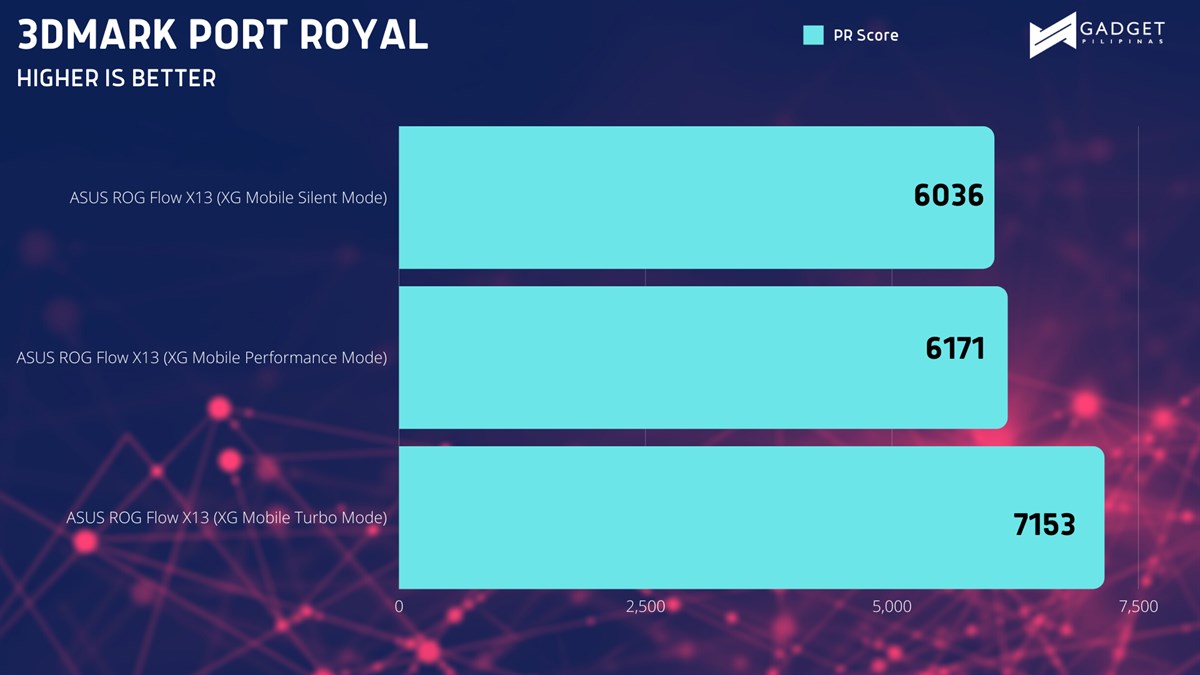 Gaming Benchmarks
We used CapFrameX Capture and Analysis Tool v1.5.7 to capture framerates for our benchmark run. We are using the latest Nvidia Game Ready 461.40 driver for our benchmarks of the ASUS Flow X13. HWMonitor and HWInfo64 are both used to measure CPU and GPU temperatures.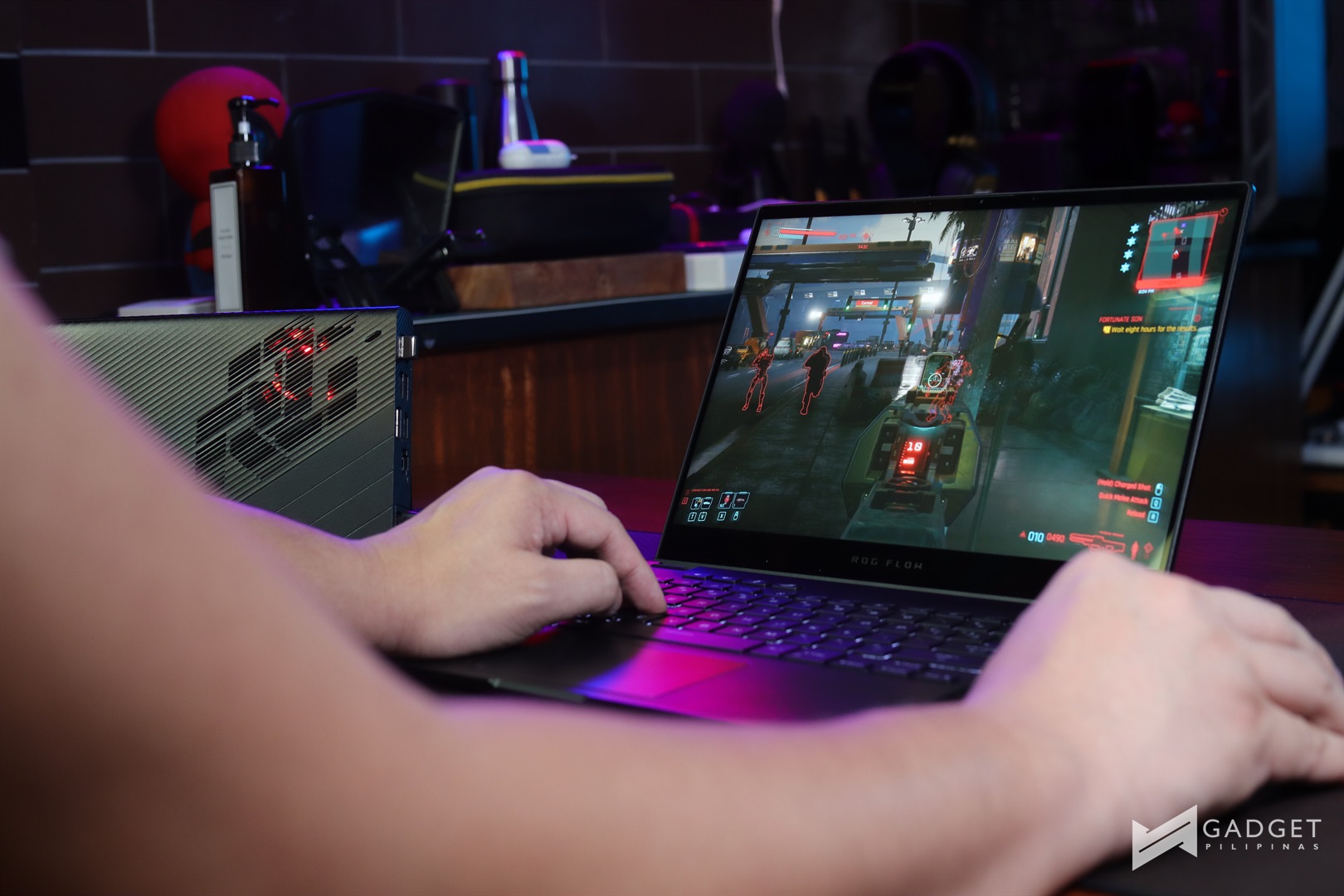 This section of our full review will be added on later. Unfortunately, due to the number benchmark instances we need to run, our release of the result of our benchmark will be delayed a bit. This section, along with our final verdict will be integrated into this review by then.
Battery Life
ROG Flow X13 is packed with 62Whr battery, which lasted 4 hours 43 minutes in my PCMark 10 Idle battery test. For your appreciation, the following condition/setting should give you an idea of its battery performance:
Performance Mode enabled via Armoury Crate
4K resolution
iGPU Mode disabled
Dedicated GPU enabled (NVIDIA GTX 1650 Max-Q)
XG Mobile RTX 3080 detached
80% brightness, 150 cd/m2, using default display color calibration
WiFi-enabled, connected to local mesh connection, with nearest node about 6 meters from the laptop
ASUS included a pocket-sized (no kidding) 100w Type-C charger, which can charge the laptop from 0-60% in just 39 minutes, or 0-50% in under 30 minutes. Should you want to have it charged faster at the expense of charger-portability, you can use the XG Mobile with its 280W power adapter inside.
Initial Verdict
The ROG Flow X13, without the XG Mobile, set a new standard in the gaming laptop industry. While laptops brands have been scouring to make the most powerful and the "most colorful and brightest" laptop, ASUS dared to be different. It does have the power of the AMD Ryzen 5900HS and the highly capable iGPU and GTX 1650 Max-Q, but it is clearly not the fastest around. By itself, Flow X13 can be used for both casual gaming and productivity; but its flexibility (literally) and adaptability make it one of the best laptops in the market right now.
While I fully understand the pun behind the device's name, ASUS actually resisted the flow with the Flow X13. It's bold, different and genius! The ingenuity of XG Mobile Interface, while its design is proprietary in nature, is a small sacrifice to pay for the immense performance you'll get with it. Speaking of "price to pay", we will still need to wait further to know how this device will actually cost. Until then, I will need to hold off my full and final verdict.
Final Verdict
Having been using laptop for more than 2 weeks, there is no doubt that you're getting the best of both worlds – portability and power. The standalone Ryzen 9 5900HS worth PhP99,995 or Ryzen 7 5800HS worth PhP89,995 do not come in cheap, but the bare benefits you get are astounding.
ASUS ROG XG Mobile 3080, which costs similarly to the Ryzen 7 5800HS, seem to attract people to say "Sana all" because of the demand of having one albeit its steep asking price. XG Mobile features a new technology exclusive to ASUS ROG. It will take months, if not years, for other brands to create something similar, and there is no doubt that ASUS can get their chance to milk this situation. The XG Mobile offers a breadth of features other than bringing the power of RTX 3080 or 3070 to laptops. An RTX 3070 would cost around PhP45,000 in the country, which is half the price of the XG Mobile 3070. The additional premium you pay is basically for portability, function expandability, and delivery of desktop-level experience. If you're in the market for what the ASUS ROG Flow X13 and XG Mobile can offer, then this is the laptop of your dreams. If you're willing to let go of portability, power and ingeniuty of these products, you may want to either build a desktop or buy ROG's less pricier products.

For prices, you can check this link.
What will be added to this review after February 20?
We are not done yet. We're supposed to add more data that will enable us to provide a more conclusive review. Meanwhile, we encourage to you check back on this page on the 20th and beyond for more information. We also recommend that you check other Filipino tech sites like Back2Gaming, Unbox, Yugatech, and GadgetMatch for reviews based on their respective methodologies. Here are few things that you need to expect from this review moving forward:
Game Benchmark using the latest NVIDIA Game Ready Driver
SpyderX Display benchmark result
Overcast and shade visualization
Thermal Visualization and benchmark
Maintenance and Upgradability
Sound Performace
Giancarlo Viterbo is a Filipino Technology Journalist, blogger and Editor of gadgetpilipinas.net, He is also a Geek, Dad and a Husband. He knows a lot about washing the dishes, doing some errands and following instructions from his boss on his day job. Follow him on twitter: @gianviterbo and @gadgetpilipinas.