Samsung recently unveiled its 2021 portfolio of Neo QLED and Lifestyle TV displays during its first-ever virtual First Look event, just ahead of CES 2021.
A Sustainable and Accessible Future for All
Over the next few years, Samsung is taking on a journey of "Going Green" for TV business operations through long-term sustainability programs.
Reducing Carbon Footprint and Improving Energy Efficiency
Samsung will exert all efforts to decrease its overall carbon footprint in TV manufacturing, lower user power consumption, and use more recycled materials.
Sustainable packaging design
Samsung is expanding its award-winning "Eco-packaging" design to all 2021 lifestyle TVs and most of the 2021 Neo QLED line.
Solar Cell Remote Control
In 2021, Samsung TVs will come with a solar-powered remote control that can be charged using indoor light, outdoor light, or USB.
Samsung's 2021 accessibility features – available on all 2021 QLED and Neo QLED models brings the latest advances in technology and AI to help more people comfortably enjoy the TV experience.
The 2021 lineup adds new features like Caption Moving, Sign Language Zoom, and Multi-Output Audio, giving those with the difficulty of hearing, the deaf, people with low vision, and the blind, the ability to optimize their viewing needs and preferences.
By 2022, the company is committing to expanding its Voice Guide feature – which provides audio guidance to the deaf and people afflicted with low vision, apart from developing AI-based features to further enhance the accessibility of Samsung TVs in the years to come.
Neo QLED Takes a Quantum Leap in TV Display Technology
Samsung is introducing a whole new display technology, Neo QLED, to its new flagship 8K (QN900A) and 4K (QN90A) models. The company is also taking QLED to a whole new level enabled by a new light source, Quantum Mini LED precisely controlled by Quantum Matrix Technology and a Neo Quantum Processor optimized for Neo QLED.
Quantum Mini LED is designed to be 1/40 the height of a conventional LED and uses thin micro layers filled with more LEDs. Quantum Matrix Technology enables fine and precise control of the densely packed LEDs, preventing blooming.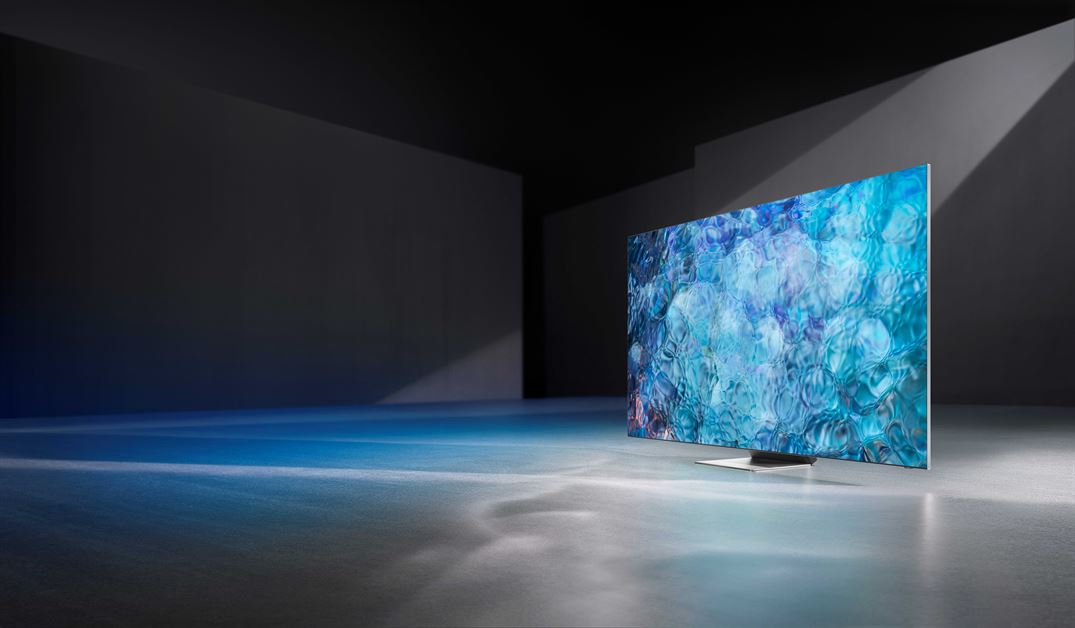 Neo QLED also increases the luminance scale to 12-bit with 4096 steps to help make dark areas darker and bright areas brighter, for an immersive HDR experience.
The Neo Quantum Processor with enhanced upscaling technologies uses 16 neural network models, each trained in AI upscaling and deep learning. It can optimize picture quality to 4K and 8K picture output regardless of the input quality.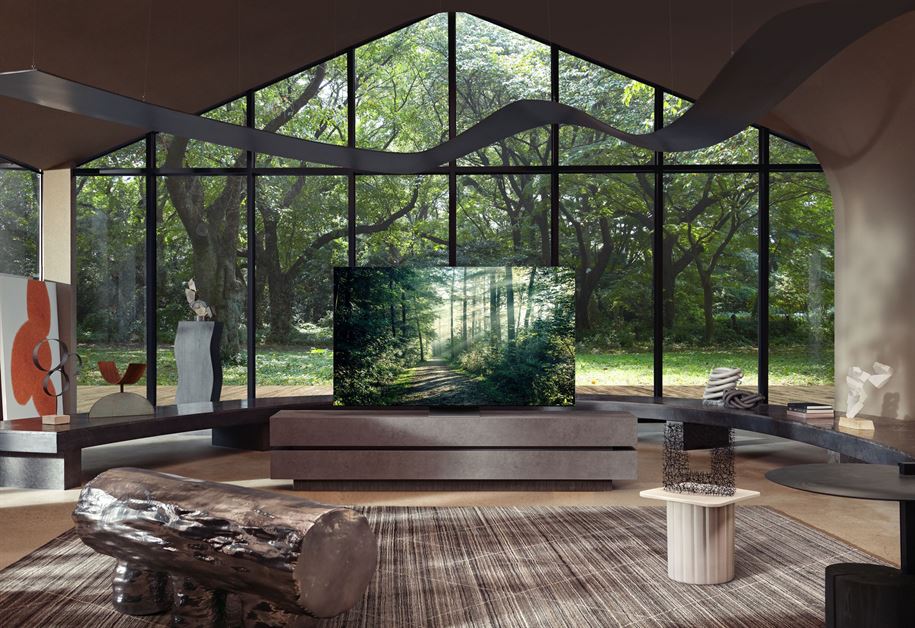 Samsung's 2021 Neo QLED 8K features the new Infinity One Design which uses the nearly bezel-less screen providing a more immersive viewing experience in sleek design and form factor.
The attachable Slim One Connect Box – an all-new cable management system that can be attached to the TV's back allows for an easier installation and cleaner aesthetic.
The 2021 Neo QLED 8K also packs in several premium, room-filling audio features.
Object Tracking Sound (OTS) Pro's dynamic sound corresponds to the movement of objects on the screen.
SpaceFit Sound analyzes the installed TV's physical environment and outputs sound tailored specifically to the space.
Enhancing the Award-Winning Lifestyle TV Portfolio
Samsung is also making enhancements to its 2021 Lifestyle TV lineup with new designs and form factors.
The 2021 version of "The Frame" is thinner and mirrors the depth of a traditional picture frame. Attachable bezel options come in five color options and two different customizable styles – Modern and Beveled.
A subscription to The Frame's all-new Art Store gives consumers access to 1,400+ carefully curated pieces. The new AI-powered auto-curation technology is able to analyze individual consumer preferences to recommend artwork.
With near-endless options for customization, Samsung's lifestyle TV portfolio including The Frame, The Serif, The Terrace, and The Premiere immediately upgrades the decor of any home.
For more information on Samsung's 2021 TV lineup, click here.
Emman has been writing technical and feature articles since 2010. Prior to this, he became one of the instructors at Asia Pacific College in 2008, and eventually landed a job as Business Analyst and Technical Writer at Integrated Open Source Solutions for almost 3 years.