Introduction
The Dell XPS series is still the most beloved and premium laptop for enthusiasts and business people. Of course, it comes as at an extravagant price which keeps it away from the hands of most people. Enter the Dell Inspiron 14 7400, an affordable thin and light laptops that shadows the paradigm of the XPS line but without the associated premium. The question now is, is the Dell Inspiron 14 7400 worth it for its price or are we better with sticking to Dell's cream of the crop?
Powering the Dell Inspiron 14 7400 is Intel's latest 11th generation processor codenamed Tiger Lake built on Intel's 10nm SuperFin process. Intel's latest processors feature new CPU & GPU optimization, AI acceleration, and faster connectivity thanks to the new Willow Cove architecture.
Dell Inspiron 14 7400 Specs
Colors: Platinum Silver
Processor: 11th Generation Intel Core i7-1165G7, 12 MB Cache, 4 Core, up to 4.70 GHz
Operating System: Windows 10 Home, 64-bit
Display: 14.5-inch, QHD+, 2560 x 1600, anti-glare, non-touch, 100% sRGB, 300 nits, wide-viewing angle
GPU: NVIDIA GeForce MX350, 2 GB, GDDR5
Memory: 16GB, onboard, LPDDR4x, 4267MHz
Storage: 512GB M.2 PCIe NVMeSolid State Drive
Keyboard: English International Backlit Keyboard
Ports: 1 Thunderbolt 4 port, 2 USB 3.2 Gen 1 ports, 1 headset (headphone and microphone combo) port, 1 HDMI 2.0 port
Optical Drive: No Optical Drive
Slots: 1 MicroSD-card slot
Dimensions: Height (front) 0.56 in. (14.25 mm), Height (rear) 0.66 in. (16.75 mm), Width 12.66 in. (321.69 mm), Depth 8.84 in. (224.53 mm)
Weight (maximum): 2.78 lb (1.259 kg)
Camera: HD Camera (720p)
Audio and Speakers: Stereo Speakers with Waves MaxxAudio Pro tuning, Integrated Dual Array Microphones, 3.5mm Headphone/Microphone combination jack
Wireless: Intel Wi-Fi 6, 2×2 MIMO, Bluetooth® 5.1
Primary Battery: 4-Cell Battery, 52 Whr (Integrated)
Bundled Software: Microsoft Office Home and Student 2019
Dell Inspiron 14 7400 Unboxing and Overview
The Dell Inspiron 14 7400 comes in a Platinum Silver finish that's consistent throughout the laptop except for the oddly colored hinge and the mirror finished Dell logo. The bottom part shows two horizontal vents for cooling as well as two, small rubber stands.
Ports selection on the Dell Inspiron 14 7400 is what I'd call generous for an ultrabook. There's the now-rare 3.5mm jack, two USB 3.2 Gen 1 Type-A ports, one HDMI 2.0 port, a Thunderbolt 4 port, and a microSD slot.
While the keyboard area is one of the cleanest I've seen next to Apple Macbooks, the number of stickers and their uneven placement destroys the elegance of the Dell Inspiron 14 7400. The typing experience is not as great compared to other ultrabooks for the same price range. Key wobble isn't an issue but the overall bottom out and required actuation force of the switches doesn't feel consistent. Nonetheless, the keys are decently sized with no awkward button placement.
There's an LED on the upper right of the capslock key that lights up whenever the Caps lock is toggled on. The power button on the upper right of the keyboard deck also acts as a fingerprint button which enables Windows Hello support on the Dell Inspiron 14 7400.
The size of the trackpad is spot on and is definitely one of the largest among Windows ultrabooks. There weren't any issues with tracking as it uses windows precision drivers. Trackpad keys are above average and provide decent actuation. Moreover, Dell decided to maximize the space above the left and right arrow keys and inserts a page up and down key instead of leaving it blank or making the arrow keys full size.
Display and Camera
The Dell Inspiron 14 7400 is packed with a stunning 14.5″ QHD+ IPS display in a 16:10 aspect ratio. The extra vertical real estate thanks to the thin chin make up for an immersive entertainment experience and improve productivity as well
The Inspiron 14 7400's screen isn't just for show as it has a commendable color gamut of 97% sRGB and 73% AdobeRGB coverage. Users can take advantage of the color accurate QHD+ display in photo and video editing.
The peak brightness level of 323.4 nits on the Dell Inspiron 14 7400 is above average for most laptops. I personally would've preferred 400 nits considering it's a bigger display both in size and resolution.
Viewing Angle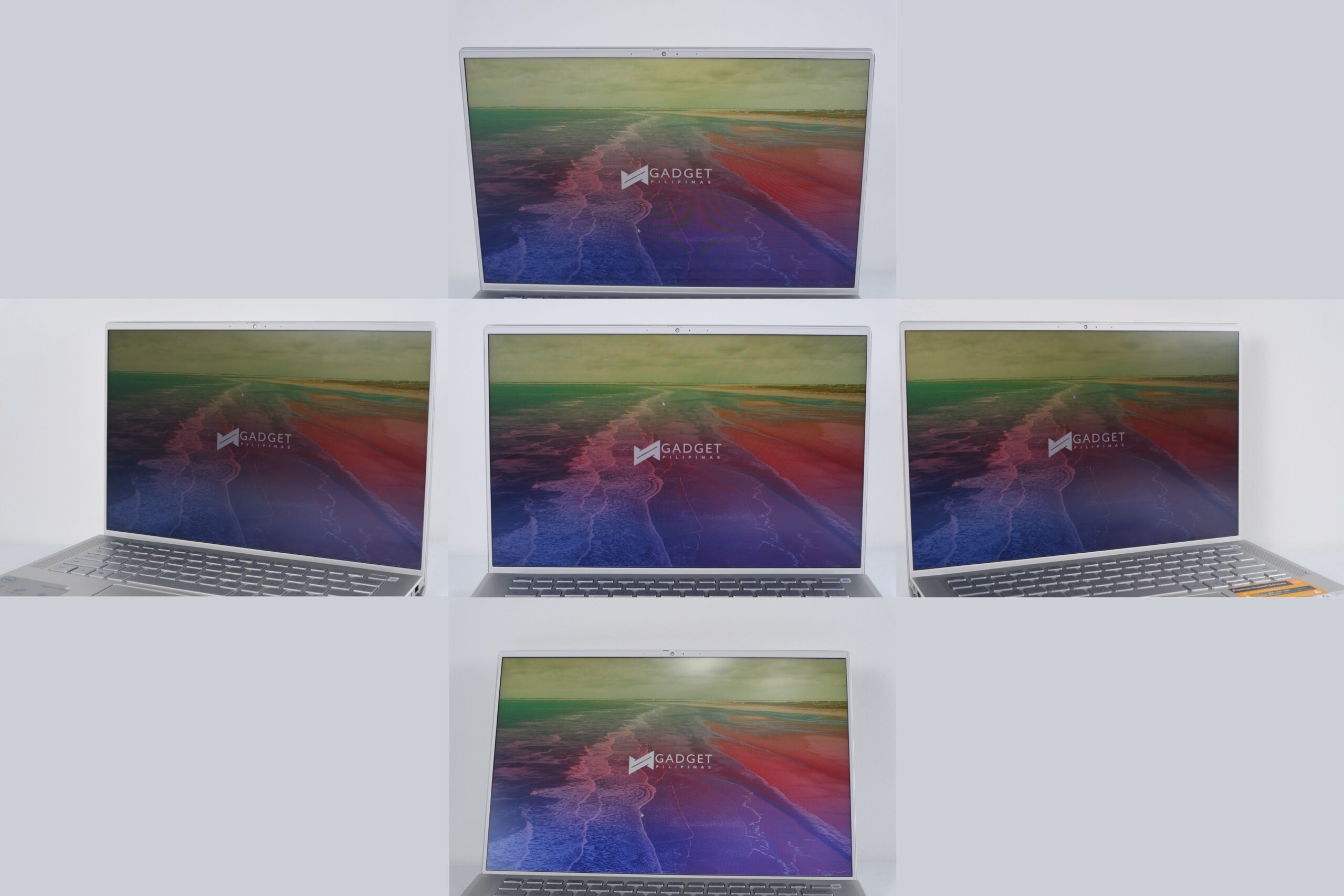 Viewing angles on the 14.5″ QHD+ display isn't an issue as it has an IPS panel.
Backlight Bleeding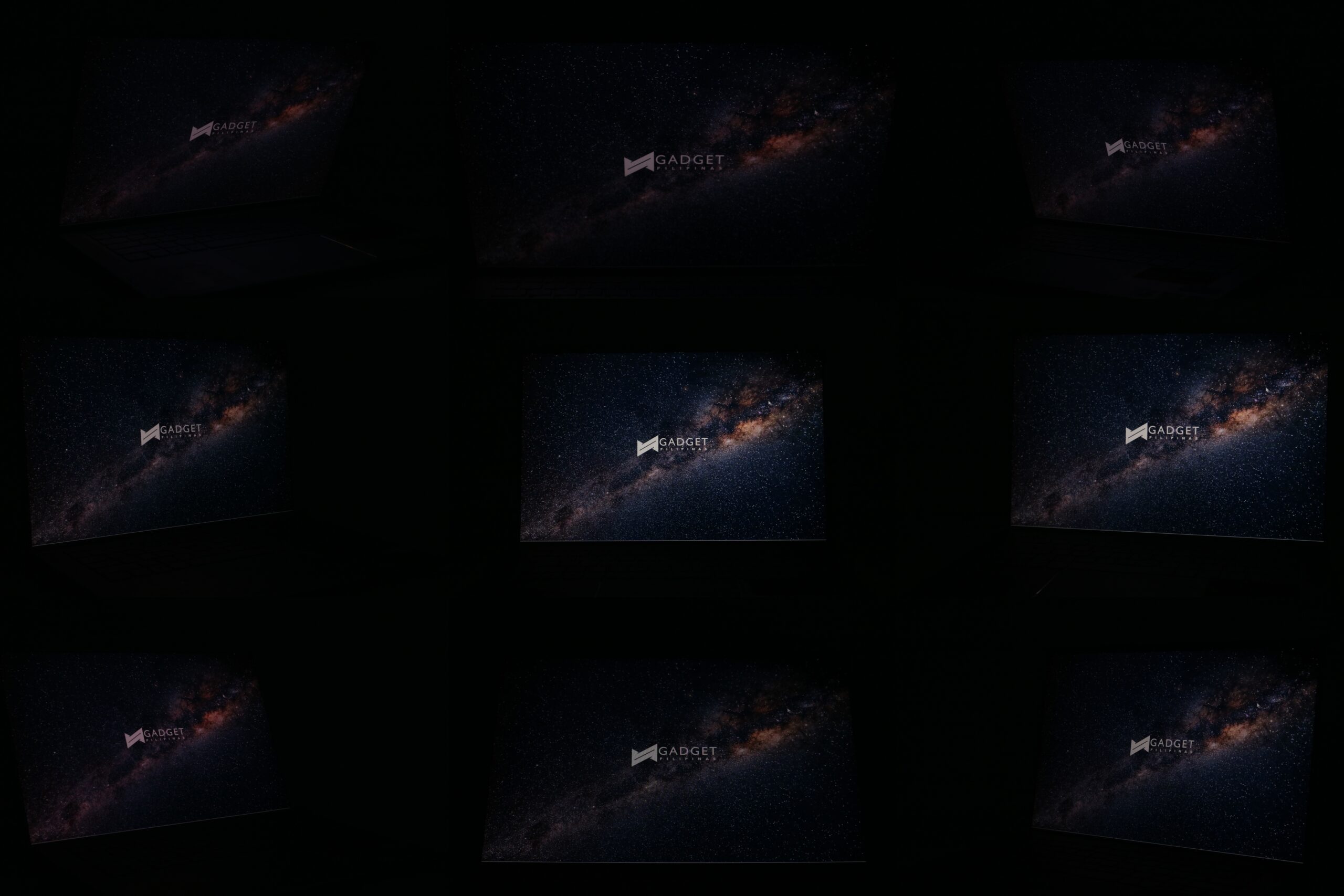 Fortunately, the Dell Inspiron 14 7400's display doesn't exhibit any backlight bleed as shown in the picture. Note that the white bar line on the bottom is just the hidden Windows Taskbar.
Camera
Built-in webcams are not a stellar thing for laptops but at least the Dell Inspiron 14 7400 includes a privacy slider to physically disable the laptop's camera.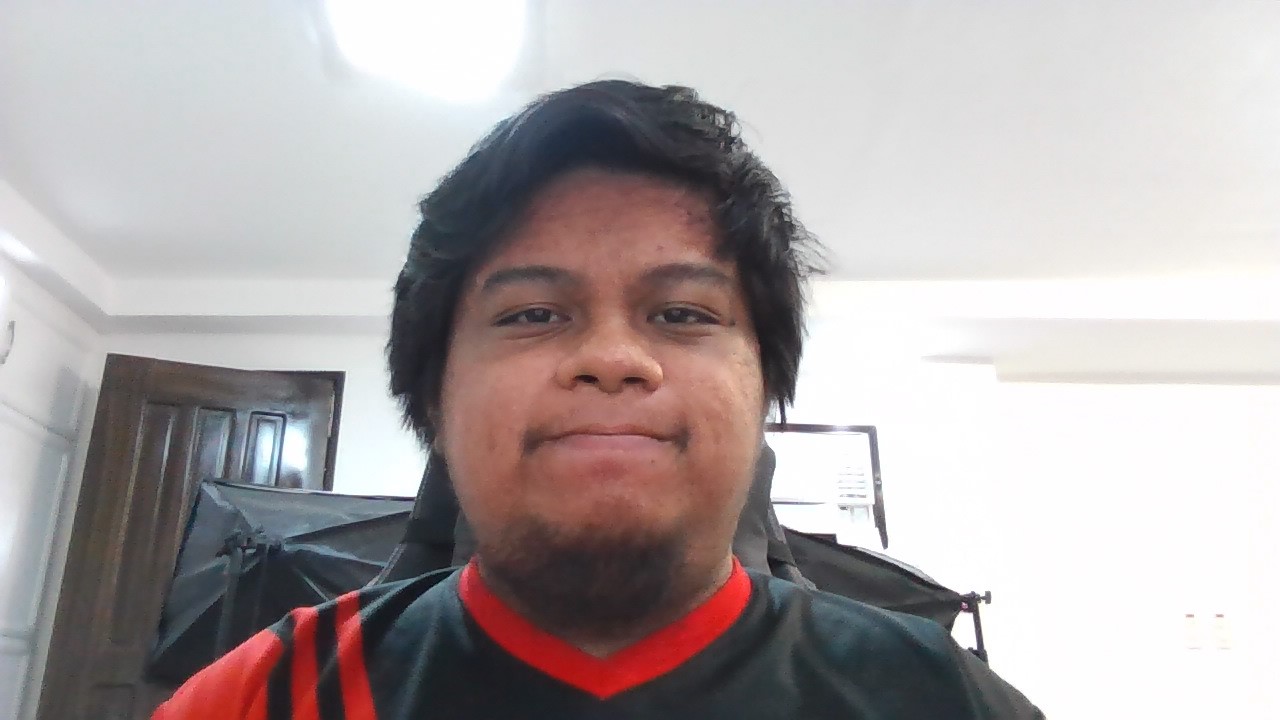 Despite the well-lit environment, the 720p camera's quality disappoints, and it's not as passable compared to other laptops. At least it's not mounted on the bottom of the screen.
Software and Bloatware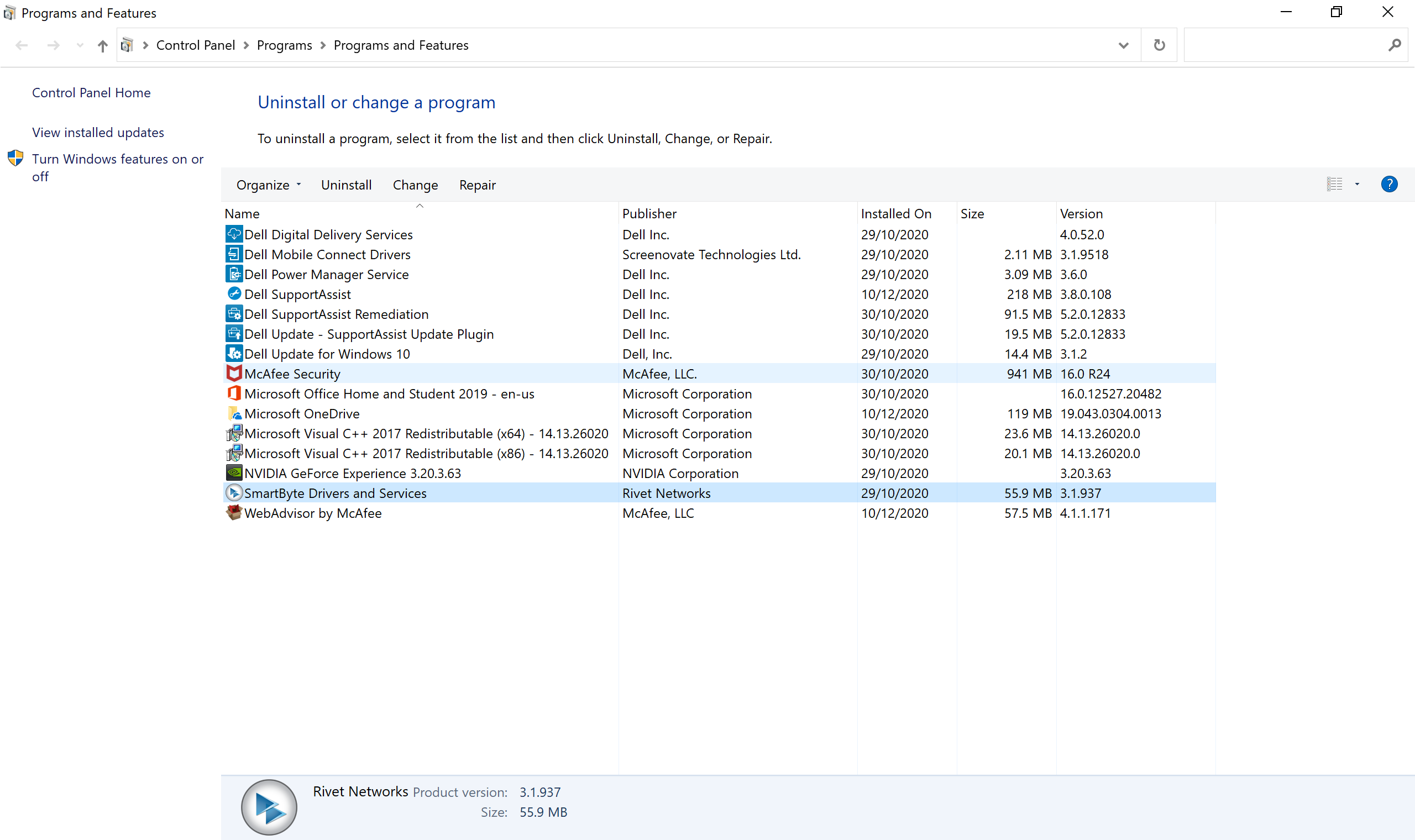 Bloatware on the Dell Inspiron 14 7400 is at a minimal with mostly Dell's software suite preinstalled alongside the infamous McAfee security, Microsoft Office, and necessary drivers.
Dell's main software is "My Dell" which lets you download applications, personalize your device, update drivers, and monitor your laptop's health.
Dell Inspiron 14 7400 Benchmarks
We benchmarked the Dell Inspiron 14 7400 together with its different power settings found in the Dell Power Manager Software. The main purpose of benchmarking power profiles will show how aggressive or conservative the manufacturer is in thermal management. These profiles will affect the CPU and GPUs' boosting behavior in terms of duration and max clock speed which will translate to higher scores and stable framerates.
SuperPI 32M
SuperPI is a single-threaded benchmark application that lets the CPU calculate Pi(π) to the nth digit. In this benchmark, we selected the Pi calculation to 32M, the highest available for the app.
GeekBench 5
Geekbench is a multi-platform benchmark that's used to gauge CPU performance and compare them across Windows, Mac, and Mobile. Geekbench 5 is the latest version and doesn't rely on memory as much compared to the previous Geekbench 4, making it a great tool to measure both single-core and multi-core CPU performance.
CINEBENCH R20
Maxon's Cinebench benchmark is one of the most iconic benchmark applications used by reviewers and enthusiasts. The latest Cinebench R20 uses the latest rendering architectures, including Intel's Embree ray tracing technology and other advanced features from AMD and Intel that allows users to render the same scene on the same hard. Cinebench R20 uses a larger and more complex testing scene than Cinebench R20 by about 8x computational power and requires 4x the memory.
BLENDER
Blender is a widely used, free, open-source 3D creation suite. It supports the whole 3D pipeline process from modeling, rigging, animation, simulation, rendering, and even motion tracking. Blender has become a standard for CPU benchmarks with the BMW27 and Classroom scene most used. This prompted the company to release Blender Open Data Benchmark in 2018, a benchmark-specific version that allows users to run a preset benchmark and share the results online similar to 3D Mark.
SSD Benchmark
Developed by Noriyuki Miyazaki, CrytalDiskMark is a free benchmark tool that is being used by thousands of experts. This tool measures SSD's sequential read and writes speeds. That means how fast files can be read from and written to the drive, usually measured in MB/s.
The Dell Inspiron 14 7400 is equipped with an SK Hynix BC511 512GB NVMe SSD. Our quick Crystal Disk Mark test does confirm its rated read and write speeds of 2,300MB/s and 1,000MB/s respectively.
3DMARK
3DMark is the go-to benchmark for gamers because of the ability to share and compare results online. We used Time Spy DX 12 benchmark and Fire Strike DX 11 benchmark and opted out of Port Royal since all the GPUs used in this review do not support Ray Tracing.
DOTA 2
Most gamers play at least one of the following free-to-play titles: League of Legends, CS: GO, Dota 2, and/or Fortnite. Dota 2 is a good representation of the F2P titles as it is the most demanding game in the spectrum. The benchmark will give you an idea of the laptop's relative performance on other lesser demanding titles. Our benchmark sequence is based on a replay of OG vs. Liquid in the TI9 grand finals from the team fight that happened on 28:30 to 29:30.
Gaming on the Dell Inspiron 14 7400 can prove to be a challenge as the 16:10 QHD+ Display's large resolution requires more computing power. Fortunately, DOTA 2 is playable at 1600p provided you're using the lowest setting possible.
Noise and Acoustics
Quiet mode on Dell's Power Manager does live up to its name as we recorded the fan noise at 39dBa. If you need more performance by switching to other power modes, do note that both cool and ultra-performance ramps up the fan's RPM, thus increasing the fan noise.
Its speakers definitely match with the gorgeous QHD+ 16:10 display as it peaked at 92.8 decibels at 100% volume. There's only a very small amount of distortion at max volume but it doesn't break the experience of binge-watching shows or movies.
Thermals and Battery Life
While the Dell Inspiron 14 7400's fan noise is impressive even at high workloads, the same couldn't be said on its overall cooling systems. No matter the power mode, the Core i7 1165G7 always peaks at 100°c which results in throttling especially during long workloads. Fortunately, the Nvidia MX350 GPU keeps a steady 70°c regardless of workload.
Powering the Dell Inspiron 14 7400 is a 52wHr battery that was able to last up to 10 hours on our PCMark10 Battery Life Benchmark. This ultrabook can go for a full workday without any charge. Based on the battery life and our benchmark suite, cool mode provides the best balance between performance, battery life, and thermals.
Conclusion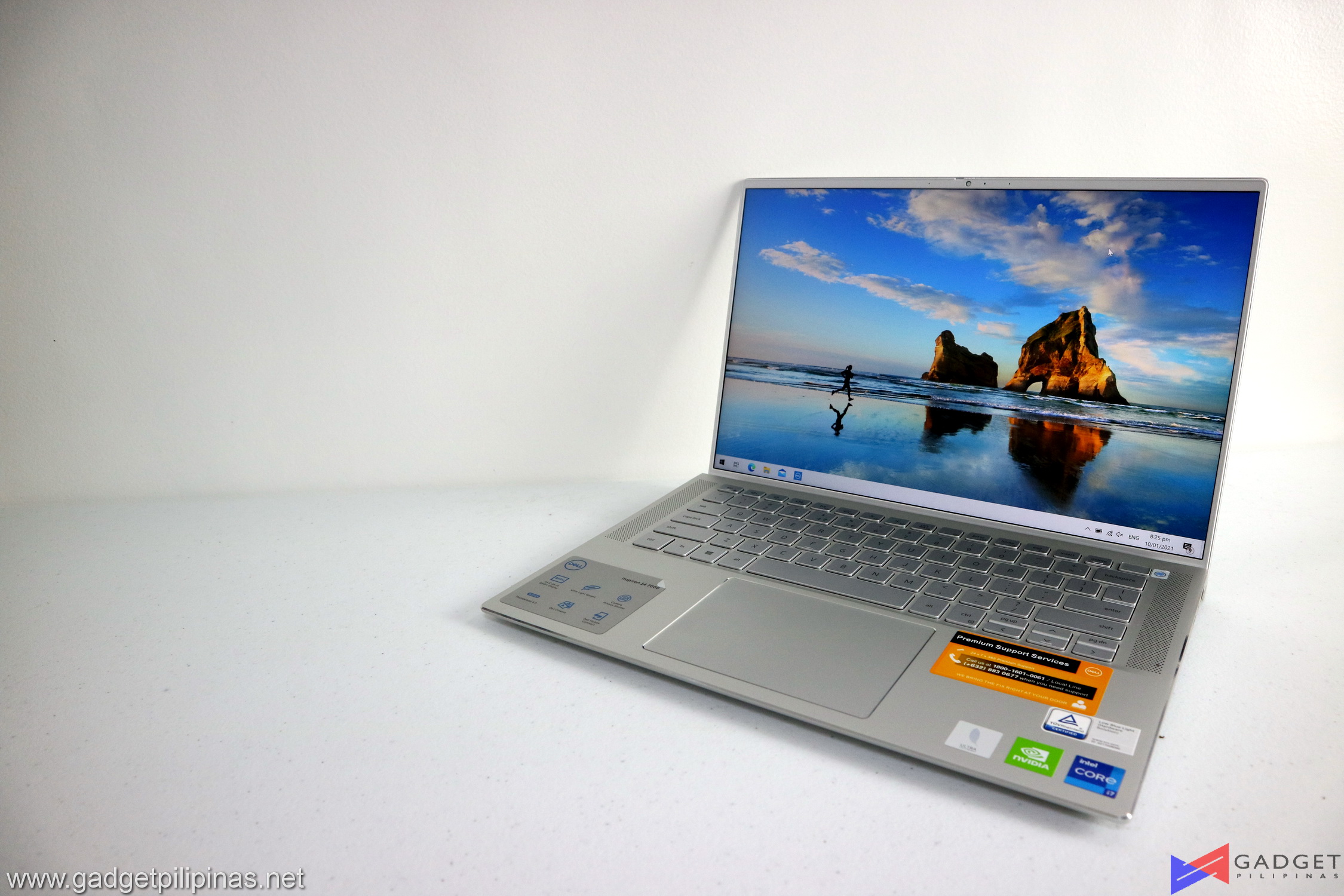 Rounding it all up, the Dell Inspiron 14 7400 is a good all-rounder laptop thanks to carefully selected compromises from the Dell XPS 13 to make it more affordable. Unfortunately, the apple does not fall far from the tree as the Inspiron 14 7400 is priced at Php 80,990 for i7 1165G7, 16GB RAM, 512GB SSD, and MX350 variant. Its price is considered to be on the premium side of things but its amazing screen is what makes it stand out among the rest. The extended screen real estate that the Dell Inspiron 14 7400 offers will surely improve your productivity as well as spoil you when watching videos. Frankly, I'd rather get a QHD screen than a 4K display on an ultrabook.
That said, the Dell Inspiron 14 7400 packs a great balance of performance, display, and build quality. Anyone looking for a capable laptop that can handle almost anything both in work, online school, or entertainment, then the Dell Inspiron 14 7400 is a solid option.
[su_spoiler title="Note" open="yes" style="simple" icon="arrow"]This device was sent to us by Intel for us to review. Intel or Dell, does not in any way, influenced the result of our review.[/su_spoiler]