Synology DS918+
Synology is a staple brand in the storage industry. It's probably the first thing that comes into mind when hearing about NAS or Network Attached Storage. The DS918+ is one of Synology's popular models because of THREE THINGS, its ease of use, office capability, and pricing. But before we get into each reason let's take a closer look at the Synology DS918+
Synology is a staple brand in the storage industry. It's probably the first thing that comes into mind when hearing about NAS or Network Attached Storage. The DS918+ is one of Synology's popular models because of THREE THINGS, its ease of use, office capability, and pricing. But before we get into each reason let's take a closer look at the Synology DS918+.
The DS918+ is a scalable 4-bay NAS typically designed for small and medium-sized businesses and IT professionals. It's powered by an Intel Celeron J3455 quadcore processor, a huge step up compared to the DS218j which we reviewed last year.
One thing I like about the DS918+ is its compact user-friendly nature. Upfront is the four removable 3.5-inch bays with their own respective status LED indicators that turn red if the drive is failing. Luckily the DS918+ supports hot-swapping hard drives meaning you don't need tools to remove or install the drive and that the NAS will continue to work during the drive change. Synology also sent a 4TB Toshiba NAS N300 7200rpm with 128mb buffer, and putting one into the drive is as simple as removing the bay, placing the drive and placing it back into the NAS.
The DS918+ plus also supports up to two M.2 NVME SSDs aside from the four hard drives. You can use the two SSDs as a fast system cache without occupying the hard drives' storage or you plainly use it as additional storage. If you need more storage than the 6 drives that the DS918+ offers you can equip the DS918+ with the DX517 for five additional drives.
Cooling the DS918+ are two 92mmm fans as exhaust pulling out heat from the four hard drives. Synology is generous in terms of connectivity with two 1Gb RJ-45 ports, two USB ports, one at the front and one in the back, a Kensington slot and an eSATA port for expanding storage with the DX517.
With that out of the way here are our top three reasons why we choose the Synology DS918+ and why should you get one too.
EASE OF USE
Building your own Network-based storage is surely cheaper but it takes too much time to build and set up the software. The combination of the hardware and software you'll be using can also limit your NAS' functionality. Synology, on the other hand, has its own software called the DiskStation Manager with a built-in AES-NI hardware encryption engine.
The DS918+ uses a BTRFS filesystem that has a built-in data integrity checker for overall stability. It automatically detects data and file system corruption with mirrored metadata and can even recover it if the NAS is using RAID 1, 5, 6 or 10. All of it is done without user intervention.
File security won't be an issue with the DS918+ thanks to the DiskStation Manager's Security Advisor which is basically the built-in antivirus and the App Armor, a kernel-level layer of protection. Of course like any other NAS the DS918+ also has AES 256-bit encryption which encrypts shared folders and the data transmission in your network. The app also provides a 2-step authentication that sends a one-time password to your mobile device with every log-in.
FILE SHARING MADE EASY
We are in a very difficult time because of the COVID-19 situation. Since March, we have been remotely working and file sharing has become a huge part of our workflow. As always, in order for us to have consistent and smart productivity, access to our files is highly important.
DS918+ provides an impressive number of collaborative features. Synology's QuickConnect is one, and it proved to be very useful when downloading and uploading files. Provided that you and the people connected to your NAS have relatively good download and upload speed, you shouldn't have any problems transferring files.
There are other apps available at DSM 6.2's disposal that is ready to be installed and used. A few of our favorites include Chat and Office. Obviously, the former allows all users (that have access to it) to chat with each other, and the latter is a full-fledged open-source alternative to Microsoft Office within the Synology Drive ecosystem. Setting it up requires a bit of knowledge in system administration, but it's definitely a piece of cake to understand.
OFFICE CAPABILITY
The DS918+ targets small and medium businesses as mentioned earlier. Now it isn't because it only supports four drives which may be more than enough for its target market but because of its office capabilities. Most startups or small businesses use a combination of Windows file server, public cloud storage like Google Drive, One Drive and Mega, and cold storage through external hard drives or just plainly using their office PCs. Having that many solutions are both inefficient and expensive. Not to mention the risks associated and the points of failure possible.
The DS918+ can be accessed anywhere. It supports comprehensive file protocols such as MB/CIFS, AFP, NFS, FTP. Sounds to nerdy and technical? Then just download the Synology Drive Client and be done with it. The drive client features an on-demand sync feature that allows users to see & access files without consuming your computer's storage space. Links can be generated to enable users to share files with other officemates or external parties without exposing other confidential files or internal login data. Moreover, Synology also lets the users modify the links with a password key, expiration, and even permissions to download or copy the files associated with the link. The cherry on top of all of this is it's also available and accessible through the Synology Drive mobile app.
Productivity wise, the Synology DS918+ brings a content collaboration with Synology Office. Pairing it with Synology Drive, multiple users can concurrently edit and leave comments on the same file whether it be slides, documents or spreadsheets. You can easily import or export to Microsoft Office or OpenOffice with support for unlimited historical versions of your office documents.
Taking things up a notch is cross-office file sharing feature. As the name suggests, you and your officemates can sync selected folders on different NAS automatically. Removing the hassle of managing scattered files and messy versions. There's also an option called One-way sync that either distributes files or collect files from multiple users – A great way to send memos and collect reports. Man, this is how you really make a solid NAS with topnotch software to boot!
Your IT guys or system administrators are also in for a treat as the Synology DS918+ is integrated with Windows AD/LDAP reducing their effort to duplicate accounts to your Synology NAS. The Synology Drive Admin console can also limit file types or sizes that can be sync by each user or user group. For example, you can allot a chunk of the NAS storage for graphics or video editors and allocate specific folder sizes for your marketing, sales, and operations. The IT Admin console can also restrict access to the specific departments so that there's no one snooping around. It can also invite users outside of your office to collaborate with for file sharing as mentioned earlier.
PRICING
The Synology DS918+ is priced at Php 29,920. What you're probably doing right now is comparing it with cloud solutions like Onedrive or Google drive to see what's cheaper so let's do it together.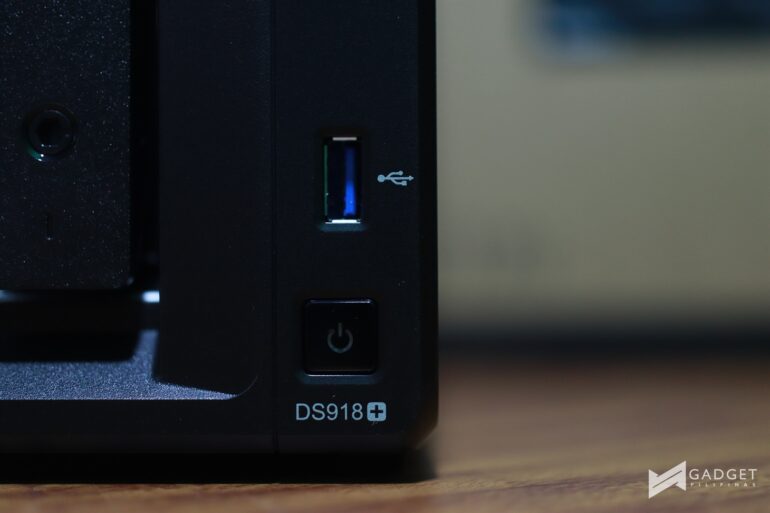 OneDrive's Business Premium subscription costs $12.5 or 650pesos per user per month WITH (stress on the with) an annual commitment, giving you 1 terabyte of storage per user in your business.
Google Drive, on the other hand, charges Php 479 per user per month for double the storage of One Drive or $10.2 / 500 pesos for a G-Suite account but only at 1TB per user.
There's no denying that the cost of the two services is relatively cheap, that's if you only have a handful amount of employees and are willing to forgo the exclusive features that the Synology DS918+ offers. Not to mention the exponential price increase as your company grows and the fact that you'll have to rely on your internet connection for file transfer.
Going back to the DS918+ price at 29,920, there's only a one-time payment or two-time if you include the hard drive purchase for the Synology DS918+ plus. It saves the monthly loss of cash flow due to recurring subscription fees, slow file transfer speeds via cloud storage and your ISP and ofcourse addresses the data privacy concerns that the cloud services have.
Think of it as an investment that provides security with the BTRFS file system with AES 256bit encryption and improves your company's workflow thanks to the NAS' ease of use though anywhere access, windows, and office apps integration and removes you the hassle of storage management thanks to Synology Drive Client, Synology Office, and DiskStation Manager.
The features, flexibility and stress-free experience that the Synology DS918+ offers simply outweigh and justifies its price tag. That said, the DS918+ will be our office companion and is our go-to recommendation for Network Attached Storage.
Giancarlo Viterbo is a Filipino Technology Journalist, blogger and Editor of gadgetpilipinas.net, He is also a Geek, Dad and a Husband. He knows a lot about washing the dishes, doing some errands and following instructions from his boss on his day job. Follow him on twitter: @gianviterbo and @gadgetpilipinas.