It's no secret that AMD has been continuously improving its processors in every aspect. As the brand continues to catch up to Intel's performance, AMD scales its pricing to reflect the industry's shift from blue to red. Thanks to AMD's latest Zen 3 architecture, AMD has successfully overtaken Intel with its Ryzen 5000 series processors, not only in performance but in pricing as well. AMD's latest flagship CPU, the AMD Ryzen 9 5950X, represents the brand's performance leadership in the market as it's the most expensive mainstream desktop CPU to date, priced at $799 US or Php 44,900. But does the overall performance improvement justify AMD's significant price increase? Let's find out.
AMD Zen 3 Overview
The Ryzen 5000 series processors are still under the 7-nanometer process node by TSMC but are under an all-new Zen 3 architecture. In AMD's last press event, Lisa Su talked about the Ryzen 5000 series processors getting a 19-percent Instructions Per Clock uplift and a massive performance-per-watt efficiency. AMD did a ground-up redesign with the Zen 3 architecture to achieve a +19% IPC uplift alongside some functionality improvements over the previous Zen 2 architecture.
Achieving +19% IPC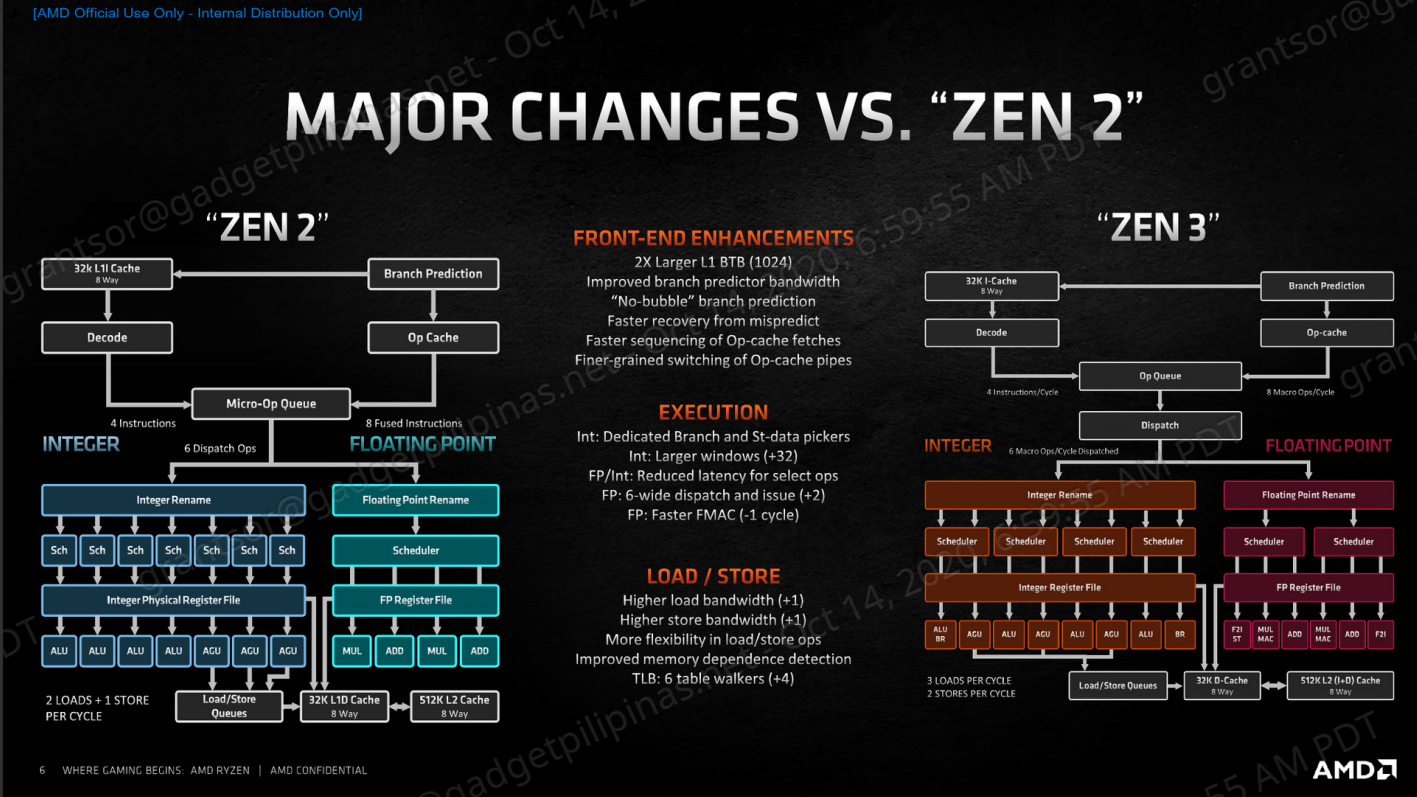 AMD's engineering team did remarkable work with the Zen 3 CPUs as they improved the pipeline allowing for faster fetching, reduced latency, and reduced memory and cache dependency.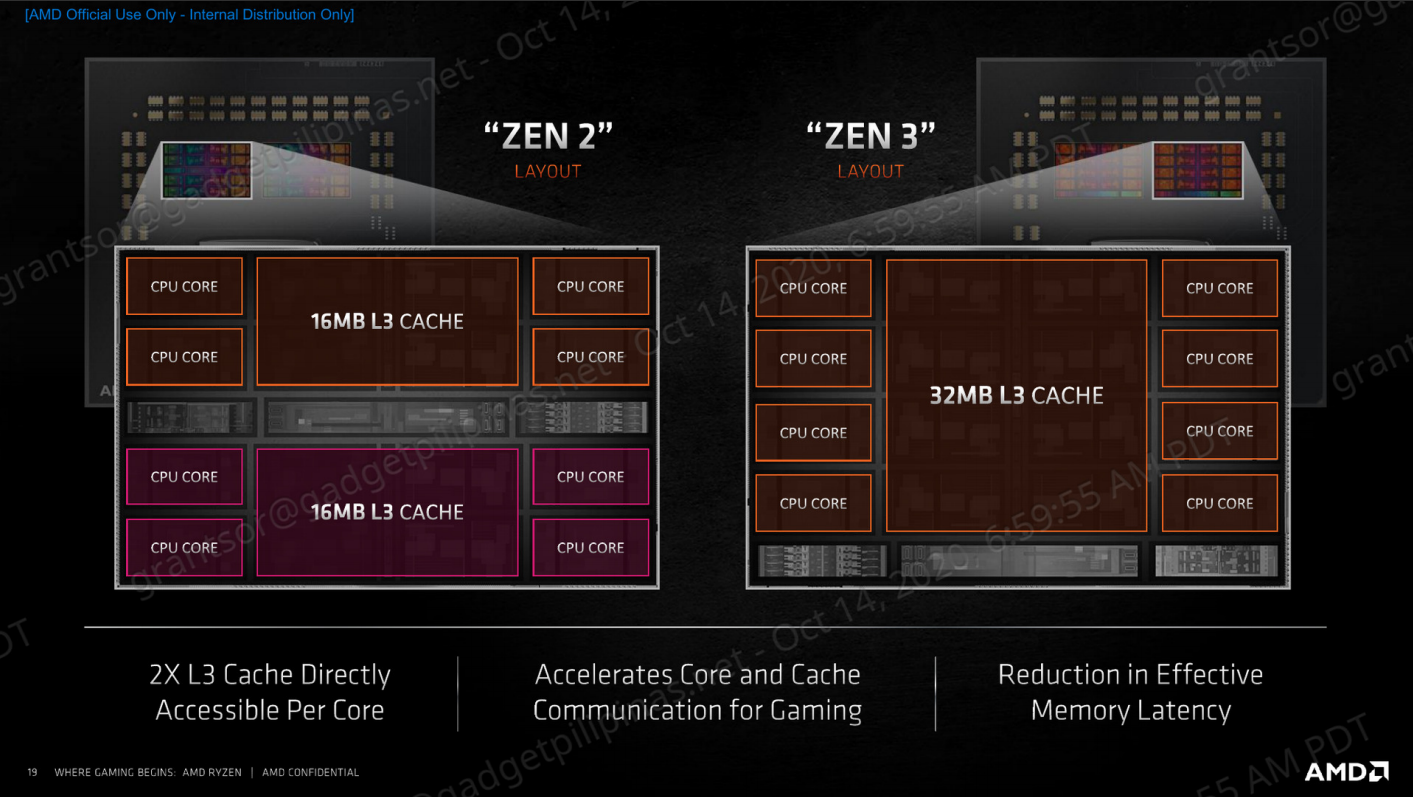 The AMD Ryzen 5000 series has undergone design changes at the SoC architecture as well. Zen 2 CPUs utilized a union of two core complexes(CCX) per compute die(CCD), whereas Zen 3 processors now feature a unified CCD meaning each CCX can consist of up to 8C/16T & 32MB L3 Cache instead of Zen 2's 4C/8T & 16MB L3 Cache per CCX. The consolidated core and cache complex on Zen allows better performance, especially on latency-sensitive workloads. The Zen 3 layout design eliminates CCX-to-CCX communication within the die and enables a direct-access pool of the 32MB L3 Cache. CPU intensive games will significantly benefit from Zen's redesigned CCD and CCX layout
AMD Ryzen 5000 Processors Spec Sheet, Price, and PH SRP
AMD Ryzen 5000 CPUs
CPU
Cores/threads
Base/Boost Clock (GHz)
TDP
L2 + L3 Cache
Launch Price – USD
PH SRP
Ryzen 9 5950X
16/32
3.4/4.9
105W
72MB
$799
₱44,900
Ryzen 9 5900X
12/24
3.7/4.8
105W
70MB
$549
₱30,250
Ryzen 7 5800X
8/16
3.8/4.7
105W
36MB
$449
₱24,800
Ryzen 5 5600X
6/12
3.7/4.6
65W
35MB
$299
₱16,550
Ryzen 9 3950X
16/32
3.5/4.7
105W
72MB
$749
₱42,000
Ryzen 9 3900X
12/24
3.8/4.7
105W
70MB
$499
₱29,470
Ryzen 7 3800X
8/16
3.9/4.7
105W
32MB
$399
₱23,185
Intel Core i9 10900K
10/20
3.7/5.3
125W
20MB
$488
₱29,990
Of course, all of the improvements AMD made with the 7-nanometer Zen 3 architecture needs to be recuperated. AMD boasted a 19% IPC performance improvement, but that comes with a huge asterisk as AMD also hiked up its launch prices compared to the previous generation. We decided to compare the Ryzen 5000 processors against the non-XT predecessors as the XT series are just "refreshed" versions. The Flagship Ryzen 9 5950X is at a price where Intel doesn't have anything to compete with. The $799 AMD Ryzen 9 5950X is $50 more expensive than the 3950X when it first launched. The Ryzen 9 5900X also receives the same $50 price increase compared to the 3900X.
Our AMD Ryzen 9 5950X review shares some data and information with our Ryzen 9 5900X Review. If you've read the latter, we recommend skipping to the last page for our thoughts about the AMD Ryzen 9 5950X.
AMD Ryzen 9 5950X Processor Review – Simply the Fastest Gaming and Productivity CPU
The BEST Mainstream Desktop CPU Available
The AMD Ryzen 9 5950X represents AMD's hard work and commitment to improving its processors in terms of performance and efficiency. It's also the brand's reward to its long-standing fans as the Ryzen 9 5950X is simply the best mainstream desktop CPU in the market whether it be for gaming or productivity. If you're an enthusiast looking for the highest performance possible, then look no further than the AMD Ryzen 9 5950X.
Single Threaded Performance
9.5
Multi Threaded Performance
9.5
What's Good
Single Threaded Performance
Exceptional Multithreading Performance
Decent Thermals
What's Not
No Included Stock Cooler
Relatively Higher SRP than predecessor
Required to Purchase with motherboard( In the Philippines)
Limited Local Availability
WHERE TO BUY THE RYZEN 9 5950X
Grant is a Financial Management graduate from UST. His passion for gadgets and tech crossed him over in the industry where he could apply his knowledge as an enthusiast and in-depth analytic skills as a Finance Major. His passion allows him to earn at the same time help Gadget Pilipinas' readers in making smart, value-based decisions and purchases with his reviews and guides.