Lenovo Legion Phone Duel
Lenovo Mobile's resurface in the Philippines started off with budget to mid-range smartphones. Lenovo K5 Play was among the new phones they released in the Philippine market, and it set a proper foundation for reintroducing the brand to Filipinos.
3 months later, Lenovo started teasing everyone that they'll be bringing the Lenovo Legion Phone Duel in the country. It was a bold move because ASUS was getting very aggressive with their marketing of the ROG Phone 3, a major player in the gaming smartphone segment.
In this review of Duel (to make things simpler, moving forward), I am going to take you through how a phone like this will make sense to both gamers and content creators. I believe that this smartphone will appeal to both audiences, especially now that mobile gaming has been playing a vital role in the reshaping of the entertainment and lifestyle segments. I also firmly believe that this is where Duel shines compared to ROG Phone 3. While both smartphones are undeniably great for gaming, there's one aspect of Duel that makes it a better smartphone than any of the flagship smartphones I have reviewed this year – the empowerment of content creators.
Full Specs Breakdown
| | |
| --- | --- |
| | Lenovo Legion Phone Duel |
| Processor | 3.1GHz Snapdragon 865 Plus (5G) |
| GPU | Adreno 650 |
| OS | Android 10, Legion OS |
| Display | 6.65″ 2340 x 1080, 144Hz |
| | AMOLED 10-Bit HDR |
| Dimensions | 169.2 x 78.5 x 9.9 mm |
| Weight | 239g |
| Battery | 5000 mAh Li-Po |
| RAM | 16GB LPDDR5 |
| Storage | 512GB UFS 3.1 |
| Sensors | In-Display Fingerprint Sensor |
| | Face Recognition |
| | Accelerator |
| | E-Compass |
| | Gyroscope |
| | Proximity Sensor |
| | Hall Sensor |
| | Ambient Light Sensor |
| | Ultrasonic Sensors |
| Wireless | WiFi 6 (802.11a/b/g/n/ac) |
| | Bluetooth 5.0 (BR/EDR+LE), Qualcomm aptX Adaptive |
| | WiFi Direct |
| | NFC |
| I/O | Side: Custom USB-C |
| | Supports USB 3.1 Gen2 / DisplayPort 1.4 (4K UHD) |
| | Fast charging 90W, 50% in 10 min, 100% in 30 min (512GB 16GB RAM model) |
| | |
| | Bottom: USB-C |
| Front Camera | Motorized pop-up 20 MP, f/2.2, 25mm (wide) |
| Rear Camera | 64MP (Main) |
| | 16MP 120° (Ultra-wide) |
| | – |
| Speaker | Dual Front-Facing Speakers with Dirac and AWINIC HD Sound |
Build and Construction
Stylish outside. Savage inside. This is the overarching theme of Duel. It definitely transcends in every aspect of its build and construction. It looks really good, and while it does not dispel its gaming persona, it can be used by anyone who fancies huge smartphones.
'Huge' is an understatement when describing this smartphone. It is, however, much smaller and much lighter than the ROG Phone 3. I don't want to turn this review into a comparison article, but this, in my opinion, is the best way for you to picture Duel's size in your mind.
Duel's back panel does not have much curve or recesses. Its natural orientation is landscape so the design layout is orientated similarly from the symmetrical streaks to the RGB-stricken logo beside the dual rear camera setup. The design is not for everyone, and it might take some time to really appreciate it.
Perhaps, the most glaring design aspect of Duel is its popout mechanism that hides the 20MP 22mm equivalent wide front camera. There is so much to say about its camera that's why I have a dedicated segment for it later.
Duel has 2 Type C ports: one located at the bottom and another one on the side. The addition of the Type C port on the side is proven to be very helpful for gamers. The port may be used for charging or for wired headphones. Lenovo does not have a 3.5mm headphone jack, but they included an adapter out of the box.
This smartphone is an interesting piece of device, especially how they assembled it. It's made of 2 batteries per each side of the device. This is an interesting engineering decision because you will normally find this kind of setup for devices like the 1st and 2nd Galaxy Fold.

Imperfect yet Impressive
Before I show you my benchmark results, I'd like to point out what's good and not about this smartphone. Duel is an impressive smartphone in may sense, but it's also imperfect for a number of reasons.
Contrary to some reviewers, I like how Legion designed Duel. While its natural orientation is a dead giveaway, its gaming vibe does not actually scream too much until its RGB lights are turned on. More than anything else though, everything in its design has functions that favor content creators and gamers.
However, this is something that Lenovo should have deeply expressed more in their marketing material. At this point, I really feel that they could have done more in promoting the phone as something that really highlights what its popup camera can do in a more practical sense.
The popup camera has tons of potential. Legion's software, however, does not have any native means to stream directly from its application. This means that users need to rely on third-party apps to be able to stream to platforms like YouTube, Facebook, and Twitch. This isn't a hopeless case because Lenovo can always update their software and improve it moving forward. I really hope that they take this as a valid suggestion.

Performance
I am not going to veer away from my usual methodology when benchmarking smartphones. You'll see two sets of benchmarks: artificial and gameplay.
For artificial benchmarks, we'll be using several applications that will measure its processor, GPU, and read/write drive speeds. While Duel has 2 power modes – (1) non-rampage and (2) rampage, the game benchmark results you'll see later are based on gameplay with rampage mode disabled.
As usual, this review will be heavy on numbers but I will try my best to explain the result as much as possible.
Artificial Benchmark
| | |
| --- | --- |
| | Legion Duel |
| Antutu | |
| 3D Mark (Sling Shot Extreme) | 632,183 |
| | 7,727 |
| PC Mark | 3,975 |
| Geekbench | 13,422 |
| | 776 |
| Androbench | 2,985 |
| | 1719.94 MB/s |
| CPDT Benchmark | 766.1 MB/s |
| | 1.04 GB/s |
| | 493.26 MB/s |
How it fares compared to the competition?
Legion performs significantly compared to other flagship smartphones in the market. In fact, based on the artificial benchmark, its score outperformed ROG Phone 3's and OPPO Find X2.
Gameplay Benchmark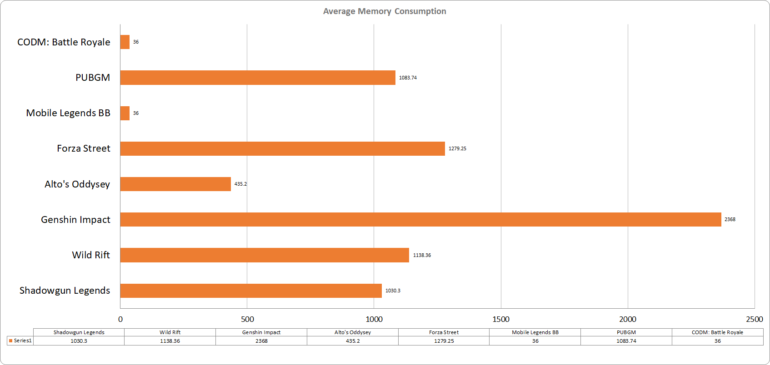 Software Performance and Gaming Experience
I highly commend Legion for really optimizing Duel for landscape use. They definitely have the authority to flaunt that Duel has the world's first deep customized horizontal UI. Legion Realm, while it's still in its infancy, has all the staple features that make Duel a true gaming smartphone. Lenovo also made an effort to make most of its native applications compatible with landscape mode.
Tapping the dedicated app launches Realm and it gives users a console-like interface, which houses all the games that you launch and play. While playing a game, swiping down from the top will quickly bring out Legion Assistant quick access panel that lets users tweak settings that enhances gaming QOL. Honestly, this is a better implementation than the ROG UI because you can use either your left or right thumb to quickly access settings like volume, back recorder, and front camera, etc.
One of the things that I love about Duel is its 3D motion-sensing control and vibration feedback. If I'm not mistaken, this is the first smartphone to have these kinds of features, which bring more immersion to the table.
Camera Performance
Duel comes with 20MP front-facing pop-up and two rear-facing cameras (64MP + 16MP). Based on full specs, the pop-up front camera has an aperture of f/2.2 with 25mm wide configuration. Image and video quality are great, plus the FOV is good enough especially when taking selfies or when using it while recording/streaming. Since it does not have OIS, the likeliness of your video to appear shaky is very high. I did not see any wide-angle distortion while recording a video.
The rear-facing cameras are impressive as well. Colors are accurate and dynamic range look good. While this smartphone isn't marketed aggressively as the best in photography, the quality of the photos we got is undeniably flagship-level.
Here are sample photos:
Battery Performance
Duel has 500mAh battery. Our PC Mark battery yielded 12.35 hours with 20% juice remaining. This performance is better ROG Phone 3, and this must have something to do with how cooler this is even when playing games with Rampage mode enabled.
Verdict
Lenovo Legion Phone Duel is undoubtedly one of the best gaming smartphones around. It positions itself differently in the sea of gaming-centric smartphones in the market. So far, it managed to captivate our desire to create mobile gaming content, albeit lacking the native applications to maximize it.
The lack of Legion-branded available accessories is something that Lenovo should pay attention to in Duel's next iteration. Well, it isn't too late yet because nothing can actually stop Lenovo from coming up with a whole lineup of accessories for Duel. Nevertheless, this opens up a tremendous opportunity to be remembered and become preferred in the segment in the Philippines.
Giancarlo Viterbo is a Filipino Technology Journalist, blogger and Editor of gadgetpilipinas.net, He is also a Geek, Dad and a Husband. He knows a lot about washing the dishes, doing some errands and following instructions from his boss on his day job. Follow him on twitter: @gianviterbo and @gadgetpilipinas.