ASUS TUF Gaming RTX 3080 10G Review
The RTX 30 series promises a lot of great things to consumers. Whether you're a gamer or someone who works in an industry that requires a powerful GPU, the new features of the new Ampere architecture over the previous iteration can really get you very excited.
Just over a week after its announcement, custom cards from various brands have already sprouted like mushrooms in the Philippine market. In my case, I personally picked this ASUS TUF Gaming 3080 via ASUS Flagship Store in Lazada last September 17, and it arrived a week later.
This is my consumer review of this GPU. I will present to you various benchmark results from over 50 tests using our methodology. This is not, in any way, sponsored by neither ASUS nor NVIDIA so rest assured of my unbiased take on this device.
Specifications
What I got is the TUF Gaming RTX 3080 10G Gaming. This isn't the overclockable version, so if you're looking for a review of that one, you can check out the written review of our friend Mac Suba of Back2Gaming.com. If you're here for the non-overclockable variant, then this is the right place for you.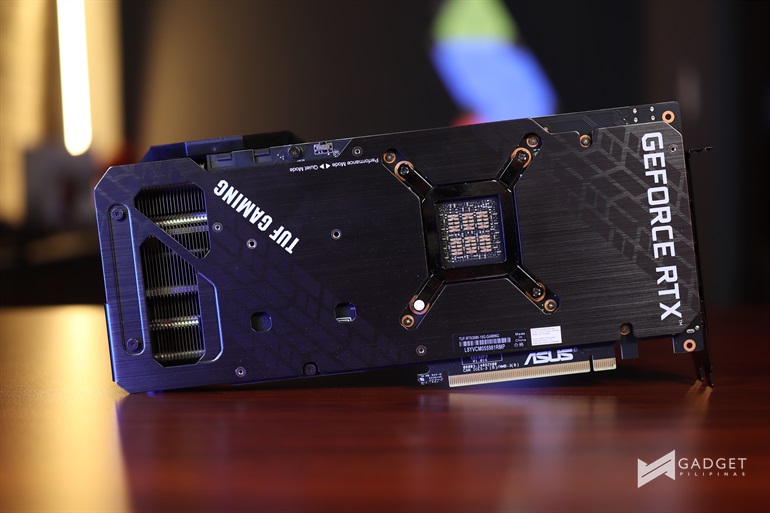 This TUF Gaming RTX 3080 features the latest NVIDIA Ampere Streaming Multiprocessor, with its 2nd Generation RT cores and 3rd generation tensor cores, which both promise twice the throughput of its 1st gen iterations. This baby supports up to 8K resolution and it's marketed to deliver a huge boost in gaming performance.
White TUF or ASUS followed the reference design of NVIDIA, they employed their own design to further optimize its performance and regulate thermals.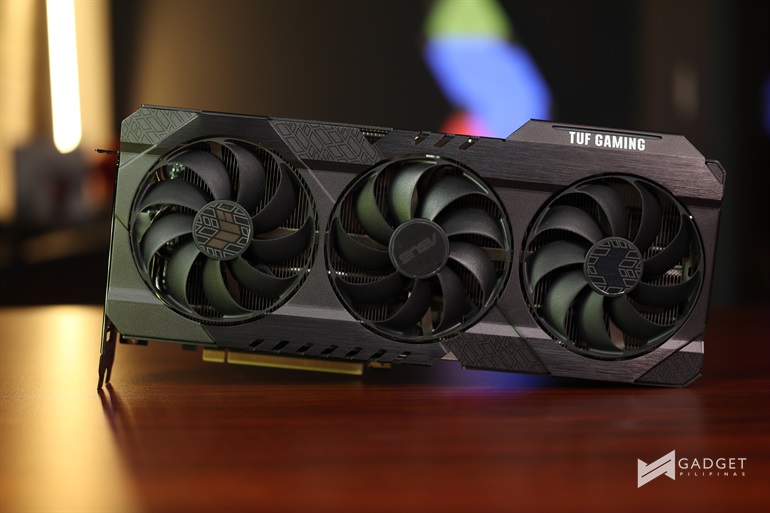 This GPU features an all-aluminum shroud that completely protects the device. It looks… well… tough on the outside and structurally integral inside. If you're a big fan of minimalist design and you don't want yourself to be blinded by RGBs, this TUF Gaming RTX 3080 spouses a design philosophy that fits perfectly for you. It still has RGB just above its shroud and may be controlled via Aura Sync, but it isn't as flamboyant or majestic compared to its ROG Strix variants.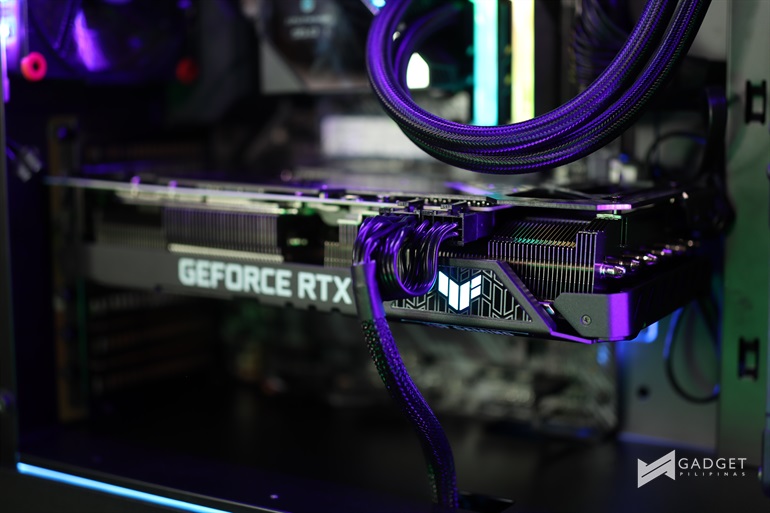 While I will be talking about thermals later, this GPU's triple-fan setup has a trick up its sleeve. The fans are tuned with a reversed rotation for the center fan, which reduces turbulence and automatically stops turning if the GPU's temperature drops below 55 degrees. Right now, I'm telling you that this is one of the coolest – literally the coolest – GPU I've used so far. Whatever ASUS did definitely works on this GPU right here.
Test Bench
I installed this GPU on my main rig. For your reference, my rig is powered with an AMD Ryzen 9 3900X and 32GB of RAM in a TUF Gaming X570 Plus motherboard. I originally wanted to mount this GPU on my Phanteks GPU Riser but because of compatibility issue, I had to take it out and install it directly to its PCIE 4.0 SafeSlot. My PC runs with the ROG Strix 750W Gaming Power Supply.
I don't have a 4K display at the moment so I did not perform any 4K tests on this review. I used the ASUS VG27QL1A for native 1440p display while I use the ASUS XG27VQ and the AOC 27G2 for native 1080p display.
Methodology
Our methodology does not deviate from our previous graphics cards reviews. We used several industry tools and practices to benchmark the unit I bought. I mainly used CapFrameX to measure specific metrics like frametimes; average, 1% and 5% FPS; power draw, and temperature. I also monitored the min, max, and average power consumption and thermals using HWMonitor. With all data gathered and extracted from our tools, I used Microsoft Excel as our main database and tool to put up a chart for us to check out.
Benchmark results are not indicative of how it actually performs in real life. You can use these results for reference only, but I suggest that you compare our results to other credible reviewers as well.
3DMark
I performed several benchmark tests using 3D Mark. It almost reached 15,000 score on TimeSpy but here's how it performed on Fire Strike. Score reached 7,729 for 2160p resolution; 8,812 on 1440p; and 8,914 on 1080p.
For game benchmarks, I played 3 games with raytracing support and 5 without raytracing support. Each test is performed in various resolutions and settings.
Crysis Remastered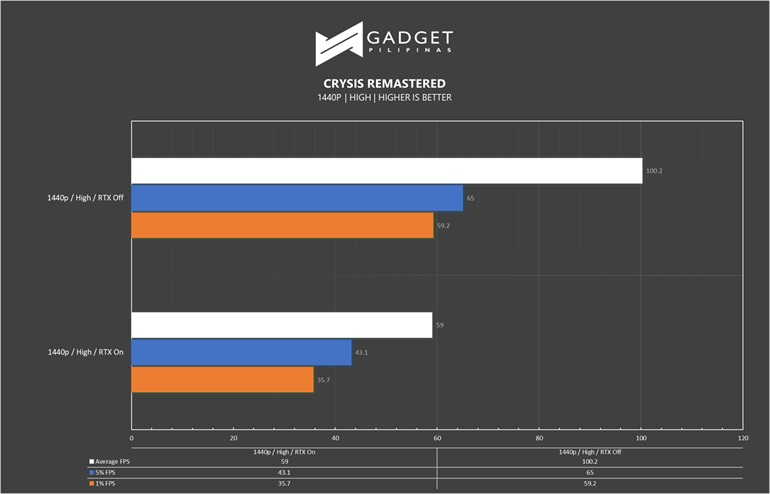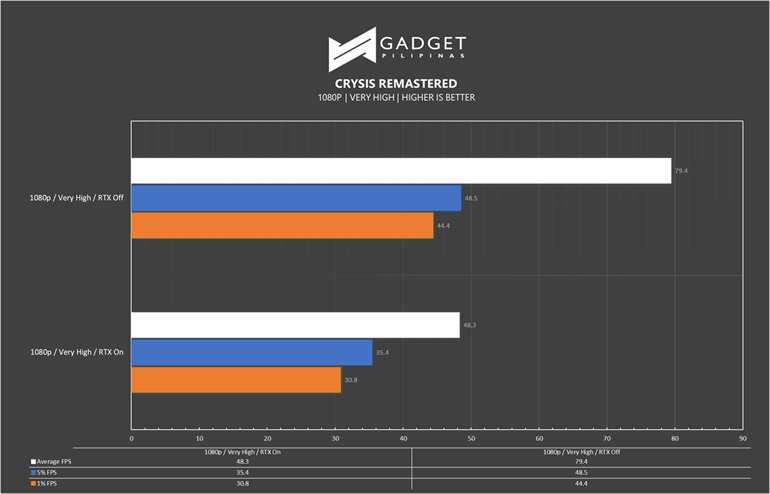 Crysis Remastered is pretty new, and I managed to test this in various settings. This test is pretty interesting because it has Can It Run Crysis setting, which cranks all the settings up to the point of crushing the 3080! Nevertheless, at 1440p in this setting, I managed to get 41.4 average FPS without raytracing and decent 33 average FPS with raytracing turned on. Performance was not exactly good, but definitely playable.
While I certainly believe that performance can still be improved with optimization pushes from the developer, I highly recommend that you play it at High Settings in 1440p resolution for the time being.
Metro Exodus
As one of the most atmospheric games launched this year, Metro Exodus exhibits the best implementation of raytracing in the industry. In my opinion, it is one of the highly optimized games as well. At 1440p at Ultra Settings, I managed to play at close to 100fps without raytracing and 83.8 with raytracing. This should be able to give you an idea of how well this game performs with this card and the system we're using.
Shadow of the Tomb Raider
Shadow of the Tomb Raider is the latest in the series. While it still has optimization issues, it is one of the first titles to launch with raytracing support. The performance of this game using this card is both good and weird. The game shines with 95.7 average FPS at 1440p Ultra Textures setting with ray tracing enabled. Performance across settings with or without raytracing are almost identical.
Let us now move on to games without raytracing support.
Microsoft Flight Simulator
Microsoft Flight Simulator is the new Crysis. Whether you're using a high-end or mid-range PC, it's very likely that it will struggle at one point when you play this game.
In my case, I chose New York Downtown as my benchmark location because it's one of the most populated cities in the game. My 1-minute benchmark stretch is from Statue of Liberty to Empire State Building using a DAHER TBM 930.
I barely reached 40 average FPS at both 1080p and 1440p Ultra Preset.
Anno 1800
Anno 1800 has the most graphics-intensive in-game benchmarking tool. While there's a significant bump in performance when playing at DirectX 11, the game is still definitely playable even using DirectX 12 at 1440p. DirectX 12 improves the game's graphics yet crunches the available resources the TUF RTX 3080 can give out. This is the game in the series of our benchmarks to really push the limit of the RTX 3080, which I will further expound when we talk about thermals and power draw.
DOTA 2 (DX11)
With the game replay of BTS DOTA 2 Online between FNATIC and Motivade at 10 minute mark, the game managed to run at 99.7 average FPS at High Texture Quality for 1080p, and 98.7 average FPS at High Texture Quality for 1440p.
Far Cry New Dawn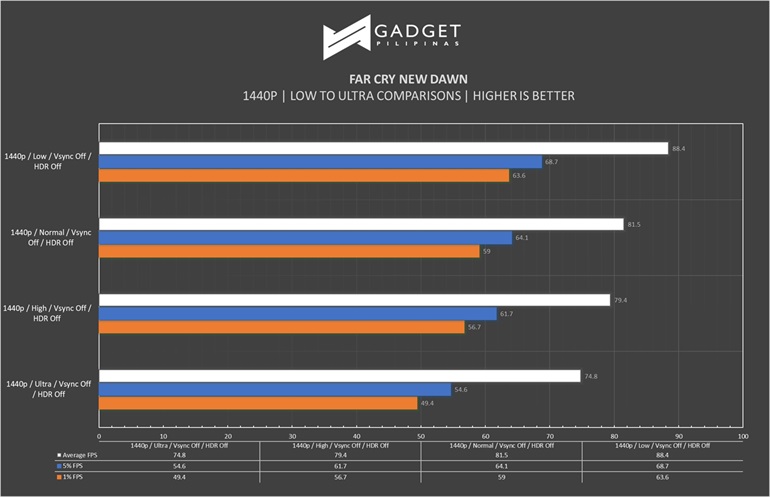 This year's overly saturated version of Far Cry 5, Far Cry New Dawn, performs at decent 74.8 average FPS at 1440p Ultra settings!
Rainbow Six Siege
If you're into eSports, Rainbow Six Siege strikes as one of the best games available for gamers. It doesn't require a lot of graphics resources and is highly optimized. Here's how this game performs on TUF Gaming RTX 3080.
Temperature and Power Draw
I did my review in a 27C room. Internal case temperature is at 38C. The card has an idle temperature of around 47C and reached its max temp of 64C when I played Anno 1800. Back plate temperature is at 50C while the heatsink is at 36.7C. The ASUS TUF Gaming RTX 3080 is definitely one of the coolest cards I've reviewed.
In terms of power draw, the TUF Gaming RTX 3080 peaked at 320W while playing Anno 1800. This just means that if you've got a 750W PSU, then there's no immediate need to get a new one unless you want your card to perform at its most efficient state. 650W PSUs can still be used too but you might run into problems when new games that require more GPU resources come out in the future.
Conclusion
The ASUS TUF RTX 3080 has got to be one of the best-valued custom RTX 3080 cards available in the market right now. It's cool, performs just as good, if not better than the founder's edition; and you're not losing a lot of performance bump if you did not buy the OC version.
Priced at PhP41,000, I don't think that you'll still be able to buy one in the market right now. If ASUS announces that they are restocking this variant again, don't think twice about getting one for yourself.
Giancarlo Viterbo is a Filipino Technology Journalist, blogger and Editor of gadgetpilipinas.net, He is also a Geek, Dad and a Husband. He knows a lot about washing the dishes, doing some errands and following instructions from his boss on his day job. Follow him on twitter: @gianviterbo and @gadgetpilipinas.