Your #OneStopShopAppliances brand, XTREME will be offering discounts on select products at the Shopee 9.9 Super Shopping Day happening this September 9, 2020.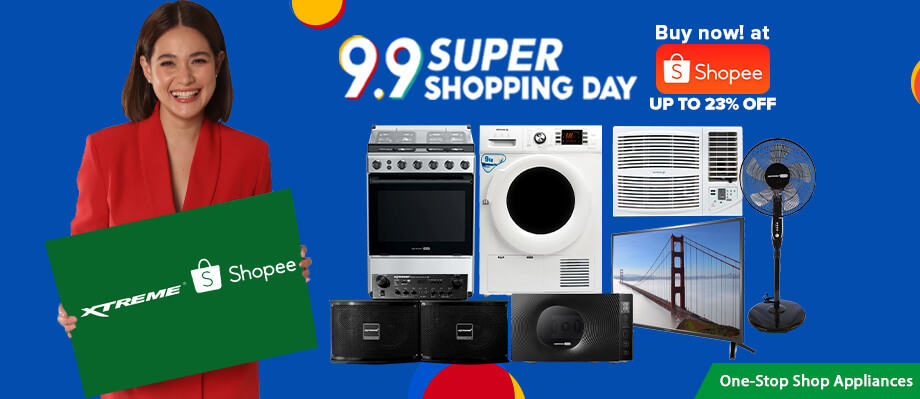 Immerse yourself with ultra-high-definition picture quality and dynamic audio. XTREME's V series Smart TV is also Netflix and YouTube-ready, perfect for your movie and vlog watch lists.
55″ V Series Smart TV (MF-5500V) = PhP22,555.50 (from PhP24,995)
Freshen up your laundry and clean up to 9kg of load with the XTREME Front-Load Combo Washer and Front Load Condensing Dryer.
Front Load Condensing Dryer (XWDFD-0009) = PhP21,000 (from PhP24,995)
Front Load Washer (XWMFL-0009) = PhP21,000 (from PhP24,995)
Make yourself comfortable this humid season with XTREME Window Type Air Conditioners that offer precise temperature control and high-efficiency design.
1.5HP Window Type Aircon with Remote (XACWT15R) = PhP16,440 (from PhP18,200)
1.0HP Window Type Aircon with Remote (XACWT10R) = PhP12,480 (from PhP13,800)
1.0HP Window Type Aircon (XACWT10) = PhP11,580 (from PhP12,800)
Are you an aspiring home baker or cook? have fun in the kitchen with your loved ones by learning new recipes and creating delicious food and drinks using an XTREME Gas Range, Microwave Oven, or Electric Kettle.
60CM Gas Range (XGR-604G) = PhP15,015.60 (from PhP16,995)
Digital Microwave Oven (XMO-20DS) = PhP3,135.60 (from (PhP3,995)
Full Touch Microwave Oven (XMO-20TCv1/MOON) = PhP3,575.60 (from PhP4,795)
1.7L Electric Kettle (XH-KTGL17) = PhP955.50 (from PhP1,194)
Party safely in your use with the XTREME Amplifier with speakers and keep yourself on cool and relaxing mode with XTREME Electric Fans.
730W Amplifier Karaoke (XPRO-730) = PhP5,100 (from PhP5,600)
Amplifier with Speaker (XCS-650) = PhP4,065 (from PhP4,450)
"The Silencer" Stand Fan (XH-EFTHSILENCER) = PhP2,755.50 (from PhP3,594)
Stand Fan (TSF-16) = PhP991.50 (from PhP1,035)
But wait, there's more! you can avail of a 10% discount and free shipping capped at PhP60 on the XTREME Classic LED TV and Window Type Aircon during the midnight sale happening from 12 AM to 2 AM!
40″ LED TV (MF-4000) = PhP9,505.50 (from PhP10,495)
0.5HP Window Type Aircon (XACWT05) = PhP7,980 (from PhP8,800)
For more details, visit XTREME Appliances on Facebook, Twitter, Instagram, and TikTok. For the full list of products, you may visit XTREME's website, Lazada, and Shopee pages.
Emman has been writing technical and feature articles since 2010. Prior to this, he became one of the instructors at Asia Pacific College in 2008, and eventually landed a job as Business Analyst and Technical Writer at Integrated Open Source Solutions for almost 3 years.