Samsung Galaxy Z Fold2 is an engineering marvel!
Now that the Samsung Galaxy Z Fold2 is official and confirmed to arrive in the Philippines, let us take a closer look at the engineering marvels it presents and how it fares from the previous generation.
The "fiasco" that the pre-retail version of its previous generation created easily made Samsung stronger and more innovative than ever before. Samsung is definitely not a stranger to innovation birth pains, and they have a long history of handling it with passion and commitment.
Samsung Galaxy Z Fold2 presents a number of reasons why Samsung is among the best in the industry when it comes to pioneering trends and innovation. While the new Fold looks quite similar to its predecessor, the improvements that Samsung made on the hinge and display are enough features to label it as "impressive".
Better and Bigger Display
One of the major changes in the Z Fold2 is its display. It has a bigger display without sacrifice in terms of bezels. The display now measures 7.6-inches vs the previous Fold's 7.3-inches. It is bigger 1.12x with bezels that are thinner by 27%. This is the result of the integration of the Infinity-O display technology to the new Fold.
The Samsung Galaxy Z Fold2's display is QXGA+ Dynamic AMOLED 2X Infinity Flex Display, which Samsung believes that can deliver a cinematic and more immersive viewing experience.
When it is folded, we're looking at a smaller 6.2-inch Cover Screen, which also features Infinity-O Display. This is a bold difference from the previous generation, which only features a 4.6-inch Cover Screen. While this is the case, its folded dimensions remain to be slimmer than the previous generation! It's wild!
Faster Display, Built for Gaming?
While not built for gaming, the previous generation of the Galaxy Fold performed stunningly well of it. We played a few games for our review and I have proven it to be a joy to use for mobile gaming! Quite unconventional for gaming because of its display size, but definitely enjoyable to use nonetheless.
The new Samsung Galaxy Z Fold2's main screen now features an adaptive refresh rate from 11 to 120Hz. Similar to the Galaxy Note20 Ultra and S20 Ultra, you still cannot manually pick your preferred refresh rate, which can be totally reliant on how its processor smartly picks the right one per the application being used. Nevertheless, this is a huge improvement from the previous generation, and it can definitely benefit mobile gamers.
Renewed Hinge and Sweeper
The revolutionary hinge and sweeper tech that we have seen on the previous Fold is back and it's better than ever before. The Z Fold2 features a portable and unified design anchored by what they call Hideaway Hinge. The new hinge is more flexible and borrowing from the Flip and Fold's unique feature, its free stand capability has been improved to support 75 to 115 degrees.
Hideaway Hinge
Hideaway Hinge 2
The design of the hinge is basically a step further than the one on the Z Flip. It's basically a third generation of the design, and it employs a far better Sweeper technology. What it does is it "sweeps" away the dirt that may accumulate during folding and unfolding.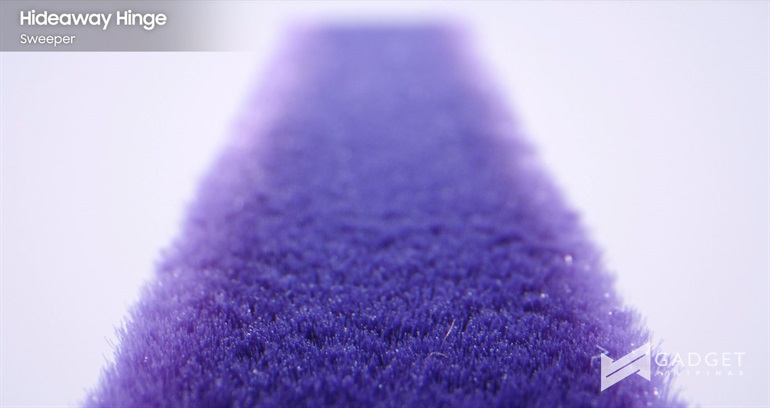 What's next?
We expect to receive a review unit of the Samsung Galaxy Z Fold2 soon, and we are looking forward to reviewing it. We have a fair amount of experience of its predecessor, and we hope to able to cover how the new engineering improvements on the new Fold fares.
For more information, click here.
Giancarlo Viterbo is a Filipino Technology Journalist, blogger and Editor of gadgetpilipinas.net, He is also a Geek, Dad and a Husband. He knows a lot about washing the dishes, doing some errands and following instructions from his boss on his day job. Follow him on twitter: @gianviterbo and @gadgetpilipinas.