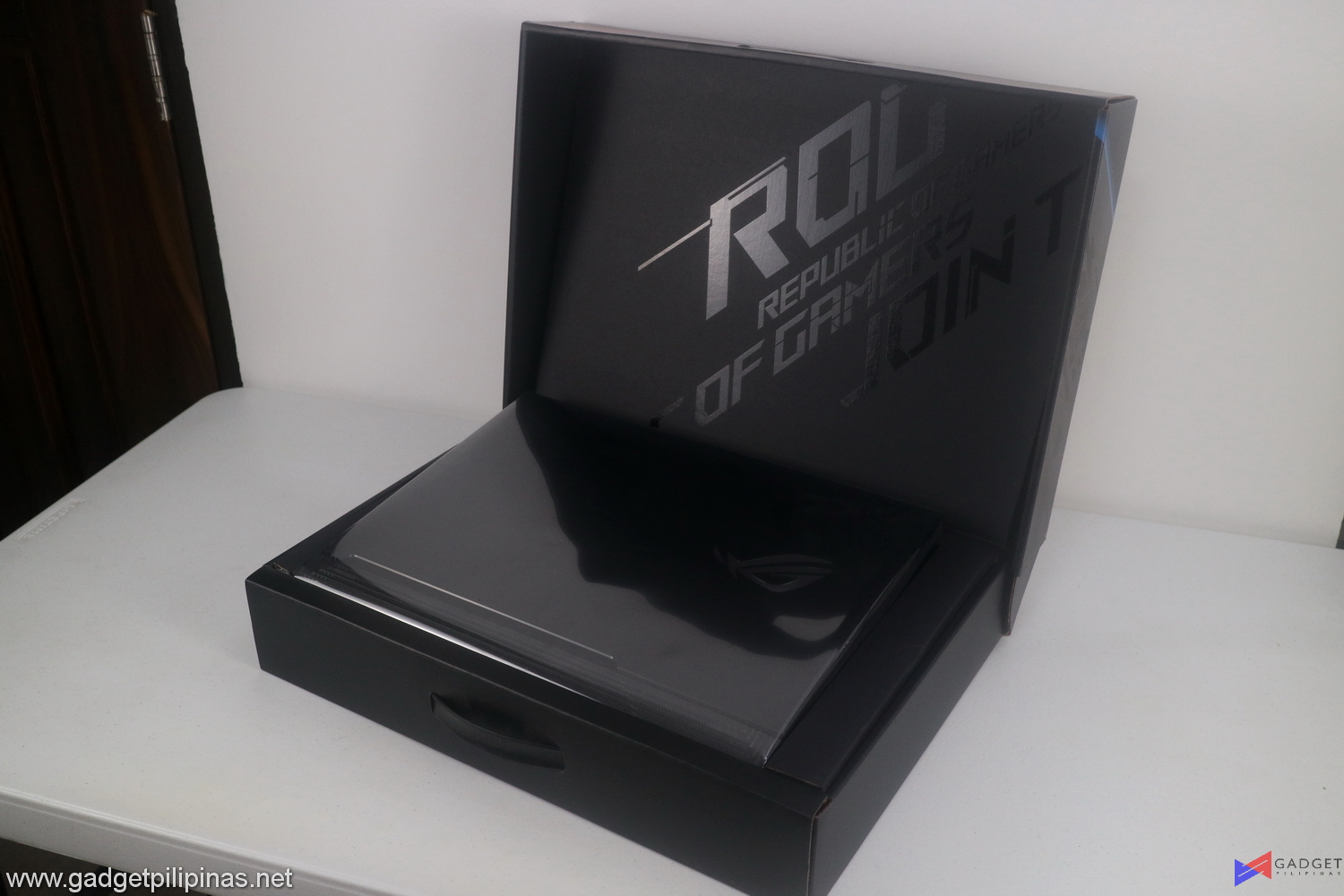 ASUS ROG is well known in the laptop department for pushing extraordinary specs and methods to improve their gaming laptops. The ROG Mothership and ROG Zephyrus Duo are prime examples of ROG's methods. While these laptops are at the pinnacle of ASUS ROG's innovation, the rest of the lineup receives a drop of the same treatment, especially the ROG Strix Scar 17's whopping 300Hz display.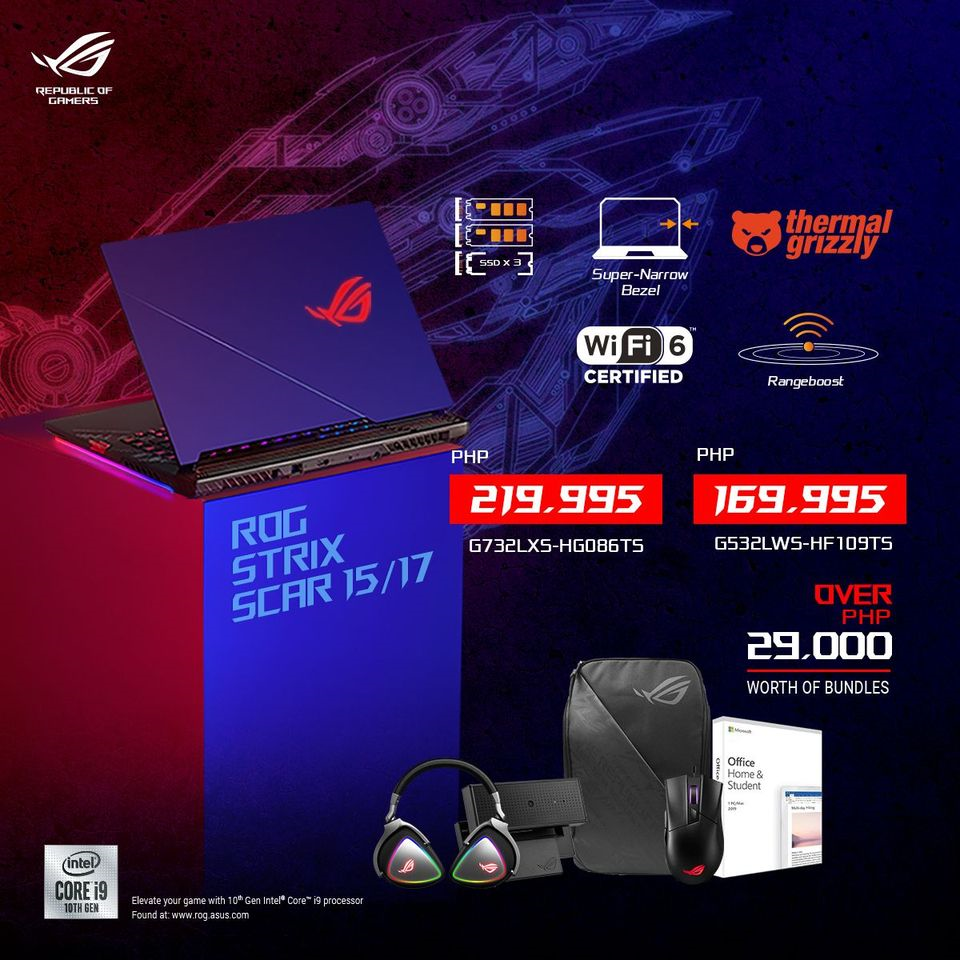 The ROG Strix Scar laptops featuring Intel's 10th generation processors come in either a 15-inch or 17-inch form factor. Both sizes can be configured up to an Intel Core i9 10980HK processor but only the 17-inch model can be configured up to an RTX 2080 Super graphics card. Our review unit, the ROG Strix Scar 17 G732LXS-HG086TS sports an i9 10980HK, 32GB RAM, 1TB PCIe SSD in Raid 0, and an RTX 2080 Super. Our specific configuration retails for Php 219,995.
A Closer Look / Unboxing and First Impressions
The slashed design that made its debut on the ROG Zephyrus has become the standard with a few minor tweaks on the system on newer laptops such as the ROG Strix Scar 17. The design aesthetic is collaborated by BMW's Designworks Group for a low profile suitable for both work and play.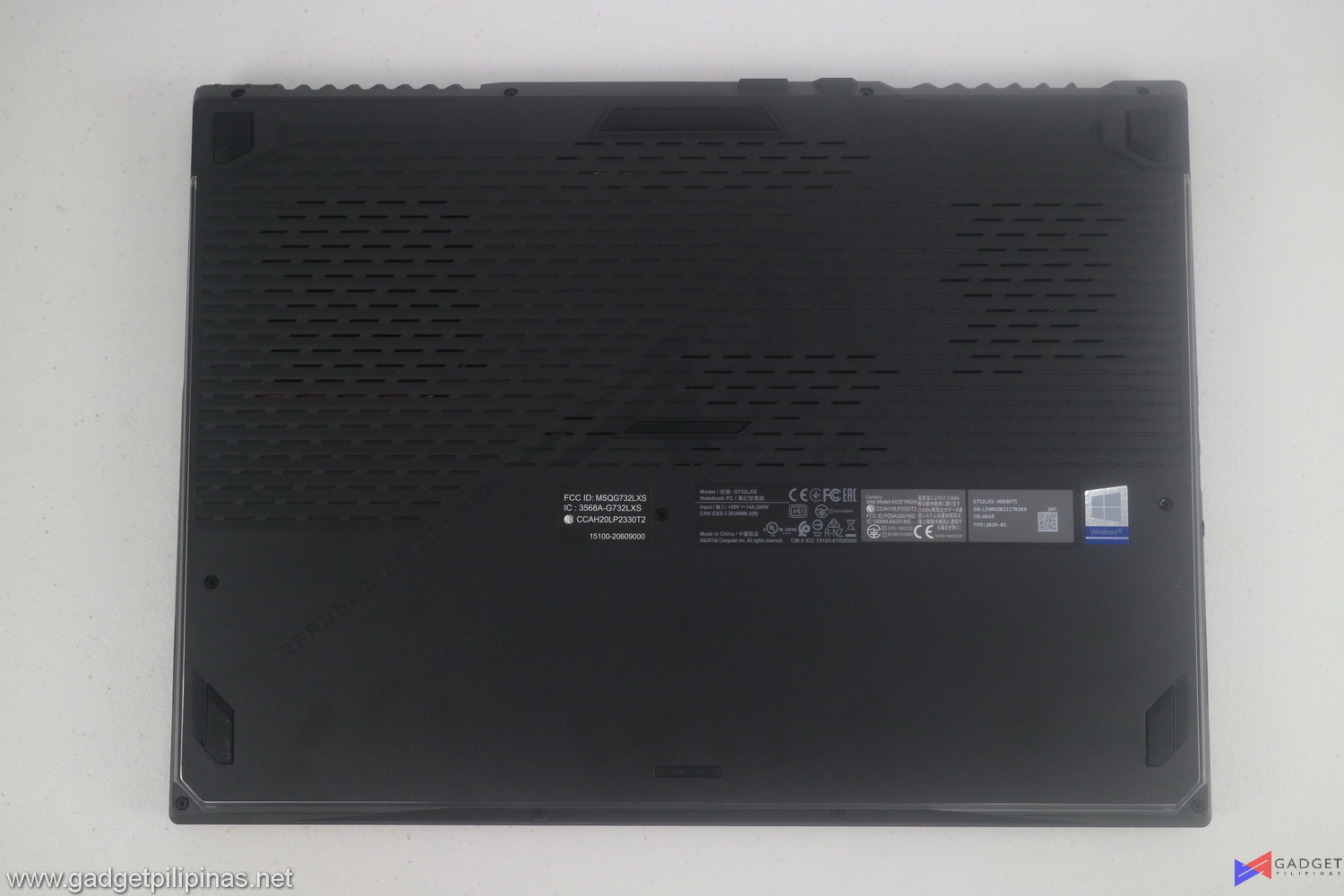 More than half of the ROG Strix Scar 17's bottom panel has a mesh-like perforated design for airflow. There are larger perforations where the fans and heat pipes are located.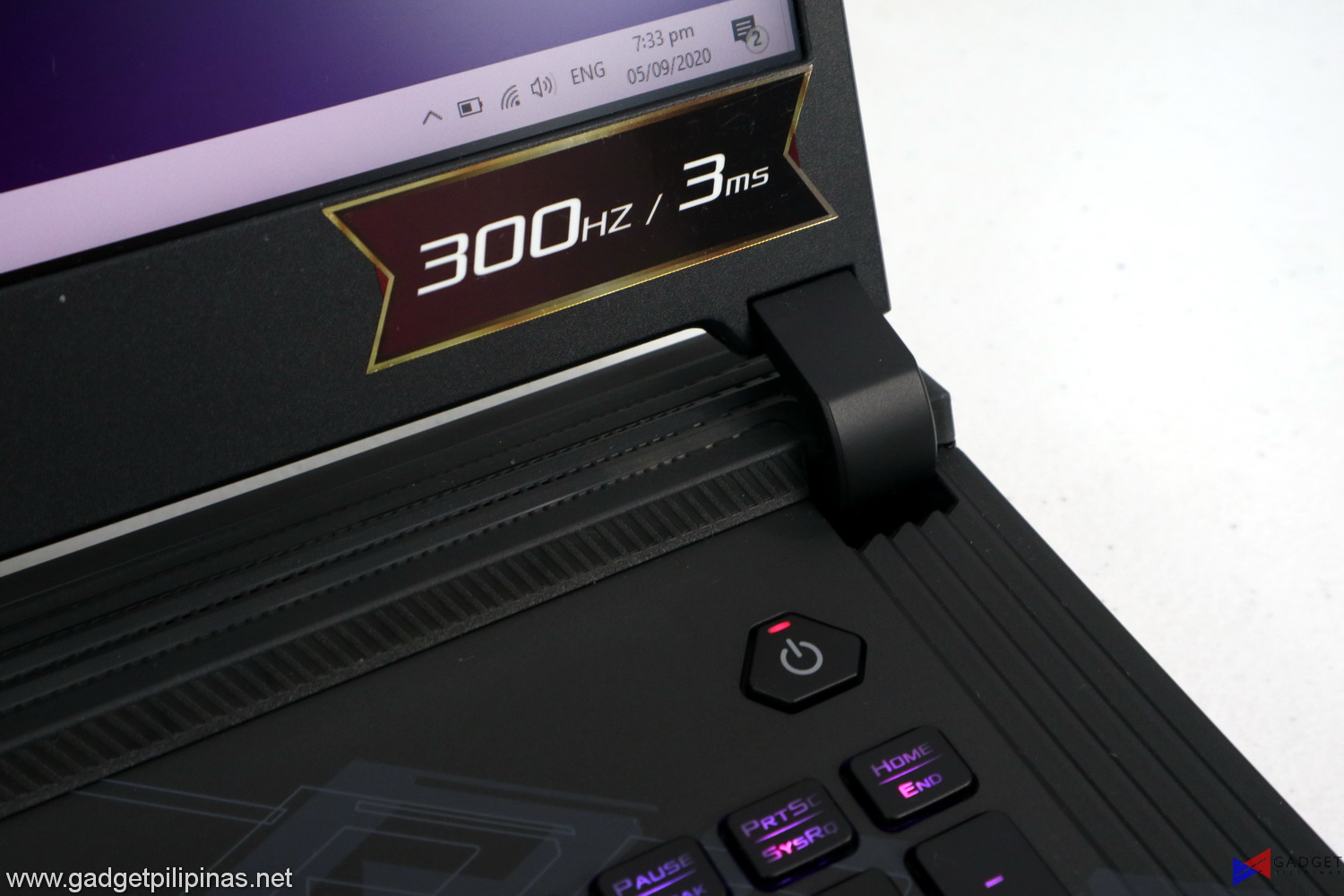 The ROG Strix Scar 17 veers away from the ergo lift hinge as it isn't using an active aerodynamic system for its cooling. The power button is located on the upper right side of the keyboard.
Ports selection on the ROG Strix Scar 17 is average, considering that it's a 17-inch gaming laptop. Much of the laptop's real estate is reserved to cool the i9 10980HK and RTX 2080 Super. Still, you get a respectable amount of USB 3.1 ports on the side as well as an
The back of the ROG Strix Scar 17 contains an additional USB-A port, USB-C ports, HDMI port, and an ethernet jack. The power jack is located beside the ethernet port.
The top lid design of the ROG Strix Scar 17 follows the keyboard but with an ROG Cybertext on the top side. There's not much improvement on the ROG Strix Scar 17's keyboard compared to the previous generation.
A known signature of ROG gaming laptops is the dedicated media keys above the F1-F4 row. They are slightly smaller than the function keys but hold a similar tactile feel. The fan button lets you change between the ROG Strix Scar 17's fan profiles and the ROG key launches the ROG Armory Crate software.
The arrow keys on the ROG Strix Scar 17 remain unchanged. These keys are almost one-fourth the side of other 1u keys, a compromise to in order to accommodate a full-sized keyboard on a 17-inch form factor.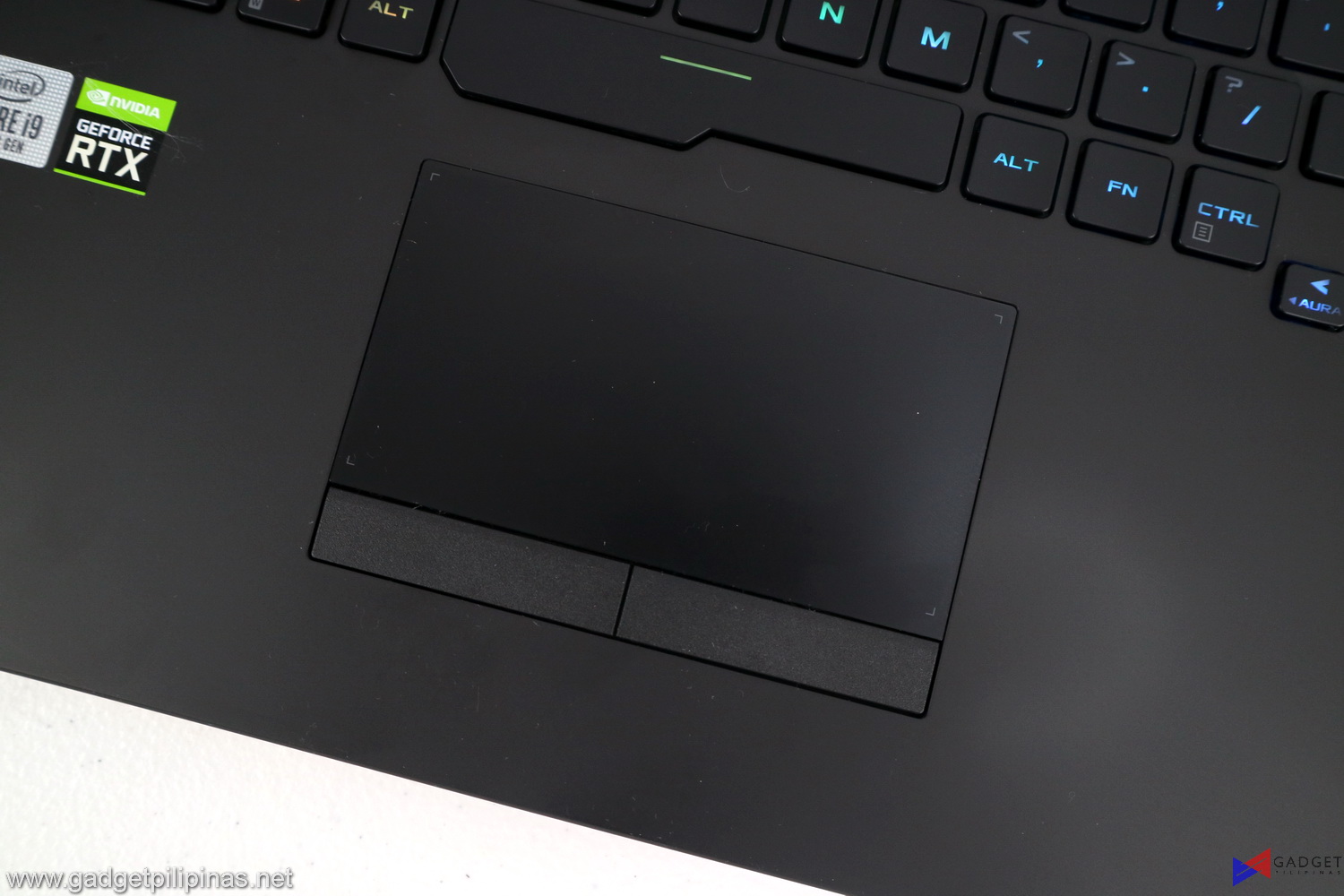 If it ain't broke, don't fix it is the theme for the trackpad of the ROG Strix Scar 17. Frankly, I would've appreciated it if the Scar 17 had a bigger trackpad that scales for a 17-inch form factor.
Unlike other gaming laptops, the ROG Strix Scar 17's trackpad has the least chance of accidental palm touches when gaming.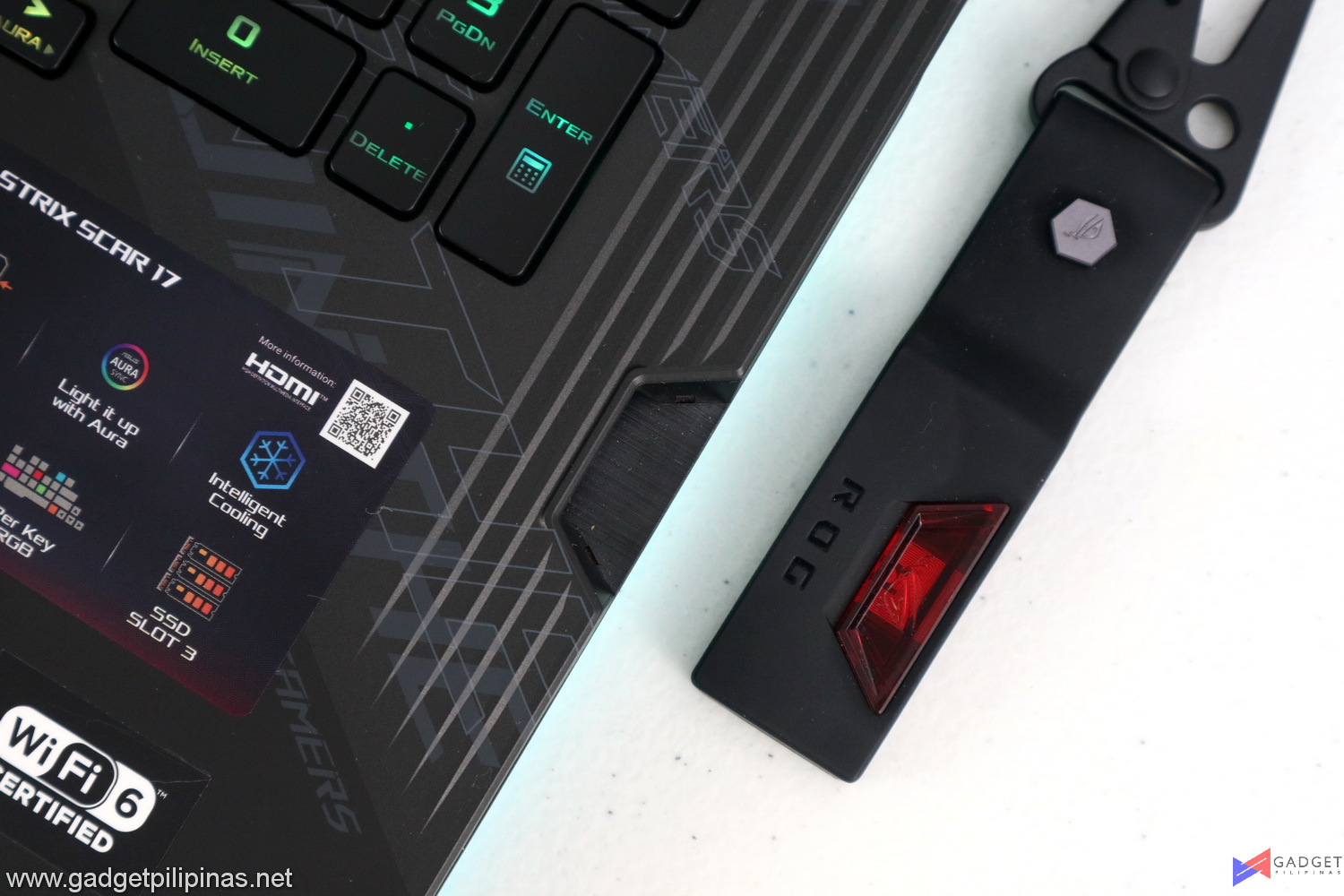 The ROG keystone found on the ROG Strix Scar 17 is already the second iteration of the NFC powered technology. Docking the keystone lets your laptop unlock access to personalized and profile on the armory crate, quick-launch apps or games, or reveal a hidden drive partition on your Scar 17.
Display
The main highlight of the ROG Strix Scar 17 is its whopping 1080p 300Hz 3ms Display. Its display is jacked up to fully enjoy the visuals provided by the Intel 10980HK and RTX 2080 Super.

Of course, what's a good high refresh rate display if it's not color accurate enough? Luckily, the ROG Strix Scar 17 passes with flying colors on our SpyderX Pro Display Analysis tool. The 300Hz 3ms display sport a 99% sRGB and 78% AdobeRGB coverage which is more than passable for professional workloads such as photo and video editing.
Brightness scaling on the ROG Strix Scar 17 is equal but frankly, dim with only 300 nits on 100% brightness level. 300 Nits is the usual standard for laptops, especially for glossy displays. But if you game on worse lighting environments, your gameplay experience might be affected due to the average brightness.
Backlight Bleeding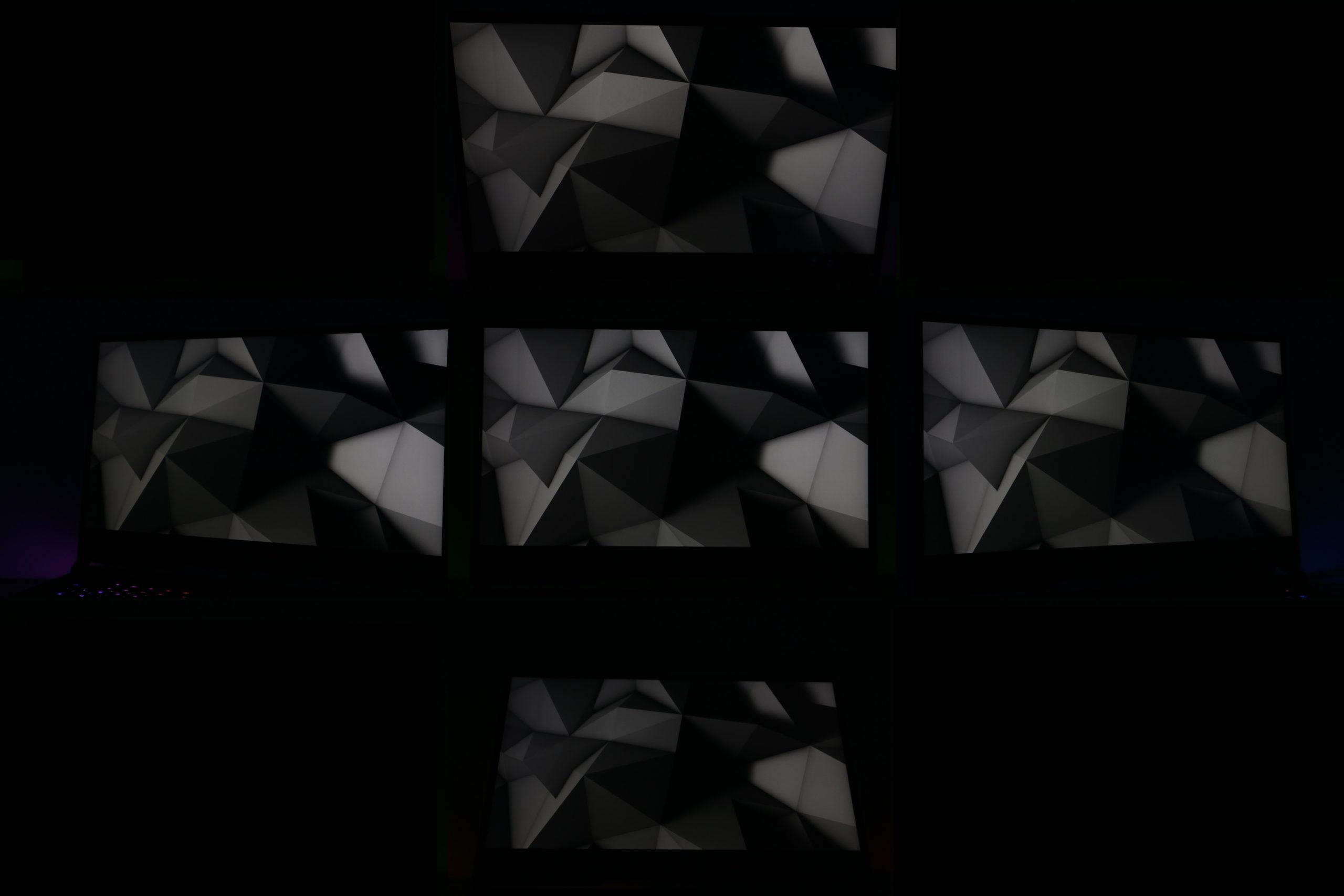 The 300 nit panel on the ROG Strix 17 sticks to its guts as it doesn't exhibit any backlight bleeding from out test.
Viewing Angle
While 240Hz is becoming a thing for most flagship gaming laptops, ROG pushed theirs with a 300Hz panel and an impressive 3ms response time. Moreover, it's also impressive for ROG to push the rest of the display's aspects especially in the visual side of things thanks to the 78% AdobeRGB rating. Viewing angles are also great despite the 300 nit brightness level.
ROG Armory Crate and Bloatware
ASUS Armoury Crate is ASUS' all in one software that handles hardware monitoring, overclocking, RGB lighting as well as configuring different profiles. The Armoury Crate software also lets you create a custom fan profile aside from the three presets available.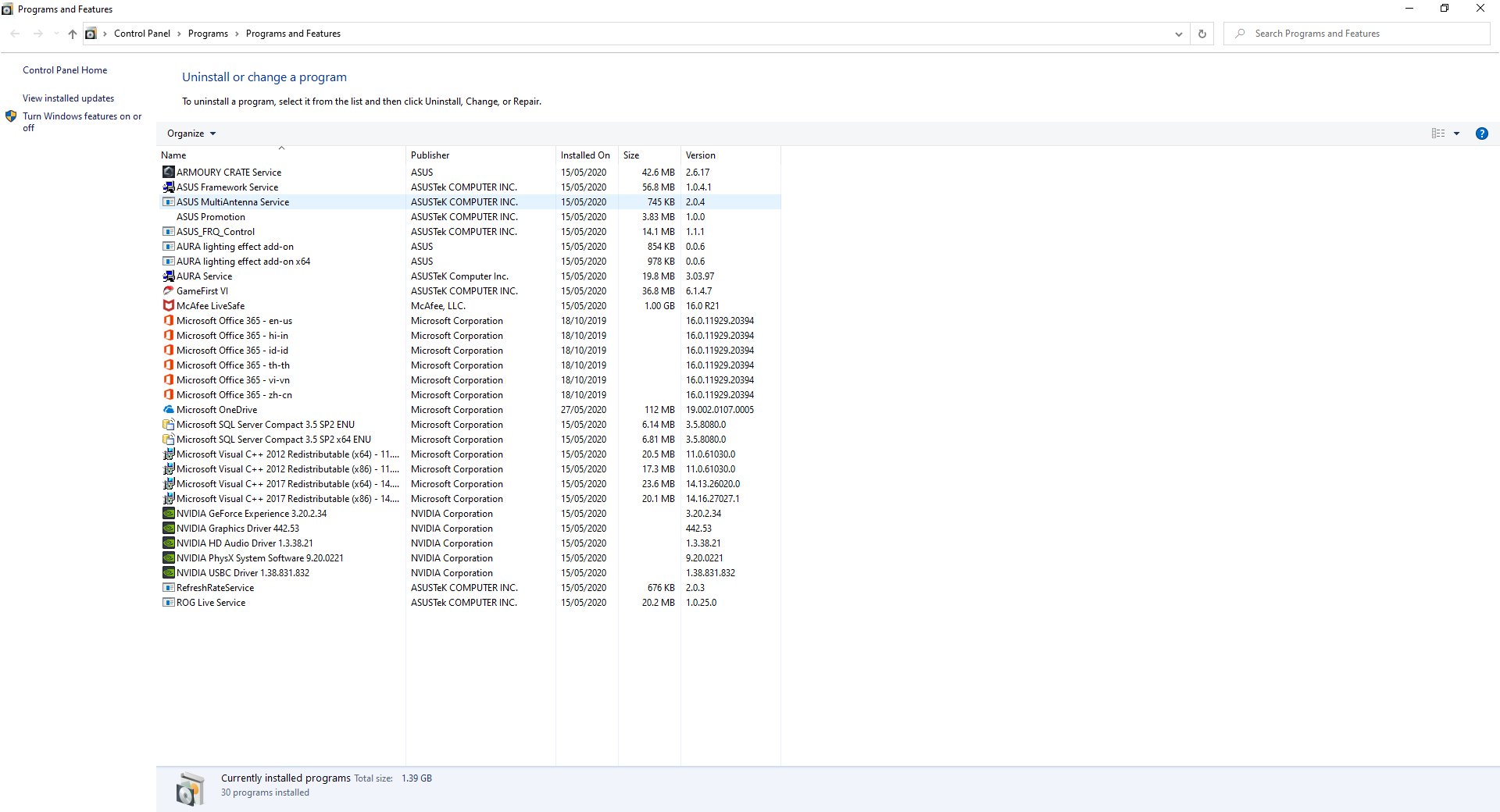 Bloatwares are unnecessary pre-installed applications in a laptop or pre-built PCs. These pre-installed apps help keep the price of a laptop/PC lower as software companies pay the manufacturer to have them installed on their products. While some bloatware can be actually useful to a user, a clean OS is always better and the ROG Strix Scar 17 has one of the cleanest available. Frankly, it's a love-hate relationship as there's a handful of ASUS related software installed, which all work fine even if they're not installed.
Synthetic Benchmarks
We benchmarked the ROG Strix Scar 17 together with its different power settings found in the ROG Armoury Crate Software. The main purpose of benchmarking power profiles will show how aggressive or conservative the manufacturer is in thermal management. These profiles will affect the CPU and GPUs' boosting behavior in terms of duration and max clock speed which will translate to higher scores and stable framerates.
SuperPI 32M
SuperPI is a single-threaded benchmark application that lets the CPU calculate Pi(π) to the nth digit. In this benchmark, we selected the Pi calculation to 32M, the highest available for the app.
There's not much difference in single-threaded performance between performance and silent modes. The i9 10980HK seems to be behaving in its factory limits except when the ROG Strix Scar 17 is in Turbo mode with a faster calculation time on SuperPI 32M.
wPrime 1024M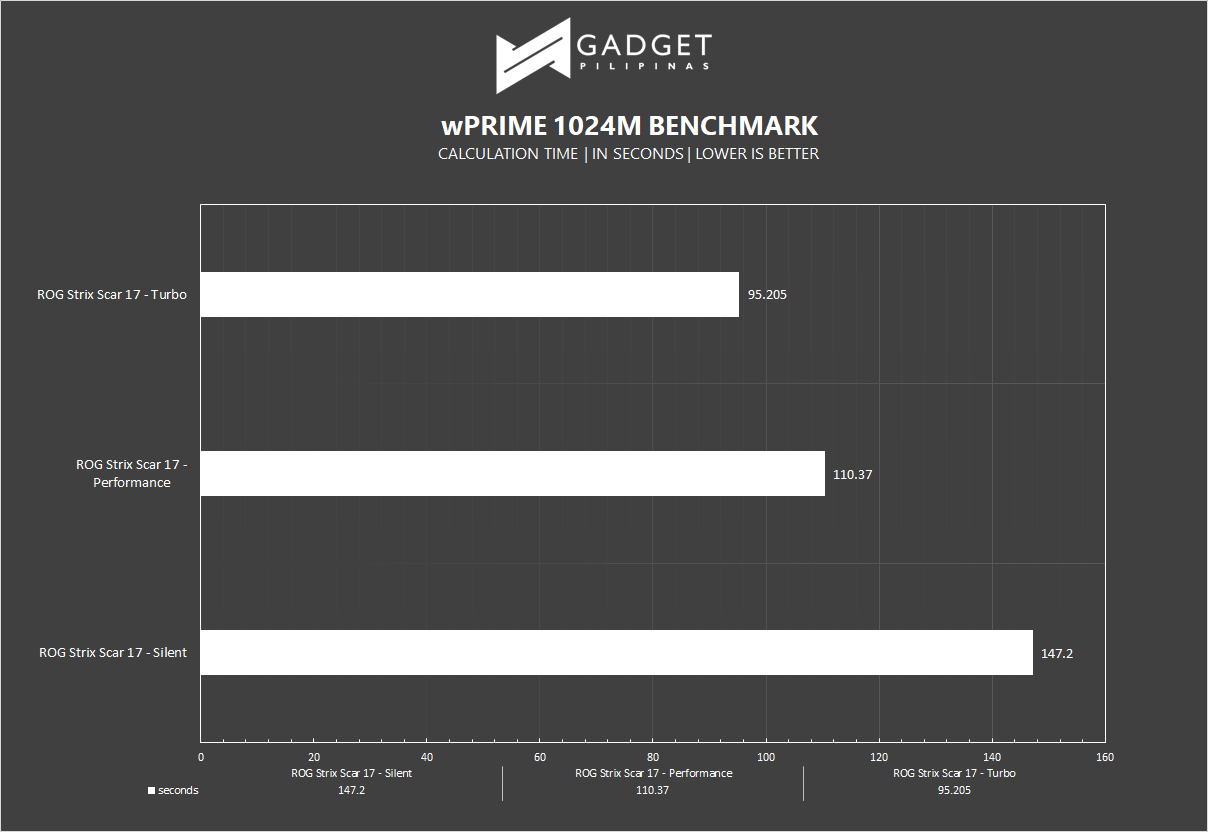 wPrime is a benchmark tool similar to SuperPI, but the former takes on finding prime numbers using Newton's Method. The benchmark is set to calculate 1024M, and measured according to calculation time.
While there's almost no difference in Silent and Performance mode on single-threaded performance, multithreaded shows a different story on our wPrime 1024M benchmark. A great performance jump can be seen from Silent to Performance, while there's only a slight performance improvement when switching from Performance to Turbo.
GeekBench 5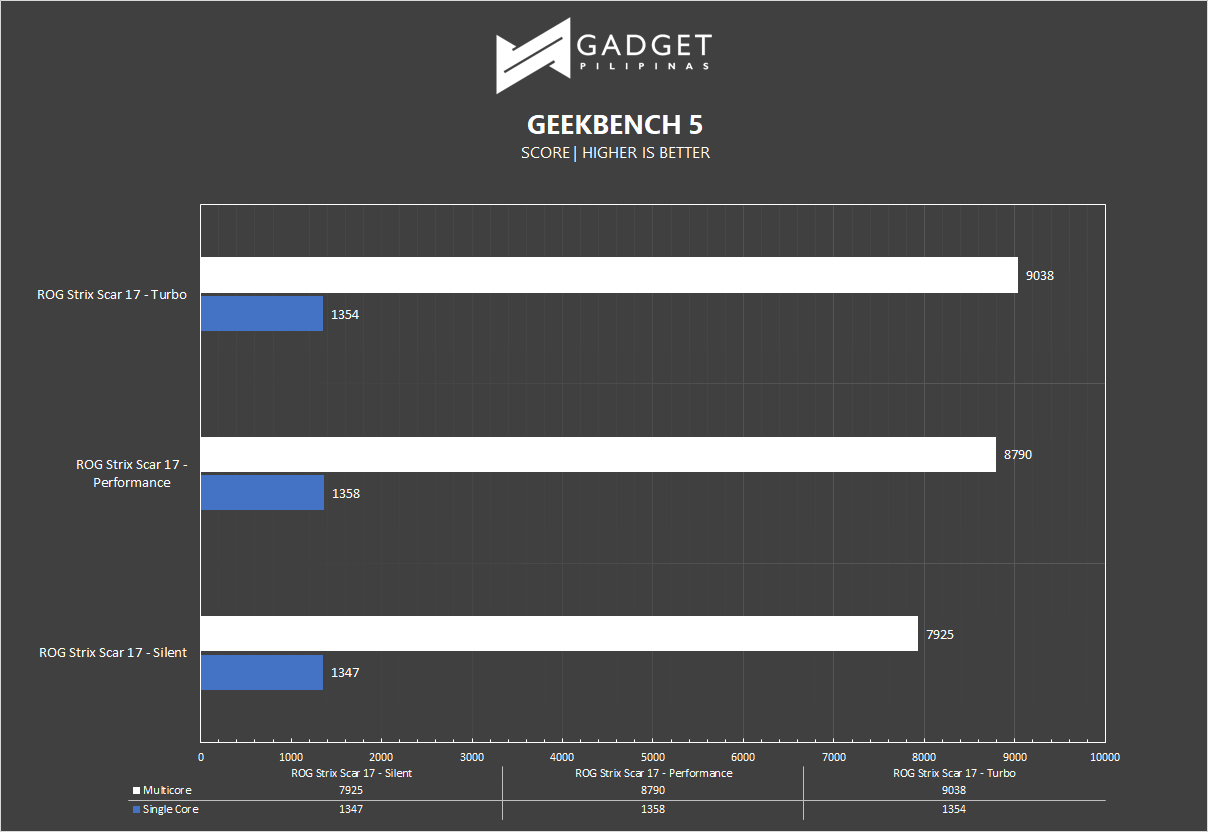 Geekbench is a multi-platform benchmark that's used to gauge CPU performance and compare them across Windows, Mac, and Mobile. Geekbench 5 is the latest version and doesn't rely on memory as much compared to the previous Geekbench 4, making it a great tool to measure both single-core and multi-core CPU performance.
Geekbench 5 tells a similar story with our wPrime benchmark. There's a favorable jump from Silent to Performance but there's not much on Performance to Turbo. Even the single-core scores agree.
CINEBENCH R20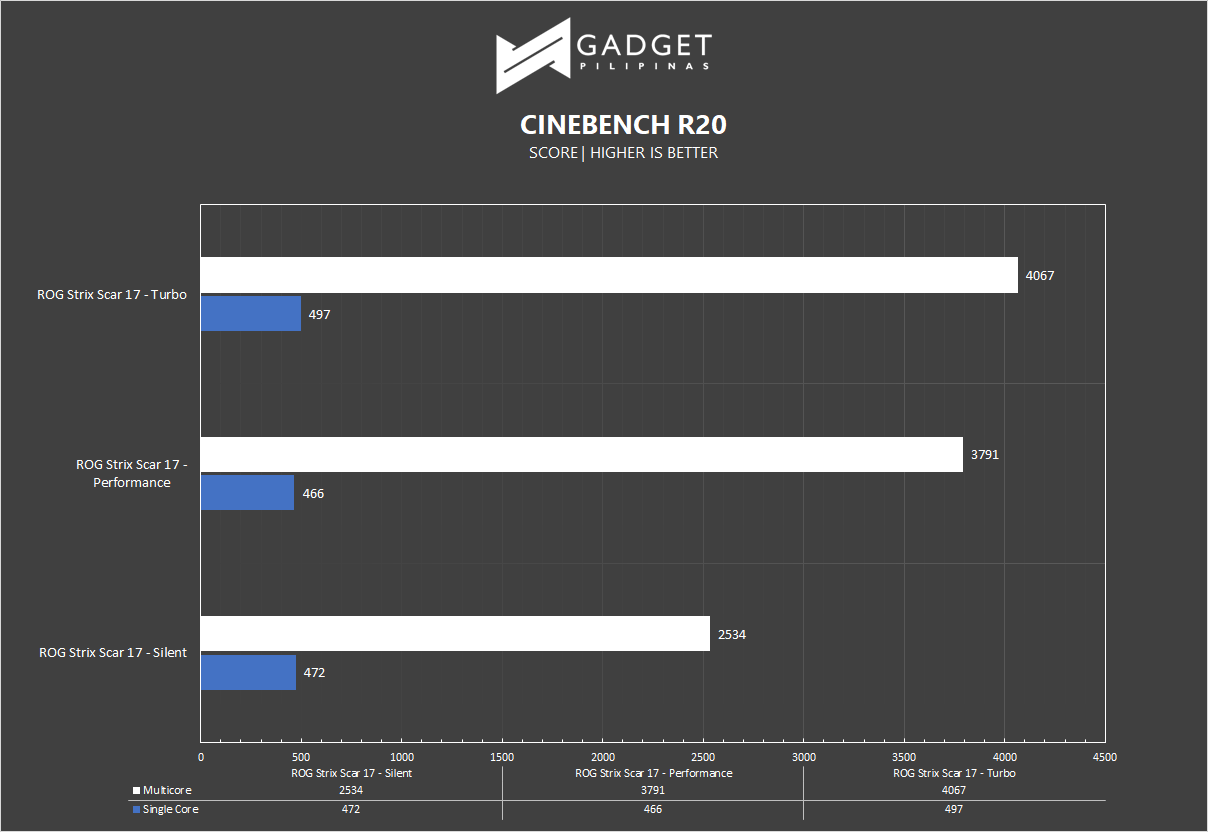 Maxon's Cinebench benchmark is one of the most iconic benchmark applications used by reviewers and enthusiasts. The latest Cinebench R20 uses the latest rendering architectures, including Intel's Embree ray tracing technology and other advanced features from AMD and Intel that allows users to render the same scene on the same hard. Cinebench R20 uses a larger and more complex testing scene than Cinebench R20 by about 8x computational power and requires 4x the memory.
Our Cinebench R20 benchmarks tell a different behavior of the ROG Strix Scar 17's power profiles. Switching from Performance to Silent greatly improves the multicore score but somehow reduces single-core performance. Turbo mode shows improvements on both single and multi-core.
V-RAY
V-Ray Benchmark is a stand-alone version V-Ray developed by Chaos Group. It is designed to test the CPU and GPU by rendering sample scenes at a fixed amount of time. V-Ray is a plug-in mostly utilized by 3D computer graphics software applications mainly for industrial design, product design, architecture, film, and video game production. V-Ray is not limited to 64-threads as it supports multi and mega threading.
In VRAY, we get results similar to wPrime where there's a great performance improvement from silent to performance. Switching to turbo also rewards more performance but not more than the switch from silent to performance.
BLENDER
Blender is a widely used, free, opensource 3D creation suite. It supports the whole 3D pipeline process from modeling, rigging, animation, simulation, rendering, and even motion tracking. Blender has become a standard for CPU benchmarks with the BMW27 and Classroom scene most used. This prompted the company to release Blender Open Data Benchmark in 2018, a benchmark-specific version which allows users to run a preset benchmark and share the results online similar to 3D Mark.
Both BMW and Classroom scenes show an almost negligible performance improvement from performance and turbo modes.
CORONA RENDERER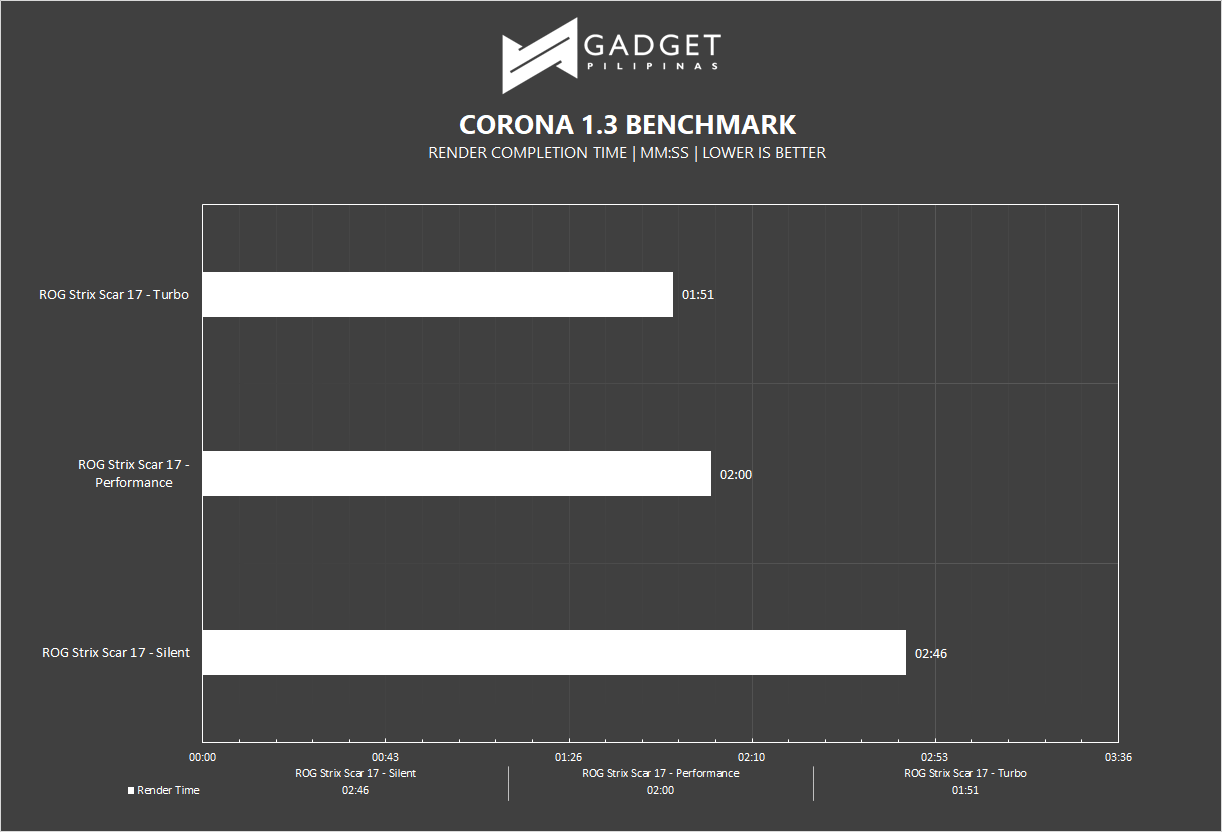 Corona Renderer is an unbiased photorealistic render available for Autodesk 3Ds Max, Maxon Cinema 4D, and as a stand-alone application. Its popularity, similar to Blender, led Chaos Group to develop a benchmark version of the app which runs using Corona Renderer 1.3. Workstation systems, especially CPUs, can utilize Corona Benchmark as up to 72 threads can be used in the benchmark, making it very suitable for CPUs with various price segments.
Corona 1.3 benchmark supports our blender render findings with only 9 seconds shaved off from Performance to turbo yet gaining almost 1-minute off from silent to performance.
SSD Benchmark
Developed by Noriyuki Miyazaki, CrytalDiskMark is a free benchmark tool that is being used by thousands of experts. This tool measures SSD's sequential read and writes speeds. That means how fast files can be read from and written to the drive, usually measured in MB/s.
The ROG Strix Scar 17 uses two Intel 660p 1TB NVMe SSDs in Raid 0 to achieve double the drive's 1800MB/s rated read and write speeds. It's surprising that ASUS ROG didn't go for higher-rated drives such as a Samsung PM981/991 SSD as it can achieve the 660p's RAID 0 performance with an additional NVMe SSD slot to spare.
Gaming Benchmarks
We use CapFrameX Capture and Analysis Tool v1.5.3 to capture framerates for our benchmark run. We are using the latest Nvidia Game Ready 451.67 DH driver for our benchmarks of the Legion 7i. HWMonitor and HWInfo64 are both used to measure CPU and GPU temperatures.
3DMARK
3DMark is the go-to benchmark for gamers because of the ability to share and compare results online. We used Time Spy DX 12 benchmark and Fire Strike DX 11 benchmark.
The ROG Strix Scar 17's performance in silent mode is crippled in our 3DMark TimeSpy benchmark but does well in 3DMark Firestrike – An indicator that synthetic benchmarks don't tell the whole story.
DOTA 2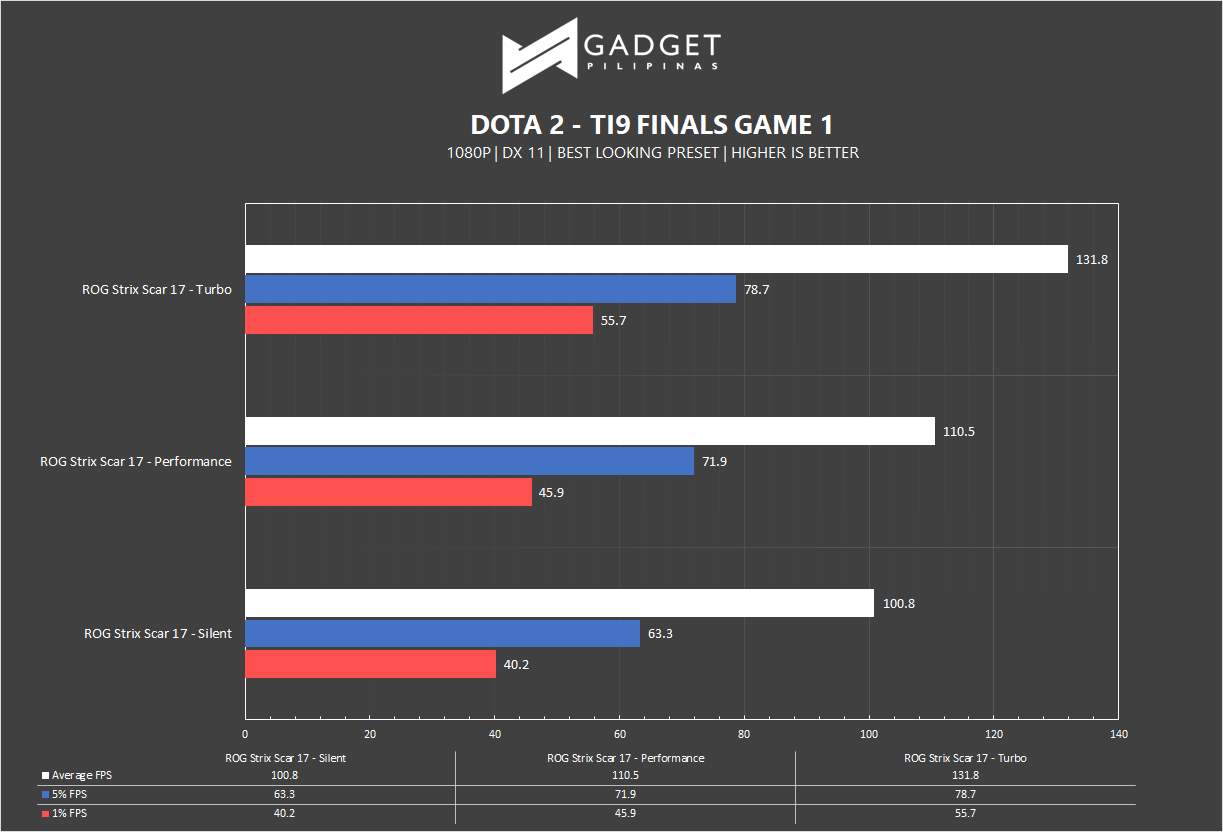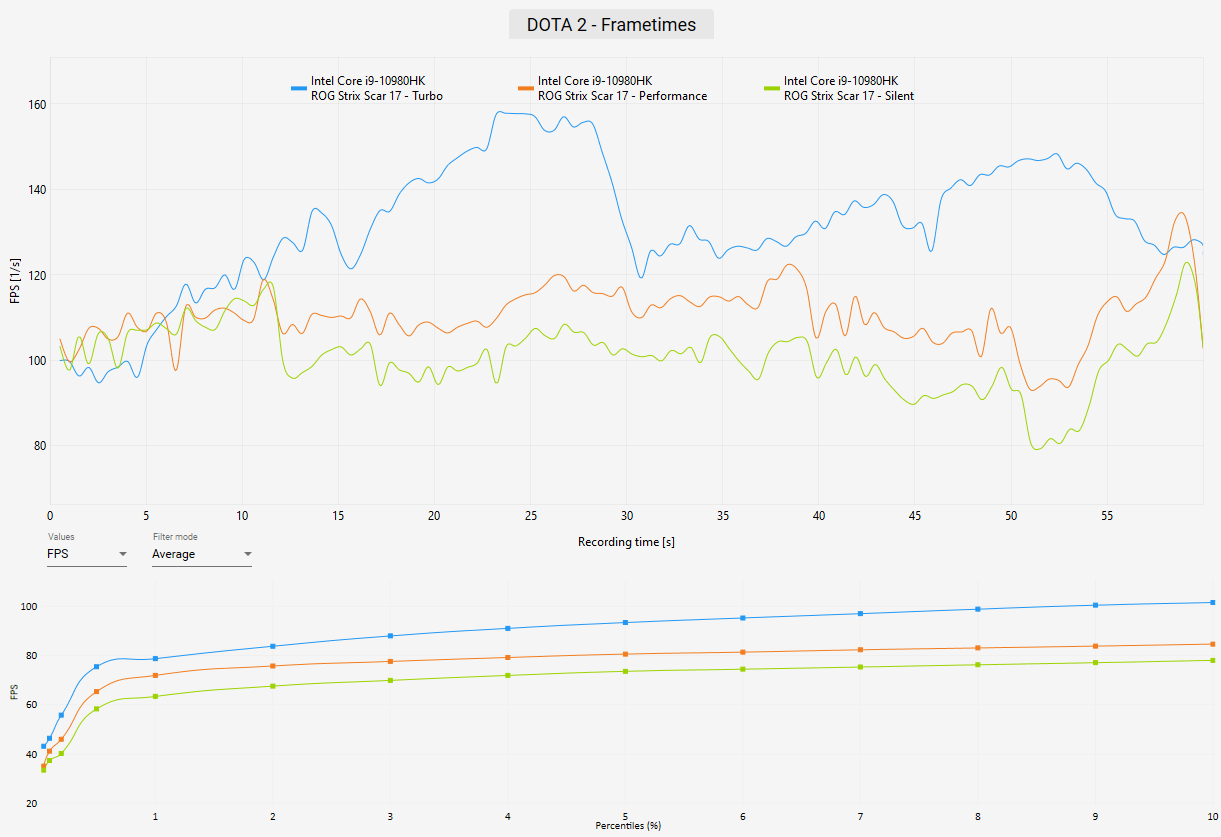 Most gamers play at least one of the following free-to-play titles: League of Legends, CS: GO, Dota 2, and/or Fortnite. Dota 2 is a good representation of the F2P titles as it is the most demanding game in the spectrum. The benchmark will give you an idea of the laptop's relative performance on other lesser demanding titles. Our benchmark sequence is based on a replay of OG vs. Liquid in the TI9 grand finals from the team fight that happened on 28:30 to 29:30.
ROG Strix Scar 17's turbo mode greatly improved average frame rates as well as FPS stability, so much that its a bigger jump from silent to performance.
Far Cry 5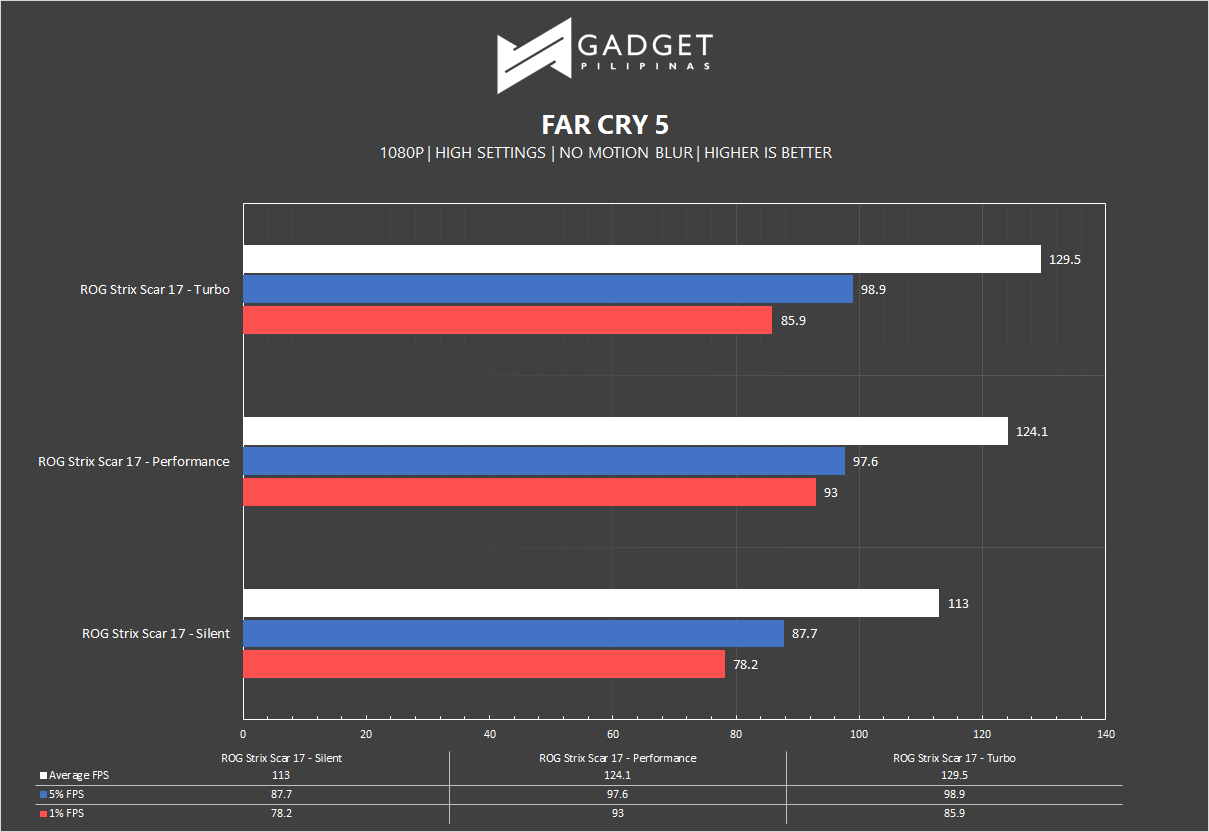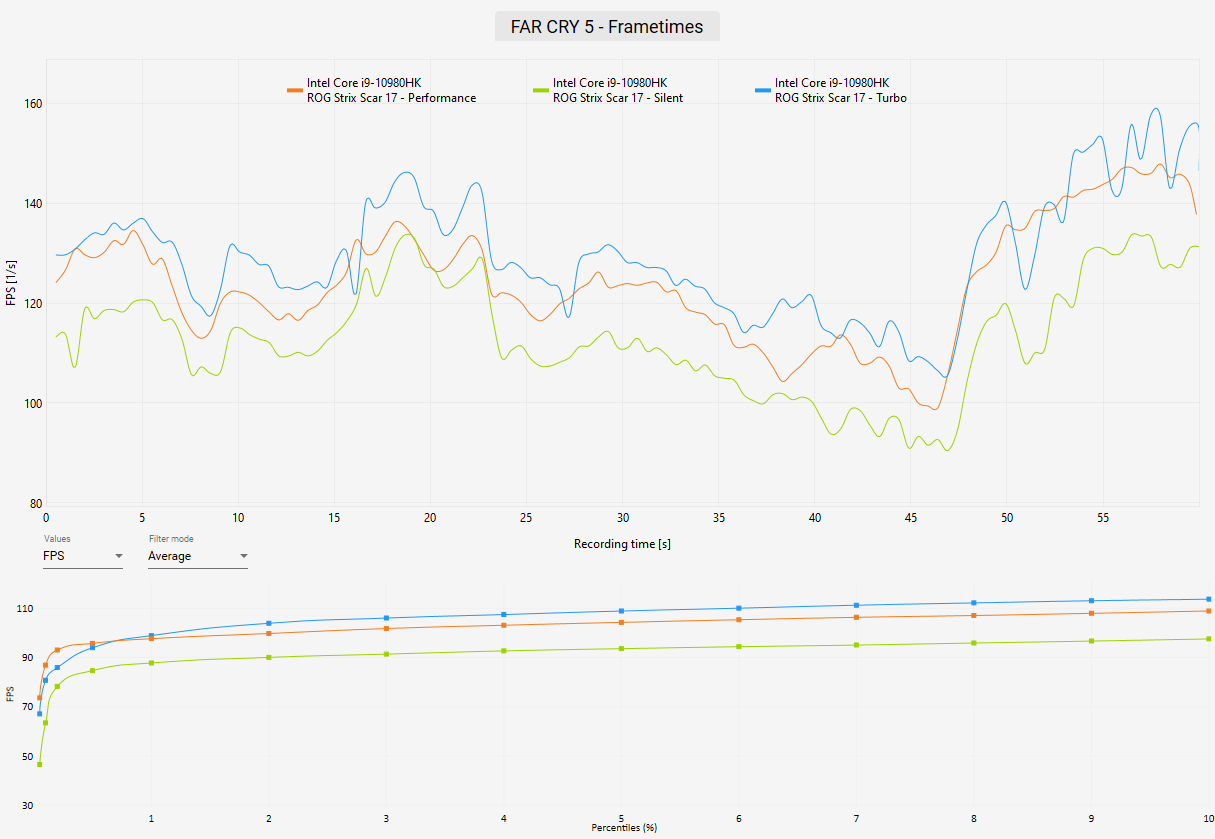 Far Cry 5 is an FPS game published by Ubisoft and uses the Dunia engine. It heavily relies on and takes advantage of DirectX 11 to render a realistic environment that makes it taxing to both the CPU and GPU.
Performance mode on Far Cry 5 yields the most stable framerates versus turbo and silent. While it's true that Turbo mode offers a higher average FPS, the improvement in 5% and 1% lows on performance trumps the 4fps average increase on turbo.
Rainbow Six Siege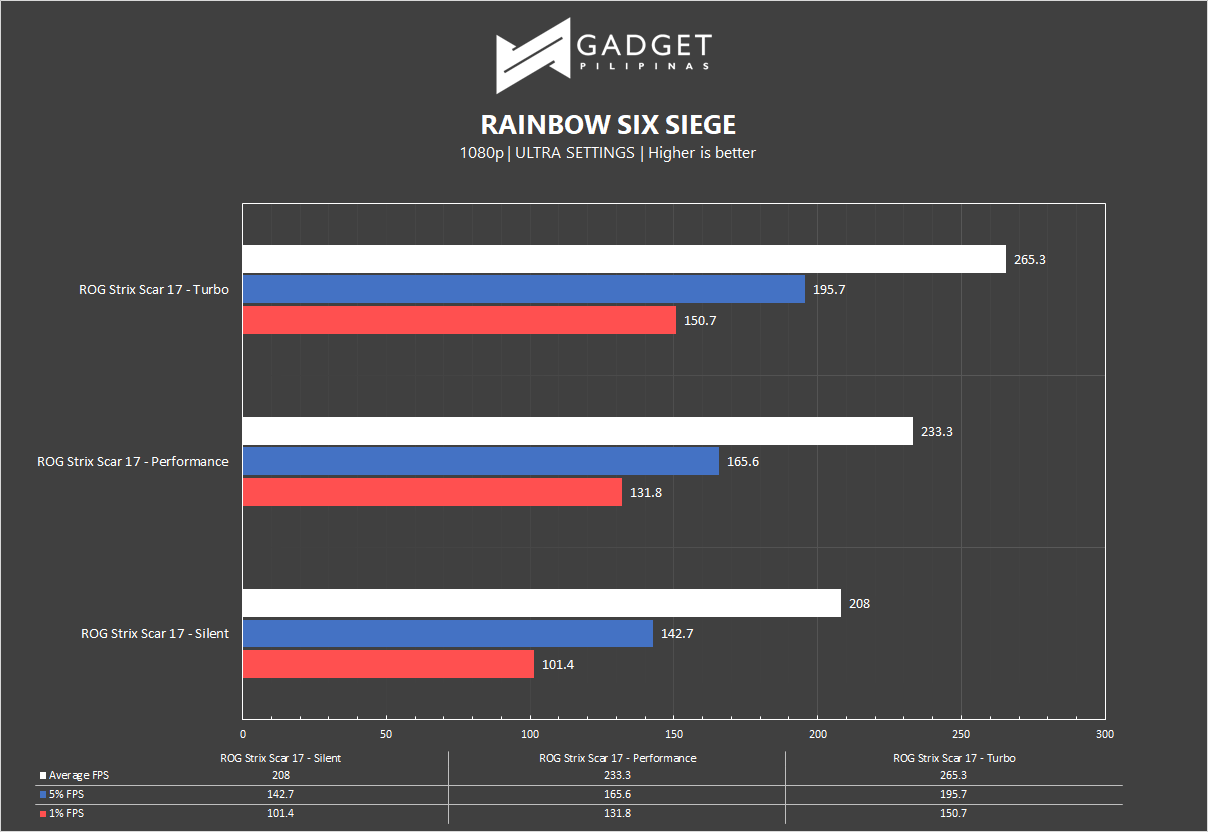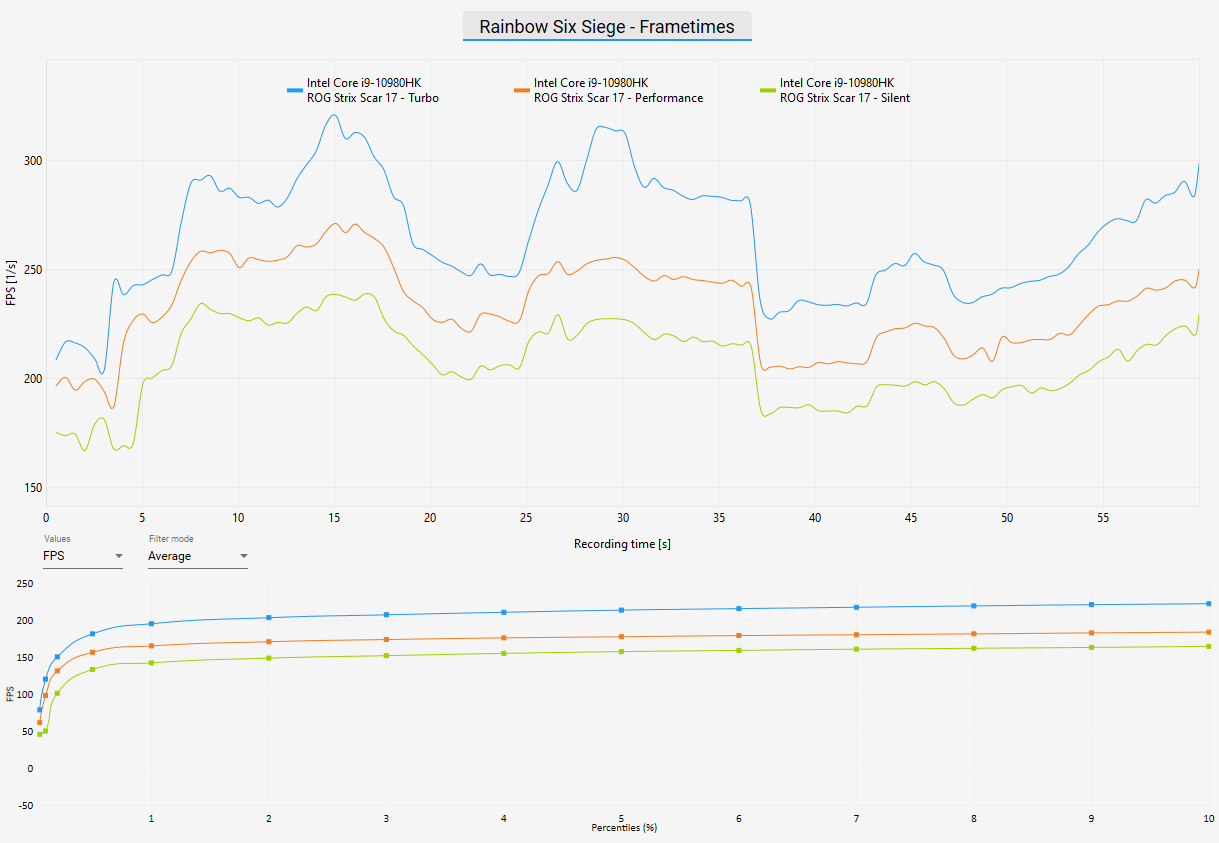 Rainbow Six Seige is one of the few popular AAA games that's still popular in 2020 due to its competitive gameplay mechanics. R6S uses the AnvilNext game engine, which is developed by the game's publisher, Ubisoft. As of writing, Rainbow Six Siege is currently the most popular Tom Clancy title beating out Wildlands, Breakpoint and even, Division 2.
Rainbow Six Siege gets the most improvement in Turbo mode with 265 average FPS, 27% more than silent mode's 208 FPS. Moreover, turbo mode also shows stabler framerates represented by 5% and 1% FPS.
Valorant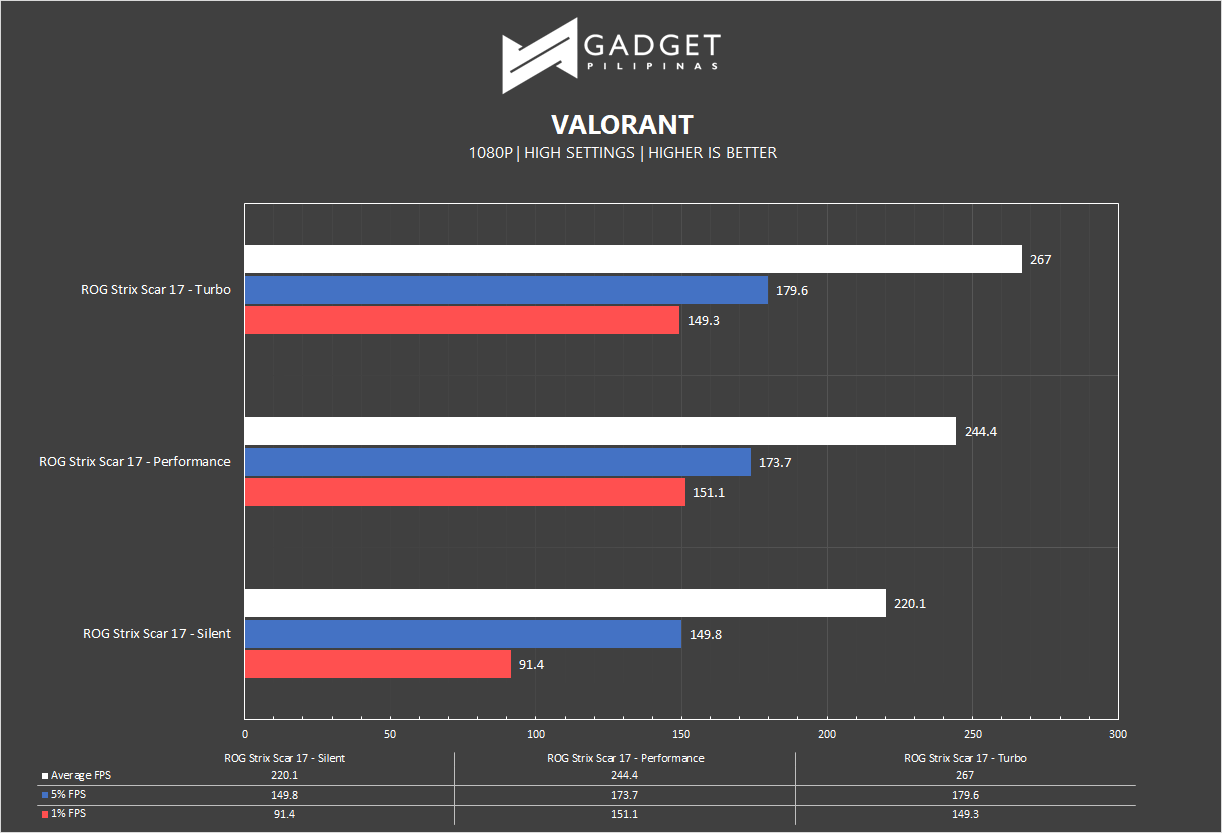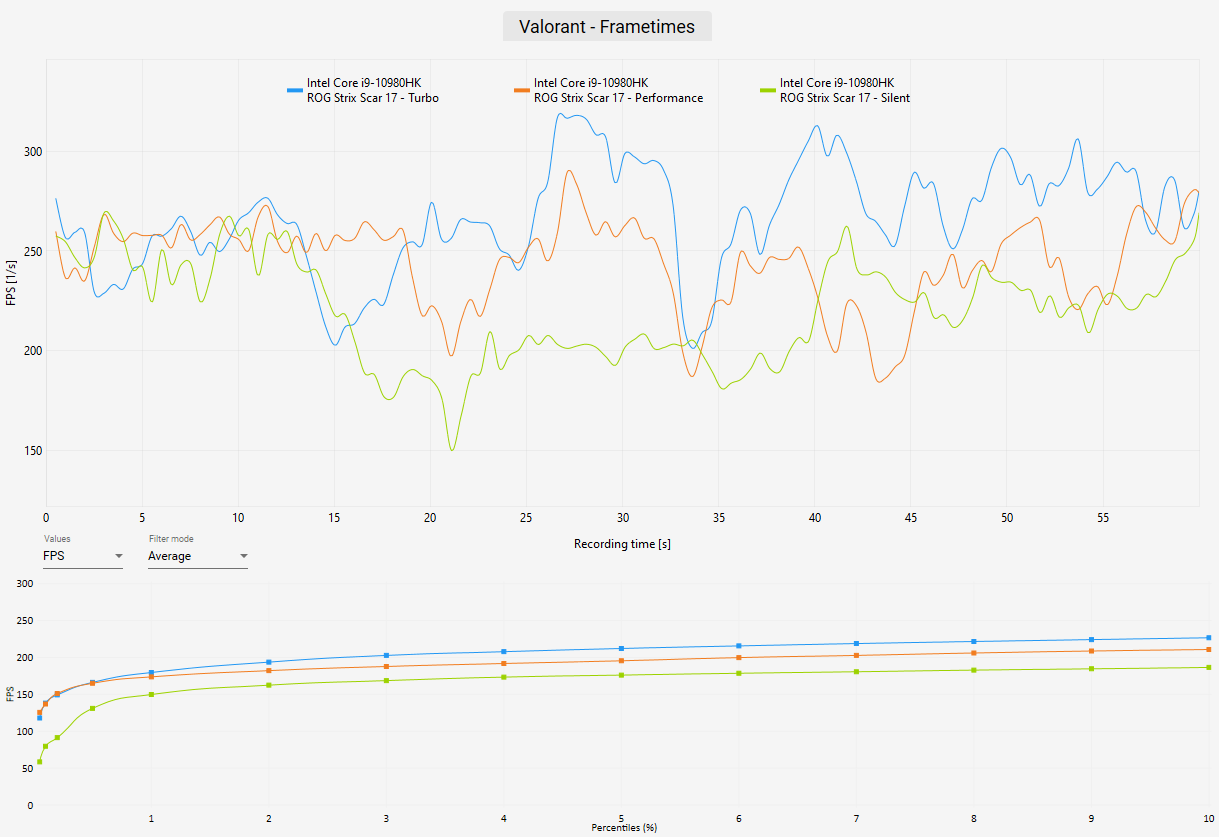 Riot Games, the makers of League of Legends, launched their first competitive FPS game dubbed Valorant. Valorant is a character-based tactical shooter with mechanics similar to both Overwatch and CounterStrike Global Offensive. Valorant uses Unreal Engine and is frankly a poorly multithreaded game with the minimap, HUD, and parts of the UI offloaded to other threads while a single core handles the rest.
In Valorant, turbo mode offers more average framerate than performance however it isn't much stable in terms of 5% and 1% FPS. Considering that Valorant is mostly a single-threaded game, the longer boost clock on the 10980HK grants higher framerates as seen in turbo mode.
Battlefield V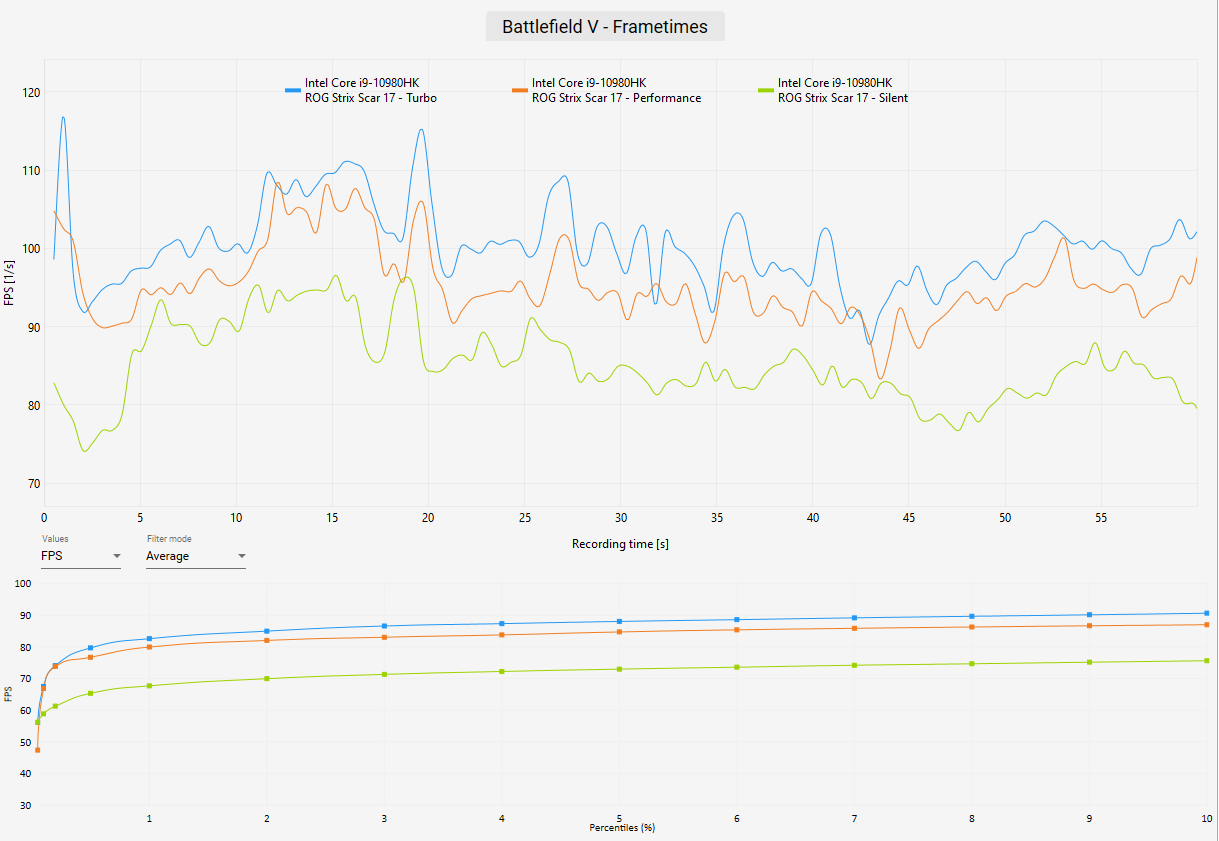 The Battlefield series is an iconic FPS title in our generation matching Halo and Call of Duty. Battlefield V, set in WW1, is the latest installment in the franchise developed by DICE using the popular Frostbite engine. It's also the first game to incorporate DX 12, Ray Tracing, and DLSS making it a great choice in our game bench library.
Different performance profiles don't seem to offer much improvement in Battlefield V in terms of average FPS. Switching from different modes, however, offers a big improvement in FPS stability as seen in the 5%, 1% FPS and our frame time graph.
Assassin's Creed: Odyssey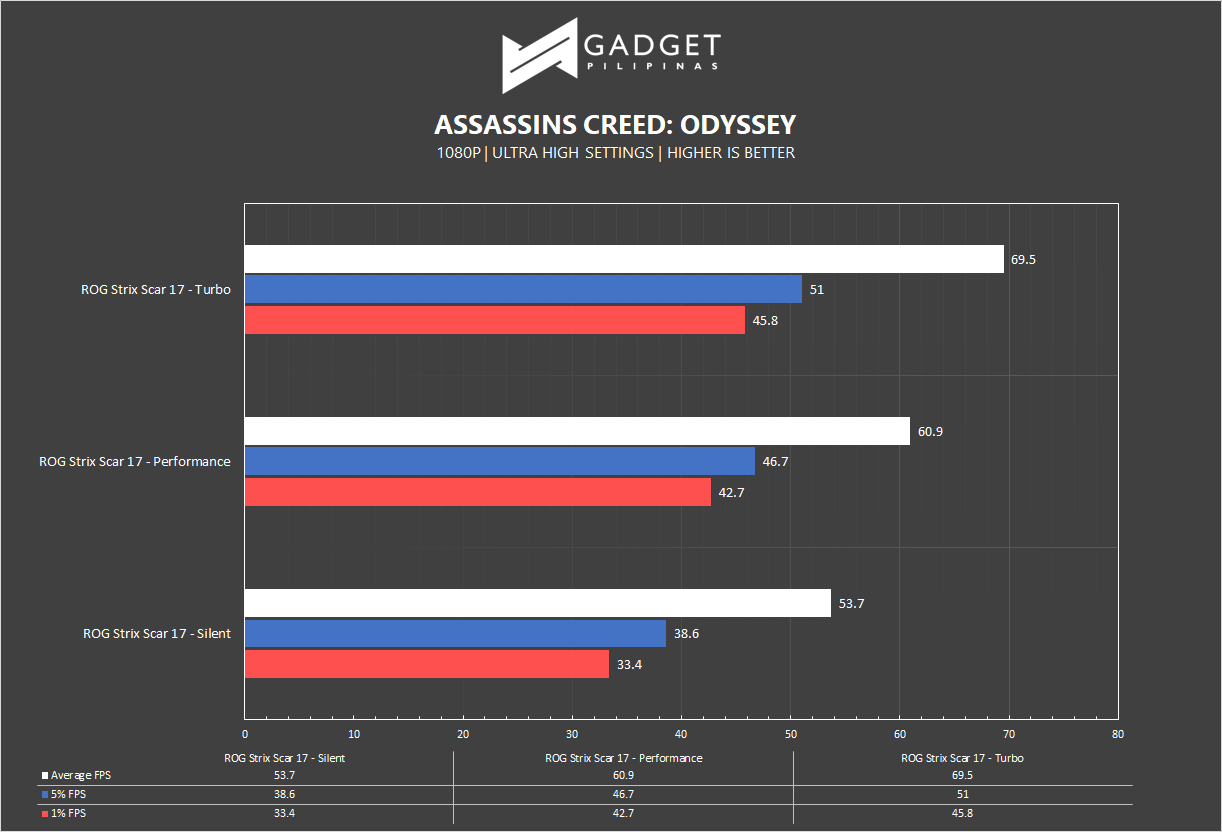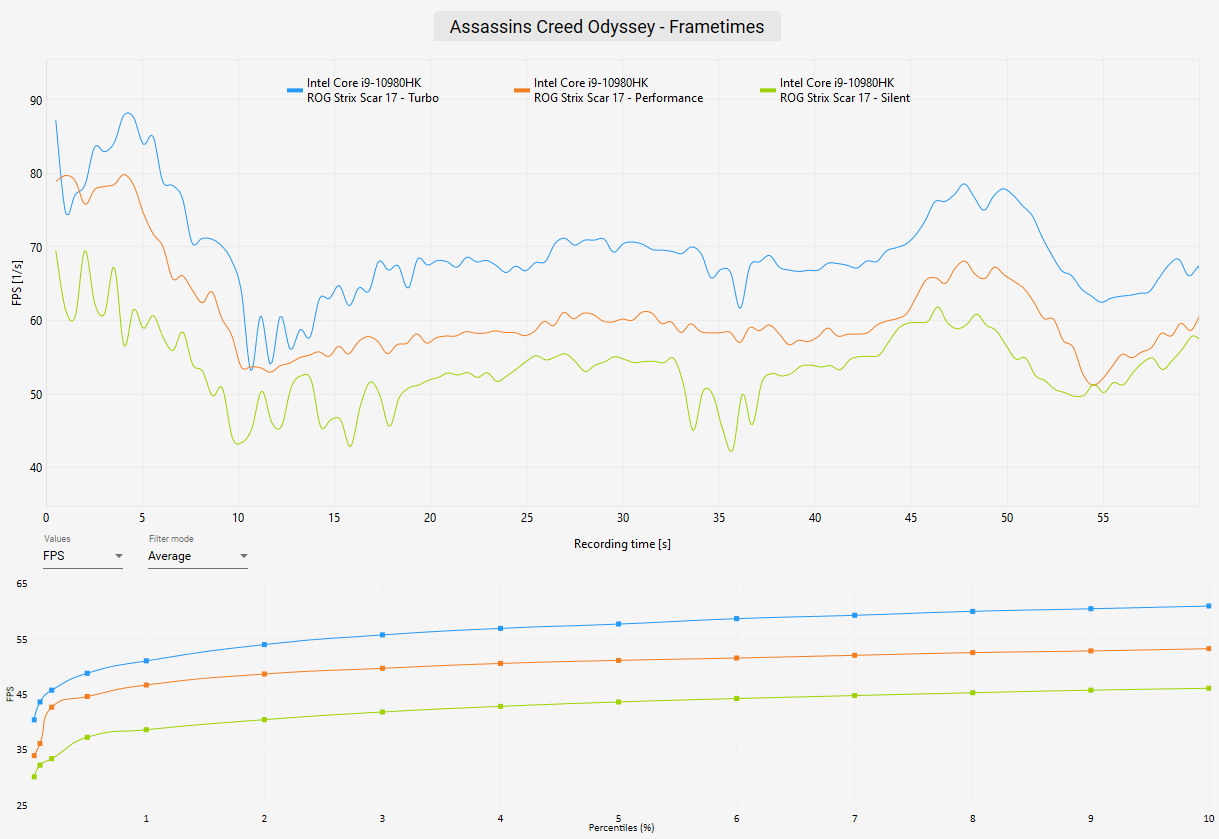 Assassin's Creed Odyssey is the latest franchise installment from Ubisoft. It's by far the most popular and stable Assassin's Creed title since AC IV: Black Flag. It uses the AnvilNext 2.0 game engine, an updated version of Rainbow Six Siege's game engine, and uses the DirectX 12 API.
Assassins Creed Odyssey shows an almost equal improvement in switching between modes. Moreover, switching from silent to performance greatly improves framerate stability.
Noise and Acoustics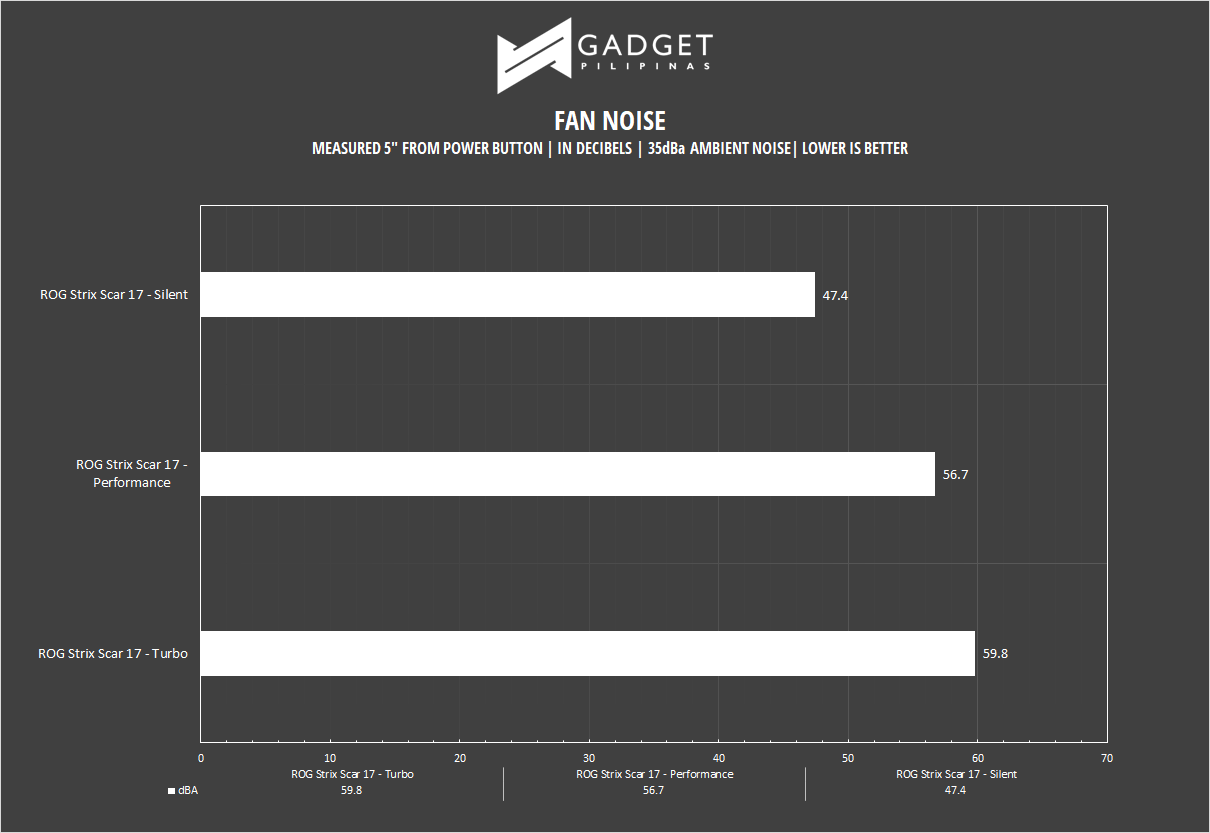 The ROG Strix Scar 17's form factor means that it packs heaving cooling alongside the top-notch laptop specs. Silent mode is loud, at least for my taste, at 47.4 dB. However, turbo mode doesn't generate a lot of noise as expected, denoting more room for cooling both the Intel i9 10980HK and RTX 2080 Super.
Speakers are not a strong suit for the ROG Strix Scar 17. Considering there are smaller gaming laptops with better audio, the Scar 17 barely passes average with slight distortion on max volume. Good thing everything's clear enough and the bass is just right even with very small distortion present.
Battery Life and Thermals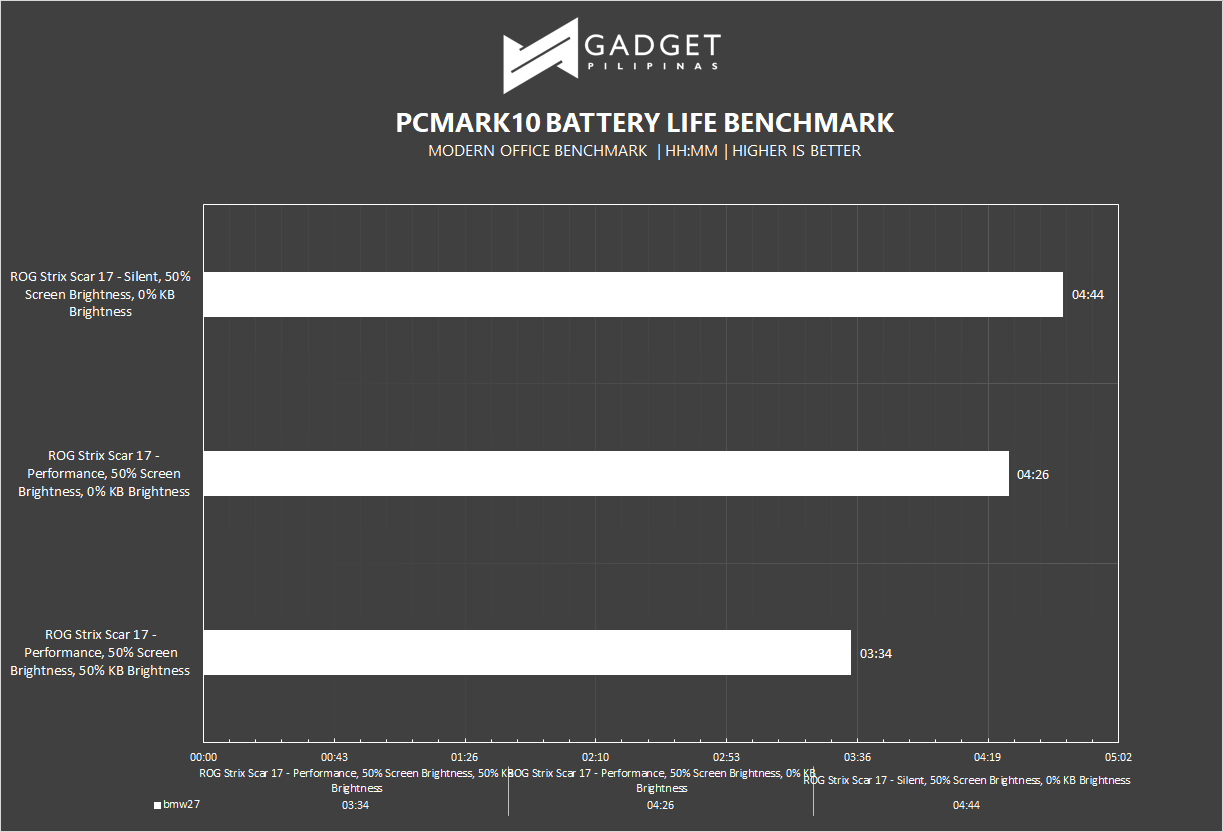 Battery life on the Scar 17 is surprisingly one of the most impressive aspects of the laptop considering the Intel Core i9 processor and a flagship Nvidia GPU fitted into ROG gaming laptop. Surpassing 4 hours on gaming laptops is considered quite impressive especially the internals that the Scar 17 has.
Silent mode sacrifices performance for slightly better thermals and noise levels over the rest of the profiles. Performance mode has higher idle CPU and GPU temps but has load temps on par with the turbo profile. Moreover, turbo mode dances closely to the TJmax of both the i9 10980HK and RTX 2080 Super. All in all, performance mode has the best balance between acoustics, framerates, and thermals. Turbo mode is available for users who want to extract every bit of FPS possible and for those who invested in a cooling pad. Luckily enough, ASUS ROG lets users tinker fan settings for users to find their preferred balance of noise, temps, and framerates.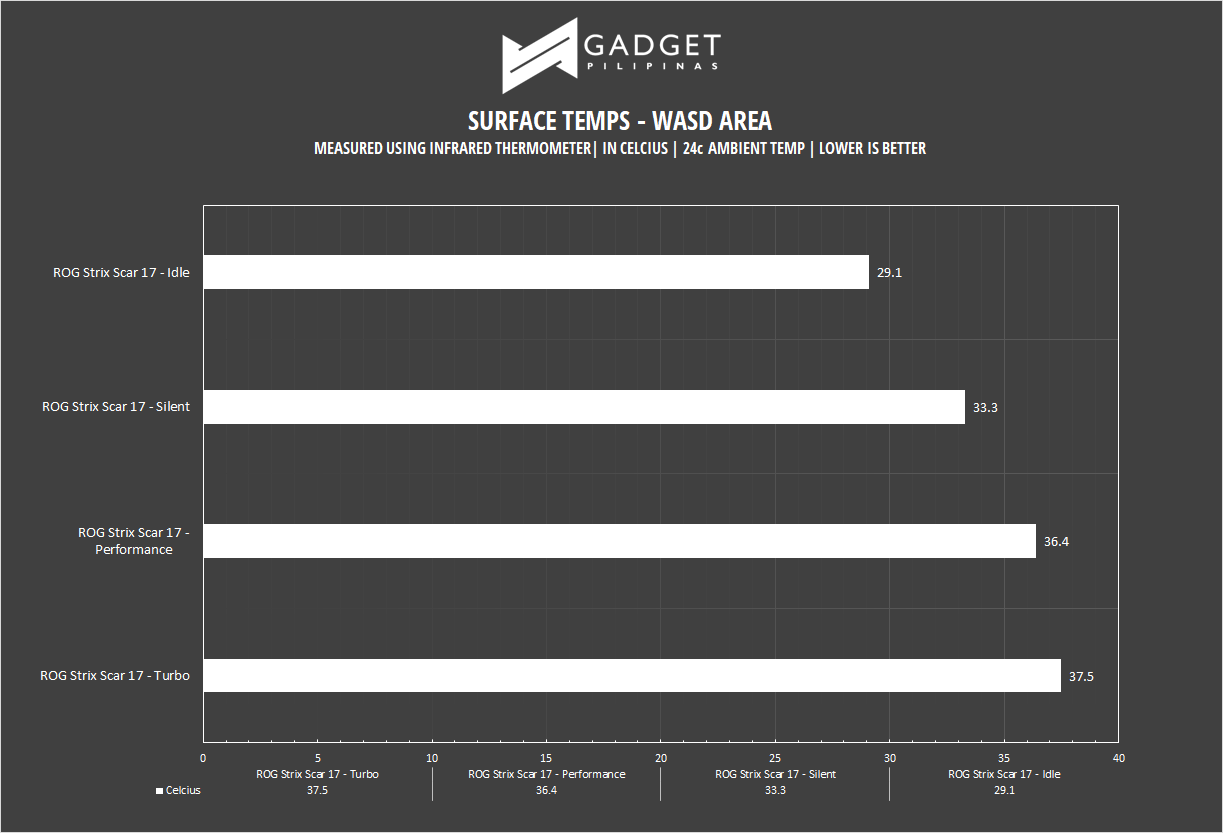 The ROG Strix Scar 17 does a pretty good job in heat dissipation despite the somewhat toasty internal temps. No matter how great the spec of a laptop is, it's pretty much a turn-off if it's uncomfortable to game on particularly where your left hands rest on. Luckily, surface temps of the ROG Strix Scar 17's WASD area are comfortable enough. Even at Turbo, the WASD area peaks at 37.5 which almost immediately cooldowns when tabbing out.
Conclusion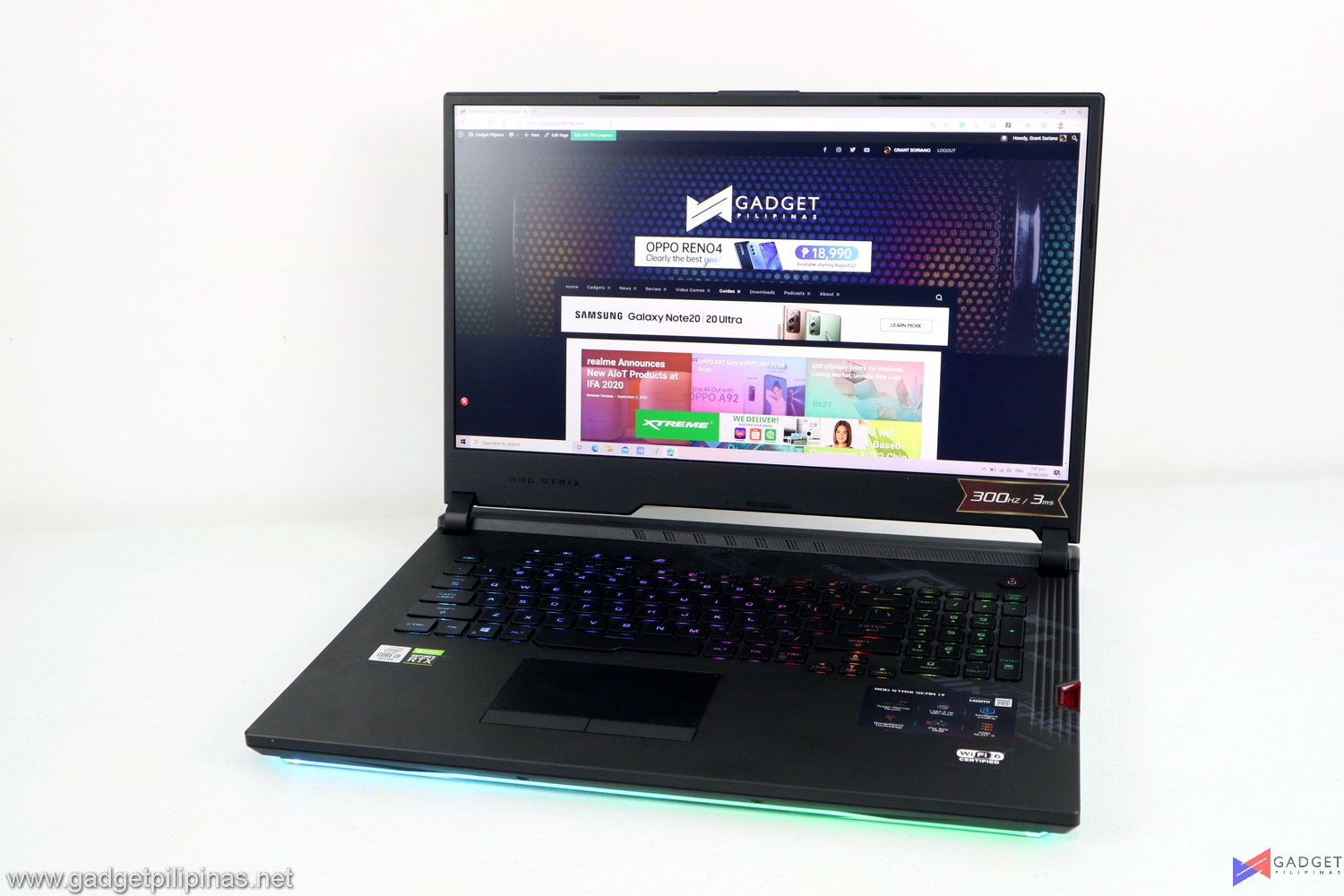 Frankly, the biggest let down of the ROG Strix Scar 17 lies within the keyboard and its speakers. The price of Php 219,995 should offer complete entertainment, gaming, and professional package packed in a 17.3″ enclosure. But both the keyboard and speaker can be addressed by getting a third party mechanical keyboard and headset, that's if you have the money to spare. At first glance, the ROG Strix Scar 17, particularly the G732LXS-HG086TS variant looks overkill for its specs and pricing. But using the unit and benchmarks proved otherwise. What the ROG Strix Scar 17 offers is an almost perfect desktop replacement thanks to the superb internals and the screen that surpasses and rivals most Php 30,000 gaming monitors.
ROG Strix Scar 17 G732LXS Review – Just The Right Amount of Overkill
Our Verdict
Frankly, the biggest let down of the ROG Strix Scar 17 lies within the keyboard and its speakers. The price of Php 219,995 should offer complete entertainment, gaming, and professional package packed in a 17.3" enclosure. But both the keyboard and speaker can be addressed by getting a third party mechanical keyboard and headset, that's if you have the money to spare. At first glance, the ROG Strix Scar 17, particularly the G732LXS-HG086TS variant looks overkill for its specs and pricing. But using the unit and benchmarks proved otherwise. What the ROG Strix Scar 17 offers is an almost perfect desktop replacement thanks to the superb internals and the screen that surpasses and rivals most Php 30,000 gaming monitors.
What's Good
Superb Cooling
Customizable Fan Profile
Fast, Color Accurate Display
Sturdy Build Quality
ROG Keystone II
What's Not
Little performance difference between Performance Mode and Turbo Mode
Steep Price