The ASUS ROG Strix B550-E Gaming motherboard is Asus' cream of the crop motherboard for its B550 line-up. Unfortunately, reaching the top of the mountain translates to the ROG Strix B550-E's steep pricing brought upon by the "ROG Tax" and the B550 chipset itself. AMD's B550 Chipset is not something that's well-received by enthusiasts, especially those looking to save a few bucks over the premium X570-chipset motherboards thanks to the outrageous pricing. But that didn't stop ASUS ROG from providing the best build quality and feature set on what some would call a "mediocre" chipset. Let's see what makes the ROG Strix B550-E motherboard both a compelling option and an outrageous product.
[rtoc_mokuji title="Contents" title_display="left" heading="h3″ list_h2_type="round" list_h3_type="number1″ display="open" frame_design="frame4″ animation="slide"]
AMD B550 Chipset Overview
AMD's B550 Chipset is the most awaited generation upgrade over the previous B450 Chipset hailed for Zen+ processors. Before the launch of the B550 chipset, AMD was tanked with controversy as only A520, B550, and X570 series supports upcoming Zen 3 processors. AMD has then retracted and promised support for Zen 3 processors on older generation motherboards, making the B550 lose some "value" over previous generations.
Controversy aside, the B550 packs features that were only exclusively found on the X570 chipset. Any B550 motherboard supports higher bandwidth thanks to PCIe Gen 4 with multi-GPU support. PCIe lane bifurcation makes multi-GPU AMD Crossfire or Nvidia SLI support possible as it an x16 slot can split in half to make two x8 slots. The B550 Chipset also supports USB 3.2 Gen 2 with superspeed on Ryzen 3000 series.
ASUS ROG Strix B550-E Unboxing and First Impressions
Despite being a supposedly a "budget board with a budget chipset," the ROG Strix B550-E is wrapped in typical ROG packaging similar to the ROG Strix X570-E and ROG Strix Z490-E motherboards. The backside of the packaging reveals a feature highlight of the ROG Strix B550-E Gaming motherboard.
ACCESSORIES LIST
User's manual
4 x SATA 6Gb/s cables
1 x Supporting DVD
1 x ROG Strix stickers
1 x Cable ties pack
1 x Extension Cable for RGB strips (80 cm)
1 x Extension cable for Addressable LED
1 x Thermistor cable
1 x ROG Thank you card
1 x 2-in-1 Rubber pad
1 x Wi-Fi moving antenna
1 M.2 SSD screw package
1 ROG key chain
The ROG Strix B550-E Gaming motherboard is blessed by the "ROG Strix" moniker with the "-E" tiering. The Strix B550-E shares a similar design with other ROG Strix-E boards, but it has its own unique aesthetic in the form of a pink slash across the heatsinks of the motherboard. The pink shade resembles ASUS ROG's latest Electropunk line-up.
Like any other high-end motherboard, the ASUS ROG Strix B550-E Gaming has an extra 4-pin ATX 12V connector, allowing for stable power delivery and more wattage for top-end CPUs such as the Ryzen 9 series. The ROG Strix B550-E is no exception for having solid-core pins to ensure secure contact with PSU cables.
While the ROG Strix X570-E uses 12+4 teamed power stages using the ASP1405I PWM and Infineon IR3555/IR3553, the ROG Strix B550-E, on the other hand, has a 14+2 power stage configuration. The ROG Strix B550-E motherboard uses a Digi+ ASP2006 PWM controller and MPS MP86992 power stages.
Being a "fresher" board over the ROG Strix X570-E, the ROG Strix B550-E motherboard uses Optimem II for higher DDR4 frequency support. The choice in going for Optimem II instead of Optimem III that's already found on the ROG Strix Z490-E is one of the very few compromises made to keep the B550-E priced lower than the X570-E.
I/O ports are not the ROG B550-E's strongest suit with only six USB Type-A ports and two USB Type-C ports. Only two Type-A ports, as well as the Type-C port, are USB 3.2 Gen 2 ports while the rest are USB 2.0 ports with the second Type-C port supporting audio input. One USB-A port is dedicated for BIOS updates located next to the BIOS flashback button. Apart from the HDMI and Display Port, the ROG Strix B550-E supports 2.5G Ethernet as well as Wi-Fi 6 thanks to the AX201 receiver. You can click this text to watch our WiFi-6 discussion video.
AMD's B550 chipset is an upgrade over the previous B450 but still lacks some features compared to the X570 chipset when it comes to productivity, hence the absence of a chipset fan. The ROG Strix B550-E has two of its PCIe 4.0×16 ports that are armored compared to the B550-F, having only the first slot armored. The remaining non-reinforced PCIe x1 and x16 slots are running PCIe 3.0. The board also has the six standard SATA ports that are angled at 90-degrees.
Accessing both M.2 ports on the ROG Strix B550-E is straight forward by unscrewing the M.2 heatsink, unlike the X570-E and Z490-E, where you have to remove the chipset heatsink. Only the first M.2 slot supports PCIe 4.0 storage devices while the second M.2 slot shares bandwidth with the PCIe x16 Gen 3 slot.
BIOS and SOFTWARE
If you previously own an ASUS or ROG motherboard, navigating through the ROG B550-E's BIOS should give you the same experience. ASUS' UEFI BIOS Utility mode can be toggled between EZ Mode and Advanced Mode using the F7 key.
ASUS ROG is well known for having an excellent UEFI BIOS experience. Navigating and tweaking BIOS settings is a delight, thanks to the clean and upfront layout. You'll mostly spend your time on the AI Tweaker and Advanced tab for Overclocking and undervolting.
Benchmark Setup and Methodology
Gadget Pilipinas' testing philosophy is to provide detail-oriented results as accurately as possible that our readers can replicate our tests given that these conditions are met. Different benchmarking apps and sequences are used depending on the component or device being tested.
ROG Strix B550-E Gaming Motherboard Review Test Bench Specs
CPU
AMD Ryzen 7 3800XT
COOLER
NZXT X52 240mm AIO Cooler – Noctua NT-H2 Thermal Paste
MOTHERBOARD
ASUS ROG Strix B550-E Gaming Motherboard
ASUS ROG Strix X570-E Gaming Motherboard
MEMORY
HyperX Predator 16GB 3200Mhz
GPU
Galax RTX 2070 1-Click OC
STORAGE
TForce CARDEA Liquid NVMe SSD
POWERSUPPLY
ThermalTake ToughPower 1200w Platinum
OPERATING SYSTEM
Windows 10 Pro Build 2404
DISPLAY
Lenovo Legion Y27Q Gaming Monitor

We use CapFrameX as our FPS capture and analysis tool for all our gaming benchmarks. The latest build version of Windows 10 and WHQL certified drivers are used for our benchmarks. Readings such as temperatures and power draw are recorded using HWMonitor and HWInfo64 as well as other relevant software used for cross-checking.
Cinebench R20
V-Ray
HWBot x265
Handbrake
Blender
Corona Renderer
Super PI – 32M Calculations
wPrime – 32M and 1024M Calculations
AIDA64 Extreme Edition – Memory Benchmarks
DOTA 2
Rainbow Six Siege
Far Cry 5
Apex Legends
Battlefield V
Assassins Creed: Odyssey
Valorant
Our benchmark list and methodology may change in the future, depending on the industry trend. For now, enjoy our benchmark results of the AMD Ryzen 3 3300X processor.
Benchmarks
SuperPI 32M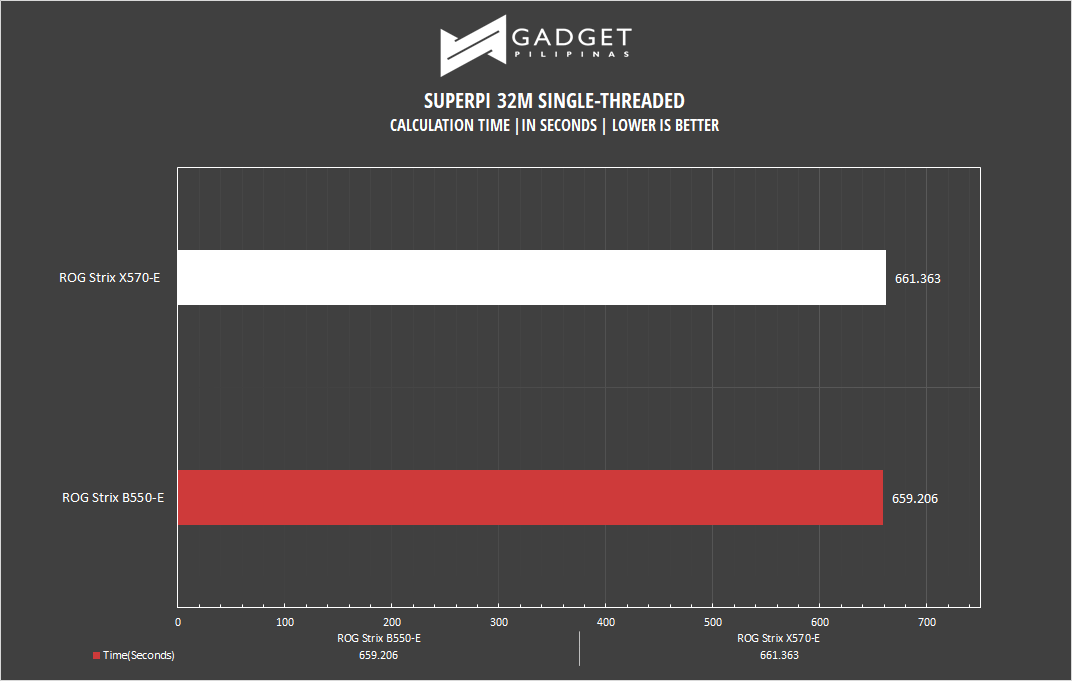 SuperPI is a single-threaded benchmark application that lets the CPU calculate Pi(π) to the nth digit. In this benchmark, we selected the Pi calculation to 32M, the highest available for the app.
wPrime 1024M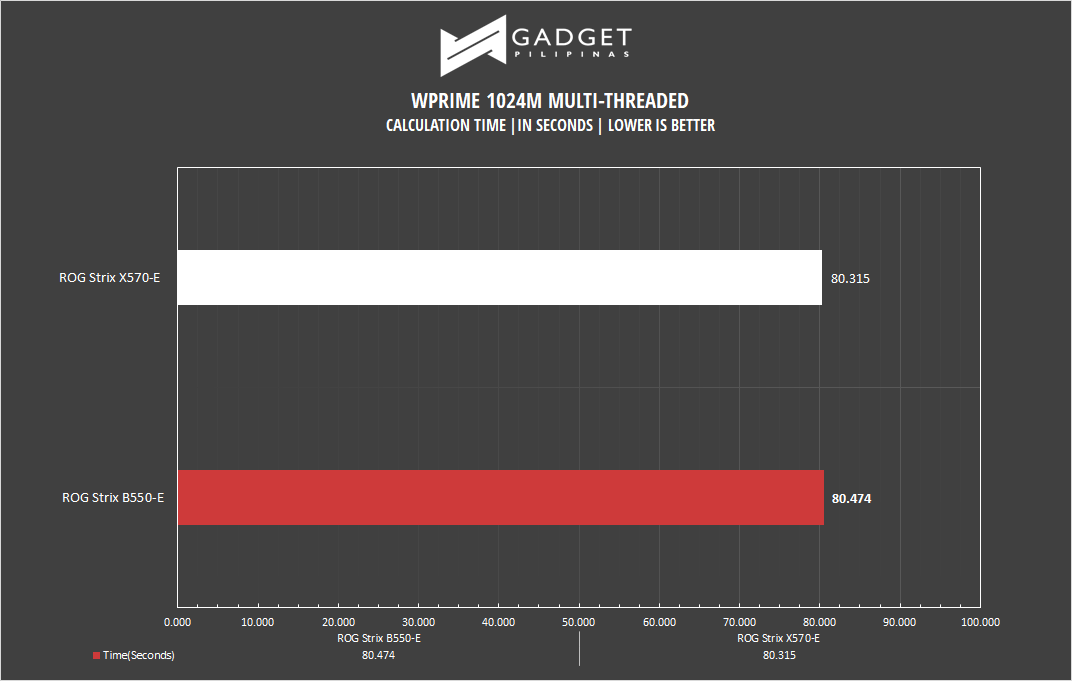 wPrime is a benchmark tool similar to SuperPI, but the former takes on finding prime numbers using Newton's Method. The benchmark is set to calculate 1024M, and measured according to calculation time.
AIDA64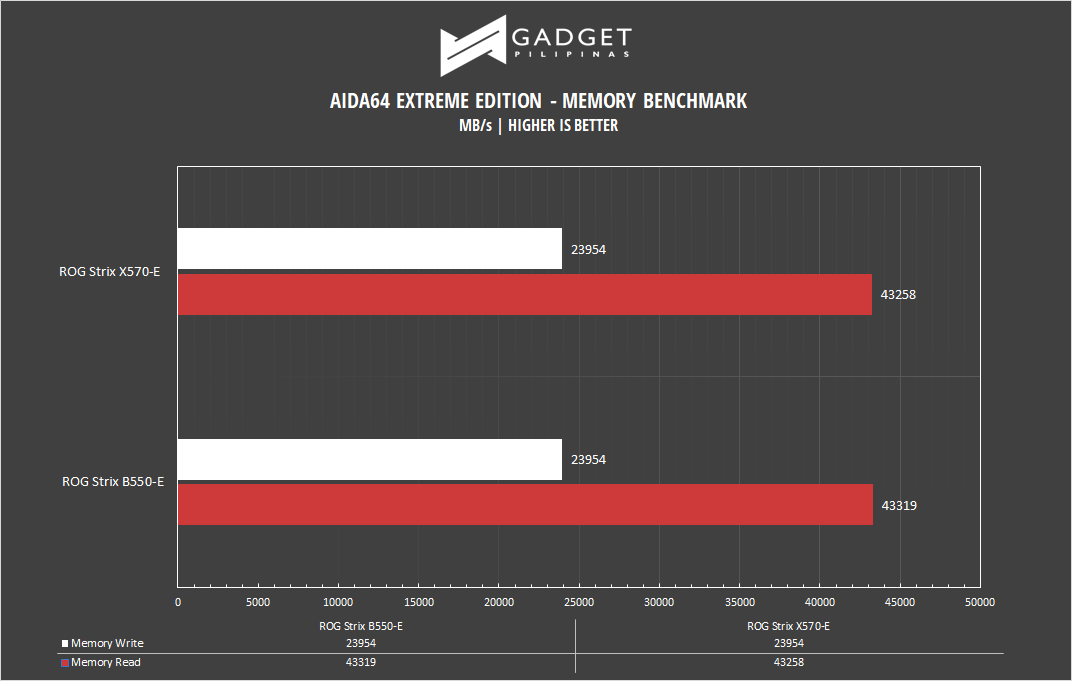 AIDA64 is a very popular and powerful monitoring tool, as well as a benchmarking application. AIDA64 is commonly used to stress test CPUs, especially testing if an overclock is stable. We used AIDA64's Memory Benchmark to measure the data transfer bandwidth of the system memory.
GeekBench 5
Geekbench is a multi-platform benchmark that's used to gauge CPU performance and compare them across Windows, Mac, and Mobile. Geekbench 5 is the latest version and doesn't rely on memory as much compared to the previous Geekbench 4, making it a great tool to measure both single-core and multi-core CPU performance.
CINEBENCH R20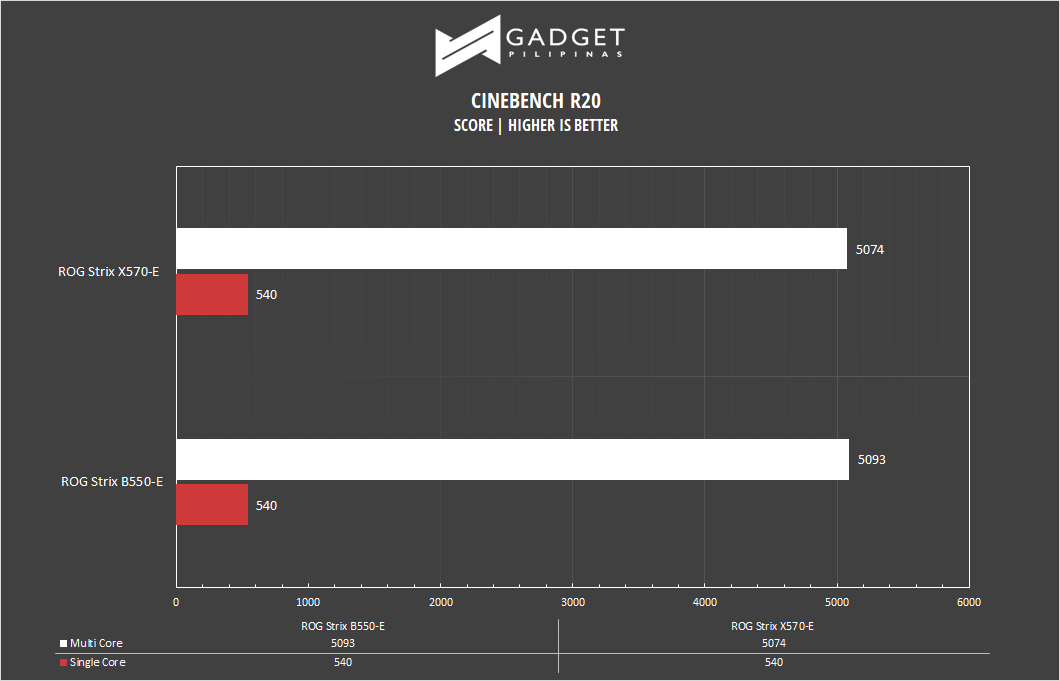 Maxon's Cinebench benchmark is one of the most iconic benchmark applications used by reviewers and enthusiasts. The latest Cinebench R20 uses the latest rendering architectures, including Intel's Embree ray tracing technology and other advanced features from AMD and Intel that allows users to render the same scene on the same hard. Cinebench R20 uses a larger and more complex testing scene than Cinebench R20 by about 8x computational power and requires 4x the memory.
V-RAY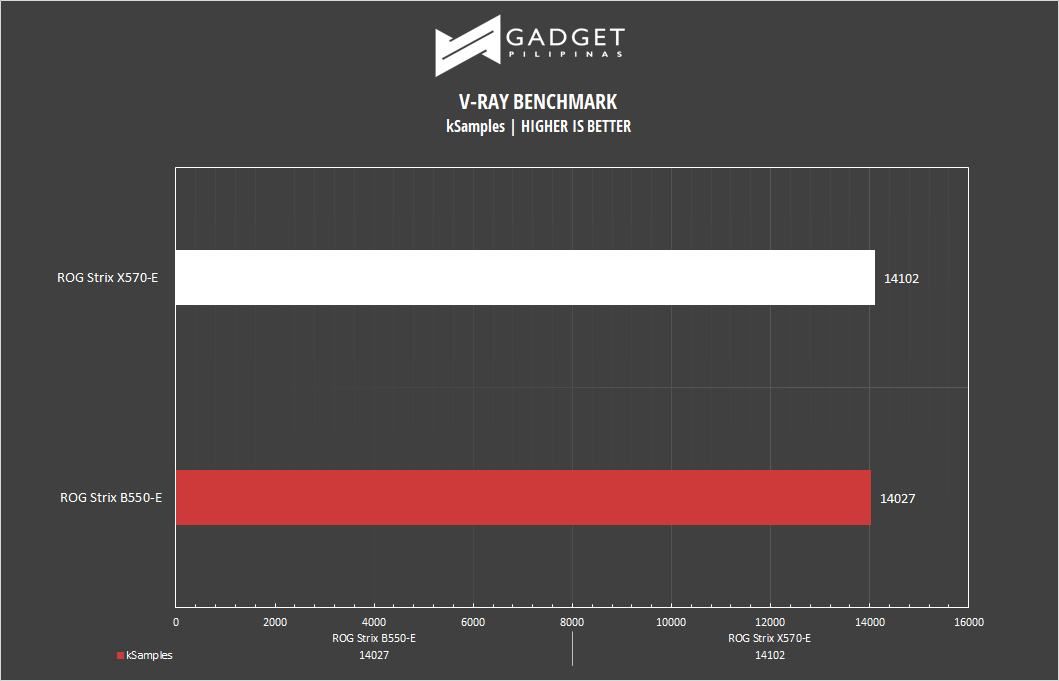 V-Ray Benchmark is a stand-alone version V-Ray developed by Chaos Group. It is designed to test the CPU and GPU by rendering sample scenes at a fixed amount of time. V-Ray is a plug-in mostly utilized by 3D computer graphics software applications mainly for industrial design, product design, architecture, film, and video game production. V-Ray is not limited to 64-threads as it supports multi and mega threading.
HWBOT x265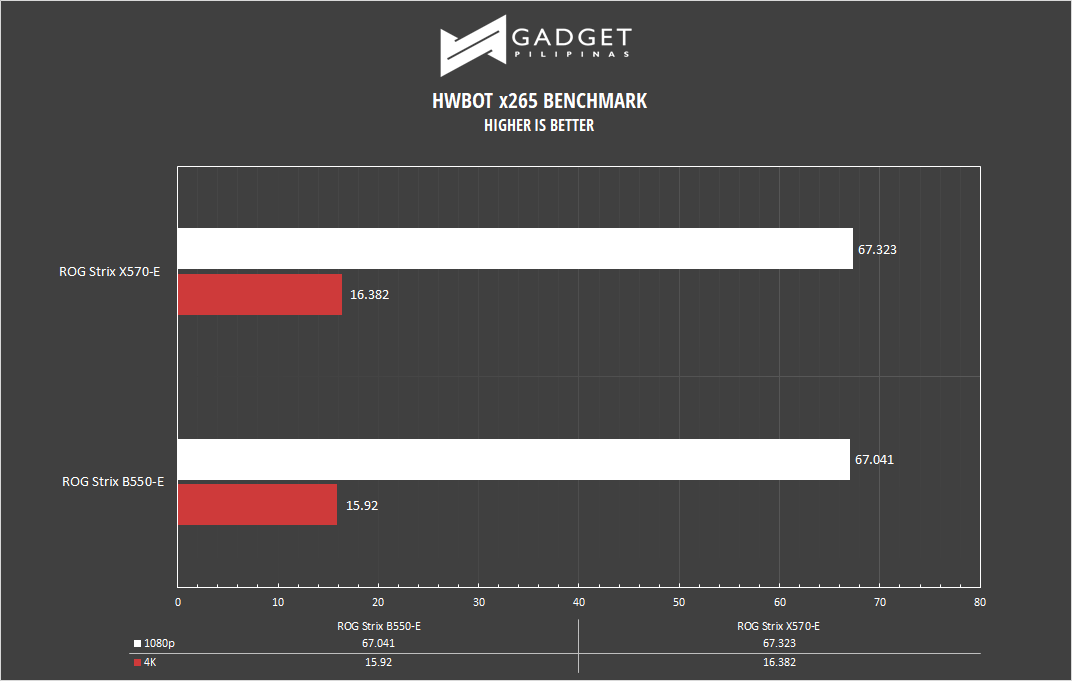 HWBOT x265, developed by Czech overclocker Havli, is a multi-threaded application that takes advantage of modern CPU instruction sets with support for older CPUs.  HWBOT x265 benchmark uses the x265/HEVC encoder that renders a video in 1080p or 4K resolution.
HANDBRAKE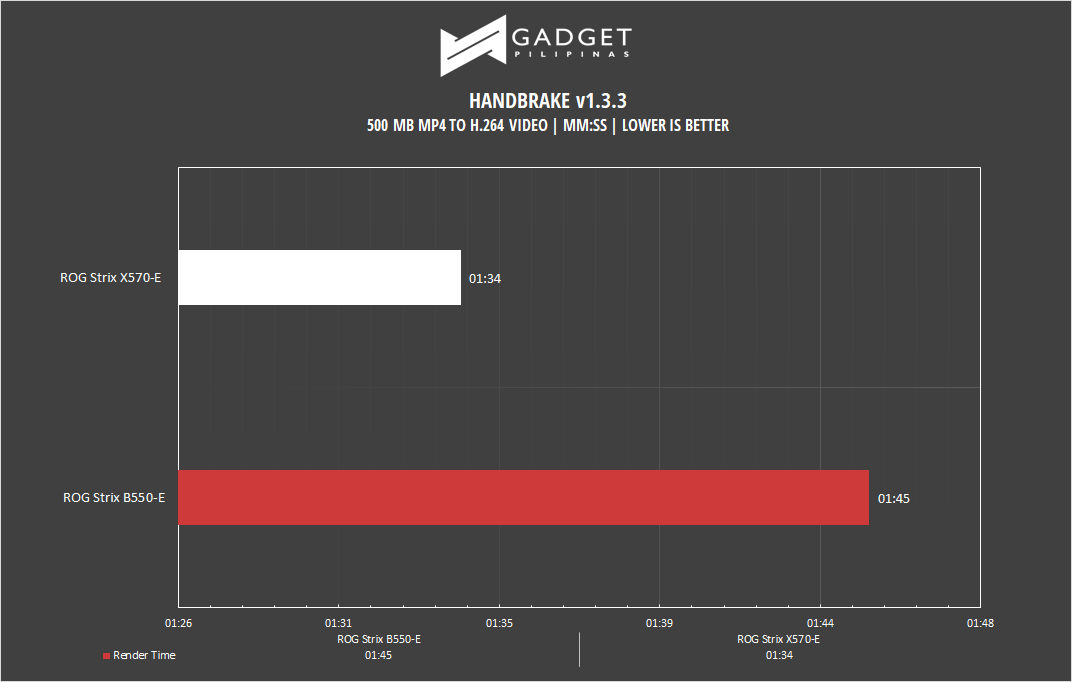 Handbrake is a top-rated open-source video conversion software that is used by professionals, enthusiasts, and even reviewers as a reference point mainly because of its wide variety of media codecs. The rise of streaming and blogging makes video content, both encoding, and transcoding necessary for these people, regardless if they're seasoned professionals or just starting out. Handbrake also takes advantage of AVX-512 and OpenCL to accelerate certain types of media codecs. Our Handbrake benchmark converts a 500MB MP4 video to H.264 to measure the processor's performance.
BLENDER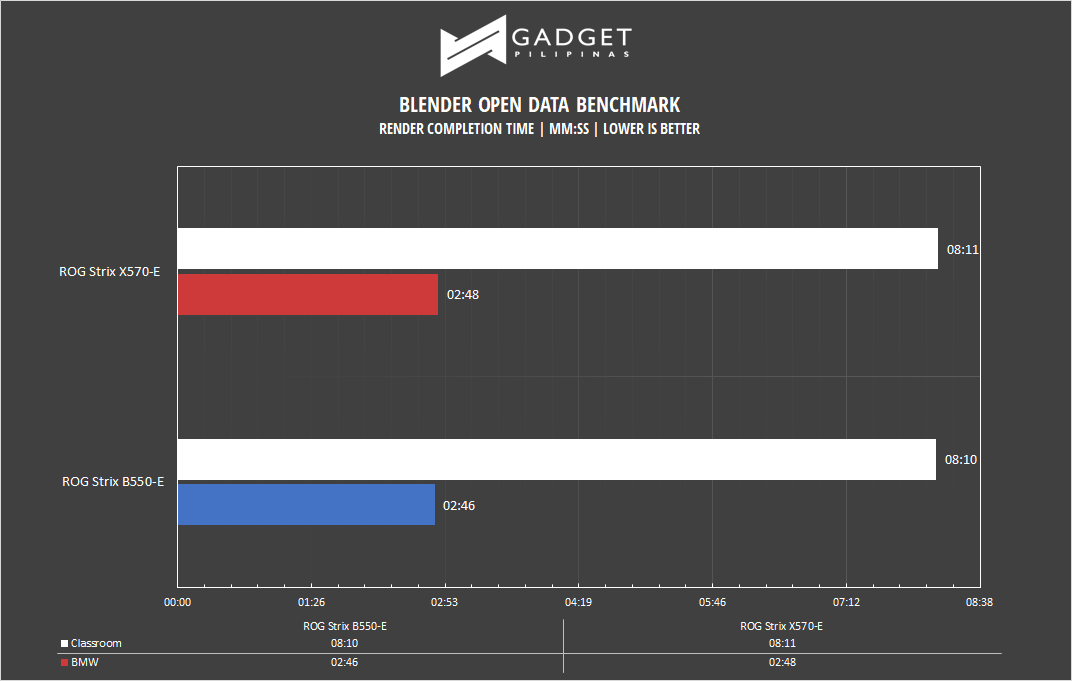 Blender is a widely used, free, opensource 3D creation suite. It supports the whole 3D pipeline process from modeling, rigging, animation, simulation, rendering, and even motion tracking. Blender has become a standard for CPU benchmarks with the BMW27 and Classroom scene most used. This prompted the company to release Blender Open Data Benchmark in 2018, a benchmark-specific version which allows users to run a preset benchmark and share the results online similar to 3D Mark.
CORONA RENDERER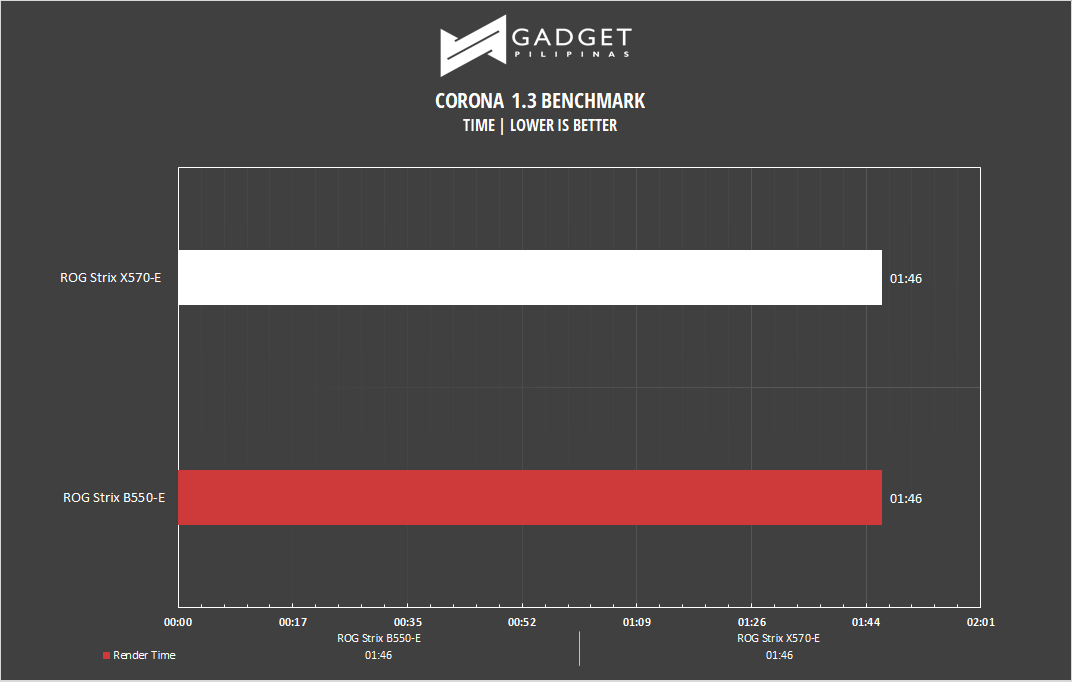 Corona Renderer is an unbiased photorealistic render available for Autodesk 3Ds Max, Maxon Cinema 4D, and as a stand-alone application. Its popularity, similar to Blender, led Chaos Group to develop a benchmark version of the app which runs using Corona Renderer 1.3. Workstation systems, especially CPUs, can utilize Corona Benchmark as up to 72 threads can be used in the benchmark, making it very suitable for CPUs with various price segments.
Gaming Benchmarks
3DMARK
3DMark is the go-to benchmark for gamers because of the ability to share and compare results online. We used Time Spy DX 12 benchmark and Fire Strike DX 11 benchmark to gauge the CPU's performance using different APIs.
DOTA 2
Most gamers play at least one of the following free-to-play titles: League of Legends, CS: GO, Dota 2, and/or Fortnite.  Dota 2 is a good representation of the F2P titles as it is the most demanding game in the spectrum. The benchmark will give you an idea of the laptop's relative performance on other lesser demanding titles. Our benchmark sequence is based on a replay of OG vs. Liquid in the TI9 grand finals from the team fight that happened on 28:30 to 29:30.
Far Cry 5
FarCry 5 is an FPS game published by Ubisoft and uses the Dunia engine. It heavily relies on and takes advantage of DirectX 11 to render a realistic environment that makes it taxing to both the CPU and GPU.
Rainbow Six Siege
Rainbow Six Seige is one of the few popular AAA games that's still popular in 2019 due to its competitive gameplay mechanics. R6S uses the AnvilNext game engine, which is developed by the game's publisher, Ubisoft. As of writing, Rainbow Six Siege is currently the most popular Tom Clancy title beating out Wildlands, Breakpoint and even, Division 2.
Apex Legends
Apex Legends is a character-based Free-to-play battle royale game developed by Respawn Entertainment, the makers of Titanfall and Titanfall 2. It utilizes a modified version of Valve's Source Engine.
Battlefield V
The Battlefield series is an iconic FPS title in our generation matching Halo and Call of Duty. Battlefield V, set in WW1, is the latest installment in the franchise developed by DICE using the popular Frostbite engine. It's also the first game to incorporate DX 12, Ray Tracing, and DLSS making it a great choice in our game bench library.
Assassin's Creed: Odyssey
Assassin's Creed Odyssey is the latest franchise installment from Ubisoft. It's by far the most popular and stable Assassin's Creed title since AC IV: Black Flag. It uses the AnvilNext 2.0 game engine, an updated version of Rainbow Six Siege's game engine, and uses the DirectX 12 API.
Anno 1800
Anno 1800 is one of the most popular RTS games next to seasoned classics such as StarCraft 2, Red Alert, and Civilization V. Anno 1800 uses an improved Anno Engine version previously used by previous titles. It's one of the latest RTS games (as of writing) with impressive graphics, making it a great representation for RTS and City-building games.
Overclocking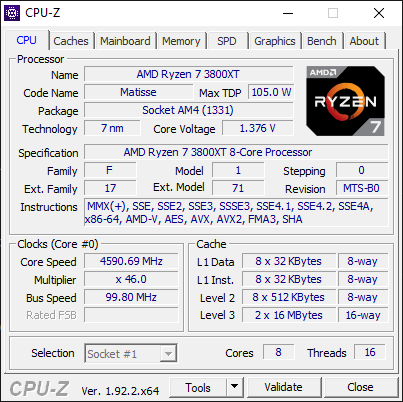 While there are two ways to overclock an AMD Ryzen Processor, we overclocked our AMD Ryzen 7 3800XT via the ROG B550-E's UEFI BIOS. We were able to dial in the same overclock numbers on our ROG X570-E motherboard with the same All-core speed of 4.6Ghz and 1.38125 voltage.
VRM Thermals
The ROG Strix X570-E and ROG Strix B550-E belong to the "-E" tiering of ROG Strix motherboards but the motherboards use different VRMs. Surprisingly enough, the B550-E performs on-par with its bigger brother and frankly, its 14+2 VRM setup can be considered overkill for its chipset class. The ROG Strix B550-E would easily drive Ryzen 9 processors with overclocking headroom to spare.
Conclusion
The ROG Strix B550-E Gaming Motherboard checks all of the boxes, so much at it overlaps to the X570 category in terms of build quality, VRM quality, feature set, and unfortunately, pricing. The ROG Strix B550-E's price tag of Php 16,650 sits just around Php 1,000 below the formidable ROG Strix X570-E motherboard, with better features due to the X570 chipset. Frankly, if it weren't for AMD's outrageous B550 chipset price tag, the ROG Strix B550-E would've easily passed with flying colors on this review. Frankly, I find the number of USB ports lacking especially for a premium ROG motherboard. The ROG Strix B550-E however, compensates by having most of the USB-A slots support USB 3.2 Gen 2 and offers two USB-Type-C ports. Pricing and nitpicks aside, the ROG Strix B550-E's performance and feature set merit all the credit of being one of the best B550 motherboards available in the market.