realme X3 Superzoom review: How is it one month later?
There is quite a number of new devices that are categorically better than the realme X3 Superzoom. However, it is good to note that realme's latest smartphone is neither trying to be what it's not nor imposing itself to be better than other devices. It tries to establish itself to be playing in a different field. It brings forth itself to be a relevant player in the industry with its features.
Since the time I got this unit, I've been trying to maximize it to the best of my ability. I took several pictures and videos, played my favorite mobile games, and streamed movies with my favorite apps. I used it like you people normally wood so I can give my honest consumer feedback.
This device performs and works as advertised. The cameras are really good, which I will get into more details later. Its overall performance for gaming is almost just as good as my ASUS ROG Phone 2. I can also definitely say that its 120Hz IPS display is one of its best assets.
Cameras – the main reason you're getting it!
You're likely swayed to get this device because of its cameras. Who would even pass on a smartphone that has a quad-camera setup with a performance that is at par with other fairly more expensive smartphones?
X3 Superzoom takes really good photos whatever mode you use. It shines more when you use Expert Mode, which gives you more control with your photos. I think this is something realme should try to put on all their smartphones.
You have control over ISO, shutter speed, white balance, auto-focus, and exposure value. You also have the option to use this mode with its 8MP ultrawide lens. Using it, however, disables your ability to shoot photos at RAW. This is understandable because its other lens do not have enough megapixels to provide enough details and produce a RAW photo out of it.
A Missed Opportunity
The camera does not have Expert video mode, which grinds my gears. They have a toggle between AI and Pro with Night mode, but they missed putting the same feature on video mode.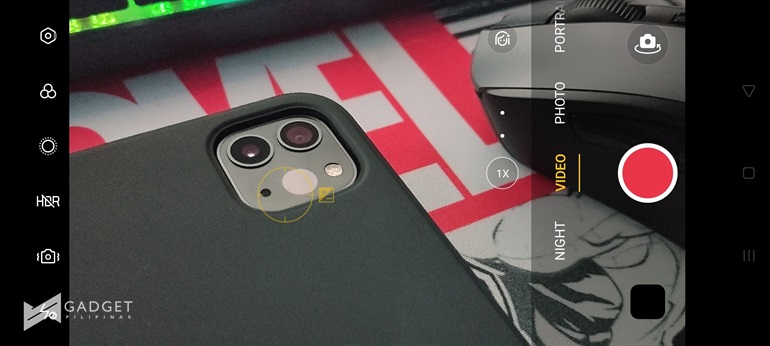 It's an opportunity that realme should have explored because X3 Superzoom has a very capable camera sensor and decent video stabilization. This smartphone could have been easily marketed as a good vlogging camera if it had a native pro video mode. I simply don't want to spend PhP750+ for a third-party app like FiLMiC Pro or Camera FV.
A redeeming factor
I like the feature that you can shoot [email protected] videos with this smartphone. Not only that you can shoot videos with such resolution and frame rate, but you can do it with stabilization mode without cropping. This is a huge deal for videographers, and this easily makes the X3 Superzoom as a primary or secondary camera for content creators.
If you want to watch our discussion of the video and photo cameras of X3 Superzoon, you can check this video that we produced:
A performance that cuts above the rest in its price point
| | | |
| --- | --- | --- |
| | | realme X3 SuperZoom |
| Antutu | | 497,975 |
| 3D Mark (Sling Shot Extreme) | Open GL ES | 5203 |
| | Vulkan | 4744 |
| PC Mark | (Work 2.0) | 11775 |
| Geekbench | Single Core | 788 |
| | Multi-Core | 2463 |
| Androbench | Seq. Read | 530.83 MB/s |
| | Seq. Write | 1465.62 MB/s |
| CPDT Benchmark | Seq. Read | 304.88 MB/s |
| | Seq. Write | 676.85 MB/s |
If we're talking about performance as basis of value, you'll get more than what you pay for the X3 Superzoom. This is coming from someone who reviewed last year's ASUS ROG Phone 2, a smartphone that's made for mobile gaming! The X3 Superzoom is not just made for mobile photographers and videographers but also for gamers and content creators! It isn't heavily advertised as one, but judging from its core specs and performance, it is definitely built to withstand playing triple A mobile game titles.
Based on real-world tests, there are times when the I get better FPS performance on this smartphone than the ROG Phone 2. I'm not saying that it's faster, but given its barebone and almost-Vanilla Android configuration, the system isn't choking up when playing games that aren't heavy on RAM and GPU usage.
I understand why realme did not position this as a gaming smartphone despite having all the features to be one. This is primarily a camera smartphone, and it just so happened that that its core specs is powered by last year's flagship chipset. If you, however, are still looking for a gaming smartphone that definitely a bang for the back, you now have 2 options to consider – a OnePlus 8 or a the slightly cheaer realme X3 Superzoom. There's one advantage on the X3 Superzoom that might get you interested though – 120hz display.
120Hz as a new standard
realme reached the peak of new standard when it comes to a display of an upper tier midrange device. Smartphones at this pricepoint usually have 60hz to 90hz panel. realme X3 Superzoom is the only smartphone in this price category to go beyond 90hz!
120hz is the sweet spot for gamers especially for consumers in the Philippines. There has been a huge rise of prosumers in the country – these are consumers who make use of products they have purchased to earn.
There's a ton of digital opportunities at hand, like game streaming and vlogging, and prosumers have been on the lookout for devices that can give them the features they need without spending for a typical flagship smartphone. This is what makes realme's latest flagship one of the best devices around. Then again, X3 Superzoom isn't the only device that can satisfy consumers. Devices from Xiaomi and Poco are amazing contenders, which can be seen as a good indication of great competition that ultimately benefits buyers.
I believe the only thing that you need to manage is battery life. Its performance is good, honestly, as it clocks around 10 hours with 120hz enabled until its battery drops to 6%. Battery lasts 13 hours with 60hz enabled. The best setup is to enable Auto Select in the screen refresh rate settings and let the AI do its job.
One Month Later
It's one of realme's best offering yet. Like most smartphones, it isn't perfect as it comes with issues that may or may not be easily be remedied. There are minor setbacks like the lack of 3.5mm headphone jack and pro video mode, but are not enough to sway neither myself nor other consumers to consider other devices.