Being a tech reviewer means we have experienced almost every laptop configuration available in the market. Laptop configurations are almost limitless with internal specs, design aesthetic, form factor, and resolution. More often than not, laptops that check more boxes come with a steep price. But that isn't the case with the Lenovo IdeaPad Flex 5. As its name suggests, the "IdeaPad" series is Lenovo's budget-friendly lineup while the "Flex" moniker means it's flexible as an all-rounder device. The Lenovo IdeaPad Flex 5's spec configuration, together with its competitive pricing, is something we never knew we needed up until now… and here are the reasons why:
A display that keeps you focused on productivity
In laptops, the screen is what you mostly spend your time on and it's what usually makes or breaks the overall experience. A good quality screen makes you motivated in doing your work or immersed while watching your favorite TV series, whereas a subpar display makes you want to procrastinate or unable to work unless you have proper lighting conditions to make up for the display's quality. Frankly, a laptop's display is often overlooked but Lenovo batted an eye with the IdeaPad Flex 5's display.
Its four narrow bezels make the laptop near-borderless with a 90% screen-to-body ratio. Moreover, our Spyder X Pro display analysis tool shows a 65% sRGB coverage for the 14" IPS (In-Plane Switching) display which is ideal for light photo and video editing, as well as for entertainment.
A Convertible form factor for any environment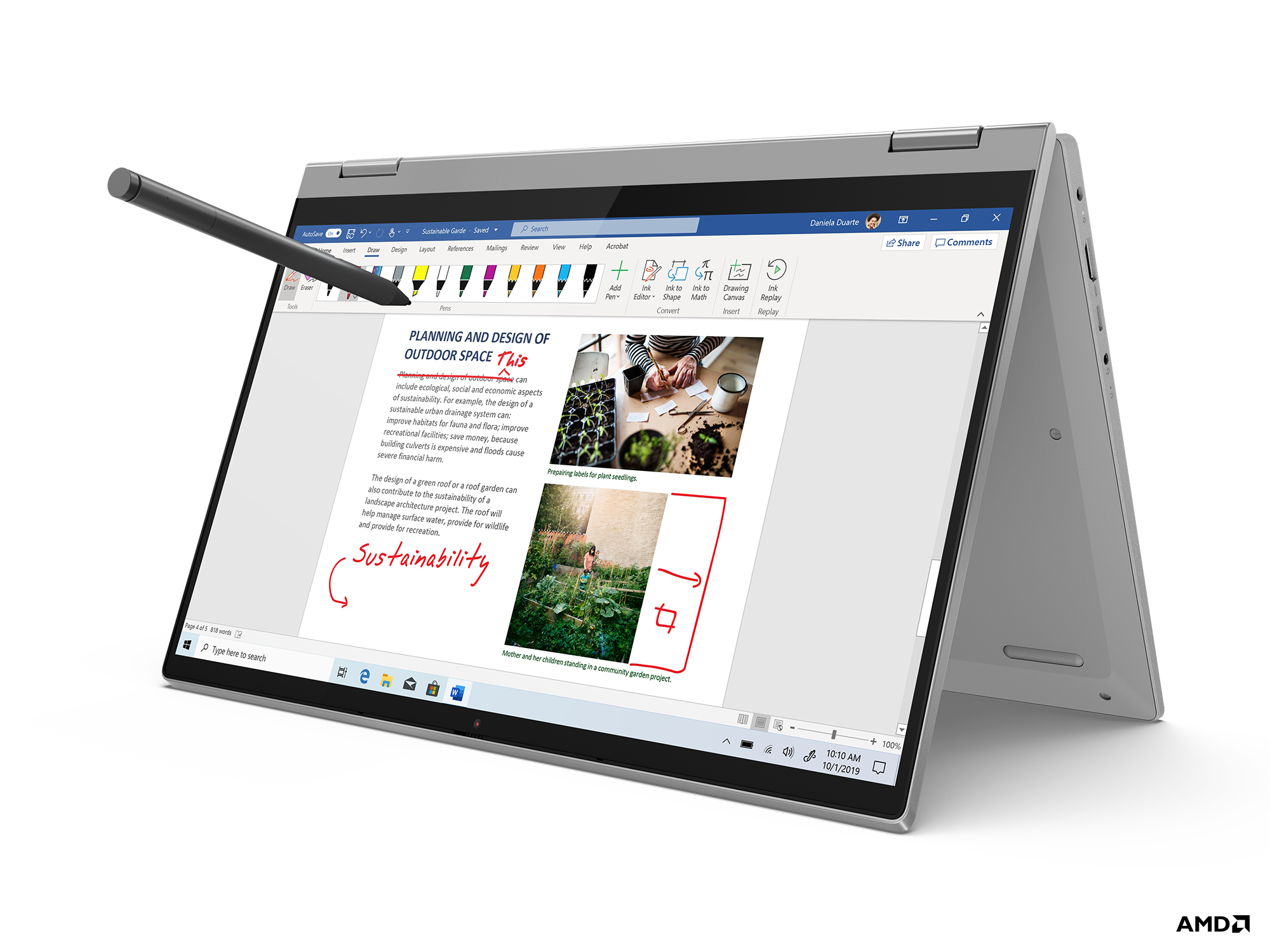 Gone are the days when you need a laptop and a tablet for different use cases and getting a laptop that can be a tablet costs a fortune. Fortunately, there are laptop convertibles such as the IdeaPad Flex 5 and Lenovo's Yoga series that are within reach for general consumers. The IdeaPad Flex 5's 360-degree hinge allows the laptop to adapt to every user's need. There's the laptop mode for everyday and serious computing, tent mode for sharing the screen, tablet mode for creativity, or stand mode for Netflix and Chill.
Moreover, Lenovo went all in for consumers to enjoy the IdeaPad Flex 5 as every unit and configuration comes with the Lenovo Digital Pen – a Php 4,995 freebie which other brands don't offer.
A powerful processor that's not just for everyday computing
Getting the perfect mix of Lenovo IdeaPad Flex 5's overall feature set and performance is made possible thanks to the AMD Ryzen 7 4700U Processor. AMD's latest Ryzen CPU's processing power allows various app multi-tasking, heavy photo and video editing, and some light gaming. The Ryzen 7 4700U is also one of the most power-efficient CPUs that maximizes the IdeaPad Flex 5's battery life with more than 8 hours on our PCMark 10 Modern Office Test. Backing up its extreme battery life is the addition of the Rapid Charge feature for the IdeaPad Flex 5 which allows the laptop to require only one hour of charging.
Which Lenovo IdeaPad Flex 5 is right for you?
The Lenovo IdeaPad Flex 5's configuration is pretty straightforward with only two CPUs to choose from. The Ryzen 5 4500U variant retails for Php 42,995 while the flagship Ryzen 7 4700U goes for Php 49,995. Both IdeaPad Flex 5 models sport an 8GB DDR4 3200Mhz memory and a 512GB PCIe SSD. To make it more affordable, there's also a Ryzen 5 4500U model paired with 4GB RAM and 256GB SSD for only Php 34,995, which is still an attractive offer, especially if you're looking for an online learning laptop. The Ryzen 7 4700U variant is ideal for business professionals, managers, or video editors, while the Ryzen 5 4500U is for those looking for a great entertainment device as well as a great-value laptop-tablet alternative.
The Lenovo IdeaPad Flex 5 is available in platinum grey, graphite grey, and light teal so consumers can choose the design that best fits their style.
Lenovo packages the IdeaPad Flex 5 with three years of Premium Care warranty regardless of configuration. This service brings in several perks to make sure your device keeps running smoothly for longer, including comprehensive software and hardware support, a 24×7 direct hotline to Lenovo technicians, and if needed, On-site premises repair on the next business day. Additionally, the 8GB/512GB models of the IdeaPad Flex 5 come with a pre-installed Microsoft Office Home & Student Lifetime License worth Php 6,995 – an almost too-good-to-be-true offer. These two add-ons combined with the aforementioned top-notch features make the IdeaPad Flex 5 one of Lenovo's most innovative products bringing you access to better opportunities and greater connectivity, and allowing you to transcend limitations. This is crucial at this time when technology has proven to be able to keep the world going even amid a global crisis.
A laptop this great usually sells out quickly. Check the authorized retailers for stock availability: https://lenovoph.com/authorizedresellers
Grant is a Financial Management graduate from UST. His passion for gadgets and tech crossed him over in the industry where he could apply his knowledge as an enthusiast and in-depth analytic skills as a Finance Major. His passion allows him to earn at the same time help Gadget Pilipinas' readers in making smart, value-based decisions and purchases with his reviews and guides.