Yes! I purposively titled this "A better choice" as a throwback to Emman's review of the slightly inferior, yet capable, Redmi Note 9. This isn't a comparison though, but a drilldown of how this midrange device still remains to be a competitive device 2 months after it's official release.
Redmi Note 9S Specifications
| | |
| --- | --- |
| Display | 6.67″ FHD+, Gorilla Glass 5 |
| Processor | Qualcomm SM7125 Snapdragon 720G |
| RAM | 4GB |
| Storage | 128GB |
| Rear Cameras | 48MP Main |
| | 8MP Ultra-Wide |
| | 5MP Macro |
| | 2MP Depth |
| Front Camera | 16MP |
| OS | Android 10 + MIUI 11.0.10 |
| Battery | 5,020mAh, 18W fast-charging |
| Colors | Aurora Blue |
| | Glacier White |
| | Interstellar Gray |
| SRP | PhP11,990 |
| | |
Design and Build Quality
One of the reasons why consumers will easily get drawn to the Redmi Note 9s is its overall design. What I got is the Aurora Blue variant at it looks stunning from every angle. There aren't any fancy color changes when light shines upon its back panel yet it maintains to be one of its attractive features.

I particularly love the fact that Xiaomi place all the buttons on the right side, including the sleep and wake button that doubles as a fingerprint sensor. I still find the in-display fingerprint sensor quite finicky, and I prefer side-mounted sensors more.
The Gorilla Glass 5 protected panel is slippery and not as smudge magnet as other smartphones with almost the same material. Yes, I said that it's my only grip in my first impressions but having used other smartphones with almost the same build, I can say that the case is negligible on Redmi Note 9s. Also Camera bump is 2.5mm, which is among the thickest in the lot.

It has 6.67″ FHD+ IPS display, which shows acceptable color accuracy and sharpness. At default, the display is compatible with HDR10. I managed to watch HDR contents on YouTube with this smartphone but the quality is not at par with the quality I get with another smartphone with the same display specs. HDR on Redmi Note 9S is a little dull and shows weird artifacting.
It uses USB Type C, and works with USB OTG features like reading/writing to USB drives and using peripherals.
Performance
We installed a few benchmarking tools on this smartphone to check how it really performs during my first impressions. It delivered really good numbners, which gives you an idea of how this performs in real life.
| | | |
| --- | --- | --- |
| Antutu | | 275,848 |
| 3D Mark (Sling Shot Extreme) | Open GL ES | 2,455 (Open GL ES) |
| PC Mark  | (Work 2.0) | 7,847 |
| Geekbench | Single Core | 566 |
I did another round of benchmark after the new MIUI 10 update and this is what I got. There was a slight bump in terms of performance, which may not actually be noticeable in real world scenario. However, one thing is for cetain – this device performs better than other more expensive midrange smartphone brands.
| | | |
| --- | --- | --- |
| Antutu | | 276,033 |
| 3D Mark (Sling Shot Extreme) | Open GL ES | 2,492 (Open GL ES) |
| | Vulkan | 2,296 (Vulkan) |
| PC Mark  | (Work 2.0) | 7,875 |
| Geekbench | Single Core | 567 |
| | Multi-Core | 1,683 |
| Androbench | Seq. Read | 484.7  MB/s |
| | Seq. Write | 209.7  MB/s |
| CPDT Benchmark | Seq. Read | 474.02  GB/s |
| | Seq. Write | 164.52  MB/s |
Actual gameplay benchmarks show that this device performs consistent to the artificial benchmark.
Redmi Note 9S
Black Desert Mobile
CODM: Battle Royale
PUBGM
Avg(FPS)
44.49
37.9
29.81
FPS>=18[%]
100
100
99.7
FPS>=25[%]
100
99.1
99.7
Var(FPS)
1.43
9.78
0.79
Drop(FPS)[/h]
0
40.3
9.6
Jank(/10min)
0
16.1
4.8
BigJank(/10min)
0
9.4
0
FTime>=100[%]
0
0.1
0
Delta(FTime)>100ms[/h]
0
88.6
9.6
Avg(Memory)[MB]
1081.84
1393.47
1144.66
Peak(Memory)[MB]
1111
1445
1164
Peak(Memory+Swap)[MB]
1120
1456
1173
Avg(AppCPU)[%]
11.7
19.9
12.4
AppCPU<=60%[%]
100
100
100
AppCPU<=80%[%]
100
100
100
Avg(AppCPU)[%]
Normalized
9.8
17.8
11.1
AppCPU<=60%[%]
Normalized
100
100
100
AppCPU<=80%[%]
Normalized
100
100
100
(Recv+Send)[KB/s]
7.17
9.99
3.91
(Recv+Send)[KB/10min]
4303.97
5993.94
2345
Camera Performance
Samsung sensors are the ones responsible in the quality of photos we took with this device. Based on our assessment, the quality of photos is pretty acceptable based on our standards.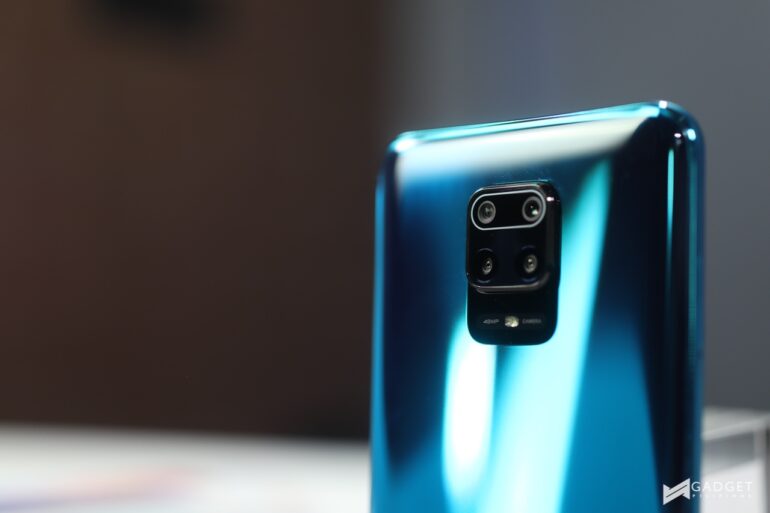 Portait feature using rear camera works really good, but the photos I took using the front camera are quite washed out.
If you want to break away from auto mode, Redmi Note 9S' Pro Camera mode has a lot to offer. You can basically manually adjust everything, and you can switch from macro, ultra wide and wide lens. Video has pro mode too!
Software
MIUI 10 is one of Redmi Note 9s' greatest strengths. This is coming from someone who's used to various softwares that run on both Android and iOS. Among all the softwares I've used, Samsung's One UI, OnePlus' Oxygen OS, Xiaomi's MIUI and iOS are definitely at the top of my standards.

MIUI 10 is not just clean and aesthetically pleasing, but it's useful. Yes, there are a couple of third party softwares available but I've proven the apps to be essential to enhance to quality of life of users. ShareMe, Mover, Mi Remote (yes it has IR blaster), etc are apps that I confirmed to be considered outsite the usual software package of Google but are definitely considered to be helpful for users by my standards.
Battery
Redmi Note 9s has a massive 5025mAh battery. The performance isn't something expected as it managed to stay up and running with 36% battery juice left after 18 hours of benchmarking and using it heavily as main driver in a single day. I know this isn't the most ideal setup, but from a reviewer's perspective, this is definitely laudable.
I believe that if a consumer uses this as main driver with the usual usage pattern, it should stay up and running in – more or less – 30 hours. Charging time is quick too as this one supports quick charging from zero to full charge in less than 2 hours.
Verdict
This variant sold out very quickly in the Philippines. Xiaomi has been restocking this since the demand has been very high. While the device isn't perfect (wonky HDR implementation and slightly smudge-magnet), but it has all the ingredients that make a good midrange smartphone. It isn't a flagship killer either as it's performance is about half of high midrange devices around, but both our artificial and actual gaming benchmarks are impressive, to say the least.