Is Nova 7 the next 5G Flagship Killer?
Huawei has been pumped and eager to introduce 5G in the local market. The introduction of nova 7 5G last June 2020 was received well, and has set a new standard in the smartphone industry – 5G technology is not exclusive to flagship devices.
While nova 7 SE has impressive specs, it is not exactly built for those who are looking for a smartphone that has the flagship-level power and 5G technology at midrange price. This is where nova 7 comes in, and I am here to present nerdy but important benchmark data that will hopefully help buyers have an informed choice prior to buying it. If you have already bought this, share your thoughts in the comments section of this post.
Before we get into the details, allow me to show you the full specifications of nova 7 5G,
 

Kirin 985
 

8-Cores

1-Core

2.58 GHz

  Cortex-A76

2-Core

3-Core

2.40 GHz

  Cortex-A76

4-Core

1.84 GHz

  Cortex-A55

6-Core
How it differentiates itself in the series
Kirin 985 has a higher clock rate compared to other chipsets, which gives Nova 7 more raw processing power in the lot. It should, theoretically, perform better in terms of actual and artificial benchmark. Since it also has 4-cores that operates at 1.84Ghz, we can expect it to be power efficient as well.
In terms of GPU, Nova 7 is also definitely better and more capable. It should be able to provide premium high fidelity graphics on games without a lot of sacrifice on battery performance.
The camera is definitely better compared to Nova 7i. It bears almost the same camera specs compared to Nova 7 SE with a slight bump of having 8MP Telephoto lens but with the absence of lens dedicated for bokeh. I think it's a good trade off, but I'd love to see how it actually differs when it comes to portrait shots. I didn't get the chance to review the nova 7 SE so I don't have any way of really comparing the photos.
Another thing that needs to be addressed is the difference in terms of internal storage on the nova 7 5G. This one has an internal storage of 256GB compared to the 128GB on the Nova 7i and Nova 7SE.
There is a lack of expandability, but it's better in terms of storage speed because this one has UFS 3.0, which is the new standard for new flagship devices.
While this is not the case, the benefits you get from the 3 variants are diverse and perfect per each target market or segment. If you're into all performance and 5G, go for the Huawei nova 7. If you want to experience the features of having 5G technology without sacrifice in power, Huawei nova 7SE 5G is for you. If you have limited budget but you wish to upgrade to a smartphone with tested performance for gaming, Huawei nova 7i is the way to go.
Nova 7 is ready for the future
Just like other brands with products that carry various iterations of technology, the innovations we see in nova 7 were carried over from both Huawei Mate 30 Pro and Huawei P40 Pro. While it uses a different chipset, the innovation footprint it has emanated from flagship smartphones of Huawei, including 5G. This is all thanks to the new chipset with integrated 5G modem, the Kirin 985. This is technically Huawei's 3rd chipset with 5G modem.
Downloading apps has been easier too on the new Huawei devices, thanks to apps like AppGo and Huawei Petal Search Widget. The Huawei P40 Pro+ is running on Android with HMS as its core operating system mobile service.
The Google PlayStore alternative on this smartphone is Huawei AppGallery, and what Huawei did is to make the Petal Search Widget fully compatible with it. While it provides app recommendations, it is pretty packed with more features like daily weather forecasts, top news, live sports scores and schedules, and a lot more!
Huawei Petal Search Widget is still a standalone app where you search for anything you wish. Whether you're searching for a specific app or a keyword, it will provide you the results that you need. Keyword search is powered by Microsoft's Bing, which is an equally powerful searching engine, to say the least. You can check more about Huawei Petal Search Widget in our previous blog.
Our Benchmark Methodology
Similar to our latest smartphone benchmark methodology, I will be showing 2 sets of our benchmarks: artificial and gameplay. For artificial benchmarks, we'll be using several applications that will measure its processor, GPU and read/write drive speeds. For actual gaming benchmark, I'll present 4 gameplay benchmarks of the following games: Mobile Legends Bang Bang, PUBG Mobile, Marvel Civil War and Black Desert.
Artificial Benchmark
| | | |
| --- | --- | --- |
| | | Huawei nova 7 |
| | | Performance Mode On |
| Antutu | | 404,445 |
| 3D Mark (Sling Shot Extreme) | Open GL ES | 5,110 |
|   | Vulkan | 4,875 |
| PC Mark  | (Work 2.0) | 9,934 |
| Geekbench | Single Core | 685 |
|   | Multi-Core | 2,492 |
| Androbench | Seq. Read | 778.43 MB/s |
|   | Seq. Write | 381.09 MB/s |
| CPDT Benchmark | Seq. Read | 465.45 MB/s |
| | Seq. Write | 329.19 MB/s |
Gameplay Benchmark
nova 7
Black Desert Mobile
Marvel Super War
PUBGM
Mobile Legends BB
Avg(FPS)
45.59
60.89
39.91
61.44
FPS>=18[%]
100
100
100
100
FPS>=25[%]
100
100
100
100
Var(FPS)
0.28
1.66
0.24
0.74
Drop(FPS)[/h]
0
8.4
0
0
Jank(/10min)
0
2.8
0.7
0
BigJank(/10min)
0
2.8
0.7
0
FTime>=100[%]
0
0
0
0
Delta(FTime)>100ms[/h]
0
16.7
4
0
Avg(Memory)[MB]
1139.32
1226.07
975.19
47
Peak(Memory)[MB]
1203
1340
1080
47
Peak(Memory+Swap)[MB]
1261
1352
1088
61
Avg(AppCPU)[%]
12.9
18.9
19.2
0
AppCPU<=60%[%]
100
100
100
100
AppCPU<=80%[%]
100
100
100
100
Avg(AppCPU)[%]

Normalized

7.1
10.1
13.3
0
AppCPU<=60%[%]

Normalized

100
100
100
100
AppCPU<=80%[%]

Normalized

100
100
100
100
(Recv+Send)[KB/s]
7.92
10.76
4.93
8.33
(Recv+Send)[KB/10min]
4752.03
6455.99
2959.75
4996.87

Black Desert Mobile
Black Desert Mobile performs really stable with an average FPS of 45.59. While it didn't reach the peak FPS despite its chunky specs, it definitely performed better than I expected. We usually get below 40fps when I play this game on medium to high midrange devices. Being the most graphics intensive in the games we played on nova 7, breaking the 45fps average FPS barrier is already an achievement.
Marvel Super War
Marvel Super War is one of the good looking MOBAs right now. With maximum settings enabled, including high frame rate mode, this game ran very smoothly on the Huawei nova 7. After a full round, it managed to get a consistent frametime and with an outstanding average FPS of 60.
Apart from graphics and frame rate, ping is really good too at an average of 42ms. I did not also notice any abnormal network spikes while playing the game. I have to take note though that because of this setting, hardware temperature went up to 50-degrees celsius.
PUBG Mobile
If you play battle royale games, you're basically dumped in an island made of pixels and 3D elements that require both processing and GPU power. Kirin 985 managed to handle this very well with almost zero janks and issues.
PUBG Mobile's Ultra Frame Rate Mode, however, only managed to reach a peak FPS of 40 without using any GFX Tool. I purposely did not install GFX Tool to not compromise the result of the benchmark and to not have any issues when playing PUBG. While it definitely enables some missing features (like going beyond the 40fps lock), it will greatly increase hardware temps, which can result in gameplay issues and weird benchmark data.
Mobile Legends Bang Bang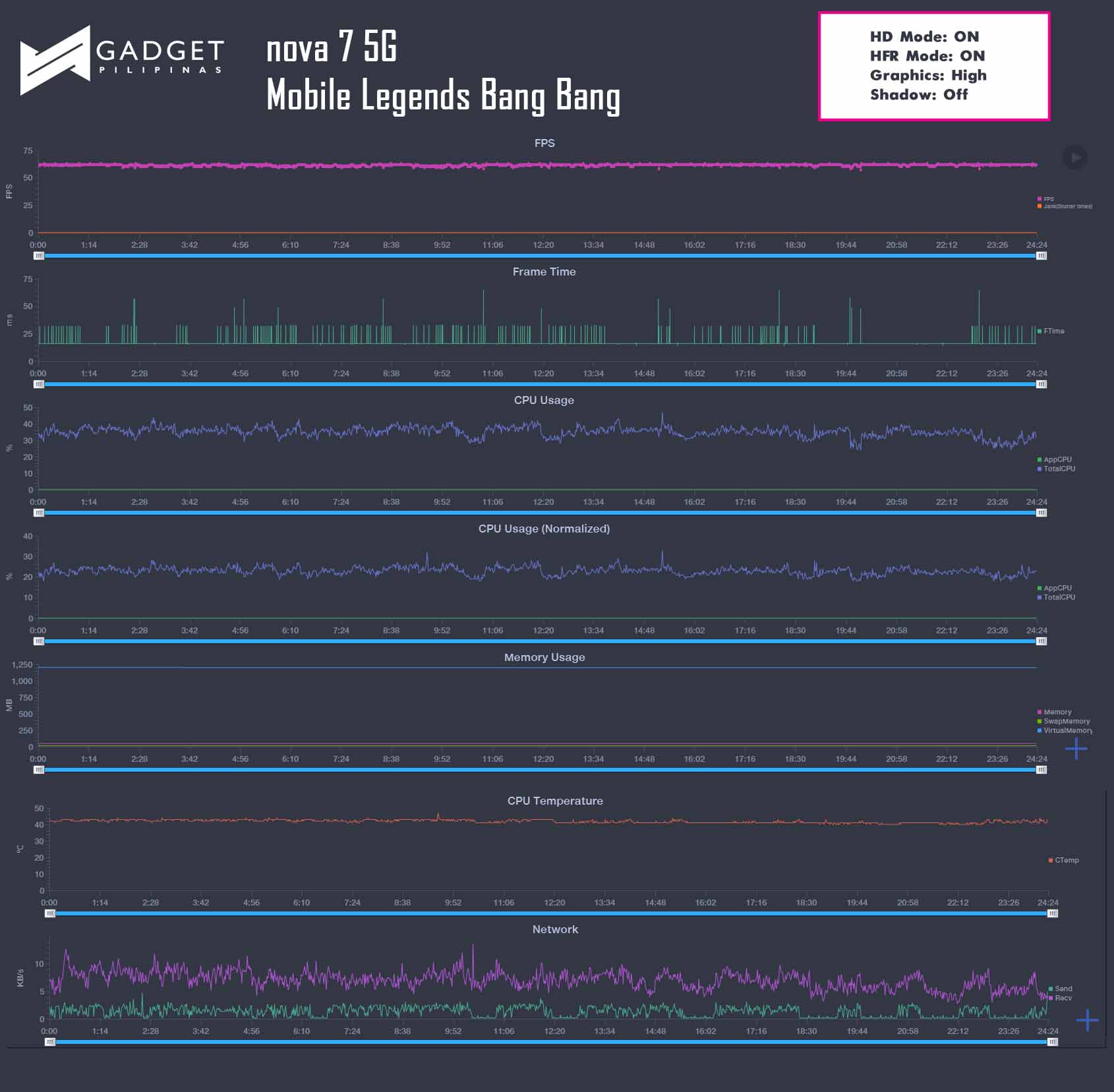 Mobile Legends Bang Bang is probably one of the reasons why people are buying gaming smartphones. However, in today's trend of streaming mobile games, one must also take into consideration how well the game still performs while streaming the game. If you're into this, be sure to take a look at the CPU and Memory load on top of FPS performance.
FPS and frame time are consistent when playing MBLL on nova 7 with HD and HFR modes enabled. The game consumes an average of 26% of CPU and 29MB of RAM. This is higher than usual because of the extra modes enabled to enhance the game's graphics and performance. Fortunately, nova 7 has the specs more than enough to have room for other concurrent running applications. So, if you're planning to play and stream the game using 3rd party applications, this device will not disappoint you. And yes, I managed to install Mobile Legends and use my account on this device very easily.
Winner in Price?
Priced at PhP23,990, nova 7's gaming performance is very close to flagship level. There are brands that mark their products as "flagship killers", but it'll take a full sweep of tests to really prove such assertions. So far, based on our test, nova 7 managed to outperform other "flagship killers', but its performance is not yet enough to exceed what most flagship devices in the market can do. However, this is, by far, among the affordable yet powerful 5G smartphones available in the marketing right now. I don't see any reason why you should not consider it to be part of your buying options.