Introduction – Intel's 14nm Journey
Intel's 10th generation processors still sport a 14nm++++ process which has been around since Intel 6th gen Skylake. This time around, Intel launched a variety of SKUs for its Core series starting from $122 with the i3-10100, i7 10700k at $374, to the flagship i9-10900k at $488. Additionally, all CPUs under the core series now have hyperthreading regardless of pricing and tiering. There are seventeen SKUs available at launch, with most models having an "F" version. The letter F next to the processor number means that that particular CPU doesn't have the built-in integrated graphics. These processors are $15 cheaper on average compared to their non-F counterparts, K-series, or overclockable chipsets included. Previously, only i7 processors had hyperthreading, but the competition brought upon by AMD's Ryzen processor forced Intel to give more value for its processors.
Intel 10th Gen Comet Lake-S Overview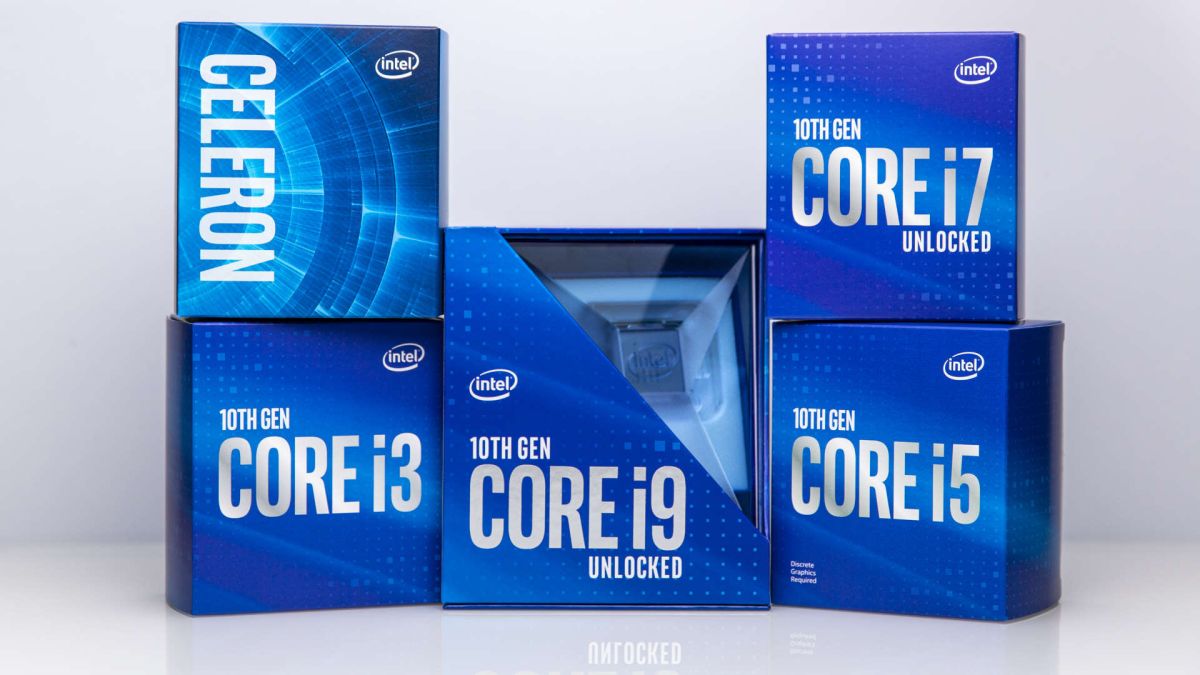 Intel has aggressively beefed up its line up by adding more cores and effectively enabling hyperthreading across its product stacks. Core i3 CPUs run now have 4-cores/8-threads but are not overclockable. The i5 processors' sport a 6-core/12-thread setup with two K-SKUs ready for overclocking, one of which has no integrated graphics. All Core i7 SKUs are multi-threaded octa-core CPUs while the flagship Intel Core i9 Series has a 10-core/20-thread setup. The additional core count offered by AMD reflects AMD's aggressive multicore approach, which has been team red's highlight even before Ryzen. Intel's 10th-gen 10-core i9 CPUs still lags behind in the mainstream line as AMD offers a twelve and sixteen core processor. However, the other SKUs match the competitors offering in terms of core count, particularly those below the $350 mark.
Intel 10th Generation Processors Spec Sheet
SKU
Cores / Threads
Base Clock
Turbo Boost 2.0
Turbo Boost Max 3.0
All Core Turbo
Thermal Velocity Boost/All Core
TDP
SRP
(USD)
i9-10900K
10C/20T
3.7 GHz
5.1 GHz
5.2 GHz
4.8 GHz
5.3/4.9 GHz
125W
$488
i9-10900KF
10C/20T
3.7 GHz
5.1 GHz
5.2 GHz
4.8 GHz
5.3/4.9 GHz
125W
$472
i9-10900
10C/20T
2.8 GHz
5.0 GHz
5.1 GHz
4.5 GHz
5.2/4.6 GHz
65W
$439
i9-10900F
10C/20T
2.8 GHz
5.0 GHz
5.1 GHz
4.5 GHz
5.2/4.6 GHz
65W
$422
i7-10700K
8C/16T
3.8 GHz
5.0 GHz
5.1 GHz
4.7 GHz
125W
$374
i7-10700KF
8C/16T
3.8 GHz
5.0 GHz
5.1 GHz
4.7 GHz
125W
$349
i7-10700
8C/16T
2.9 GHz
4.7 GHz
4.8 GHz
4.6 GHz
65W
$323
i7-10700F
8C/16T
2.9 GHz
4.7 GHz
4.8 GHz
4.6 GHz
65W
$298
i5-10600K
6C/12T
4.1 GHz
4.8 GHz
4.5 GHz
125W
$262
i5-10600KF
6C/12T
4.1 GHz
4.8 GHz
4.5 GHz
125W
$237
i5-10600
6C/12T
3.3 GHz
4.8 GHz
4.4 GHz
65W
$213
i5-10500
6C/12T
3.1 GHz
4.5 GHz
4.2 GHz
65W
$192
i5-10400
6C/12T
2.9 GHz
4.3 GHz
4.0 GHz
65W
$182
i5-10400F
6C/12T
2.9 GHz
4.3 GHz
4.0 GHz
65W
$157
i3-10320
4C/8T
3.8 GHz
4.6 GHz
4.4 GHz
65W
$154
i3-10300
4C/8T
3.7 GHz
4.4 GHz
4.2 GHz
65W
$143
i3-10100
4C/8T
3.6 GHz
4.3 GHz
4.1 GHz
65W
$122
The spec sheet shows Intel's Turbo Boost Max 3.0 technology as well as Thermal Velocity Boost, which are the highlights of Intel's 10th generation Comet Lake processors. Turbo Boost Max 3.0 is present for a long time but was mostly found on HEDT processors that required driver and software downloads to enable it. Turbo Boost Max 3.0 selects the two fastest cores of a processor and assigns single or multi-threaded workloads to them. Depending on the processor, Turbo Boost Max 3.0 is faster than Thermal Velocity Boost.
Thermal Velocity Boost was first introduced in Intel Coffee Lake H mobile processors and is now carried over to Intel's 10th gen desktop line, albeit as an exclusive feature of the 10th-gen Core i9 series. Thermal Velocity Boost is a similar and simpler feature of Nvidia's GPU boost and AMD's Precision Boost 2. Simpler meaning that it doesn't have a smart scaling that depends on silicon lottery. TVB enables a processor to achieve a higher boost clock than Max Turbo Boost for a short period, or so long as the processor's temperature doesn't go over 70° celsius. That is if the processor is within Power Limit 2 and under TAU. TAU is Intel's timing variable, which tells a processor how long it should be on PL2 mode before dropping to PL1.
Intel Core i7 10700k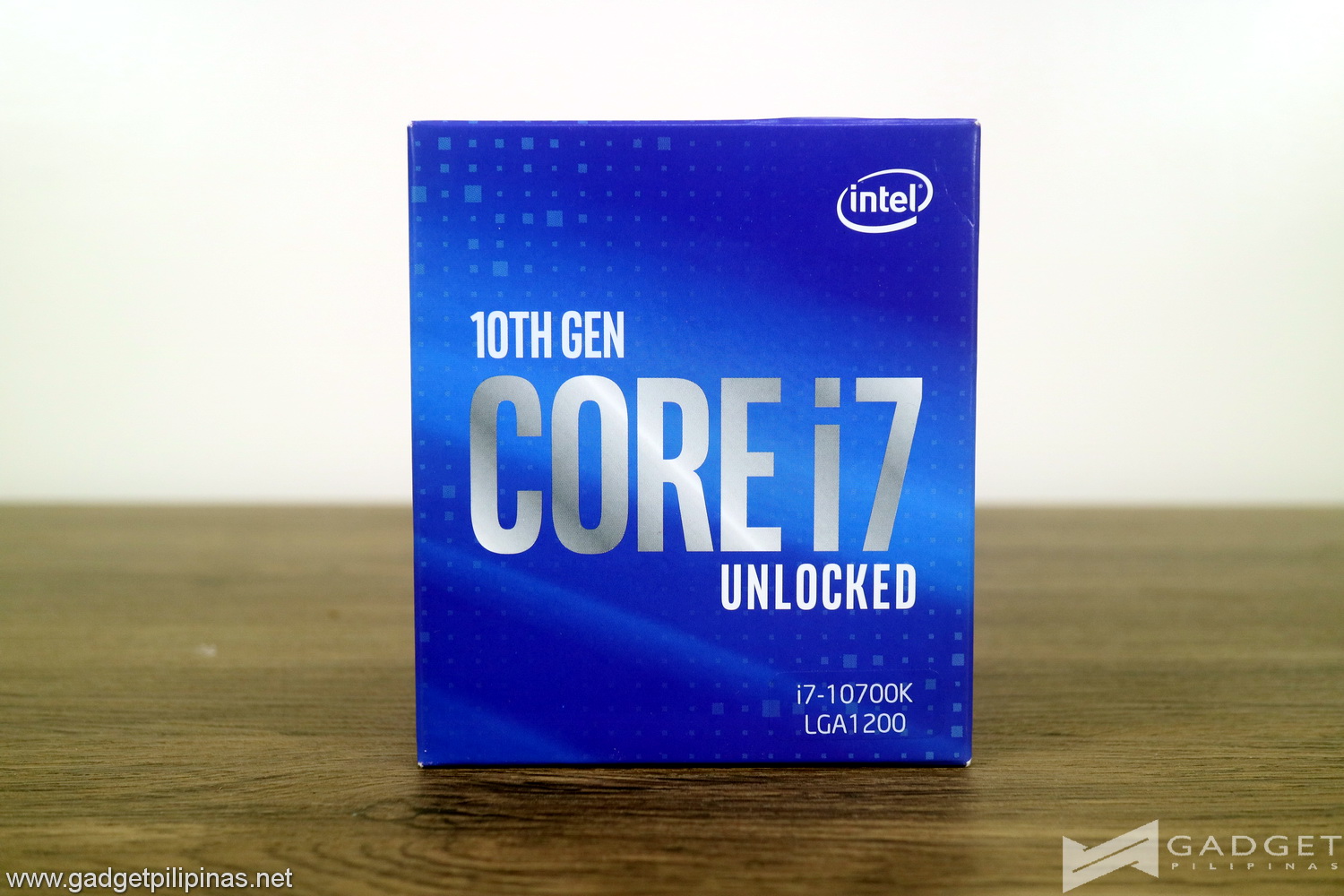 Among the 10th gen processors, the Intel Core i7 10700k has the most difficult product positioning as it is squeezed by three Ryzen 7 processors. The i7 10700k is priced with an SRP of Php 22,000 with an 8c/16t configuration, Php 3,500 more expensive than the Ryzen 7 3700X at Php 18,500 with the core-thread configuration. Moreover, Intel's i7 10700k competes directly with the higher end Ryzen 7 3800X at the same price. Its next competitor is the newly AMD's 3000 series refresh represented by the Ryzen 7 3800XT priced at Php 23,185, roughly Php 1,000 more for a 200Mhz boost over the 3800X.
Is the Php 3,500 premium worth over the 10700K? More importantly, can the 10700K match up to the incumbent Ryzen 7 3800X as well as AMD's aggressive response in the form of the Ryzen 7 3800XT for Php 1,185 more? Let's see in our benchmarks
Benchmark Setup and Methodology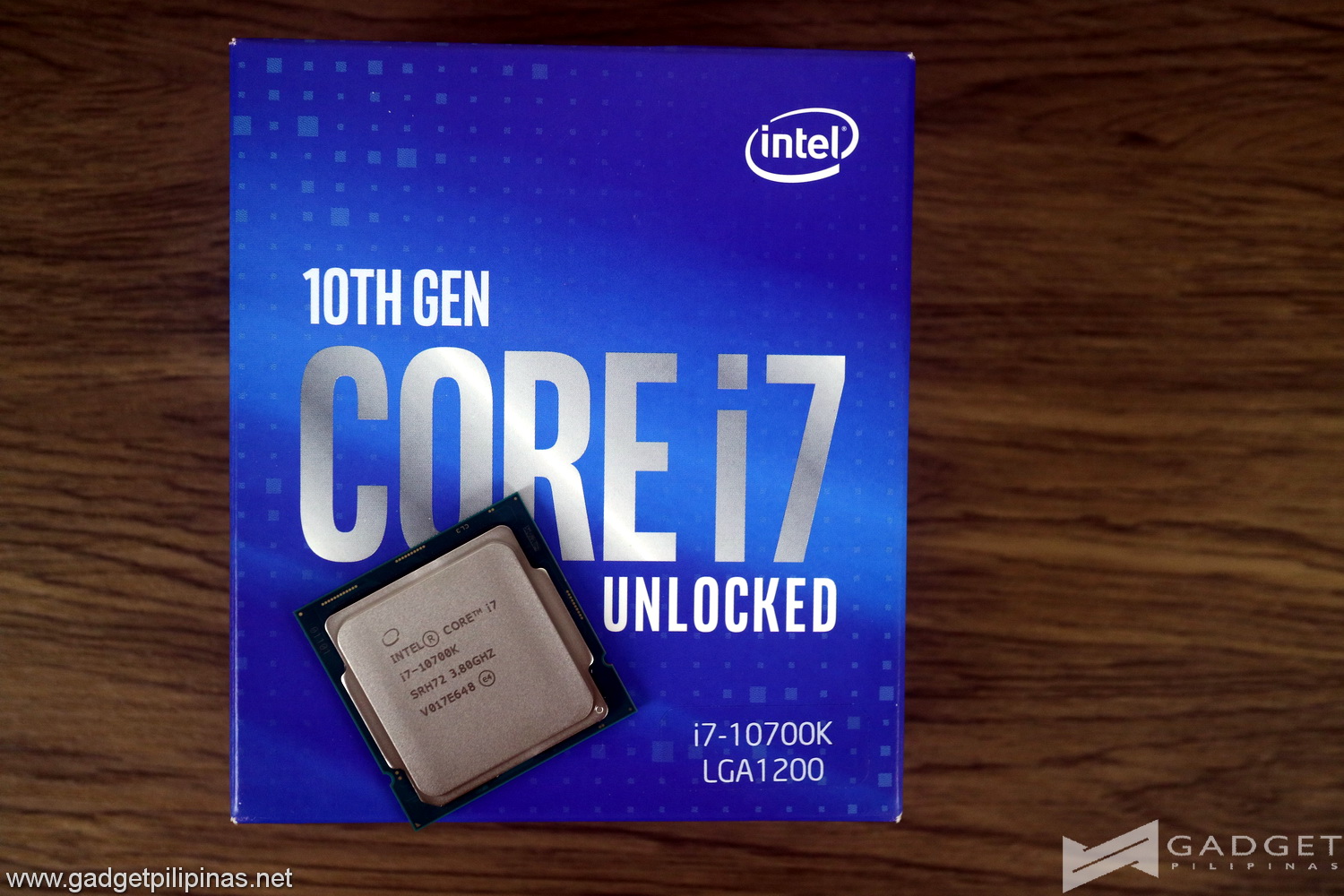 Gadget Pilipinas' testing philosophy is to provide detail-oriented results as accurately as possible that our readers can replicate our tests given that these conditions are met. Different benchmarking apps and sequences are used depending on the component or device being tested.
Intel Core i7 10700K Review Test Bench Specs
CPU
Intel Core i7 10700K
AMD Ryzen 7 3700X
AMD Ryzen 7 3800XT
COOLER
NZXT X52 240mm AIO Cooler – Noctua NT-H2 Thermal Paste
MOTHERBOARD
ASUS ROG Strix Z490-E Gaming Motherboard
ASUS ROG Strix X570-E Gaming Motherboard
MEMORY
HyperX Predator 16GB(8GBx2) 3000Mhz DDR4
GPU
Galax RTX 2070 1-Click OC
STORAGE
TForce CARDEA Liquid NVMe SSD
PSU
ThermalTake ToughPower 1200w Platinum
OPERATING SYSTEM
Windows 10 Pro Build 2404
DISPLAY
Lenovo Legion Y27Q Gaming Monitor
We use CapFrameX as our FPS capture and analysis tool for all our gaming benchmarks. The latest build version of Windows 10 and WHQL certified drivers are used for our benchmarks. Readings such as temperatures and power draw are recorded using HWMonitor and HWInfo64 as well as other relevant software used for cross-checking.
Benchmark list
SuperPi 32M
wPrime
AIDA64 Memory Benchmark
Geekbench 5
Cinebench R20
V-Ray
HWBot x265
Handbrake
Blender
Corona Renderer
DOTA 2
Rainbow Six Siege
Far Cry 5
Apex Legends
Battlefield V
Assassins Creed: Odyssey
Anno 1800
Our benchmark list and methodology may change in the future, depending on the industry trend. For now, enjoy our benchmark results of the Intel Core i7 10700k processor.
i7 10700k CPU Benchmarks
SuperPI 32M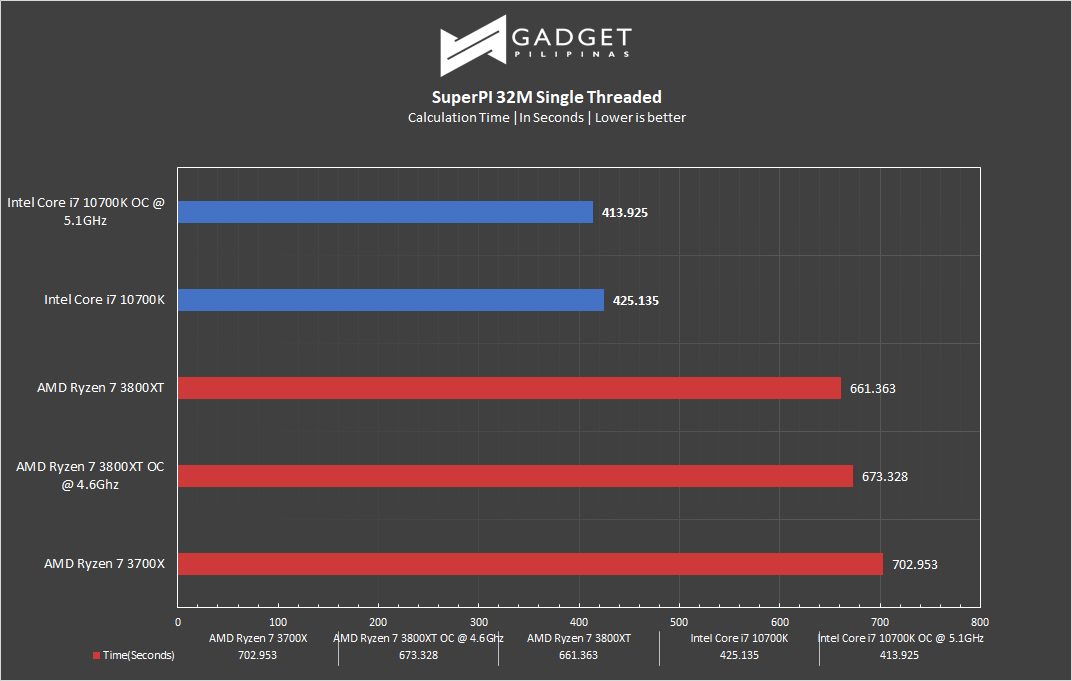 SuperPI is a single-threaded benchmark application that lets the CPU calculate Pi(π) to the nth digit. In this benchmark, we selected the Pi calculation to 32M, the highest available for the app.
wPrime 1024M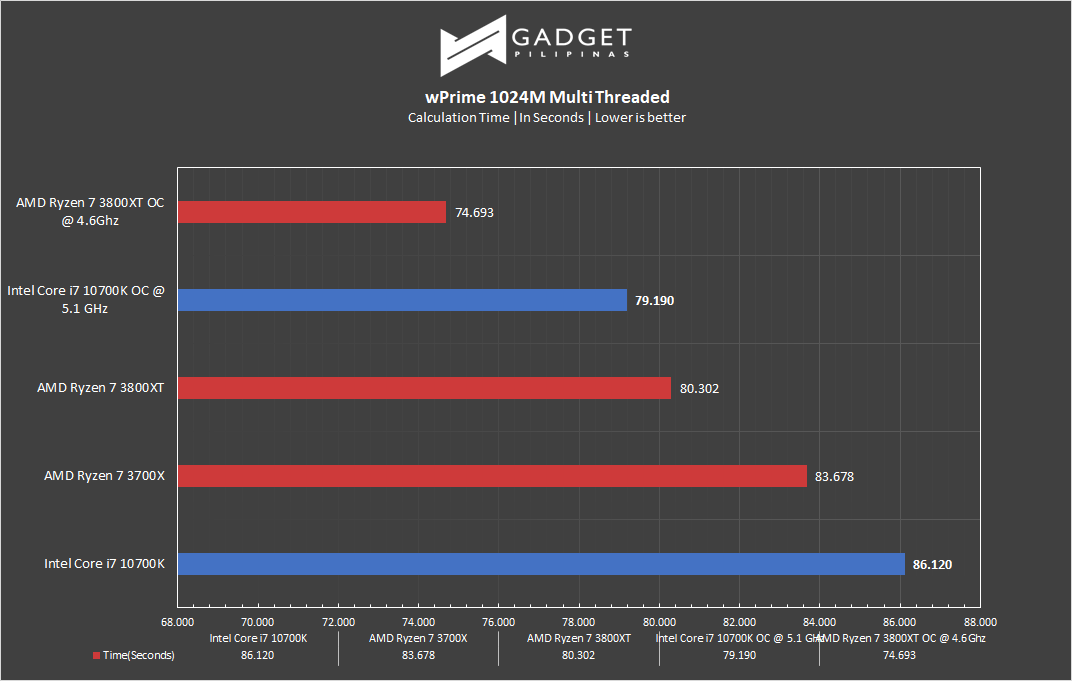 wPrime is a benchmark tool similar to SuperPI, but the former takes on finding prime numbers using Newton's Method. The benchmark is set to calculate 1024M, and measured according to calculation time.
AIDA64
AIDA64 is a very popular and powerful monitoring tool, as well as a benchmarking application. AIDA64 is commonly used to stress test CPUs, especially testing if an overclock is stable. We used AIDA64's Memory Benchmark to measure the data transfer bandwidth of the system memory.
GeekBench 5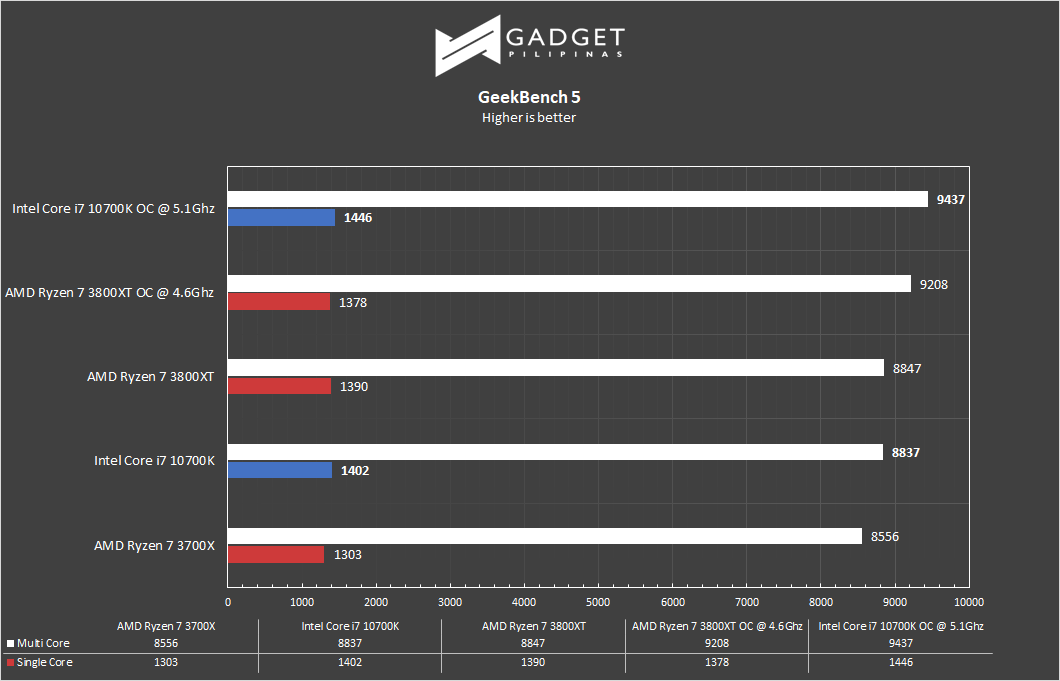 Geekbench is a multi-platform benchmark that's used to gauge CPU performance and compare them across Windows, Mac, and Mobile. Geekbench 5 is the latest version and doesn't rely on memory as much compared to the previous Geekbench 4, making it a great tool to measure both single-core and multi-core CPU performance.
CINEBENCH R20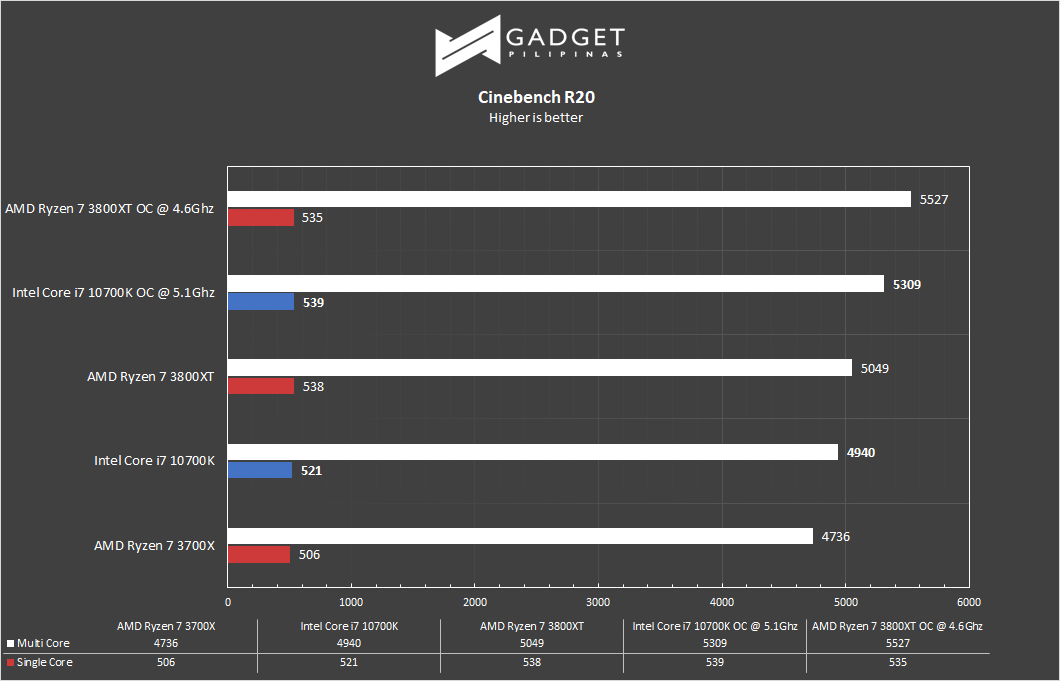 Maxon's Cinebench benchmark is one of the most iconic benchmark applications used by reviewers and enthusiasts. The latest Cinebench R20 uses the latest rendering architectures, including Intel's Embree ray tracing technology and other advanced features from AMD and Intel that allows users to render the same scene on the same hard. Cinebench R20 uses a larger and more complex testing scene than Cinebench R20 by about 8x computational power and requires 4x the memory.
V-RAY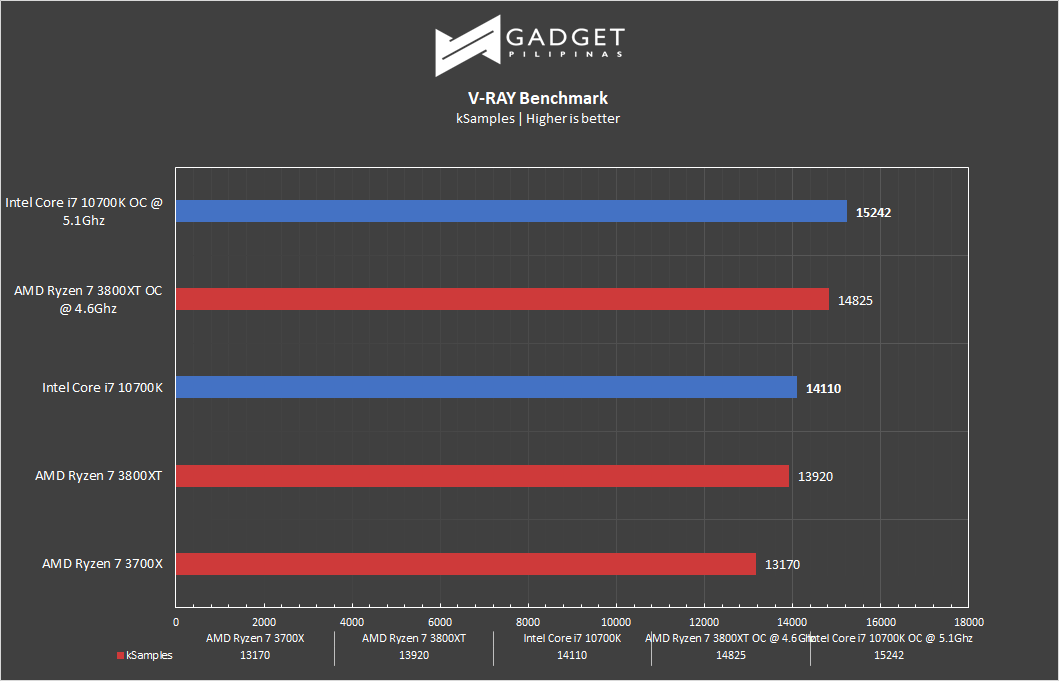 V-Ray Benchmark is a stand-alone version V-Ray developed by Chaos Group. It is designed to test the CPU and GPU by rendering sample scenes at a fixed amount of time. V-Ray is plug-in mostly utilized by 3D computer graphics software applications mainly for industrial design, product design, architecture, film, and video game production. V-Ray is not limited to 64-threads as it supports multi and mega threading.
HWBOT x265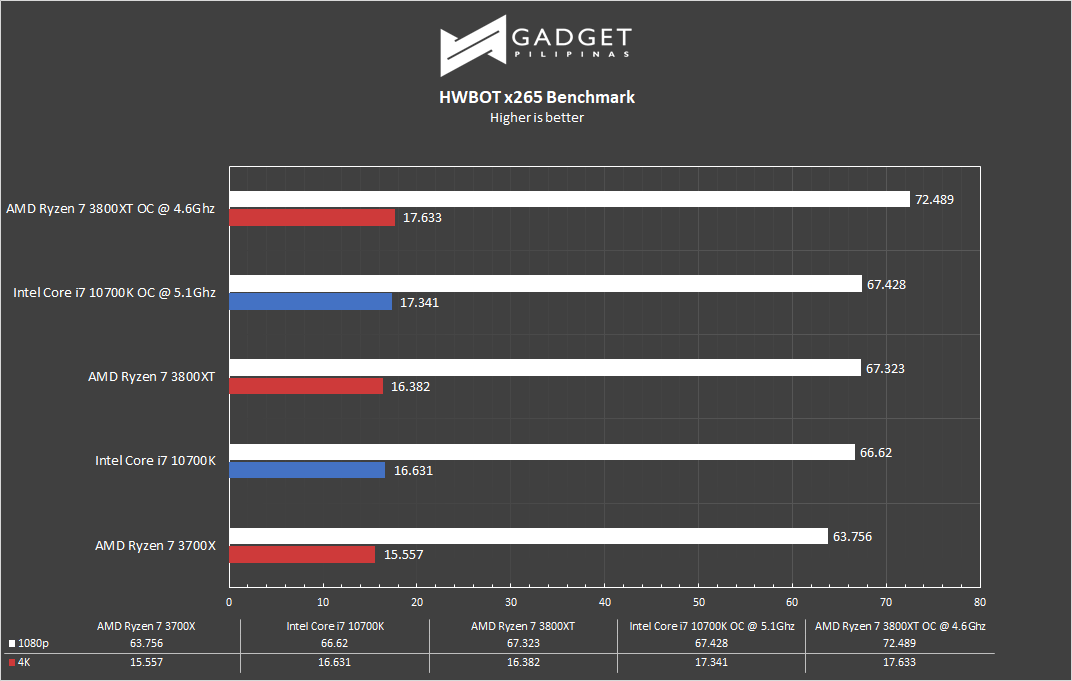 HWBOT x265, developed by Czech overclocker Havli, is a multi-threaded application that takes advantage of modern CPU instruction sets with support for older CPUs.  HWBOT x265 benchmark uses the x265/HEVC encoder that renders a video in 1080p or 4K resolution.
HANDBRAKE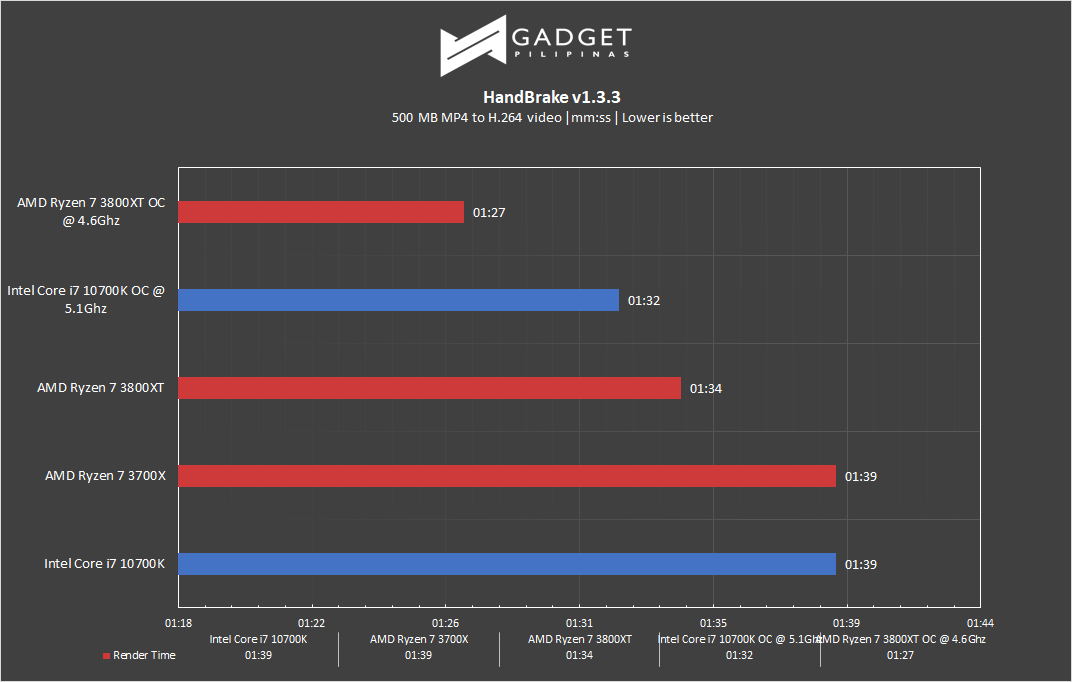 Handbrake is a top-rated open-source video conversion software that is used by professionals, enthusiasts, and even reviewers as a reference point mainly because of its wide variety of media codecs. The rise of streaming and blogging makes video content, both encoding and transcoding important for these people, regardless if they're seasoned professionals or just starting out. Handbrake also takes advantage of AVX-512 and OpenCL to accelerate certain types of media codecs. Our Handbrake benchmark converts a 500MB MP4 video to H.264 to measure the processor's performance.
BLENDER
Blender is a widely used, free, opensource 3D creation suite. It supports the whole 3D pipeline process from modeling, rigging, animation, simulation, rendering, and even motion tracking. Blender has become a standard for CPU benchmarks with the BMW27 and Classroom scene most used. This prompted the company to release Blender Open Data Benchmark in 2018, a benchmark-specific version which allows users to run a preset benchmark and share the results online similar to 3D Mark.
CORONA RENDERER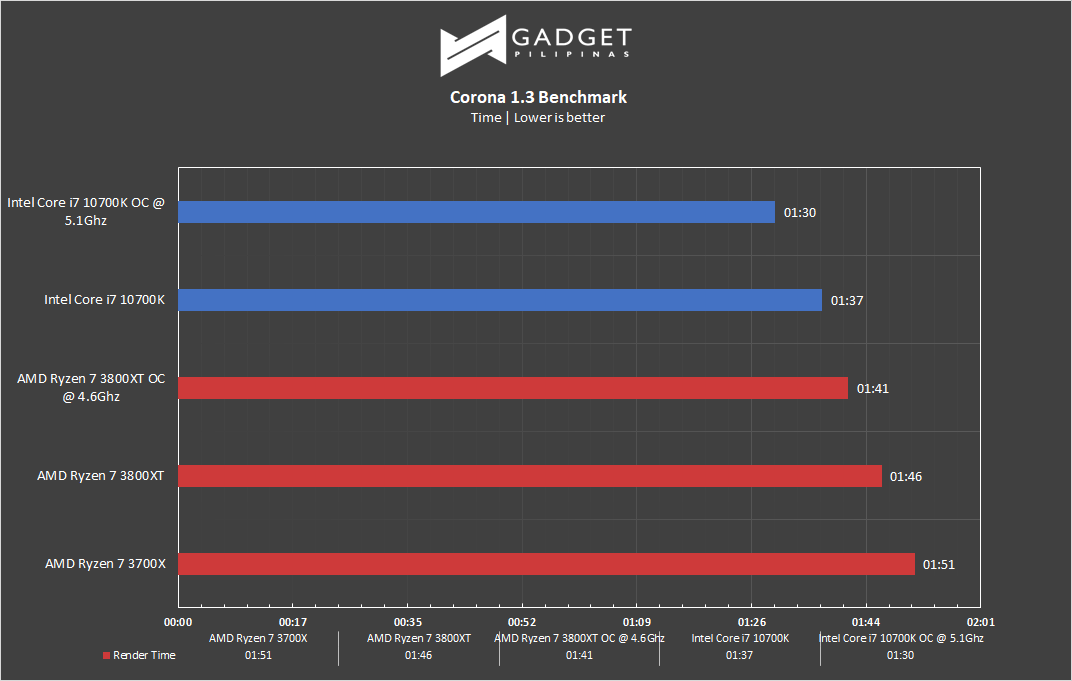 Corona Renderer is an unbiased photorealistic render available for Autodesk 3Ds Max, Maxon Cinema 4D, and as a stand-alone application. Its popularity, similar to Blender, led Chaos Group to develop a benchmark version of the app which runs using Corona Renderer 1.3. Workstation systems, especially CPUs, can utilize Corona Benchmark as up to 72 threads can be used in the benchmark, making it very suitable for CPUs with various price segments.
Intel's perceived handicap when it comes to productivity and multi-threaded applications against Ryzen CPUs isn't an issue with the Core i7 10700k, especially when overclocked. Intel can clearly keep up at stock speeds without a huge gap except for rendering. Overclocking both the 3800XT and 10700K favored the latter in terms of performance improvement as the 10700k @ 5.1Ghz tops the charts in some benchmarks.
Gaming Benchmarks
3DMARK
3DMark is the go-to benchmark for gamers because of the ability to share and compare results online. We used Time Spy DX 12 benchmark and Fire Strike DX 11 benchmark to gauge the CPU's performance using different APIs.
DOTA 2
Most gamers play at least one of the following free-to-play titles: League of Legends, CS: GO, Dota 2, and/or Fortnite.  Dota 2 is a good representation of the F2P titles as it is the most demanding game in the spectrum. The benchmark will give you an idea of the laptop's relative performance on other lesser demanding titles. Our benchmark sequence is based on a replay of OG vs. Liquid in the TI9 grand finals from the team fight that happened on 28:30 to 29:30.
Far Cry 5
FarCry 5 is an FPS game published by Ubisoft and uses the Dunia engine. It heavily relies on and takes advantage of DirectX 11 to render a realistic environment that makes it taxing to both the CPU and GPU.
Rainbow Six Siege
Rainbow Six Seige is one of the few popular AAA games that's still popular in 2019 due to its competitive gameplay mechanics. R6S uses the AnvilNext game engine, which is developed by the game's publisher, Ubisoft. As of writing, Rainbow Six Siege is currently the most popular Tom Clancy title beating out Wildlands, Breakpoint and even, Division 2.
Apex Legends
Apex Legends is a character-based Free-to-play battle royale game developed by Respawn Entertainment, the makers of Titanfall and Titanfall 2. It utilizes a modified version of Valve's Source Engine.
Battlefield V
The Battlefield series is an iconic FPS title in our generation matching Halo and Call of Duty. Battlefield V, set in WW1, is the latest installment in the franchise developed by DICE using the popular Frostbite engine. It's also the first game to incorporate DX 12, Ray Tracing, and DLSS making it a great choice in our game bench library.
Assassin's Creed: Odyssey
Assassin's Creed Odyssey is the latest franchise installment from Ubisoft. It's by far the most popular and stable Assassin's Creed title since AC IV: Black Flag. It uses the AnvilNext 2.0 game engine, an updated version of Rainbow Six Siege's game engine, and uses the DirectX 12 API.
Anno 1800
Anno 1800 is one of the most popular RTS games next to seasoned classics such as StarCraft 2, Red Alert, and Civilization V. Anno 1800 uses an improved Anno Engine version previously used by previous titles. It's one of the latest RTS games (as of writing) with impressive graphics, making it a great representation for RTS and City-building games.
At 1080p and 1440p, the Intel Core i7 10700k dominates in all games even without the extra speed provided by the overclock. Games where the 10700k lead by a huge margin are mostly games that aren't that optimized for multi-threaded application, thus bringing out the 10700k's single-threaded prowess paired with Turbo Boost Max 3.0. 4K Resolution tells a slightly different story at it eliminates CPU bottlenecks as the i7 10700k barely clinch to its throne by 5-10FPS against the 3800XT and 3700X. Overclocking both the AMD Ryzen 7 3800XT and the Intel Core i7 10700k widens the gap between both CPUs as multithreading performance on the 10700k is significantly improved while the 3800XT trades off a few megahertz on its single-core boost to achieve a 4.6Ghz all-core clock speed.
Temperatures and Power Draw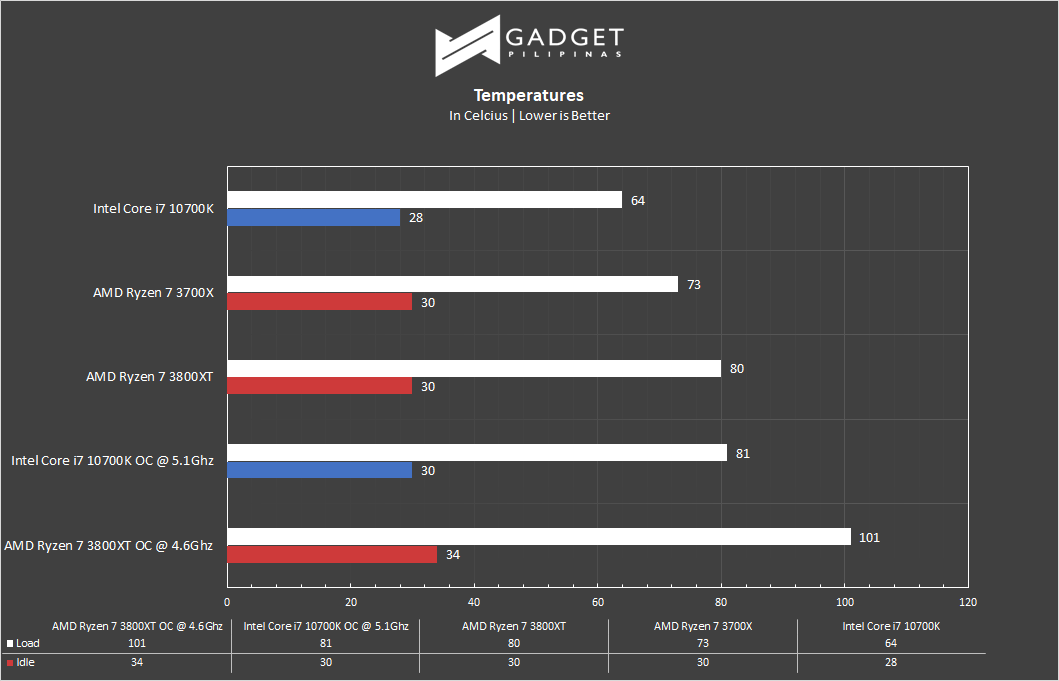 Idle and Peak temps are recorded using HWMonitor and HWInfo as well as AIDA64 for cross-checking during our benchmark run. Ambient room temperature during the benchmark period is at 24°c.
Cooling our CPUs is an NZXT X52 cooler with its stock fans and NT-H2 thermal paste without the NZXT CAM app installed. The Intel i7 10700k maintains a cool 28°c idle with only a max temp of 64°c during our whole benchmark run – 9°c cooler than the lower TDP 3700X. Even when overclocked at 5.1Ghz 1.385 volts, the Intel i7 10700k manages to matches the stock 3800XT's max temp of 81°c with an impressive 20°c lead against the overclocked 3800XT at an uncomfortable 101°c.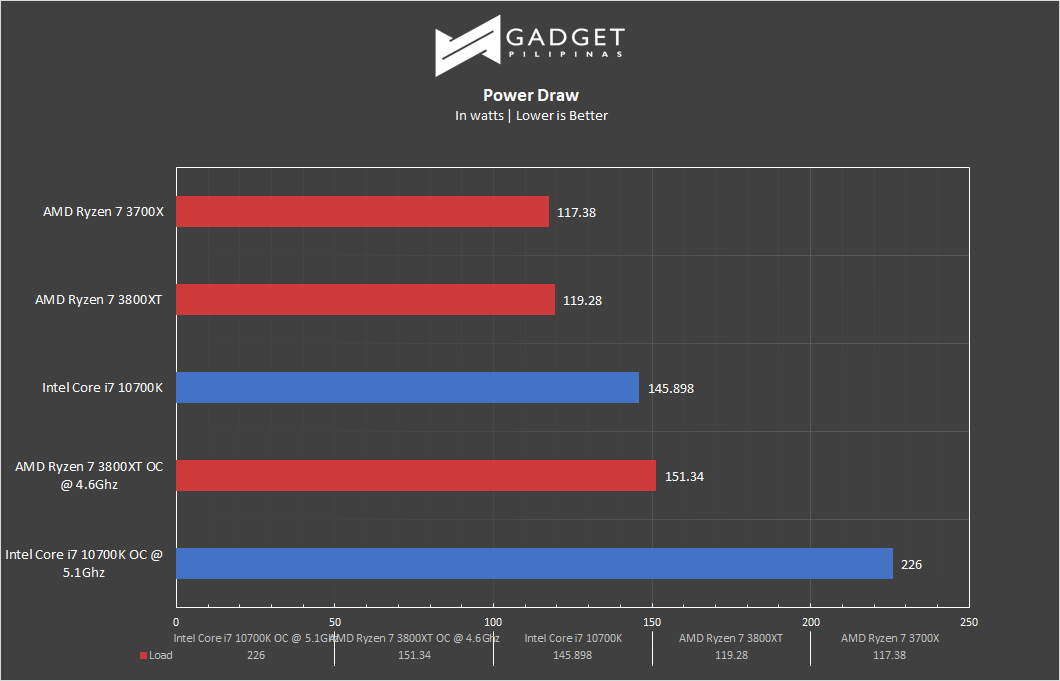 CPU Power Draw is recorded the same with our temp readings. It's no surprise that the Intel Core i7 10700k is a power-hungry CPU especially considering its dated 14-nanometer architecture. Cranking up the 10700k requires an extra 80-watts in order to match up to both stock and OC'ed Ryzen 7 3800XT.
While the overlocked i7 10700k pulls 226watts of power, it's very impressive that the CPU only peaks at 81°C compared to the 3800XT's 4.6Ghz 1.4v overclocking peaking at 101°C despite only drawing 151.34 watts.
Conclusion – Intel 10th Gen's Silver Lining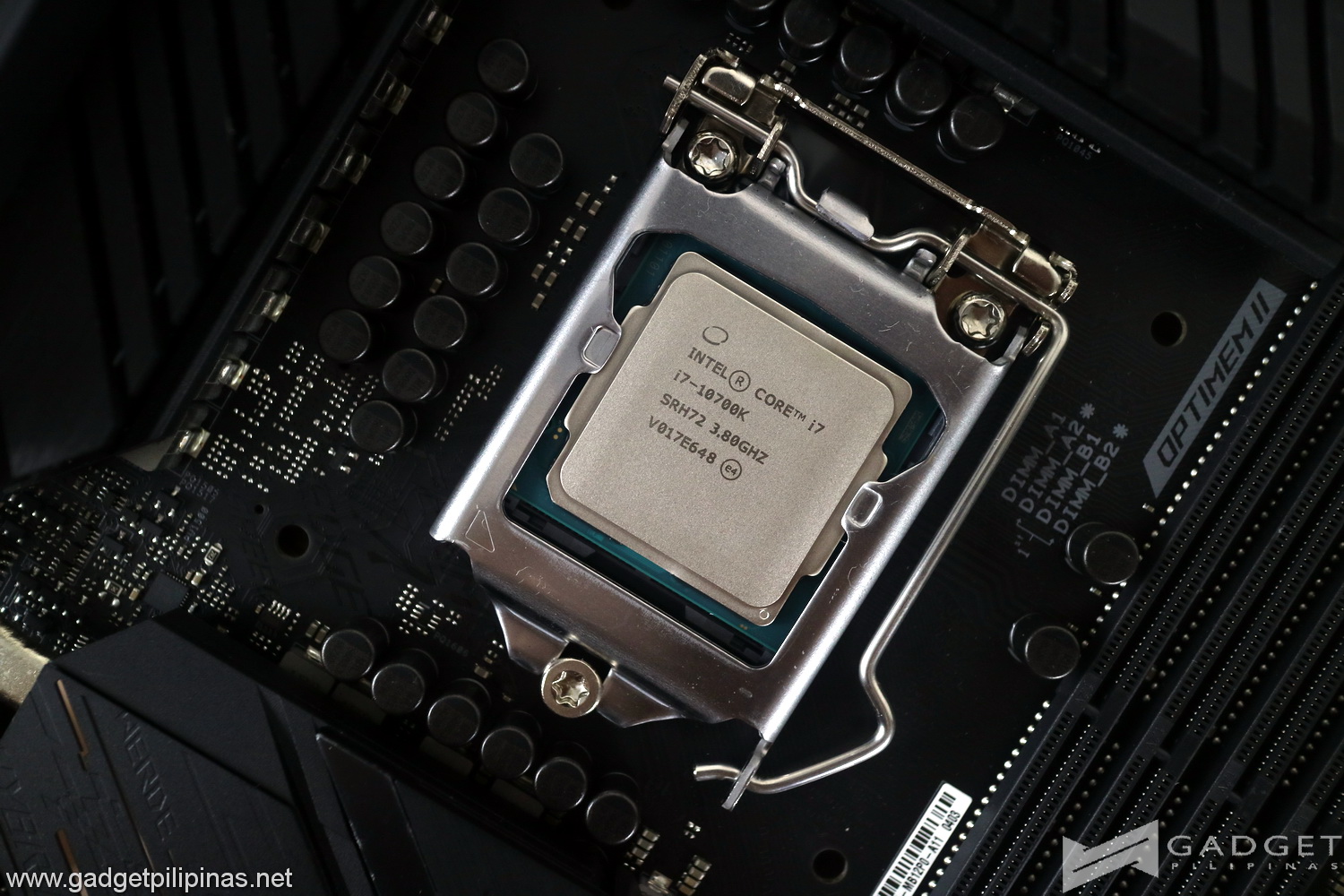 Intel reclassifying its 8-core offering from the i9 series to the i7 line is one of the company's saving grace against AMD's rampage brought upon by the 7-nanometer chips. The Intel Core i7 10700k is a repackaged yet optimized i9 9900k at a lower SRP of $374 compared to the last generation flagship at $488. After all, it is still a 14nm 5-year-old lithography and still under the Lake series architecture.
Quick Price Table
| | | | | |
| --- | --- | --- | --- | --- |
| CPU | Cores/Threads | Base Clock | Boost Clock | Price |
| AMD Ryzen 7 3700X | 8/16 | 3.6Ghz | 4.4Ghz | Php 18,500 |
| Intel Core i7 10700k | 8/16 | 3.6Ghz | 5.1Ghz | Php 22,500 |
| AMD Ryzen 7 3800XT | 8/16 | 3.9Ghz | 4.7Ghz | Php 23,185 |
The Intel Core i7 10700k would benefit gamers the most, especially aspiring professionals and competitive gamers, as it squeezes every once of frames, especially in dated esports titles that also bring value to 240Hz and 360Hz gaming monitors. The same story holds true for streamers, that is, if we're only discussing about the Core i7 vs Ryzen7 series. While it indeed barely keeps up in productivity except when overclocked, streaming is both rendering and gaming at the same time to which the 10700k is undisputed at one aspect. A higher base FPS, especially in poor multi-thread games, will result in much stable gameplay and streaming experience for both the streamer and its viewers. That said, Intel gets to keep the throne for gaming across various resolutions, at least against the Ryzen 7 series, especially the freshly released 3800XT.
Productivity wise, both Ryzen 7 processors are barely faster than the i7 10700k in rendering and encoding. The additional few seconds of 10700k matters not for a non-professional as the time difference is negligible. But for the editors, designers, and video professionals, the minuscule time adds up especially on the type of workload.
Across the landscape, the Intel Core i7 10700k puts up a good fight against AMD's offerings thanks to its superior single-threaded performance and overclocking headroom. The Intel Core i7 10700k is a living example that it is not just about the smaller manufacturing process that fanboys obsess with as it can clearly keep up with AMD's 7nm chips, all the more when overclocked while maintaining steady thermals. Moreover, AMD is currently facing supply shortage resulting in a price increase that gives the 10700k more value. Fanboy arguments aside, if you're an enthusiast wanting to bet on silicon lottery, willing to explore delidding and, of course, invest in cooling, or simply just a gamer-slash-part-time-streamer then the i7 10700k is a no brainer purchase.