Introduction – AMD's Aggressive Response Against Intel's 10th Gen
AMD's Ryzen 3000 XT series can be interpreted as AMD's response against Intel's 10th generation desktop processors. The company's initial reaction towards Intel 10th Gen processors is discounting the Ryzen 9 3900X and Ryzen 7 3800X in the US via Amazon and NewEgg. Unfortunately, those discounted prices weren't enjoyed by everyone as the savings are essentially useless if you're outside the United States due to shipping and taxes. Weeks after Intel's launch, AMD announced the Ryzen 5 3600XT, Ryzen 7 3800XT, and Ryzen 9 3900XT processors slated for July 7 worldwide availability.
3000 XT Series
The 3000 XT processors are refined versions of their predecessors allowing a more efficient CPU in terms of clock speeds and temperatures. While we've seen "refined" versions of FinFET processes released by Intel via their tick-tock cycle, this isn't particularly new for AMD. Before Ryzen, AMD maximized the 28nm lithography with several releases under the FX series with the post popular refinements coming from the FX 8120 to FX 8350 to FX 9590. The main difference between red and blue is that these 3000 XT processors don't require a new socket or a new motherboard altogether.
Under the refined 7nm process are three new processors representing each tier in the Ryzen CPU line. Our main attraction in this review is the Ryzen 7 3800 XT which is set to replace the incumbent 3800X at +200 Mhz boost clock for up to 4.7Ghz. Representing the Ryzen 5 and Ryzen 9 line are the 3600XT and 3900XT respectively with a less high improvement in boost clock at +100Mhz compared to the Ryzen 7 3800XT.
A 200Mhz improvement let alone 100 Mhz on the Ryzen 5 and 9 doesn't seem to be enticing knowing that non-XT variants could achieve the same clock speeds due to silicon lottery. But ofcourse, there are those who pay the premium for guaranteed higher clock speeds out of the box. The question is is the +100/200 Mhz all there is to the 3000 XT series? If so, does the +200 Mhz boost on the Ryzen 7 3800XT make a discernable improvement for $499? We'll see in our benchmark suite.
Ryzen Master 2, StoreMI 2 and AMD4 Roadmap
Alongside the release of the 3000 XT processors are updates to AMD's StoreMI technology, Ryzen Master 2.3 software, and the launch of the B550 chipset. The 3000 XT processors are bundled with either Borderlands 3 or Outer World depending on your region. Moreover, AMD also confirmed that the Zen 3 processors are on track for release this 2020.
Ryzen Master
Ryzen Master v2.3 includes a Basic View version similar to most UEFI BIOS. The default basic view layout shows CPU clock speed, temps, and voltage on the left side with a quick OC profile and slider on the right. Switching to Advanced View lets you tinker with more settings including memory configuration.  You can download Ryzen Master here.
AMD StoreMI technology has been in the market for 2-years as AMD's solution to "Optane." Frankly, StoreMI is a thing of the past, that is, until today with the redesigned StoreMI v2. For starters, the UI is now simpler and easier to navigate through with three columns displaying sets of information. Underneath the UI is a new algorithm designed to improve performance and remove the v1's 2TB+256GB SSD array restriction
As of writing, AMD StoreMI 2 is only available for 3rd generation Ryzen processors paired with an X570 motherboard. Support for Threadripper, older gen CPUs and older motherboard chipsets including the B550, will follow on Q3 2020
Benchmark Setup and Methodology
Gadget Pilipinas' testing philosophy is to provide detail-oriented results as accurately as possible that our readers can replicate our tests given that these conditions are met. Different benchmarking apps and sequences are used depending on the component or device being tested.
AMD Ryzen 7 3800XT Review Test Bench Specs
CPU
Ryzen 7 3800XT
Ryzen 7 3800X
Ryzen 7 3700X
COOLER
NZXT X52 240mm AIO Cooler – Noctua NT-H2 Thermal Paste
MOTHERBOARD
ASUS ROG Strix X570-E Gaming Motherboard
MEMORY
HyperX Predator 16GB(8×2) 3200Mhz
GPU
AMD Radeon RX 5700XT
STORAGE
TForce CARDEA Liquid NVMe SSD
POWERSUPPLY
ThermalTake ToughPower 1200w Platinum
OPERATING SYSTEM
Windows 10 Pro Build 2004
Resolution
1920x1080p | 2560x1440p | 3840x2160p
We use CapFrameX as our FPS capture and analysis tool for all our gaming benchmarks. The latest build version of Windows 10 and WHQL certified drivers are used for our benchmarks. Readings such as temperatures and power draw are taken using HWMonitor and HWInfo64 as well as other relevant software used for cross-checking.
Benchmark list
Cinebench R20
V-Ray
HWBot x265
Handbrake
Blender
Corona Renderer
DOTA 2
Rainbow Six Siege
Far Cry 5
Apex Legends
Battlefield V
Assassins Creed: Odyssey
Our benchmark list and methodology may change in the future depending on the industry trend. For now, enjoy our benchmark results of the AMD Ryzen 3800 XT processor.
3800XT CPU Benchmarks
CINEBENCH R20
Maxon's Cinebench benchmark is one of the most iconic benchmark applications used by reviewers and enthusiasts. The latest Cinebench R20 uses the latest rendering architectures, including Intel's Embree ray tracing technology and other advanced features from AMD and Intel that allows users to render the same scene on the same hard. Cinebench R20 uses a larger and more complex testing scene than Cinebench R20 by about 8x computational power and requires 4x the memory.
The Ryzen 7 3800XT 200Mhz boost clock advantage over the 3800X merited a score improvement of 2.7% and 1% on single-core and multi-core scores from our Cinebench R20 run.
V-RAY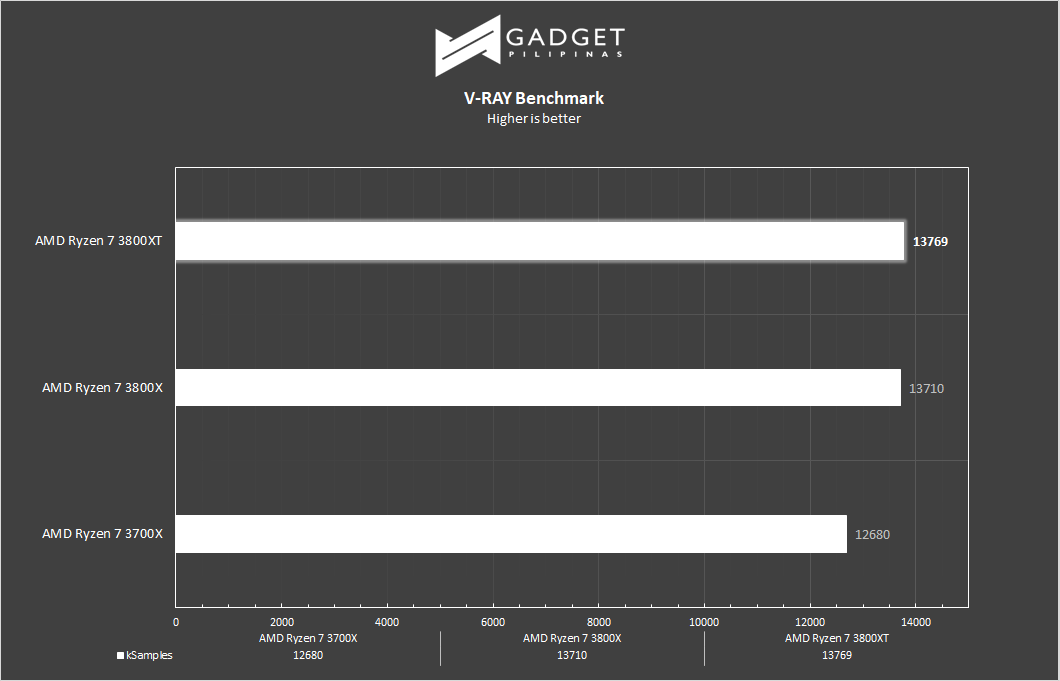 V-Ray Benchmark is a stand-alone version V-Ray developed by Chaos Group. It is designed to test the CPU and GPU by rendering sample scenes at a fixed amount of time. V-Ray is plug-in mostly utilized by 3D computer graphics software applications mainly for industrial design, product design, architecture, film, and video game production. V-Ray is not limited by 64-threads as it supports multi and mega threading.
The Ryzen 7 3800XT's lead over the 3800X narrows in our V-Ray benchmark as it was only able to beat the latter by 59 Samples or by 0.43%.
HWBOT x265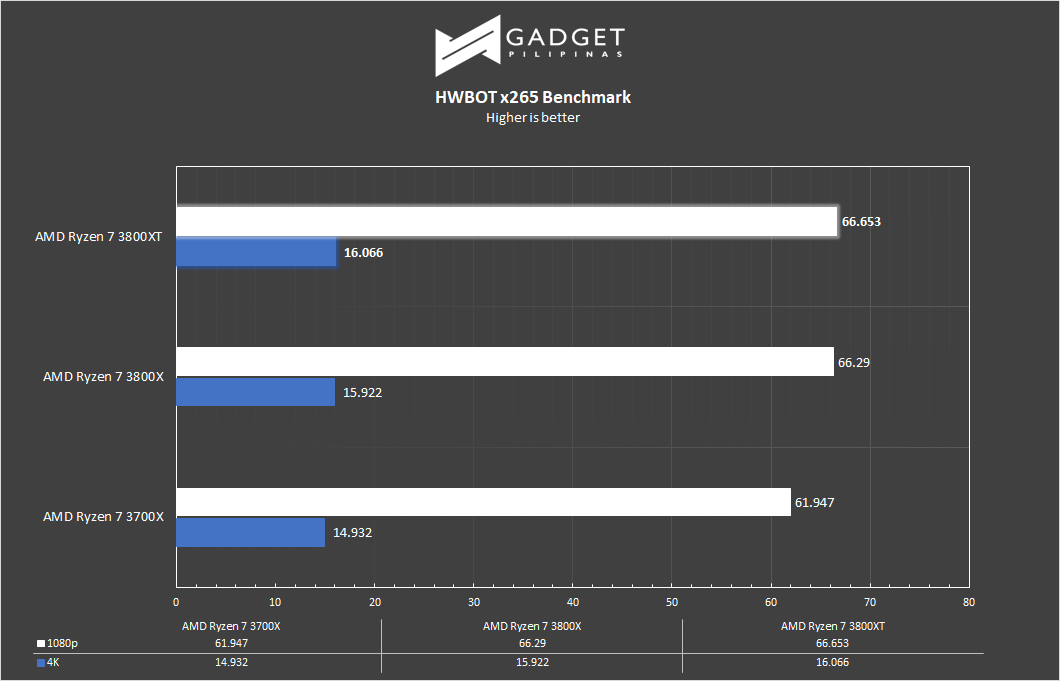 HWBOT x265, developed by Czech overclocker Havli, is a multithreaded application that takes advantage of modern CPU instruction sets with support for older CPUs.  HWBOT x265 benchmark uses the x265/HEVC encoder that renders a video in 1080p or 4K resolution.
The 200Mhz boost improvement barely has any impact on x265 as the Ryzen 7 3800XT barely clinches for first place in HWBOT x265.
HANDBRAKE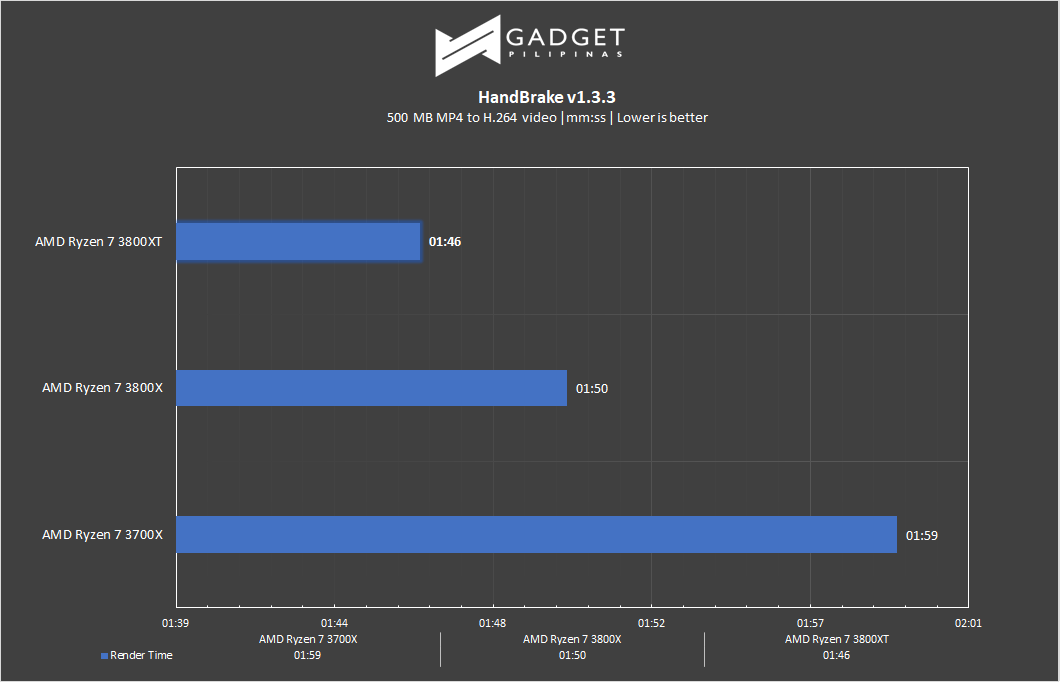 Handbrake is a very popular open-source video conversion software that is used by professionals, enthusiasts, and even reviewers as a reference point mainly because of its wide variety of media codecs. The rise of streaming and blogging makes video content, both encoding, and transcoding important for these people regardless if they're seasoned professionals or just starting out. Handbrake also takes advantage of AVX-512 and OpenCL to accelerate certain types of media codecs. Our Handbrake benchmark converts a 500MB MP4 video to H.264 to measure the processor's performance.
Four seconds were saved thanks to the 3800XT's 4.7Ghz boost clock over the 3800X's 4.5Ghz speed in HandBrake.
BLENDER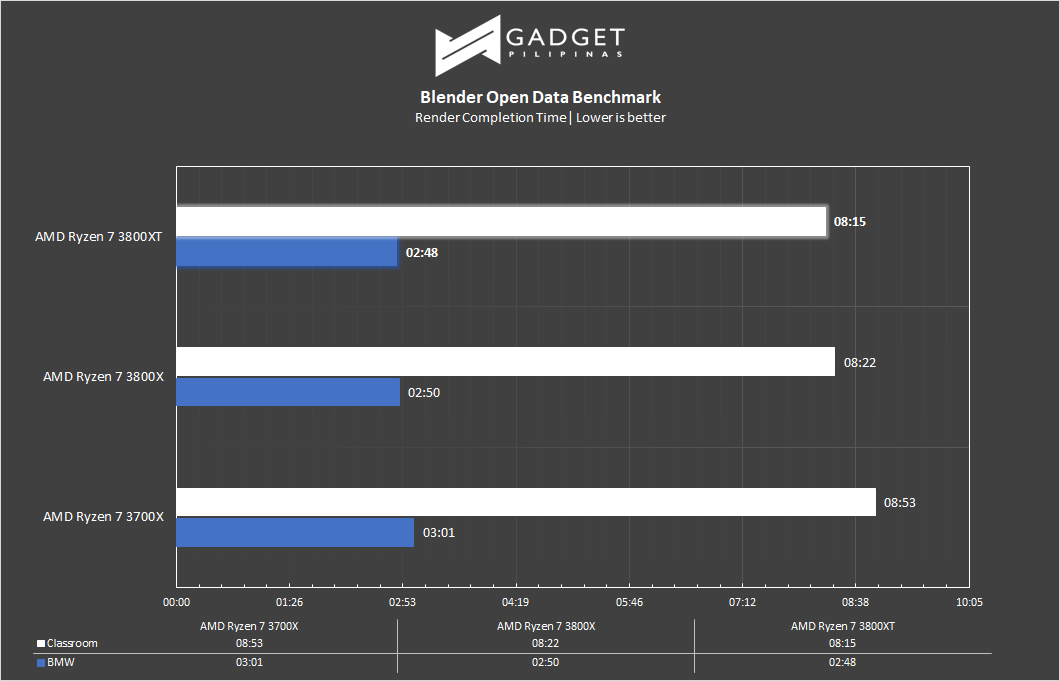 Blender is a widely used, free, opensource 3D creation suite. It supports the whole 3D pipeline process from modeling, rigging, animation, simulation, rendering, and even motion tracking. Blender has become a standard for CPU benchmarks with the BMW27 and Classroom scene most used. This prompted the company to release Blender Open Data Benchmark in 2018, a benchmark-specific version which allows users to run a preset benchmark and share the results online similar to 3D Mark.
The Ryzen 7 3800XT wins in both Blender render scenes. The 3800XT is only ahead by 2seconds in the BMW27 benchmark but manages to be slighter faster than the 3800X in the Classroom scene.
CORONA RENDERER
Corona Renderer is an unbiased photorealistic render available for Autodesk 3Ds Max, Maxon Cinema 4D, and as a standalone application. Its popularity similar to Blender led Chaos Group to develop a benchmark version of the app which runs using Corona Renderer 1.3. Workstation systems, especially CPUs can utilize Corona Benchmark as up to 72 threads can be used in the benchmark, making it very suitable for CPUs with various price segments.
In all our rendering, transcoding, and compute benchmarks, the Ryzen 7 3800XT takes the crown in every benchmark regardless of how close behind the 3800X is. Let's see if the same holds true in gaming.
3800XT Gaming Benchmarks
3DMARK
3DMark is the go-to benchmark for gamers because of the ability to share and compare results online. We used Time Spy DX 12 benchmark and Fire Strike DX 11 benchmark to gauge the CPU's performance using different APIs.
Both Firestrike and Time Spy benchmarks' top spot is taken by the 3800XT while the 3700X overtakes the 3800X in Firestrike.
DOTA 2
Most gamers play at least one of the following free-to-play titles: League of Legends, CS:GO, Dota 2, and/or Fortnite.  Dota 2 is a good representation of the F2P titles as it is the most demanding game in the spectrum. The benchmark will give you an idea of the laptop's relative performance on other lesser demanding titles. Our benchmark sequence is based on a replay of OG vs. Liquid in the TI9 grand finals from the team fight that happened on 28:30 to 29:30.
The Ryzen 7 3800XT showed consistent performance by topping out 1080p, 1440p and 4K charts for our Dota 2 benchmark. Moreover, it has a more stable frametimes as supported by our 5% and 1% lows resulting in a better gameplay experience compared to the rest of the Ryzen 7 SKUs.
Far Cry 5
FarCry 5 is an FPS game published by Ubisoft and uses the Dunia engine. It heavily relies on and takes advantage of DirectX 11 to render a realistic environment that makes it taxing to both the CPU and GPU.
Far Cry 5 shows a better lead of the Ryzen 7 3800XT, especially in higher resolutions. The gap between the average FPS with the 5% and 1% lows also tightens denoting a smoother and stable framerate.
Rainbow Six Siege
Rainbow Six Seige is one of the few popular AAA games that's still popular in 2019 due to its competitive gameplay mechanics. R6S uses the AnvilNext game engine, which is developed by the game's publisher, Ubisoft. As of writing, Rainbow Six Siege is currently the most popular Tom Clancy title beating out Wildlands, Breakpoint and even, Division 2.
Rainbow Six Seige tells a different story with the Ryzen 7 3800XT gaining a 40FPS lead over the 3800X in 1080p. However, both the 3700X and 3800X catches up at 1440p. At 4k, the 3800XT loses for the first time to both the 3800X and 3700X.
Apex Legends
Apex Legends is a character-based Free-to-play battle royale game developed by Respawn Entertainment, the makers of Titanfall and Titanfall 2. It utilizes a modified version of Valve's Source Engine.
Apex Legends showed a bigger gap between the 3800XT and 3800X in terms of average FPS. However, the 3800X wins in terms of framerate stability represented by the 5% and 1% lows as well as the frame time chart.
Battlefield V
The Battlefield series is an iconic FPS title in our generation matching Halo and Call of Duty. Battlefield V, set in WW1, is the latest installment in the franchise developed by DICE using the popular Frostbite engine. It's also the first game to incorporate DX 12, Ray Tracing, and DLSS making it a great choice in our game bench library.
The extra 200mhz bump is not noticeable as the 3800X barely lost against the 3800XT.
Assassin's Creed: Odyssey
Assassin's Creed Odyssey is the latest franchise installment from Ubisoft. It's by far the most popular and stable Assassin's Creed title since AC IV: Black Flag. It uses the AnvilNext 2.0 game engine, an updated version of Rainbow Six Siege's game engine, and uses the DirectX 12 API.
Ryzen 7 3800XT Temperatures and Power Draw
Idle and Peak temps are recorded using HWMonitor and HWInfo with Ryzen Master opened for cross-checking during our benchmark run. The Ryzen 7 3800XT peaked at 80°c and idled slightly hotter by 1°c compared to the 3800X. Temps for the Ryzen 7 3700X are expected as the processor has a lower TDP and clock speed resulting in cooler operation.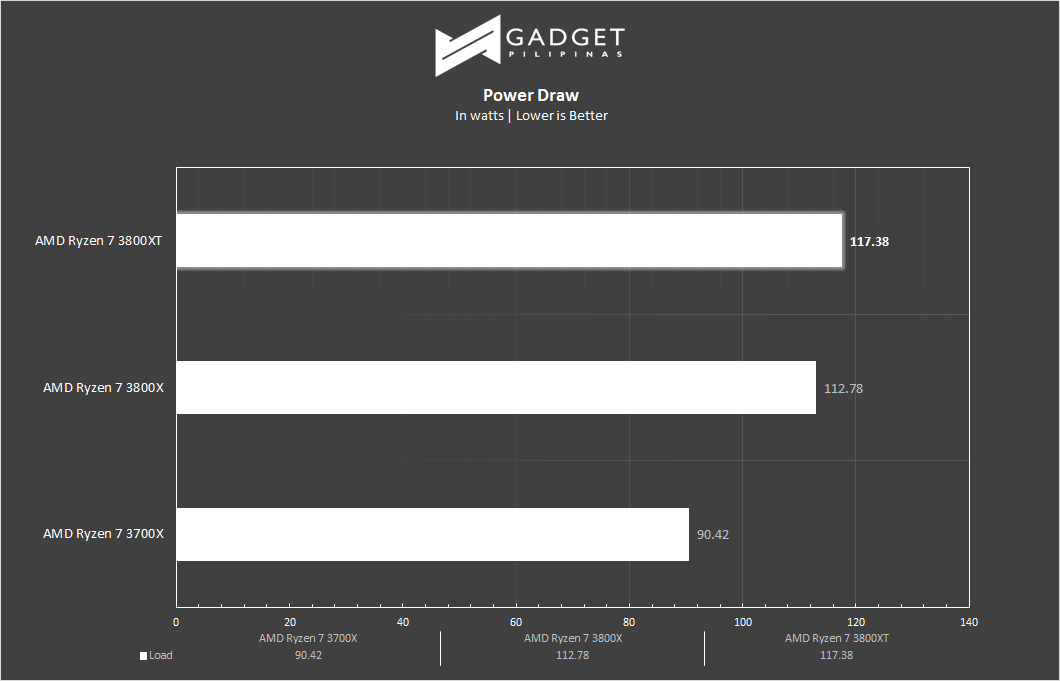 CPU Power Draw is recorded the same with our temp readings. The extra 200Mhz boost on the 3800XT showed a negligible difference in power consumption as silicon lottery can also play a major factor.
Conclusion
Does +200Mhz bear any significance?
The general answer is a yes as seen with our benchmark suite. However, such a difference over the vanilla 3800X is arguable especially for the Ryzen 7 3800XT's SRP of Php 23,185 considering the 3800X's Php 22,000 average pricing. What you're paying for with the additional Php 1.1k is the guarantee of having improved silicon and thermals.
Gaming benefits the most from the extra 200Mhz boost provided by the Ryzen 3800XT with a higher average framerate and much smoother gameplay experience. Productivity-wise the Ryzen 7 3800XT's less than 10seconds improvement on rendering compared to the 3800X doesn't seem something to be proud of. But if you're a professional who deals with videos every, the saved time adds up providing more time for work, rest, or play. That said, the Ryzen 7 3800XT and the 3000 XT series in general, is a product for users who want to squeeze every bit of performance possible without the hassle of the overclocking ordeal.
Is the extra premium worth it?
AMD can now command higher prices because of demand and the current COVID-19 situation. A prime example of this is the Ryzen 7 3700X initial SRP of Php 17,500 but has now reached Php 19k to 20k in some retailers closing the gap with the higher clocked 3800X. That said, the 3800XT retails for Php 23,185, priced closer to the 3800X rather than the 3900X. The slight premium in paying for the guaranteed 200Mhz can be justified depending on how do you spend your time in front of the PC. The Ryzen 7 3800XT can be seen as a pre-overclocked 3800X for the same launch price as the latter – the same formula with the non-x and X Ryzen CPUs.
The Ghz race…
Intel has been the leader of the Gigahertz race for quite a while with most of its flagship processors offering more than 5Ghz boost. AMD's processors reaching the 5Ghz mark out of the box is indeed farfetched even with the last-gen Ryzen 2000 processors under the Zen+ architecture. While AMD hasn't reached the out of the box 5Ghz mark with its current offerings, the Ryzen 3000 XT processors can be considered as a glimpse of the upcoming Zen 4 processors that will surely challenge Intel not only IPC and core count but also in clock speeds as well.
AMD's move with the 3000 XT is both exciting and scary. It's Exciting because consumers are given more options which they have been deprived of for quite a long time. Scary because of the possibility that they might end up being the ones who they sought to overcome. So far, AMD is on the right track by providing a wide variety of options from consumers while bringing something new to the table. Not to mention sweetening up the value of its processors by providing free games and extended warranty – read about the Equipped to win bundle here.
AMD Ryzen 7 3800XT Processor Review – AMD's Aggressive Response
Professional Niche
Gaming benefits the most from the extra 200Mhz boost provided by the Ryzen 3800XT with a higher average framerate and much smoother gameplay experience. Productivity-wise the Ryzen 7 3800XT's less than 10seconds improvement on rendering compared to the 3800X doesn't seem something to be proud of. But if you're a professional who deals with videos every, the saved time adds up providing more time for work, rest, or play. That said, the Ryzen 7 3800XT and the 3000 XT series in general, is a product for users who want to squeeze every bit of performance possible without the hassle of the overclocking ordeal.
What's Good
Miniscule temp and power draw difference
Improved performance especially in higher resolutions
What's Not
Priced closer to the 3800X
No included stock cooler
Grant is a Financial Management graduate from UST. His passion for gadgets and tech crossed him over in the industry where he could apply his knowledge as an enthusiast and in-depth analytic skills as a Finance Major. His passion allows him to earn at the same time help Gadget Pilipinas' readers in making smart, value-based decisions and purchases with his reviews and guides.