Ahead of the launch of the Samsung Galaxy S20+ and Galaxy Buds+ BTS Edition, photos of both devices were spotted online.
Two different versions of the Galaxy 20+ were leaked by Max Weinbach and Evan Blass. The Galaxy Buds+, on the other hand, looked pretty similar from both leakers. This is in addition to the limited edition TWS earbuds being spotted in the Samsung UAE store.
I suppose, Max Weinbach's version is a good place to start because he did post his leak first.
This is the BTS phone, if you hadn't seen it yet. pic.twitter.com/IKSWETUp7g

— Max Weinbach (@MaxWinebach) June 3, 2020
The Samsung Galaxy S20+ BTS Edition, well according to the Weinbach render/leak, has a much simpler rear design with no BTS logo and in just in deep purple.
Evan Blass has since leaked another version which, looks a bit closer to how Samsung has executed its limited-edition designs like with the Blackpink Samsung Galaxy A80.
The teaser image really didn't do it justice #BTSARMY pic.twitter.com/ISFDirqdGR

— Evan Blass (@evleaks) June 8, 2020
With the Blass leak, the Galaxy S20+ is less deep purple and a bit pinkish. What makes it look a bit more 'official', is the BTS logo under the Samsung logo in the bottom and a heart in the camera module.
As far as the Galaxy Buds+ goes, all sources look the same with the BTS logo in one earbud and a heart on the other. What we don't see from the Blass Galaxy Buds+ leak and the Samsung UAE leak though is the top of the case of the buds themselves. Whereas, Weinbach shows a very simple BTS logo underneath the Samsung logo on the case.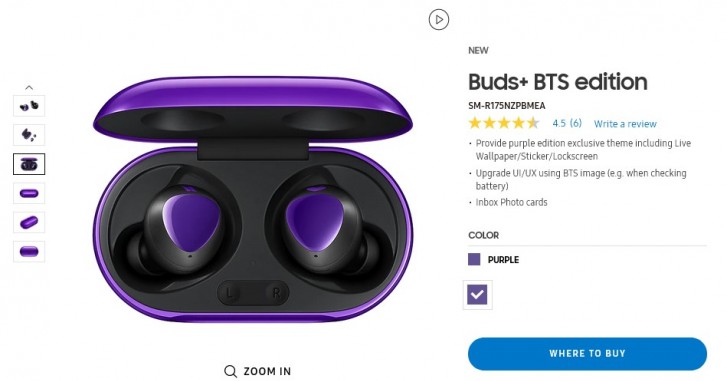 The Samsung UAE spotting also reveal that the Galaxy Buds+ will come with an exclusive theme that includes "Live Wallpaper/Sticker/Lockscreen". In addition, it will use a BTS image for things like checking battery and such.
Blass also posted a photo of the supposed retail packaging of the Galaxy Buds+ which looks to be in line with the teaser from Samsung themselves.
Retail packaging. pic.twitter.com/wxCVoZrLZX

— Evan Blass (@evleaks) June 4, 2020
What we do know is that it will be launched on July 9 based on the Samsung Mobile teaser. We'll just have to wait and see for the official launch.
Say hello to the best of us. #SamsungGalaxy #BTS @BTS_twt @BTS_bighit pic.twitter.com/3O6eZT4C9d

— Samsung Mobile (@SamsungMobile) May 31, 2020