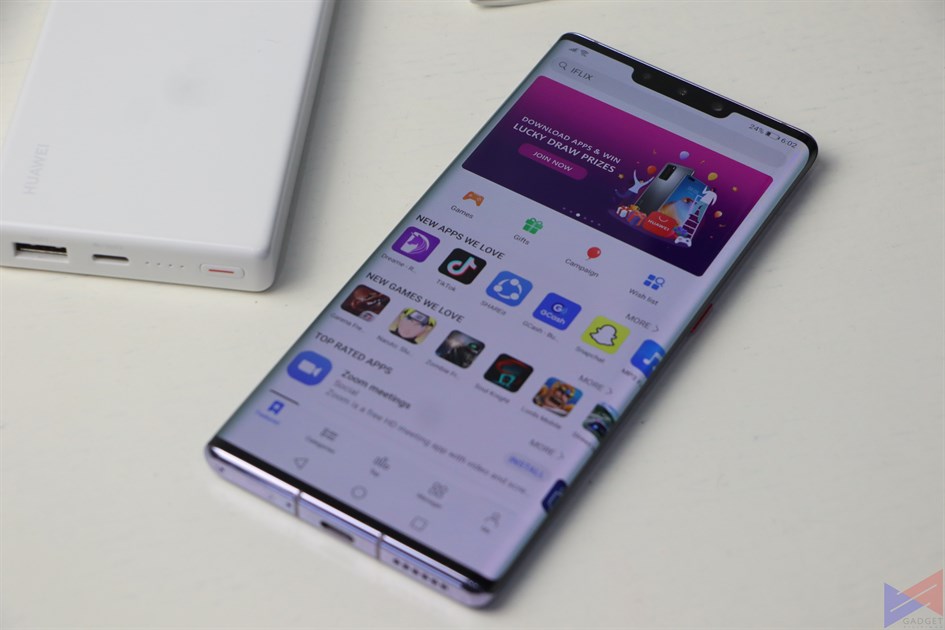 While avoiding crowds and limiting close interactions can help curb the spread of the virus, these may also take a toll on your mental health by increasing stress levels and anxiety.
Fortunately, there are ways to help you breathe and take a step back. Here are a bunch of helpful tips and apps that you can download for free on the Huawei AppGallery!
Tip #1: Virtually catch up with your BFFs or build a community with them!
Messenger Room
Facebook recently rolled out a new feature called Messenger Room which allows up to 50 people to participate in a video chat using a link. Those who will join will be able to see your name and profile photo and that you're in it. There's also a lock room option that allows you to prevent anyone else from joining.
You can share your photos, shopping wishlists, or play virtual games by using the Share Your Screen feature.
To install the Facebook app from the Huawei AppGallery, simply type "Facebook" on the search tab and click on the download link.
Viber Community
Found a new hobby? you can create a community on Viber. You can manage conversations on different topics like makeup, food, or fitness. New members will no longer have a hard time following recent discussions since they can see your chat history.
It's also a safe way to engage since it keeps members' privacy. Viber is FREE to download on the AppGallery!
Tip #2: Challenge yourself! Share your voice or talent with people around the world!
Kumu
Kumu is a social platform that features games, livestreaming, and more. It lets you connect to people by sharing your talents and stories. You can even make money by participating in various promotions or win cash prizes by playing live game shows.
Download Kumu on the AppGallery and share the fun!
TikTok
If you're an aspiring singer, dancer, actor or just bored in the house, TikTok can motivate you and boost your self-esteem to create short-form mobile videos that will bring out your inner creativity and bring joy to your audience.
Download TikTok from the AppGallery and discover how to use in-app recording, editing and effects features to create your first TikTok for business.
Tip #3: Play top gaming apps with your friends and aspire for the top rank!
Garena FreeFire: Rampage
This ultimate survival shooter game is now available on the AppGallery. You'll be able to create a 4-man squad and communicate via in-game voice chat. Compete against other squads and strive to lead your friends to victory!
Naruto Slugfest
Find your Ninja Way and experience the cinematic 3D visuals and plot restoration in the world of Naruto. The game features rich content for guests and unique gameplay modes. this will also help you and your friends improve your strategic and combat skills via quests and trial challenges.
Get Naruto Slugfest on the AppGallery!
Tip #4: Binge-watch your all-time favorite Filipino films or the most trendy K-dramas!
iFlix
With iFlix, you can stream or download from a massive library of Filipino and international movies and episodes to watch offline. Fresh on its feed, get first dibs on bite-sized videos, offers, and more. There's even a dedicated Kids section so you can also share your account with your younger siblings.
Viu
Viu helps you find the best and latest K-Dramas you would not want to miss. It will bring you the best Asian entertainment anytime, anywhere, and for FREE. Upgrade to Viu premium for more features.
Get HUAWEI Y6p and stay connected with your friends and loved ones!
Sporting massive storage, bigger battery life, triple camera lens, and a meticulously crafted design, Huawei launched one of the most affordable yet premium devices that you can find today – Huawei Y6p.
Priced at PhP5,990, Y6p is geared for those who seek fun social interactions online. It has three colors – Phantom Purple, Emerald Green, and Midnight Black.
Huawei Y6p is available in Lazada, Shopee, MemoXPress, Silicon Valley, Abenson, BlueLite, and Aerophone.
Emman has been writing technical and feature articles since 2010. Prior to this, he became one of the instructors at Asia Pacific College in 2008, and eventually landed a job as Business Analyst and Technical Writer at Integrated Open Source Solutions for almost 3 years.