Since the time I got my Huawei MatePad Pro, it has proven itself to be very useful in many ways. From entertainment to productivity, this tablet renewed my interest in the tablet category. While the global sales for electronics are dwindling, it seems that it is regaining some interest in the Philippines. With the situation we are all going through, the search and use of devices like this make sense – it's portable, energy efficient and (technically) not as expensive as a laptop.
Tablets like the Huawei MatePad Pro are drawing the line between the two categories – laptop and tablets. The available peripherals for this tablet have created a solution that best fits creators. It clearly shifted a different kind of consumer trend, where buyers usually consider purchasing devices not solely for consumption but also for content creation.
I wear several hats, and two of which heavily involve creating content. Would you believe that I managed to finish a huge portion of my daily deliverables with the Huawei MatePad Pro alone? It was a challenge that I put to myself, and I clearly pulled it off without any issues. If you're a creator or aspiring to be one, the list I compiled below may help you decide if this tablet is right for you.
Create Handwritten Title Graphics for my Unboxing Videos

It is possible to create customized handwritten title graphics for videos. In my case, I combined several applications that I downloaded from Huawei AppGallery and another third party marketplace.
MediBang Paint – Using the M-Pencil and the app, I used this to make the handwritten title. While writing the title, I simply held the power and volume up buttons to activate screen recording. This will then record whatever I'm doing on screen. After drawing the title, I stopped recording and cropped the video.
Filmora Go – I managed to crop the video to remove MediBang Paint's tools and dashboard. Unfortunately, you can't use the native Video Editor app to crop your video so you'll have to download this via any third party marketplace you trust.
Shop Smartly with App Multiplier
Online shopping is essential in my content creation career. When brands don't provide review units, the next thing that I have to do next is to buy one. Lazada, being one of the most optimized applications for Huawei Mobile Services, is compatible with this nifty feature called APP Multiplier on the Huawei MatePad Pro.
This feature does not just maximize the huge display of the tablet, but also gives the convenience of shopping online. Take a look at the quick demo below of how this works.
At the time of this writing, Lazada is the only app that is compatible with this feature. The two windows that will pop up are seamlessly connected, making your shopping experience like a walk in the… mall!
Maximizing the Display
Huawei MatePad Pro has a 90% screen-to-body ratio, which means that you have enough screen real estate to play around… literally. However, since we're talking about "productivity" here, let me rephrase it to "work around".
No matter how hard I try, it is challenging to review presentation slides and browse through social media at the same time on a phone. Both are essential activities in my line of job, and this is where I appreciate having a device with a much bigger display like the Huawei MatePad Pro. You can either pop another app while your presentation slides are fully displayed on screen or you can just simply display both using its native multitasking feature. There are quite a handful of apps compatible with this feature, and I've proven this very effective like. Here are some apps that you might one to take a look at:
Nebo – perfect for notetaking and scribbling
Lazada – for your shopping needs
PayMaya – online payments
AppGo – to look for the apps that you can't find in Huawei App Gallery
Oh, and before I forget, Notepad and Kids Corner return in the MatePad Pro. These apps prove to be very useful for me to keep track and take note of the things I need to be reminded of, and also let me lend my tablet to my 8-year old kid without having to worry about the security issues.
Get connected to your Social Media Apps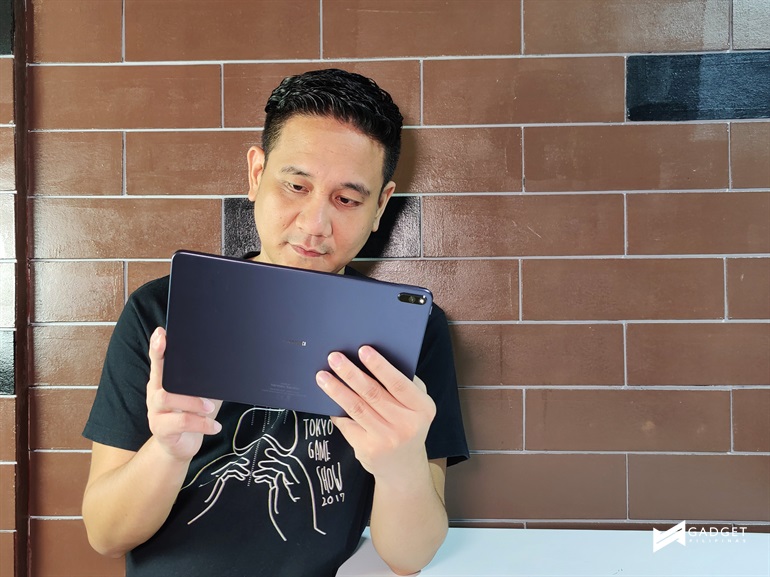 Social media has become an important part of my job. I connect to my YouTube subscribers and Facebook followers thru social media. Thankfully, all the apps can be downloaded on this device via Huawei App Gallery and some third party marketplaces. Here's a dandy list of all the apps downloadable via Huawei App Gallery:
Facebook – there's a link from Huawei App Gallery that directs you to Facebook's download page
Viber
Line
Zoom Meetings
Snapchat
Tiktok
Meanwhile, here are the apps that you can download from third party applications. :
Messenger
Instagram
LinkedIn
Pro tip: you can download AppGo from Huawei App Gallery, search for the app you're looking for, and it'll instantly tell you where you can download it.
While this next one isn't necessarily an app but a feature pre-installed in the latest EMUI update, MeeTime is proven to be an essential tool for creators especially when I need to collaborate with my friends in the industry.
Sounds by Harman Kardon
It's possible to edit a full video with this device. Yes, you can definitely do the same thing on a smartphone, but it's much easier to do so on a device with a bigger display. When editing videos, would you agree with me when I say that the sound quality is just as important as the video quality?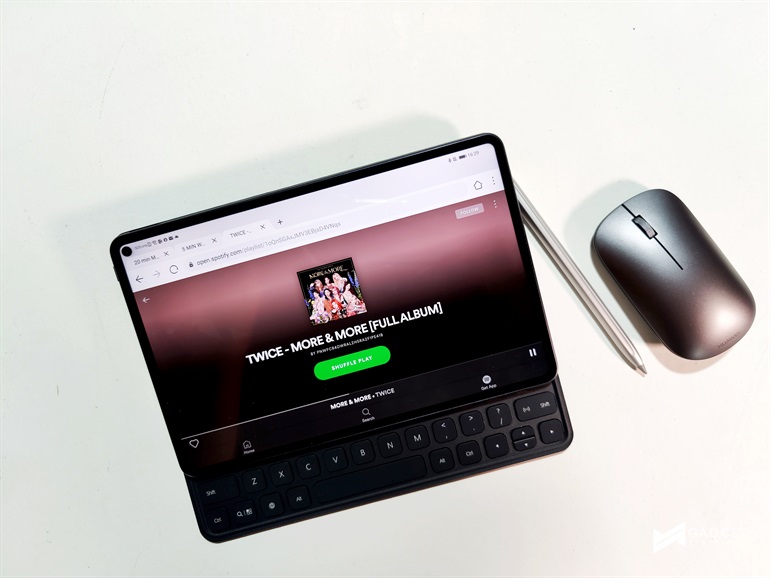 Huawei MatePad Pro has a speaker manufactured by Harman Kardon. This ensures that the sound is loud enough for you to accurately hear the output. When measured using Sound Meter, it registers about 78db when the tool is 1 feet from the display. For reference, a quiet office measures around 51db.
It isn't just being loud though. Quality is also balanced, with a healthy blend of warm and soft tones.
Collaboration that fits your need
This tablet has PC mode and Multi-screen collaboration. These are major and noteworthy features of this tablet. This is where you can see the impressive ecosystem that Huawei Mobile Services can offer through its latest EMUI version.
With PC Mode, I can transform everything to PC-like UI and experience. You can connect your keyboard cover and mouse if you want to, and use it just like how you use your PC. To even sweeten the experience, you can connect your Huawei device – the Huawei P40 Pro in our case – to the tablet wirelessly and control it when Multi-Screen Collaboration is enabled. The possibility is just endless.
This is also an efficient feature as I don't have to get my phone and check on calls and SMS. Everything can easily be done in my tablet, and all I need to do is simply seamlessly connect my Huawei P40 Pro to the Huawei MatePad Pro
Still stuck with Google? Here's a tip!
Most consumers are hung up about not having Google Mobile Services on new Huawei devices. I understand that some are still having a hard time adjusting from this new norm that Huawei is in. Off hand, it would seem that you will not be able to use most of your Google-linked applications on a Huawei device. However, if you take a look at it, you can still do so very easily on a Huawei tablet such as the Huawei MatePad Pro.
Huawei Browser is the best location to check and access your Google-link "applications". Whether it's Google Drive, YouTube, Gmail or even Google Search, you can easily access them via the browser. Also, if you don't want to use the browser for email, Huawei Email is fully compatible with Gmail.
The requirement to adjust to this new and growing ecosystem isn't a huge step for consumers. For someone who has been using Google Suite for our organization, using Huawei MatePad Pro is not, in any way, a stumbling block to get across and finish my tasks.
Availability
The Huawei MatePad Pro is available at Huawei Concept Stores Nationwide for PhP32,990. You can also buy it at Lazada via this link.
Giancarlo Viterbo is a Filipino Technology Journalist, blogger and Editor of GadgetPilipinas.net, He is also a Geek, Dad and a Husband. He knows a lot about washing the dishes, doing some errands and following instructions from his boss on his day job. Follow him on twitter: @gianviterbo and @gadgetpilipinas.