Arktek? Arsenal? What?
Arktek is one of the leading OEM/ODM in China since its inception in 2006. Arktek officially launched in the market last 2017. ArkTek's name is taken from Noah's Ark, a story of hope and salvation. Meaning Arktek aims to be the new generation in the IT industry. Started out as a GPU brand exclusive to Nvidia products, Arktek now has motherboards, memory, SSDs, and power supplies. In this review, we'll be focusing on the Arktek RTX 2060 Super graphics card.
Arsenal is the local brand name of Arktek here in the Philippines. The distributor is NEXT Technologies, the same company that offers Bezel gaming monitors. Artek GPUs are exclusively available in PCHUB while Arsenal products are available on the NEXT Technologies Lazada page.
The SUPER series of graphics cards is relatively new to consumers. It was Nvidia's response when AMD launched its RX 5700 series. The SUPER versions were essentially Nvidia's price-drop guides as new "SKUs." Additionally, it's also Nvidia's way of offering more RTX powered GPUs at various price points with the RTX SUPER series. We'll see how the Arktek Arsenal RTX 2060 SUPER fits in today's popular game titles.
SPECIFICATIONS
GPU
NVIDIA Geforce RTX2060 SUPER
Video Memory
8GB GDDR6
Memory Bus
256-Bit
Engine Clock
1470~1650MHz
Memory Clock
14Gbps
PCI Express
3
Display Outputs
3 x DP
1 x HDMI
HDCP Support
Yes
Maximum Digital Resolution
7680 x 4320 @60HZ Max. Resolution
Recommend Power Supply
550W
Power Consumption
175W
Power Input
8pin
Maximum Temperature
89 C
Support OS
Win 10/8/7
Accessories
1 x Power cable
1 x Driver CD
1 x User Manual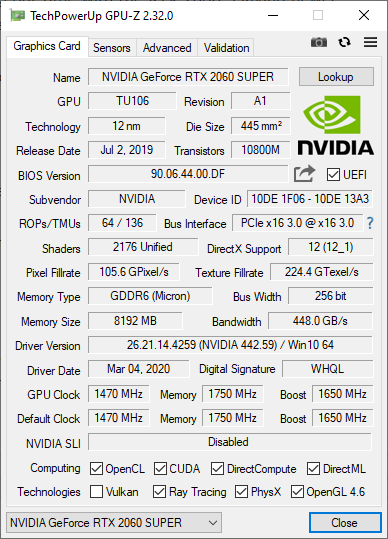 Arktek Arsenal RTX 2060 SUPER 8GB Graphics Card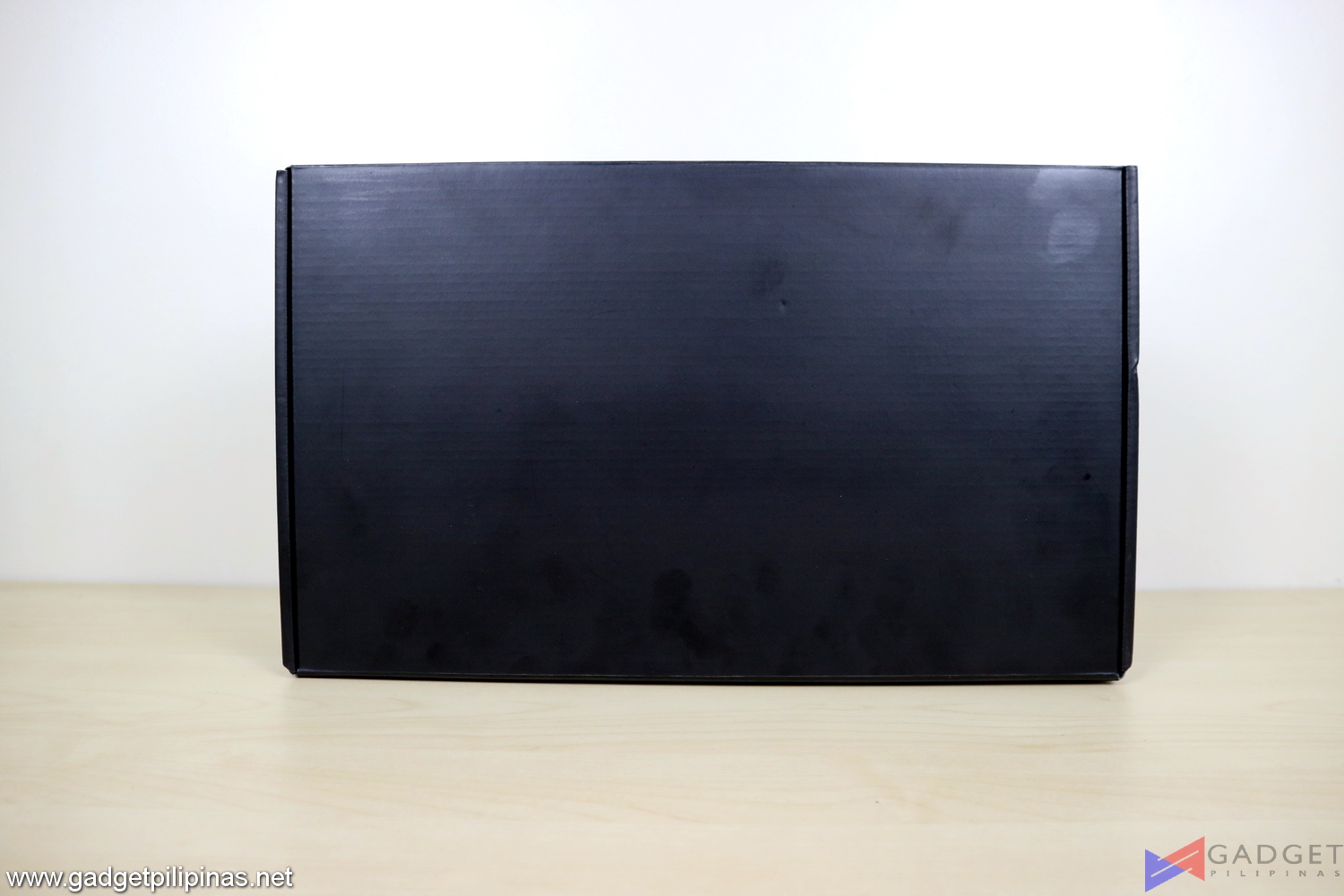 Arktek sent us the RTX 2060 Super Hyperion graphics through NEXT Technologies in the form of its local variant, the Arsenal RTX 2060 Super. Since this is a review sample we didn't have the actual retail packaging as ours came in a black box. Nonetheless, this card is still the retail sample and not an engineering product.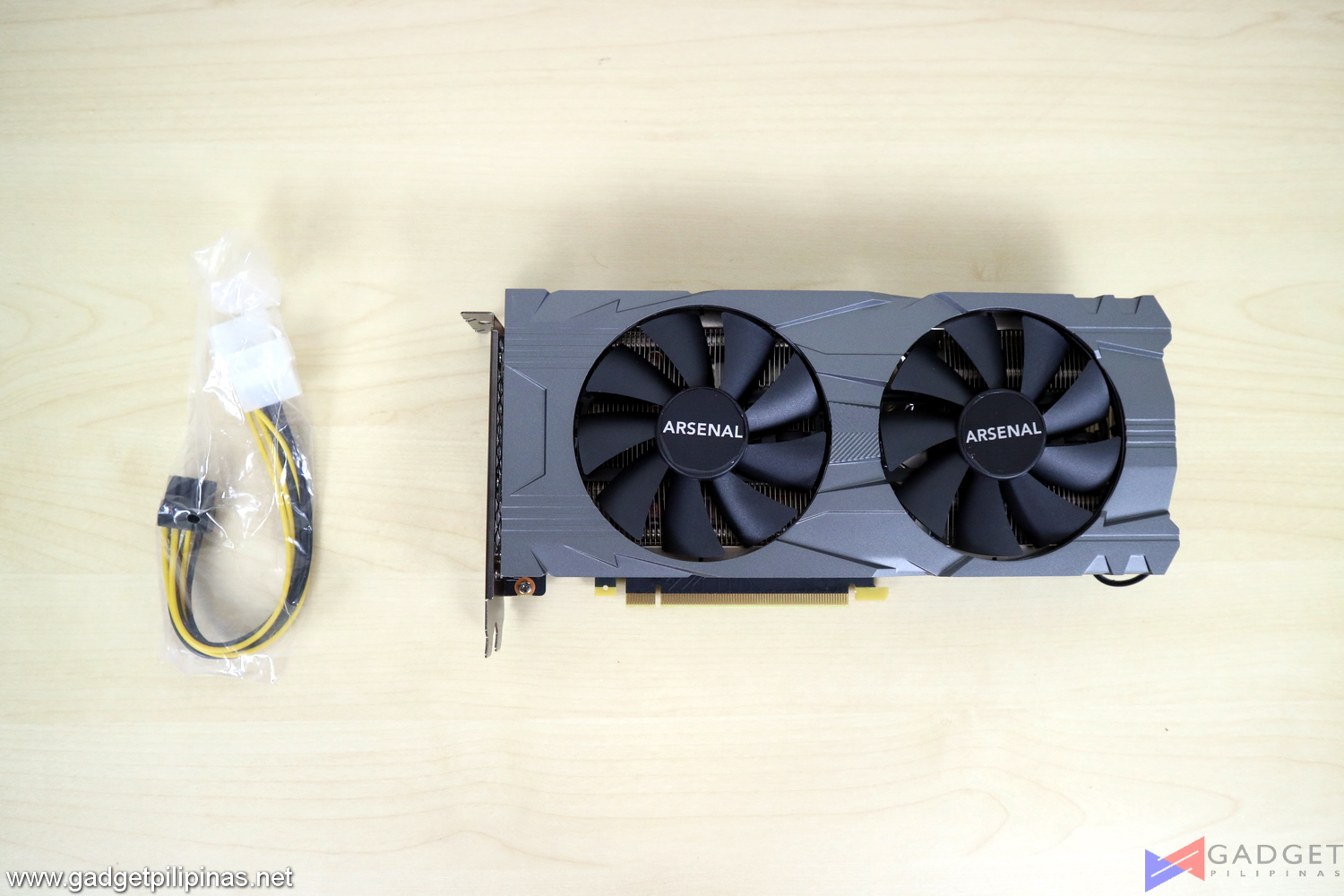 The contents of the box reveal the Arktek Arsenal RTX 2060 Super GPU and a Molex to 8-pin adapter cable. It's very rare to find a Molex adapter included in the box especially for RTX series cards. There's no manual or warranty card included.
Design-wise, the shroud of the Arktek Arsenal RTX 2060 Super is simple and elegant and it reminds me of Galax's old shroud and ASUS's DCU-II GPUs. For a budget brand and a budget GPU, Arktek managed to include an all-black metal backplate.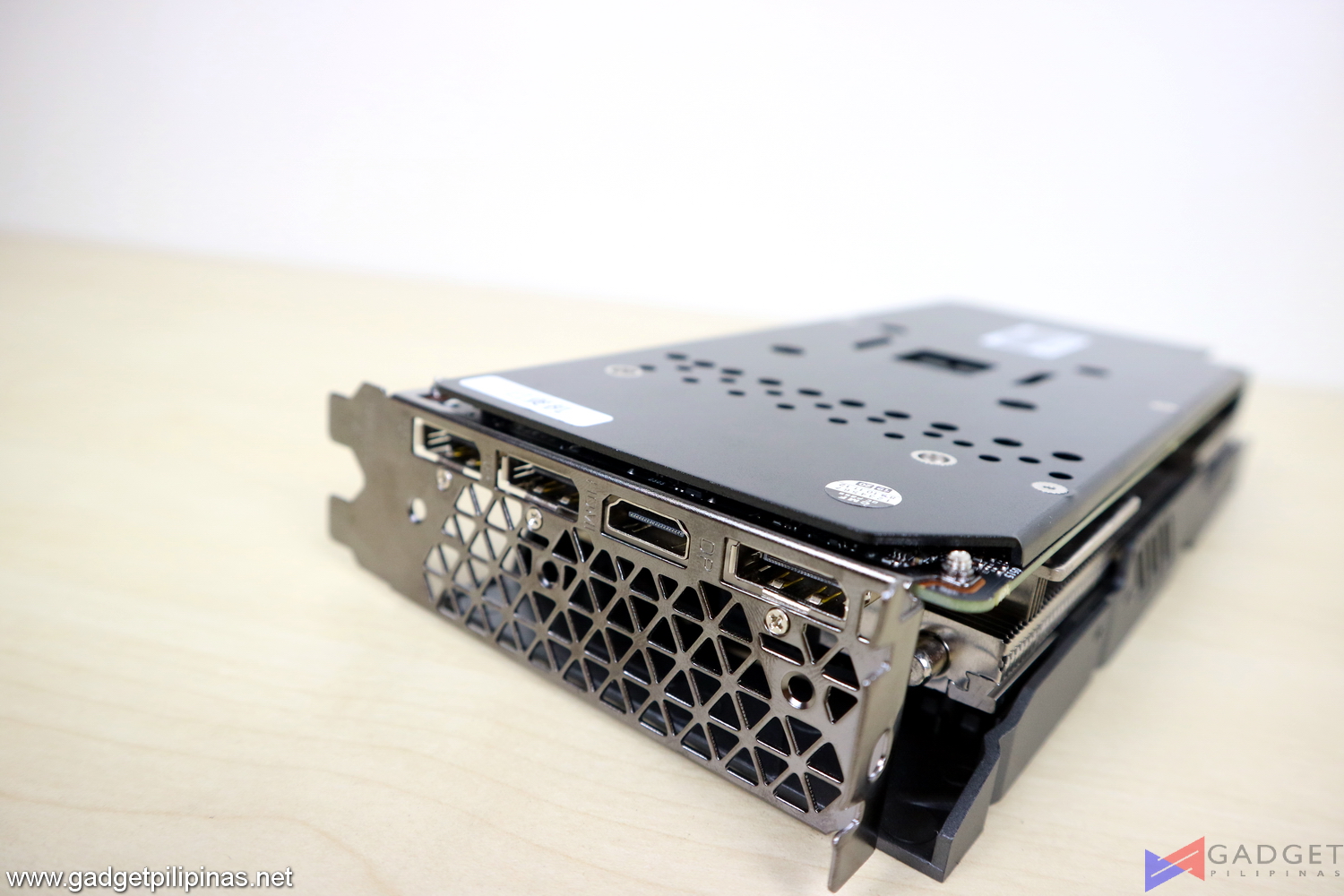 Port selection on the Arktek Arsenal RTX 2060 Super is standard. There are three DisplayPort 1.4 ports and one HDMI 2.0 port.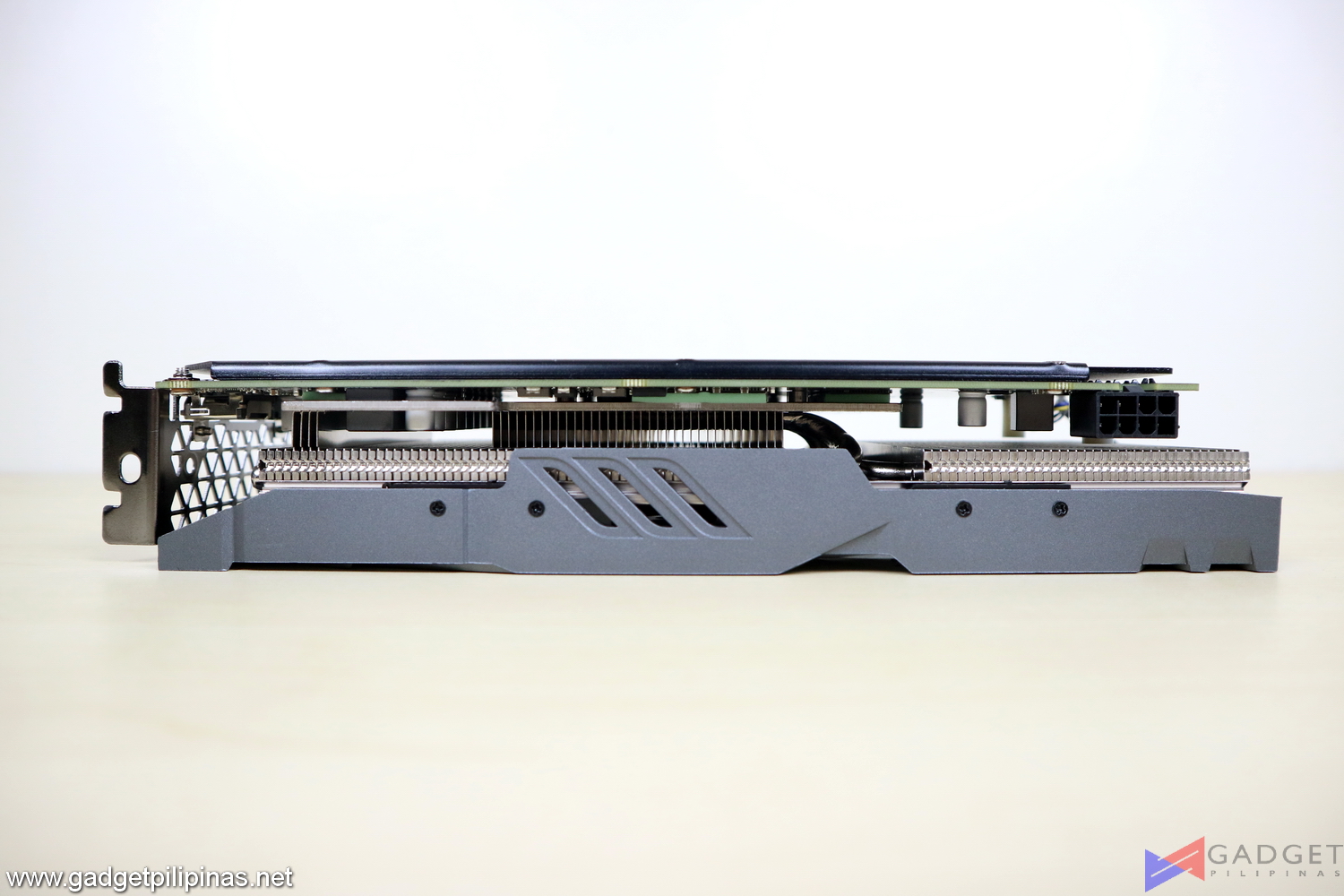 The Arktek Arsenal RTX 2060 Super only consumes the standard 2-slot. Its cooler shroud extends the PCB by a few millimeters but is still relatively compact, especially for an RTX 2060 Super graphics card. The side view reveals a minimal amount of capacitors as well as a slightly thin heatsink compared to other brands. We'll discuss how this affects the card's performance in the latter part of this review.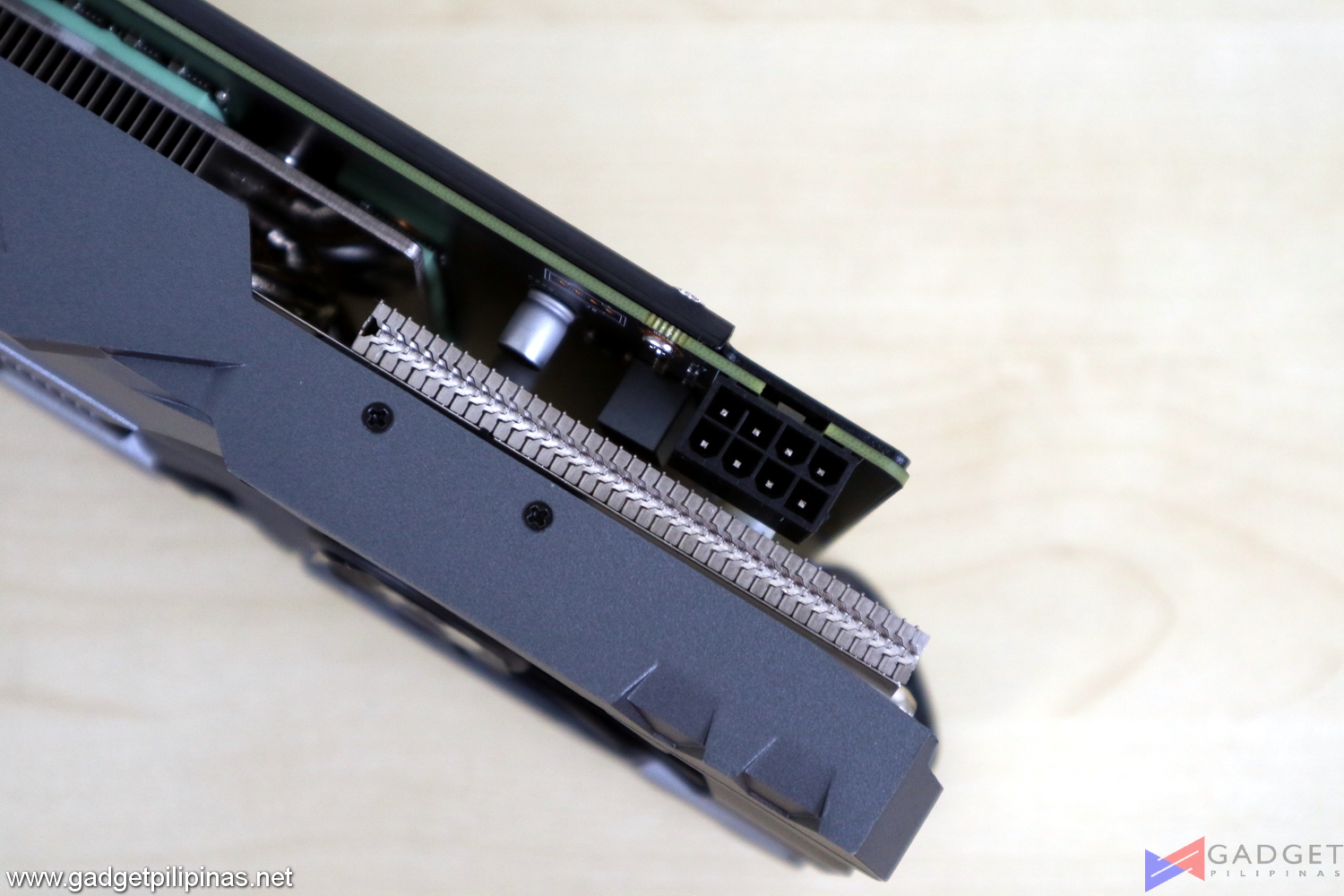 The card only requires an 8-pin PCIE cable for power with a rated TDP of 175 watts according to its product page.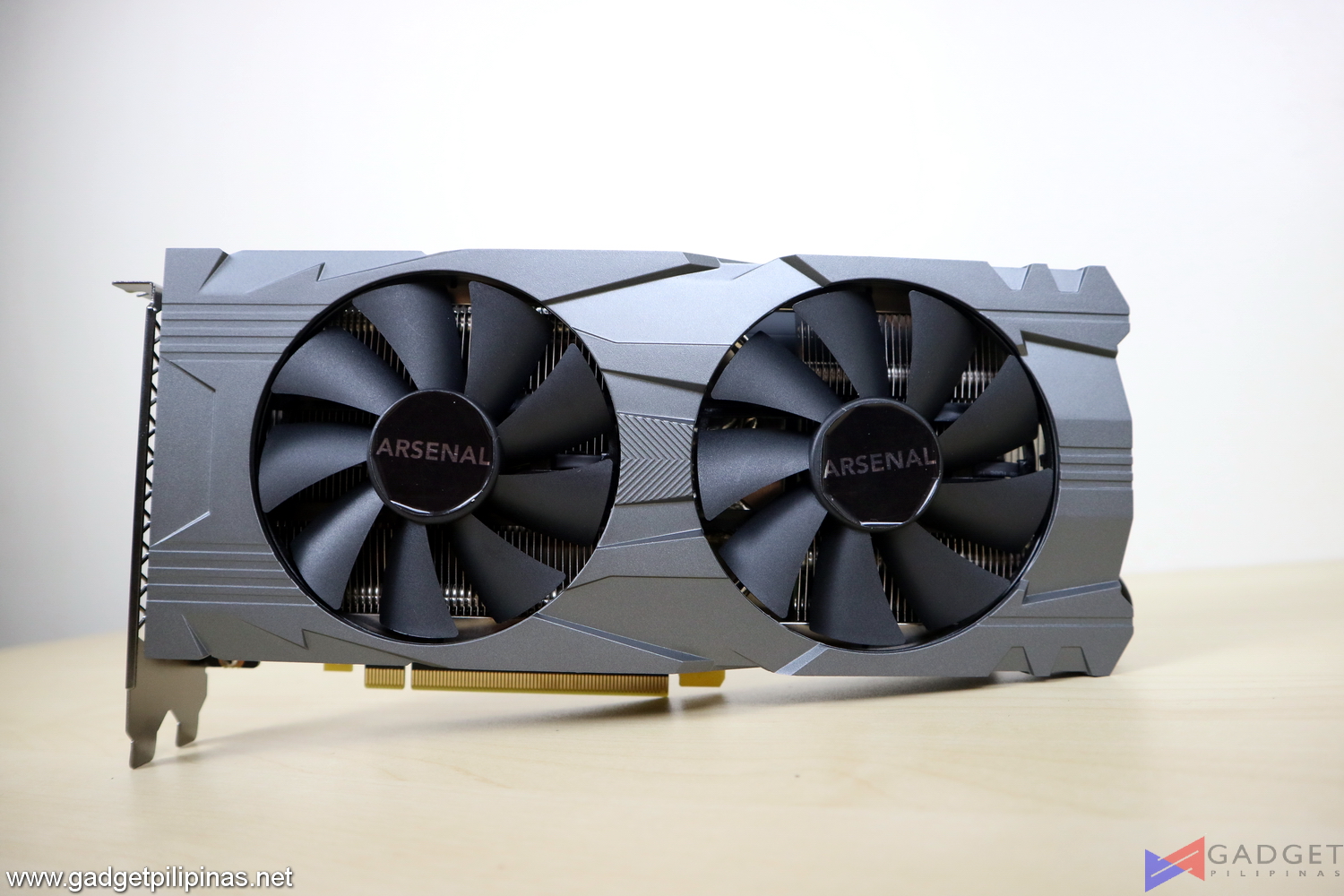 BENCHMARKS
TEST BENCH
Processor: AMD Ryzen 7 3700X
Cooling: NZXT X52 240mm AIO Cooler
Motherboard: ROG Strix X570-E Gaming Motherboard
Memory: HyperX Predator 16GB  3200Mhz
Storage: SanDisk 512GB M.2 SSD | TForce Cardea Liquid 512GB SSD
PSU: SilverStone Strider Essential 600W
GPU:  Galax RTX 2070 1-Click OC | Arktek Arsenal RTX 2060 Super | AMD Radeon RX 5700 XT
OS: Windows 10 Pro Build 1903
Drivers: GeForce 442.59 | Adrenalin 2020 Editon 20.2.2
3DMARK
3DMark is the go-to benchmark for gamers because of the ability to share and compare results online. We used Time Spy DX 12 benchmark and Fire Strike DX 11 benchmark and opted out of Port Royal since all the GPUs used in this review do not support Ray Tracing.
Synthetic benchmarks show the RTX 2060 Super rank last against the Nvidia's RTX 2070 and AMD's RX 5700 XT GPUs. But synthetic benchmarks don't tell the whole story and merely suggests the overall placement. As far as durability and legitness goes, the Arktek Arsenal RTX 2060 performs like a regular RTX 2060.
DOTA 2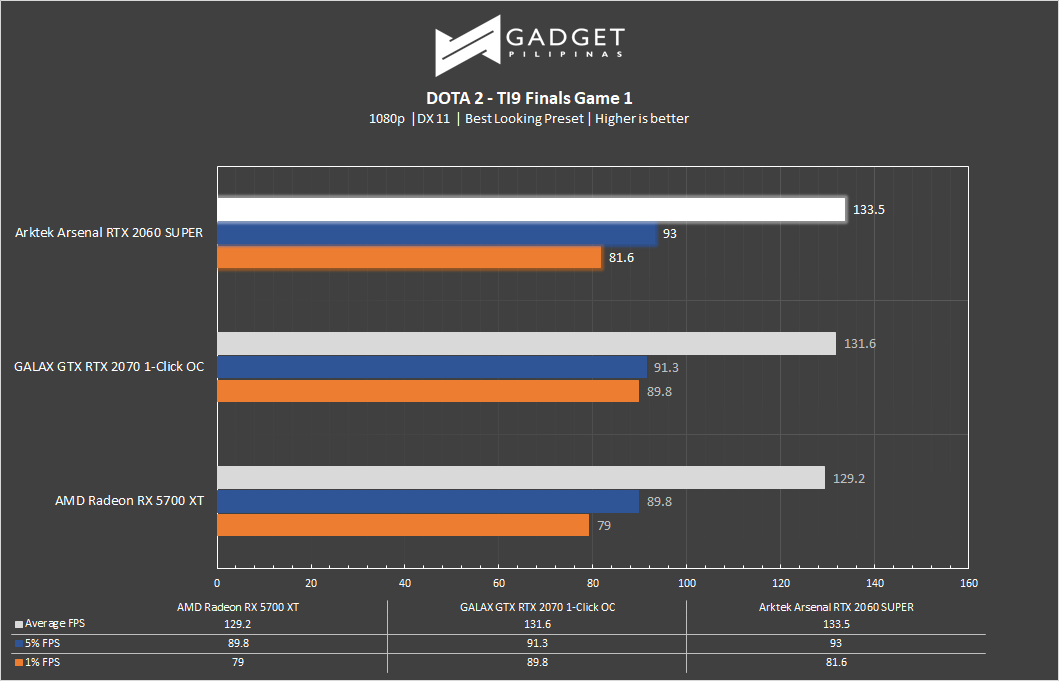 Most gamers play at least one of the following free-to-play titles: League of Legends, CS:GO, Dota 2, and/or Fortnite.  Dota 2 is a good representation of the F2P titles as it is the most demanding game in the spectrum. The benchmark will give you an idea of the laptop's relative performance on other lesser demanding titles. Our benchmark sequence is based on a replay of OG vs. Liquid in the TI9 grand finals from the team fight that happened on 28:30 to 29:30.
Our benchmark run puts the Arktek Arsenal RTX 2060 Super in first place with a 2fps lead against the RTX 2070. There's no sign of stuttering as shown on our frame time graph and stuttering analysis as 0.75% is well within our margin of error. The RTX 2060 Super ran the game properly despite having a slightly lower 1% lows than the RTX 2070.
Far Cry 5
FarCry 5 is an FPS game published by Ubisoft and uses the Dunia engine. It heavily relies on and takes advantage of DirectX 11 to render a realistic environment that makes it taxing to both the CPU and GPU.
The Arktek Arsenal RTX 2060 Super losses to the RX 5700 XT and RTX 2070 by a 0.1 FPS and .9 FPS respectively. A very negligible difference considering the price points of the graphics cards.
Rainbow Six Siege
Rainbow Six Seige is one of the few popular AAA games that's still popular in 2019 due to its competitive gameplay mechanics. R6S uses the AnvilNext game engine, which is developed by the game's publisher, Ubisoft. As of writing, Rainbow Six Siege is currently the most popular Tom Clancy title beating out Wildlands, Breakpoint and even, Division 2.
Rainbow Six Seige presented a different story with the Artek Arsenal RTX 2060 Super beating the RTX 2070 by 1.1 FPS but presents a more stable gameplay experience as seen with the 5% and 1% FPS lows.
Call of Duty: Modern Warfare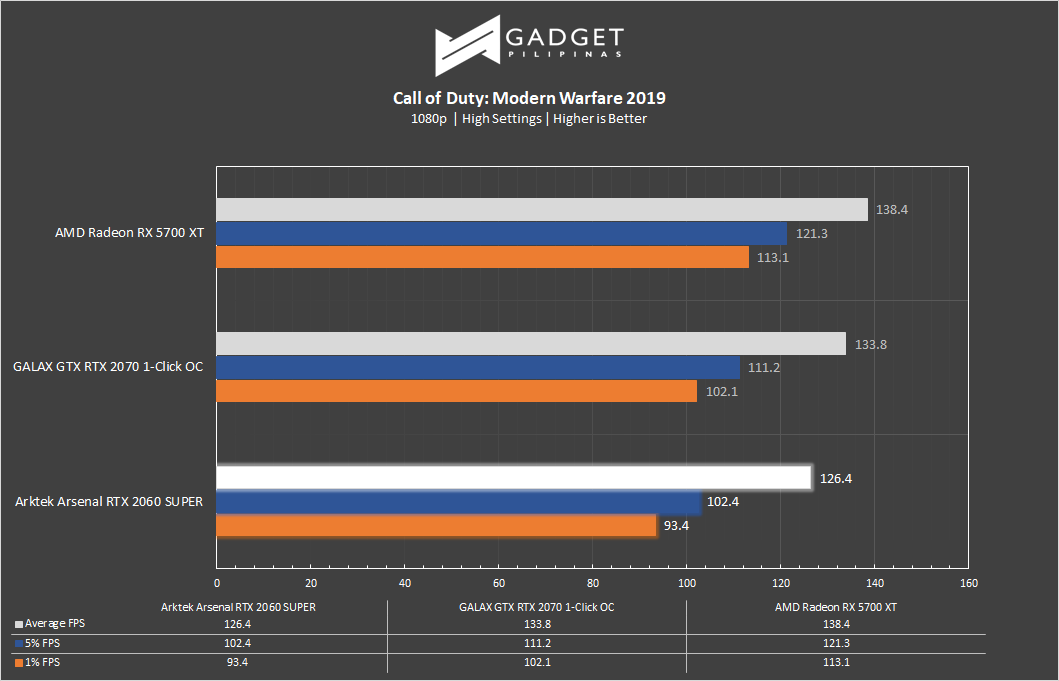 Call of Duty: Modern Warfare is arguably the most anticipated game of 2019. It's the first cross-play compatible game title of the franchise. COD: MW is developed by Infinity ward using a new IW engine and published by Activision. The game uses DX 12 by default, which makes it an excellent choice to include in our benchmark suite.
Using the DirectX 12 API tells a different story as the Artek Arsenal RTX 2060 Super lags behind the RTX 2070 and RX 5700 XT by a considerable margin.
Apex Legends
Apex Legends is a character-based Free-to-play battle royale game developed by Respawn Entertainment, the makers of Titanfall and Titanfall 2. It utilizes a modified version of Valve's Source Engine.
Apex Legends further widens the gap between the GPUs as the Arktek Arsenal RTX 2060 SUPER loses to the RX 5700 XT by 21% in terms of average FPS. However, the RTX 2060 Super redeems itself by having a tighter gap of its 5% and 1% lows resulting into a much stable gameplay experience.
Battlefield V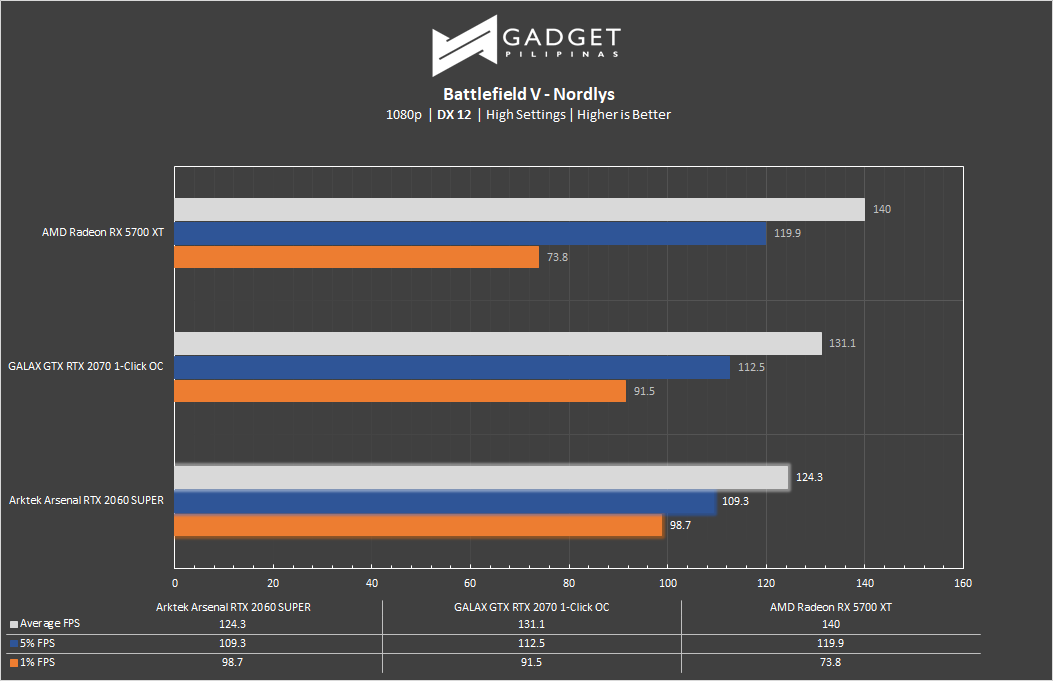 The Battlefield series is an iconic FPS title in our generation matching Halo and Call of Duty. Battlefield V, set in WW1, is the latest installment in the franchise developed by DICE using the popular Frostbite engine. It's also the first game to incorporate DX 12, Ray Tracing, and DLSS making it a great choice in our game bench library.
Tested in both DX 11 and DX 12, our benchmark run tells the same story with the Arktek Arsenal RTX 2060 Super placing last. Switching to DX 12 lowered the frame rates but the GPU is able to maintain a tighter gap in its frame drops as presented by the 1% lows. The 2.95% stutter is nothing to worry about as it is still a shy lower than our 5% stutter threshold.
Assassin's Creed: Odyssey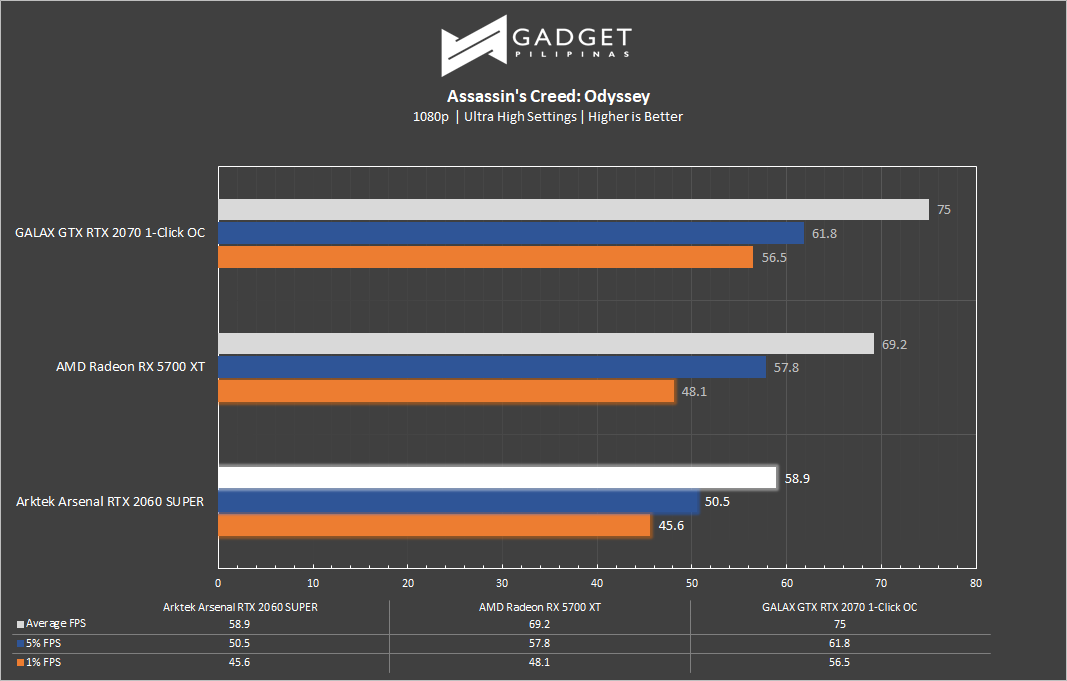 Assassin's Creed Odyssey is the latest franchise installment from Ubisoft. It's by far the most popular and stable Assassin's Creed title since AC IV: Black Flag. It uses the AnvilNext 2.0 game engine, an updated version of Rainbow Six Siege's game engine, and uses the DirectX 12 API.
The Arktek Arsenal RTX 2060 Super barely managed to reach 60fps with the ultrahigh preset. But as with any other benchmarks, its 5% lows and 1% lows are relatively closer to its average FPS compared to the RTX 2070 and RX 5700 XT.
Temps and Power Draw
TEMPERATURES
Despite losing to several games against the RTX 2070 and RX 5700 XT, the Arktek Arsenal RTX 2060 Super makes up for its temperatures. Our initial impression was that the card would run hot considering its appearance especially its thin heatsink. To our surprise and Impressively enough, the thin heatsink and compact cooler landed 34°C on idle and a max temp of 64°C during our benchmark run. It's cooler is more than enough to sustain the card even at a non-airconditioned room.
POWER CONSUMPTION
The Artek Arsenal RTX 2060 Super peaked at 178-watts during out benchmark run, the lowest among the cards tested.
CONCLUSION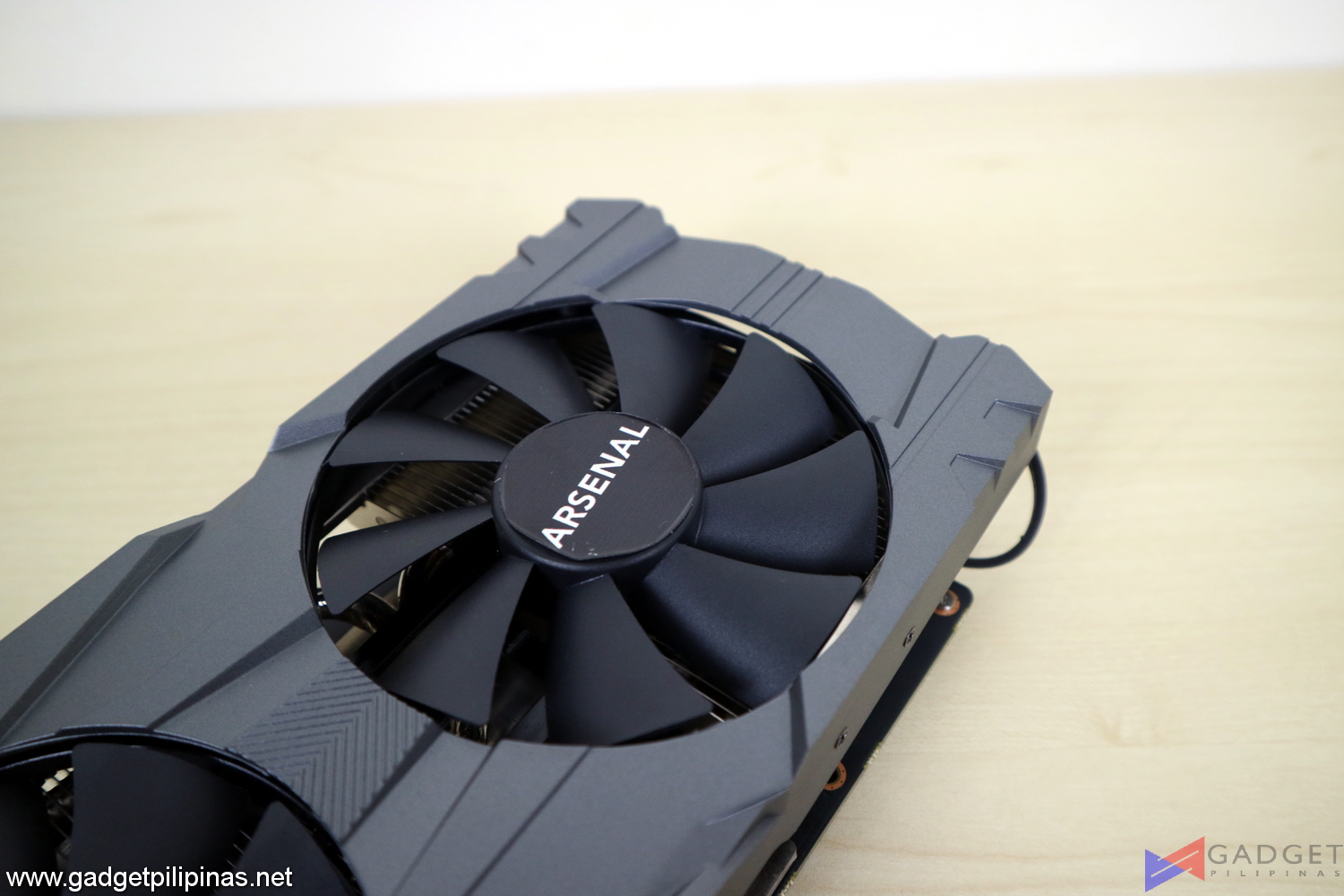 Let's break it down
PERFORMANCE
As seen with the benchmarks the card performs just like a normal RTX 2060 Super GPU. There were no game-breaking stutters during our time with the RTX 2060. Playing newer titles such as Valorant did not present any issues at all. Its clock speed, memory speed, and fan speed can be controlled via the third-party app of your choice. Unfortunately, we could not adjust the voltage to get a heavy overclock for the Arktek Arsenal RTX 2060 Super.
BUILD QUALITY
We normally don't take this long to review video cards but receiving a video card from a less popular brand immediately brought up durability concerns. As such, we had the GPU plugged in for four months and is used like any normal video card running games at max settings – A good excuse to play if you will. During our 4-month period with this card, we never experienced any BSOD crashes nor glitches. At first, the almost bare naked PCB markings posed a concern in terms of longevity but seeing how it survived 4 months of continuous usage proved it wasn't a problem at all. The card performed well with consistent and stable framerates just like the first time we booted it up in our test bench.
PRICE
As mentioned earlier, there are two variants available, the local branded Arsenal RTX 2060 Super and the Arktek RTX 2060 Super Hyperion. The Arsenal RTX 2060 Super retails for Php 18,999 and is only available on Lazada while the Arktek RTX 2060 Super Hyperion is available on PCHUB for Php 17,670. From its price range of Php 17k to 19k, it is definitely the cheapest available RTX 2060 Super in the country. For reference, GPUs of this price range are commonly brand new GTX 1660 Ti GPUs or clearance RTX 2060 products.
Should you buy it?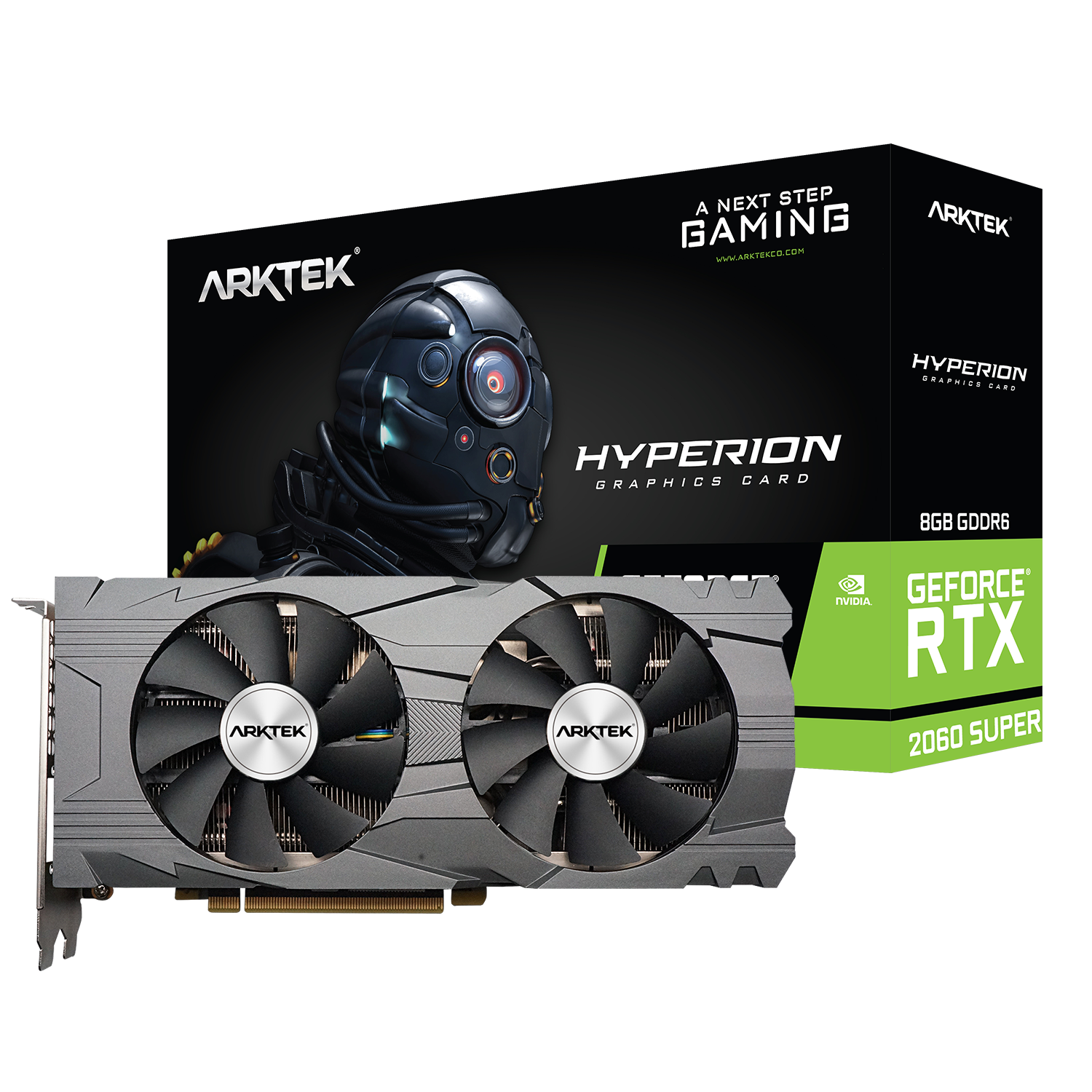 The Arktek Arsenal RTX 2060 Super is a legit RTX 2060 Super video card as far as we are concerned. Arktek is indeed a reputable brand in China while Next technologies' Arsenal brand has been around the same time they offered Bezel gaming monitors. While we didn't get any warranty information from the website, PCHub lists the Arktek RTX 2060 Super with a 2-year warranty which is fairly standard for GPU brands. If you're looking for the cheapest possible RTX 2060 Super GPU then the Arktek/Arsenal's offering is something you should look into. The savings offered by choosing this GPU can be redirected to other PC components such as faster storage or a better power supply for your peace of mind.
Whether to get the Arktek variant from PCHub or Lazada's Arsenal is up to you. We recommend getting one from PCHub if you're based in Metro Manila. Take up Lazada's Arsenal RTX 2060 Super if you're into online shopping, waiting for promo codes and cashback, or if you're in the province.