Acer has just unveiled the Enduro series, its new line of rugged notebooks and tablets featuring MIL-810G and up to IP65 certifications. The Enduro series is designed for first responders, field, and manufacturing workers.
Currently, the Enduro series has two notebooks namely the Acer Enduro N7 and N3 as well as three tablets – the Acer Enduro T1 (ET110-31W and ET108-11A) and T5 (ET510-51W).
All Acer Enduro series devices are equipped with Acer Enduro Management Suite (AEMS) which is a system designed to streamline the management a large number of devices in addition to keeping the devices more secure.
Acer Enduro N7
The Acer Enduro N7 notebook has a 14-inch FHD display with 700-nits. It is MIL-810G and IP65 certified being able to withstand drops and resist dust and water.
The N7 has a quad-core 8th Generation Intel Core i5 processor. In terms of security addition to the AEMS, it also has a hardware-level Trusted Platform Module (TPM) 2.0 that checks for any signs of intrusion during startup. It also has a fingerprint sensor through Windows Hello.
The Enduro N7 comes with dual batteries – one hot-swappable battery with supposedly 10-hour life and another built-in bridge battery.
Acer Enduro N3
The Acer Enduro N3 strikes a balance between durability and portability. It has the same MIL-810G certification as the N7 in addition to an IP53 certification while still keeping it thin and light at 24.85mm and 1.985kg. The N3 is also protected by Corning Gorilla Glass and unique water-resistant Aquafan.
It boasts a 10th Gen Intel Core i7 processor and 32GB of DDR4 RAM. In addition, it has 512GB PCIe Gen3 NVMe SSD and an optional NVIDIA GeForce MX230 GPU.
The Enduro N3 has Discrete Trusted Platform Module, AEMS, and password-protected HDDs as far as protection goes.
Acer Enduro T5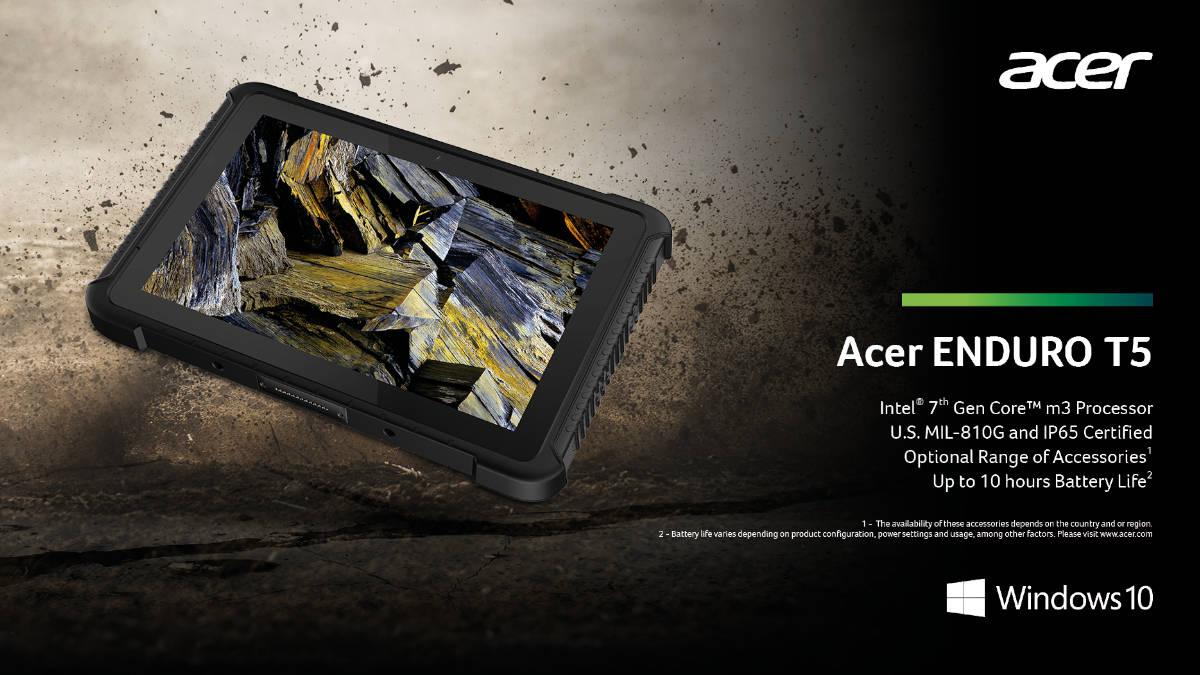 The Enduro T5 (ET510-51W) is a 10-inch Windows tablet designed for long periods of work. It has a 7th Generation Intel Core m3 processor and a 10-hour battery that can be swapped, both of which lend the power needed by logistics and manufacturing workers. Like the N7 rugged notebook, the T5 has MIL-STD 810G and IP65 certifications and AEMS for security.
The Enduro T5 has a variety of accessories which include docking stations, hand grips, shoulder straps, 4-point shoulder straps, car chargers, and car holders.
Acer Enduro T1
The Acer Enduro T1 Windows tablet comes in two sizes, 10-inch (ET110-31W) and 8-inch (ET108-11A).
The Enduro T1 (ET110-31W) is a Windows tablet that doubles as a 10.1-inch notebook via an optional portfolio keyboard. It has an Intel Celeron processor and 64GB of eMMC storage. The tablet has MIL-STD 810G and IP54 certifications.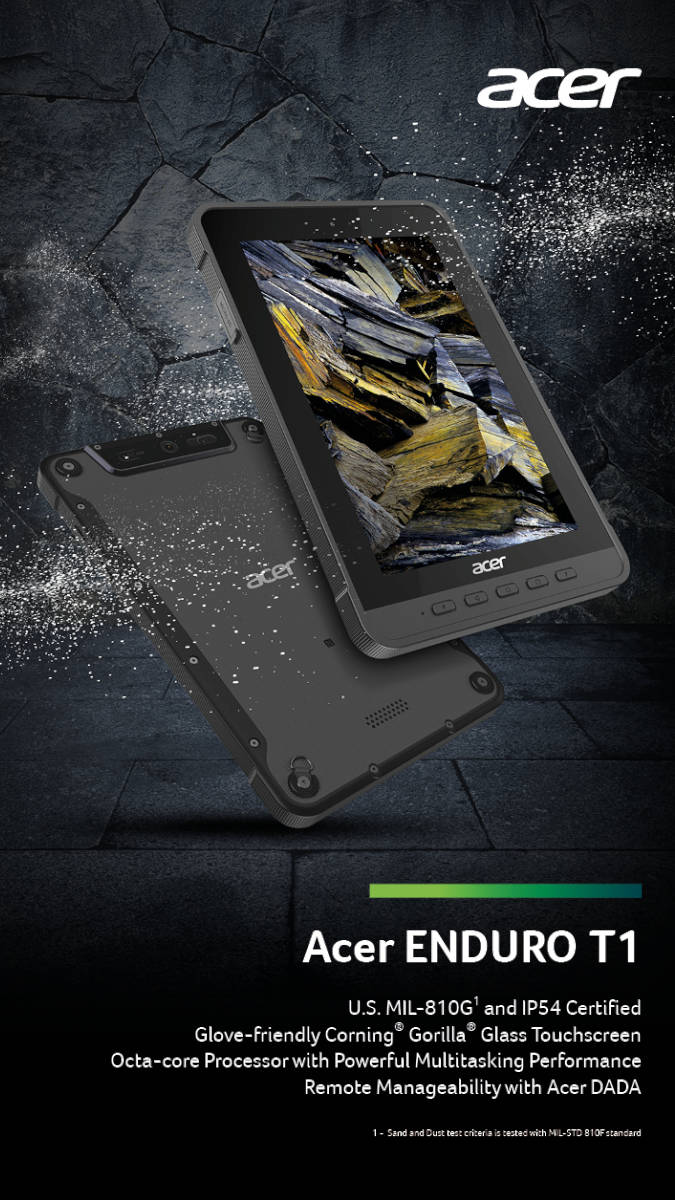 The Acer Enduro T1 (ET108-11A), on the other hand, is an Android tablet designed for smart retail, warehouse, and factory workers. Like the 10-inch Windows sibling, the 8-inch Android tablet has MIL-STD 810G and IP54 certification.
Both Enduro T1 tablets can be used while wearing gloves.
Currently, only the Acer Enduro N3 has been confirmed as far launch and price is concerned. The Enduro N3 will be available starting June in EMEA (Europe, the Middle East, and Africa) for EUR 999 and in August in North America starting USD 899.