The Samsung Galaxy S20 series was released in early March. The series introduced three new phones to the flagship Galaxy S-series. I was given the opportunity to review the base Samsung Galaxy S20.
It may be the smallest of the three and one with the weaker camera and battery, but it does put up a fight. Here's my experience with the device.
Specifications:
Samsung Galaxy S20
Price
PHP 49,990
Display
6.2-inch Quad HD+ Dynamic AMOLED 2X
563 ppi
HDR10+ certified
120Hz display support
Rear Camera
Main: 48MP Telephoto, 76°, f2.0
Wide: 12MP, 79°, f1.8
Ultra Wide: 12MP, 120°, f2.2
Space Zoom
Hybrid Optic Zoom 3x
Super Resolution Zoom up to 30X
Front Camera
Selfie: 10MP, 80°, f2.2
Dimension
151.7 x 69.1 x 7.9mm, 163g
Processor
Octa-Core Exynos 990
Memory
8GB RAM (LPDDR5)
128GB internal storage
Micro SD Slot (up to 1TB microSD)
Battery
4,000mAh
5G
Non Standard (NSA), Sub6, for PH – S20 4G/LTE Only
LTE
Enhance 4×4 MIMO, Up to 7CA, LTE Cat. 20 — Up to 2.0Gbps Download / Up to 150Mbps Upload
Charging
Improved wireless charging speeds with Fast Wireless Charging 2.0, Wireless PowerShare, 25W Super Fast-Charging
Sensors
Accelerometer, Barometer, Ultrasonic Fingerprint sensor, Gyro sensor, Geomagnetic sensor, Hall sensor, Proximity sensor, RGB Light Sensor
Authentication
Lock types: pattern, PIN, password; Biometric lock types: Fingerprint, Face recognition
Others
IP68 Certified Dust and Water-resistant
Design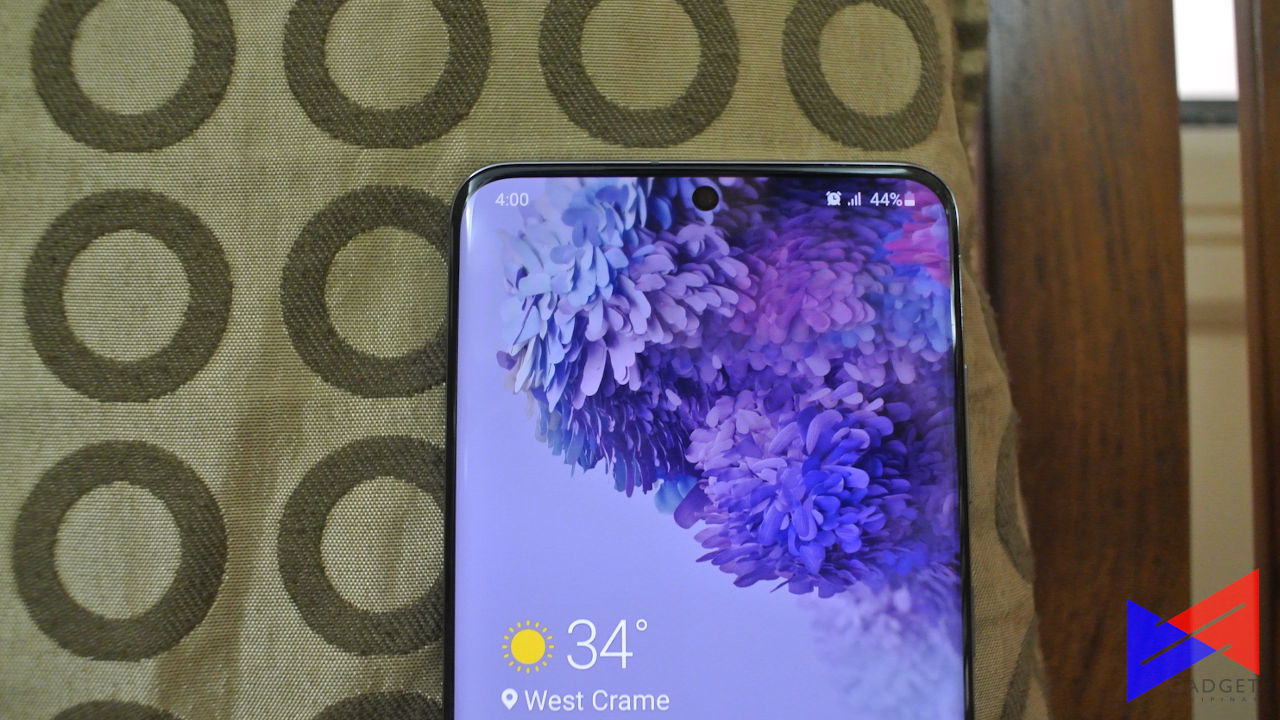 The Samsung Galaxy S20 has a 6.2-inch Quad HD+ Dynamic AMOLED Infinity-O display making it the smallest of the S20 series. It may not have as much screen real estate as its siblings but it does help with one-handed use. This is a nice plus for those with smaller hands.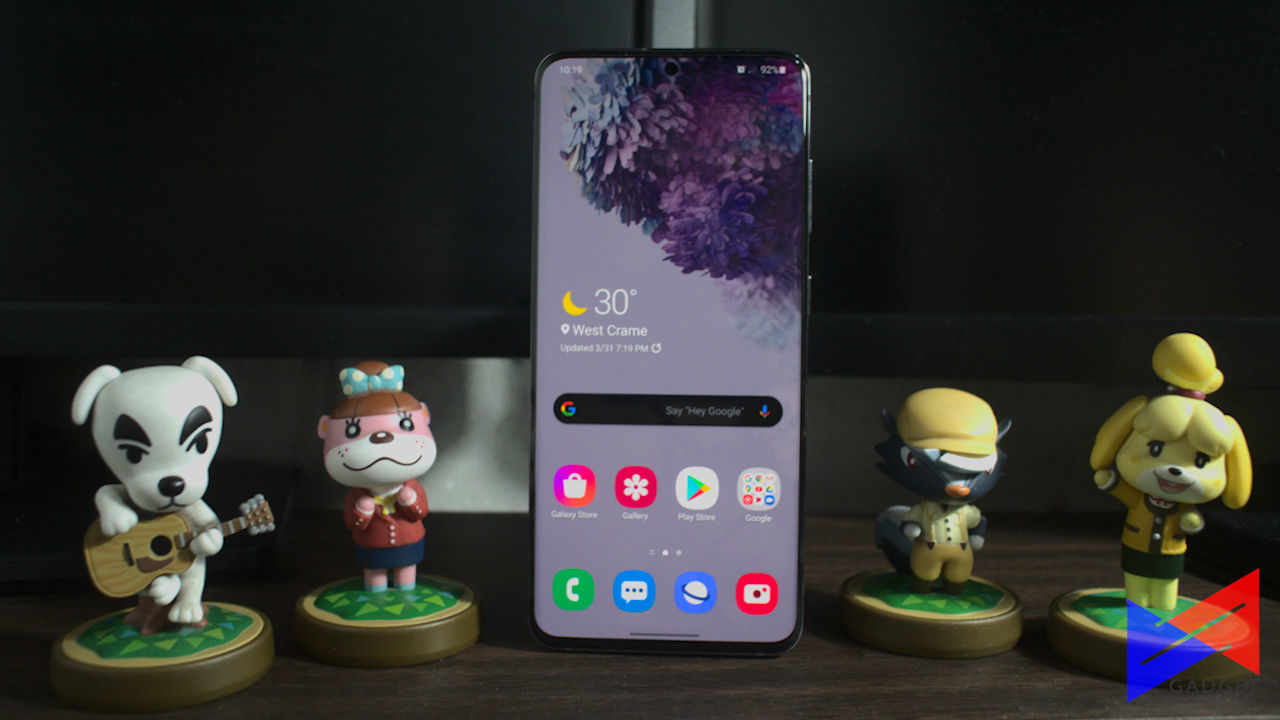 Because of the smaller size, it was also easy to get to the volume rockers and power button without adjusting too much. The in-display fingerprint scanner was also easy to get to which makes for a much easier experience with the phone.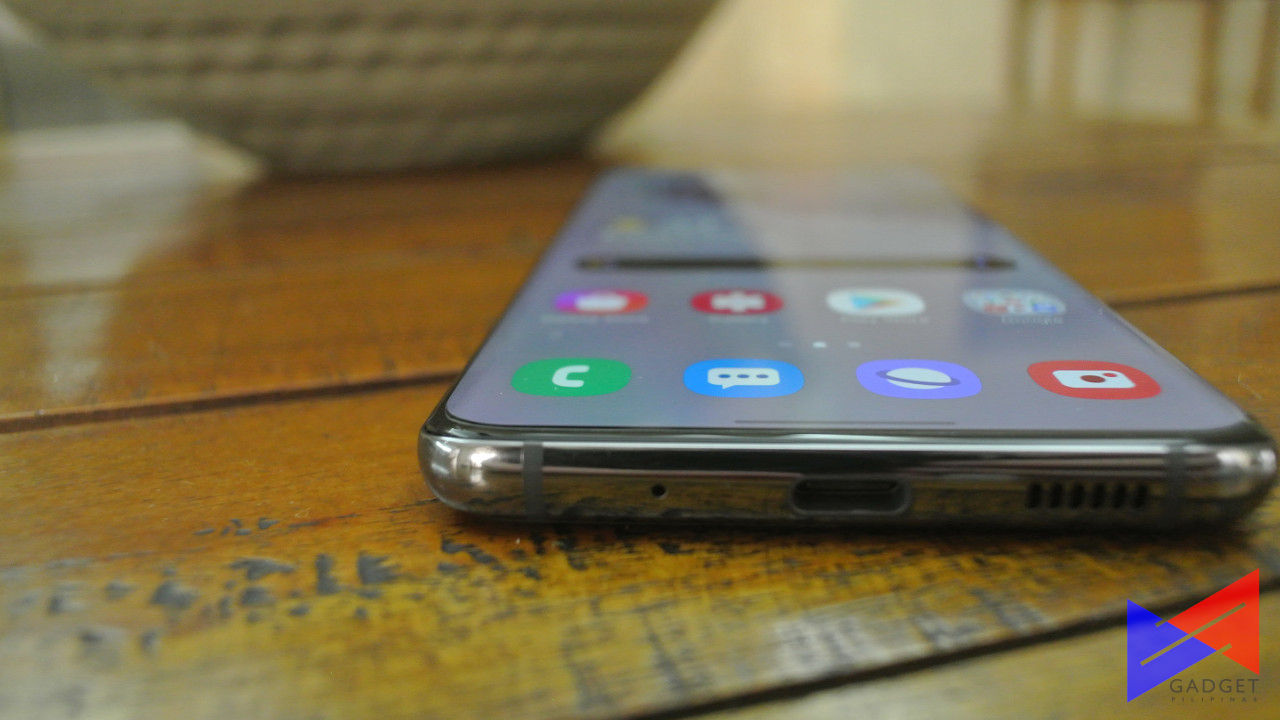 I still think that the punch-hole or the Infinity-O display is the best execution of getting a full-screen display. It isn't too intrusive when browsing sites or social media.  I'm just glad to see Samsung continue to use its Infinity-O display on the Galaxy S20.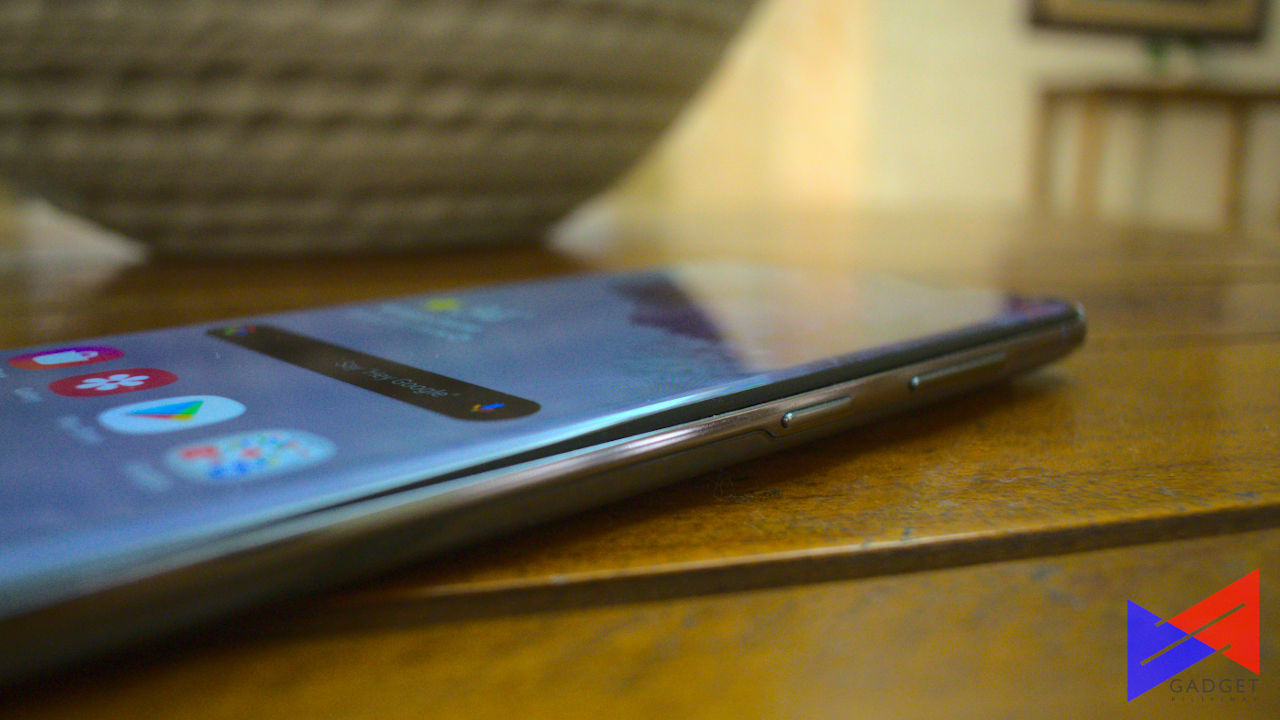 As far as build goes, it's a familiar Samsung feel in the hands with curved glass on the back and a slightly lesser curve on the display. With the back of the phone made from glass, it has the usual glass problem, fingerprints. We got the Cosmic Gray version of the phone, which I think is the best candidate of the three colors to just have a case on it.
The S20 doesn't have a 3.5mm headphone jack, should that matter to you. I personally have accepted that not all phones will have it thus it doesn't make much of a difference for me.
Performance
One of my favorite features of the phone is the chance to bring the refresh rate up to 120 Hz, albeit at a lower resolution. Running it at 120Hz uses up more of the 4000mAh battery but experiencing a higher refresh rate just changes the experience drastically. I found myself almost solely using it at 120Hz. This meant I used it at 1080p more than 1440p.
I wish there was a way to switch refresh rate or even resolution on the fly. Currently, you'll have to go to Settings, then go to Display, and change either the refresh rate or resolution. You get three different options as far as resolutions go, HD+, FHD+, and WQHD+.
Generally, it was a smooth experience on the S20. Its battery was enough to last a day running on 120Hz. One downside is that with just 25W of wired fast-charging, it takes quite a while compared to other Android devices with higher fast charging power.
One of the first things I tested was how well the gaming experience was. For this, I played a variety of games like Call of Duty Mobile, Marvel Super War, Asphalt 9, Auto Chess, and, of course, Mobile Legends: Bang Bang. I was able to crank all the games up to max settings, expectedly, and was even able to toggle the higher refresh rate mode in some of them. The latter was such a joy to experience for the first time.
A problem with the S20 though is that the phone gets a little warm over time while playing. Yes, it didn't matter which kind of game I played. It warmed up with Asphalt, COD Mobile, and even Auto Chess. It isn't to the point of discomfort but it is always worrying to feel a phone warm up in your hands.
Another thing I appreciated is the Dolby Atmos feature that is found amongst the shortcuts in the Notification Panel. The difference between the audio quality of the speakers with and without the Dolby Atmos is day and night.
Camera
The Galaxy S series has always managed to deliver beautiful photos and the S20 is not an exception. It has three cameras headlined by a 48MP telephoto lens. This is accompanied by a 12MP wide shooter and a 12MP ultra-wide lens.
The camera delivers punchy colors, unsurprisingly. It also holds up in darker environments, there are the AI-assisted mode and Night Mode to help you with that. The trade-off for better photos is that you'll have to hold the phone steady for a couple of seconds.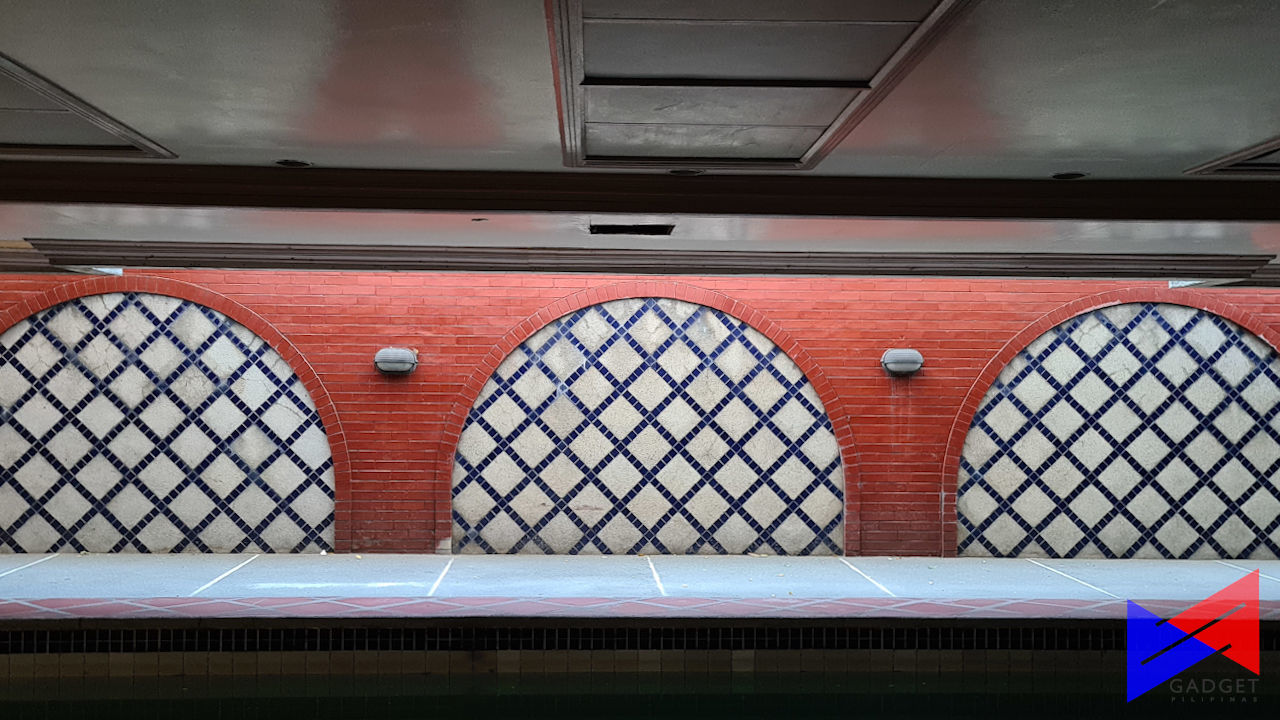 How long the phone must be held steady is quite a difference with it being longer in the ultra-wide mode.
In addition, the Camera app has a Live Focus mode that allows you to choose the kind of blur effect is and how harsh it is. There are also the AR modes that the company introduced in the S10 and Note 10 among other features that the camera app brought. I, for one, will just default to the basic camera mode, Night Mode, and the occasional Panoramic.
The front camera is just alright. It does have a wide mode, however, which means you'll be able to include more people in your selfies should it call for that. Like the rear camera, having a wider angle is very much welcome.
Software
The Samsung Galaxy S20 runs on One UI 2.1 on top of Android 10. One UI has now left its mark as a better and improved UI from Samsung. It is still, however, something you either love or hate. I, for one, am not too fond of it. The flat but quite colorful icons of the apps are very Samsung and is a bit too bright for my liking.
I do, however, prefer the more organized look of the settings of One UI. It just makes looking for the variety of options much easier.
Just like the better-organized Settings, the simplicity of the Camera is also very welcome. However, I wish there were a quick way and a better way to get out when you enter the other modes like Panorama, Live Focus, or Super Slow-Mo.