I have been enjoying Huawei Y7P for a number of reasons! I just received mine a few days ago, and for a budget smartphone, it totally gave me an interesting consumer experience.
Huawei Y7P comes with it a unique proposition that some consumers are still not familiar with. The smartphone features a different kind of app distribution and mobile service – Huawei App Gallery and HMS or Huawei Mobile Services.
For a device that lacks Google Mobile Services, some would prefer something else than the Huawei Y7P! I am not here to either change your mind or push you this product, but I'd like to share with you my experience with this phone, and how I managed to enjoy it like I normally would despite lacking Google PlayStore.
Here are some reasons how I got to enjoy and love a smartphone without Google PlayStore like the Huawei Y7P.
No Google, No Problem!
There are tons of ways to actually download the applications you are accustomed to use and play on your smartphone. When I got my Huawei Y7P, I am greeted with suggested essential applications that are available on Huawei App Gallery. From Banking applications down to photography apps, 70% of the applications that I would normally download on Google PlayStore is in Huawei App Gallery.
Once I set everything up, it took me less than 5 seconds to get to top applications to see the ones that I can readily download. To my surprise, the apps I saw are from reputable banking companies and government agencies, which dispel issues that Huawei App Gallery is not a secured platform. It is time to take out that negative notion of Huawei App Gallery, and move on.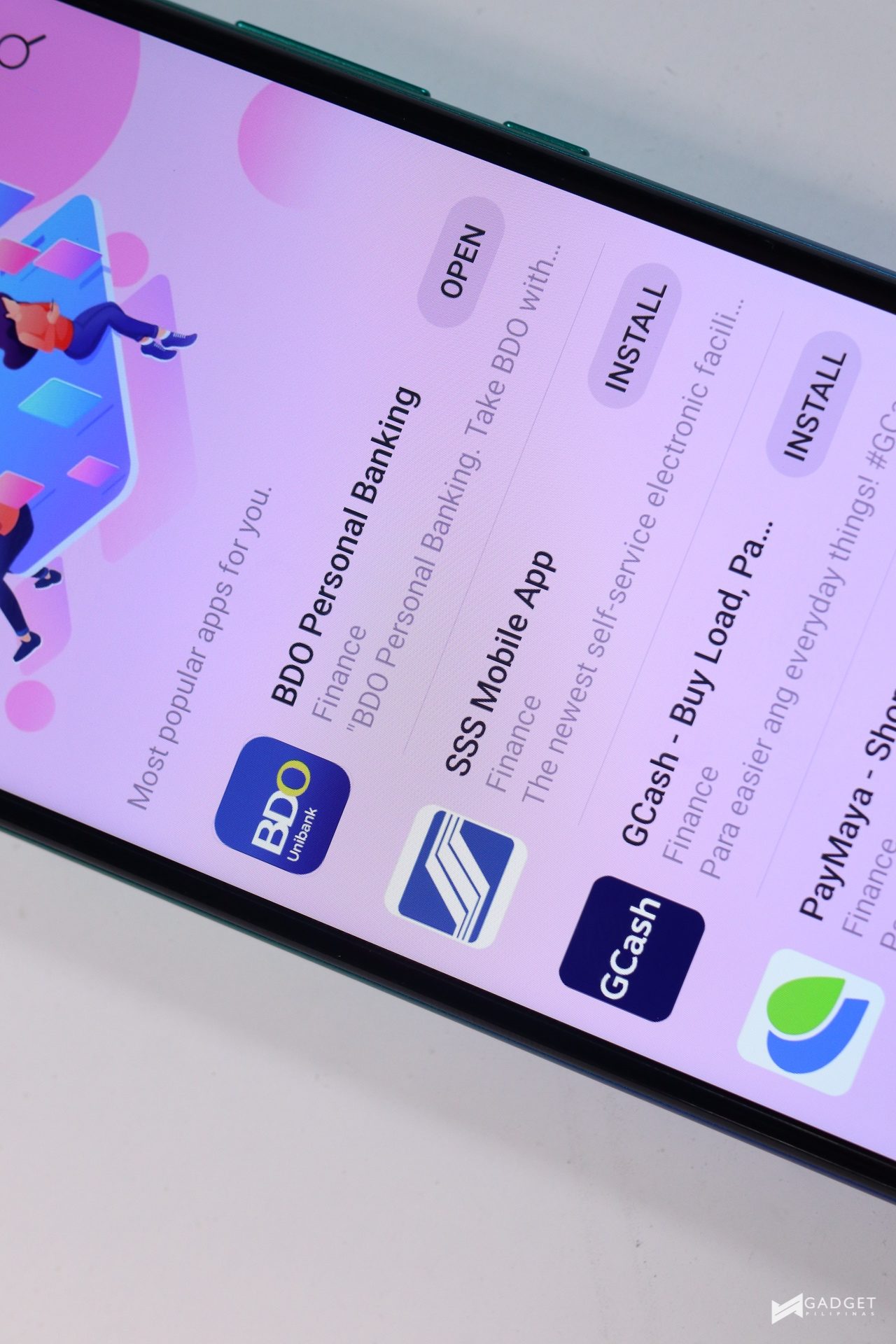 Here are some of the apps I downloaded straight from the gallery:
BDO Personal Banking: This works, and for a big company such as BDO, I am happy to have found their app on App Gallery.
PayMaya: This application offers a wide range of services especially for cashless and online transactions. From buying new games to booking my next trip via Booking, this is my app of first choice.
Viu: Yes, I watch Koreanovelas. This is where you can find the series you wouldn't be able to find on Netflix.
OWTO: I have used OWTO many times, and it's simply a good alternative to Grab. Grab, by the way works Y7P, but it requires that you download a 3rd party app repository. More on that later.
Investagrams: If you like learning about investing, this is one of the apps I highly recommend! There's no reason not to download this if you've got a Huawei Y7P.
Booking.com: Booking.com is like a household name for travelers!
ShareIt: If you want to transfer some of you files and resources from your old smartphone to the Huawei Y7P, this is the app to use! It's available on Huawei App Gallery.
TikTok: Everyone's in TikTok nowadays! Whether you're a content creator, a viewer or someone who wishes to connect with big TikTok influeners, make your life complete by downloading it from App Gallery.
Viber: Who doesn't use Viber these days? I have been using it to communicate with friends and clients, and it's very reassuring to know that this application is available for download at the App Gallery.
Facebook: Oh this one's a little tricky! While you can download it from 3rd party app repos, did you know that Facebook has a link that lets you download its latest application? The link you can find in Huawei App Gallery actually redirects you to Facebook's official app download link. Zero harm will happen if you do it, actually.
I used APK Pure to download other apps, and I'm fine with it!
I have been using APK Pure since the time I fully moved from iOS to Android ecosystem a few years ago.
One of the major concerns of consumers is that downloading from 3rd party apps is not secured. This isn't actually always the case as APK files uploaded on these sites are signed and checked by the security measures built into the Android operating system. Each time a new app is installed, HMS has a system that checks for any security issues with the app.
Perhaps, at some point, you used APK Pure or other 3rd party apps in order to download a game that isn't available yet on Google PlayStore.
A few months ago, Call of Duty Mobile wasn't yet available on PlayStore for the Philippine market, and I had to download it via APK Pure. I got the chance to play it way before it was made available for a lot of Filipinos. Black Desert Mobile is downloadable via APK Pure too, and I was able to play it on Y7P without problems.
Today, one of the biggest games that's getting a lot of attention is Dragon Raja. Its console-like graphics and beautiful cutscenes make it worthy of the buzz it has been receiving. The game is not yet available via Google Playstore so I downloaded it via APKPure, installed and played it on the Huawei Y7P. It is very much playable on the said smartphone, and I encourage to try it out!
Google Contacts can be transferred!
This is a major concern among our readers. With the use of Bluetooth, it is an easy way to actually transfer Google contacts from my other phone to the Y7P! WiFi direct method does not work as some phones don't support it yet, but I never had any issues doing the Bluetooth method. What are the steps did I do?
Go to Contacts on your old phone.
Select all contacts and click share.
Share via Bluetooth. Be sure to turn on Bluetooth on your old and Huawei Y7P.
Your old phone should now see your Huawei Y7P. Initiate the transfer.
Accept the connection and transfer request.
Profit
Netflix actually work!
Did you know that you can actually make Netflix works on this device? Again, you can easily do so by downloading the APK files on APK Pure or APK Mirror. There are, however, specific versions that you need to download to make streaming work.
For Netflix, you need to download Netflix 3.16.6 version. This is available at APK Pure but I downloaded the one available on APK Mirror. It works flawlessly.
Giancarlo Viterbo is a Filipino Technology Journalist, blogger and Editor of GadgetPilipinas.net, He is also a Geek, Dad and a Husband. He knows a lot about washing the dishes, doing some errands and following instructions from his boss on his day job. Follow him on twitter: @gianviterbo and @gadgetpilipinas.