Previously teased, Command & Conquer Remastered follows in Warcraft 3's footsteps and gets itself a shiny new coat of Remastered paint. EA confirms a June 5 release for the title, which will include remastered versions of Tiberian Dawn, Red Alert, and all 3 expansion packs in Covert Operations, Counterstrike, and the Aftermath, all priced in a very affordable $19.99 bundle or around PHP1,000.
You can check out the official reveal trailer below:
The release will be a digital only affair, which means that physical copy collectors will have to scramble to get their fix. Enter Limited Run Games to the rescue.
To celebrate C&C's 25th Anniversary, Limited Run Games will be offering pre-orders for a magnificent package that will cost a pretty penny, $149.99 or around PHP7,500. You may check out the contents below: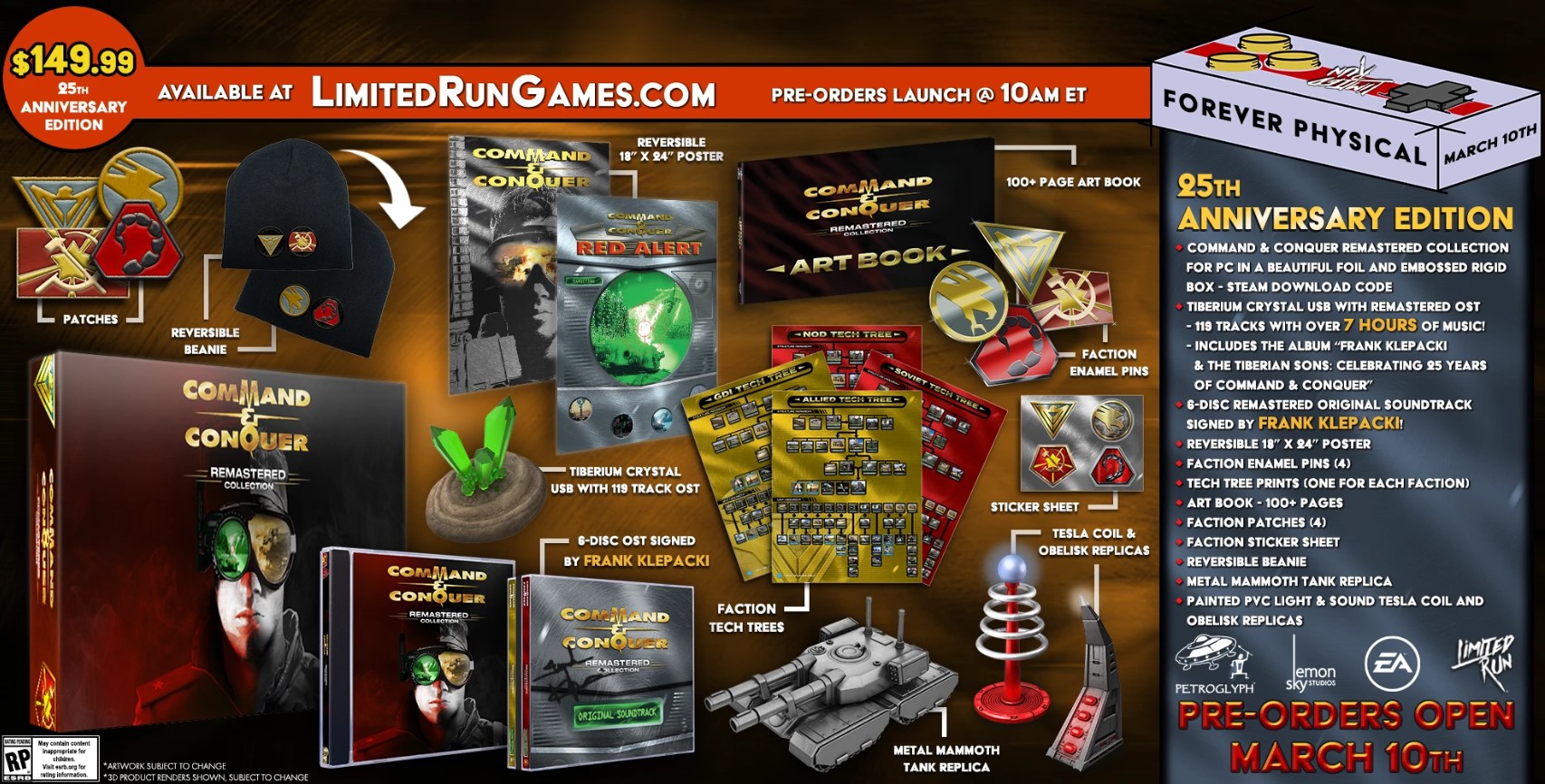 Taken directly from the pre-order page, the 25th Anniversary Edition contains a ton of stuff, including the following items:
COMMAND & CONQUER REMASTERED COLLECTION FOR PC IN A BEAUTIFUL FOIL AND EMBOSSED RIGID BOX
STEAM DOWNLOAD CODE
TIBERIUM CRYSTAL USB WITH REMASTERED OST
119 TRACKS WITH OVER 7 HOURS OF MUSIC!
INCLUDES THE ALBUM "FRANK KLEPACKI & THE TIBERIAN SONS: CELEBRATING 25 YEARS OF COMMAND & CONQUER"
6-DISC REMASTERED ORIGINAL SOUNDTRACK SIGNED BY FRANK KLEPACK!
REVERSIBLE POSTER
FACTION ENAMEL PINS
TECH TREE PRINTS (ONE FOR EACH FACTION)
ART BOOK – 100+ PAGES
FACTION PATCHES
FACTION STICKER SHEET
REVERSIBLE BEANIE
METAL MAMMOTH TANK REPLICA
PAINTED PVC LIGHT AND SOUND TESLA COIL AND OBELISK REPLICAS
Die hard fans of the series will not want to miss this opportunity to get their hands on a piece of history as C&C returns to consume our lives once again.