Introduction
TeamGroup is one of the long-standing names in the memory industry. The brand is known for its value-oriented memory modules, flash drives, memory cards, and accessories – especially in the commercial sector. Apart from their presence in both consumer and commercial, TeamGroup launched TForce, its gaming arm. TForce houses the brand's gamer and overclocker-oriented products. TForce is also a brand were some of their products are deemed trendsetters in the market, especially in the SSD segment. Apart from their famed Delta RGB, the TForce Cardea Liquid SSD is another trendsetter thanks to its patented cooling solution.
Cooling an SSD slowly became a challenge for brands as controllers, flash, and even interfaces push the speed limit. Cooling M.2 Heatsinks remained to be the conventional cooling solution ranging from thermal padded heatsinks to thicker blocks of aluminum or copper. TeamGroup's cooling implementation with the Cardea Liquid turned heads last Computex 2019. It's the first SSD that's liquid-cooled out of the box. Aftermarket SSD water blocks that are connected to a custom loop are available.
The TForce CARDEA Liquid SSD is the third NVMe SSD released by TeamGroup. It uses the same Phison PS5012-12 controller found on the TeamGroup MP34 SSD, which we reviewed last year. It has special water block heatsink attached to the SSD via thermal pads. Is the cooling solution overkill, or is it just right for today's standard? Let's find out
Specifications
Model
TForce CARDEA Liquid
Interface
PCIe 3.0 x4 with NVMe 1.3
Capacity
256GB / 512GB / 1TB
Voltage
DC +3.3V
Operation Temperature
0˚C ~ 70˚C
Storage Temperature
-40˚C ~ 85˚C
Terabyte Written
256GB / 380 TB
512GB / 800 TB
1TB / 1,665TB
Performance
Crystal Disk Mark:
256GB Read/Write: up to 3,000/1,000 MB/s
512GB Read/Write: up to 3,400/2,000 MB/s
1TB Read/Write: up to 3,400/3,000 MB/s
IOPS:
256GB Read/Write: 200K/200K IOPS Max
512GB Read/Write: 350K/300K IOPS Max
1TB Read/Write: 450K/400K IOPS Max
Weight
42g
Dimensions
83.9(L) x 24.3(W) x 14.1(H) mm
Humidity
RH 90% under 40°C (operational)
Vibration
80Hz~2,000Hz/20G
Shock
1,500G/0.5ms
MTBF
2,000,000 hours
Operating System
1. System Requirements:

Windows 10 / 8.1 / 8 / 7 / Vista
Linux 2.6.33 or later

2. This product is recommended for use on desktop computers due to the installation water-cooling module.
A Closer Look
TForce Cardea 512GB NVMe SSD Review 003
TForce Cardea 512GB NVMe SSD Review 004
Packaging of the TForce Cardea Liquid is straightforward – A full picture of the Cardea Liquid SSD with a splash. Moving to the back part is a TForce name explainer with a short spec table of the Cardea Liquid listed below. TForce claims a 10-degree delta with the water-cooling solution.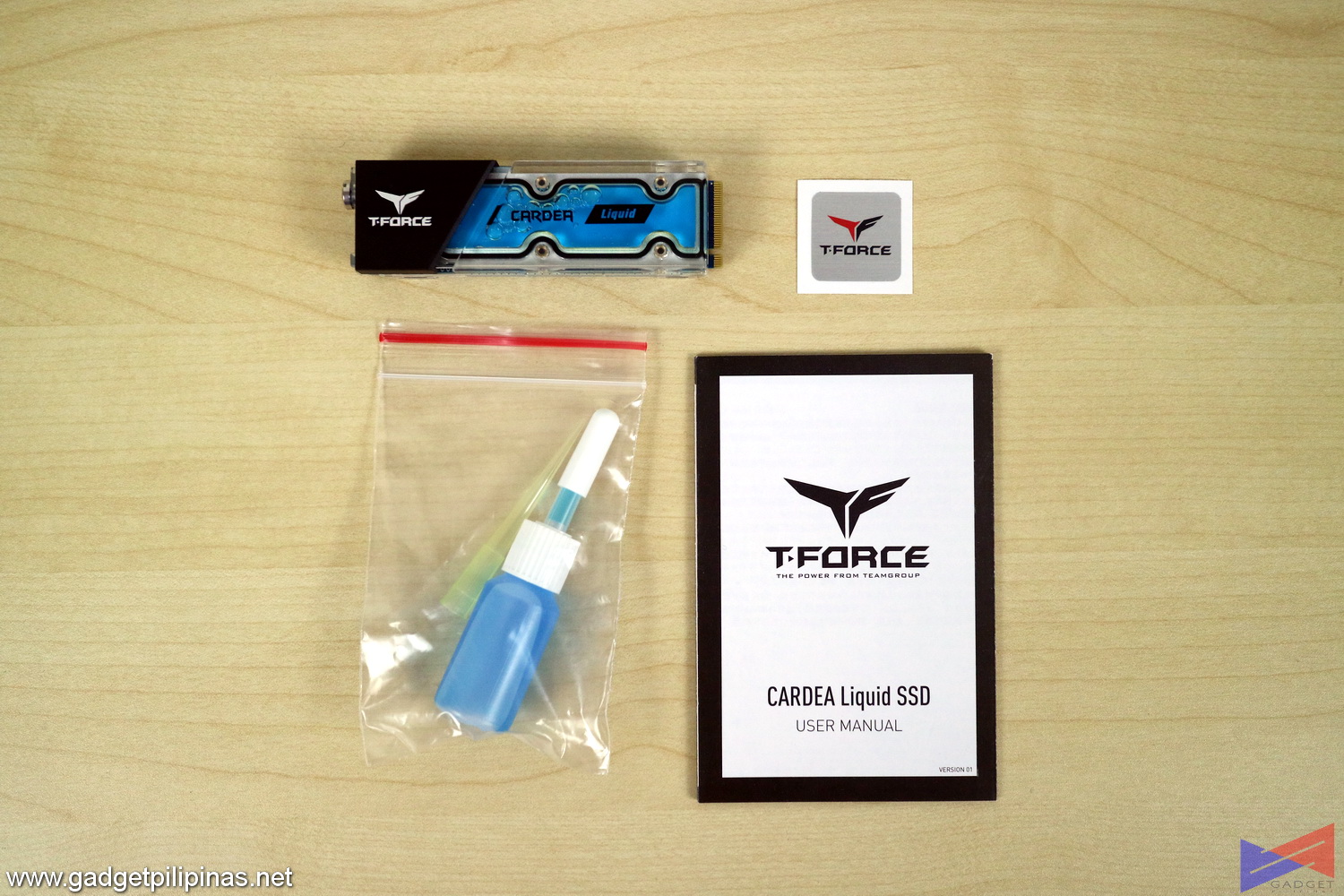 Unboxing the packaging reveals the Cardea Liquid SSD, a sticker, a user manual, and a refill kit.
TForce Cardea 512GB NVMe SSD Review 009
TForce Cardea 512GB NVMe SSD Review 010
The water block is pre-filled and pre-installed on the SSD. The neutral color scheme plus the choice of a light-blue coolant make it easy for the SSD to fit any theme.
TForce Cardea 512GB NVMe SSD Review 017
TForce Cardea 512GB NVMe SSD Review 018
Unlike AIOs, the coolant on the Cardea Liquid is refillable. A small screw seals the fill port. There's an O-ring to ensure a tight seal and prevent leaks.
TForce Cardea Liquid SSD Review 002
TForce Cardea Liquid SSD Review 004
The TForce Cardea Liquid NVMe SSD follows the standard SSD size measuring at 22mm x 80mm. However, it's significantly taller at 14.1mm than a heatsink-less M.2 SSD.
BENCHMARKS
The TForce Cardea Liquid NVMe SSD is subject to a series of benchmarks from different apps to evaluate its performance under specific workloads. Our benchmark run measures throughput, latency, and IOPS to gauge the SSD's performance accurately.
TEST BENCH
Processor: AMD Ryzen 7 3700X
Cooling: Stock Cooler
Motherboard: ROG Strix X570-E
Memory: HyperX Predator 16GB  3200Mhz
Storage: Micron 512GB M.2 SSD | Adata XPG SX8200 Pro 512GB NVMe SSD | TForce Cardea Liquid 512GB SSD
PSU: FSP Hydro 750w 80+ Platinum
GPU: Galax RTX 2070 1-Click OC
OS: Windows 10 Pro Build 1903
THROUGHPUT Performance
Developed by Noriyuki Miyazaki, CrytalDiskMark is a free benchmark tool that is being used by thousands of experts. This tool measures SSD's sequential read and writes speeds. That means how fast files can be read from and written to the drive, usually measured in MB/s.
TForce Cardea Liquid 512GB SSD Review CrystalDiskMark Throughput 1GB
TForce Cardea Liquid 512GB SSD Review CrystalDiskMark Throughput 16GB
Our particular 512GB model is rated for up to 3,400 MB/s read, and 2,000 MB/s write. Using CrystalDiskMark, we were able to get a speed of 2,800 MB/s read, and 2174.7 MB/s write in our SEQ1M Q8T1 benchmark with a 1GB file size. The 16GB file size benchmark tightens the gap between the rated and benchmarked read speed at 3,100 MB/s while maintaining a steady 2170~ MB/s write speed. Consistent performance so far
Moving from sequential to random, the TForce Cardea Liquid performs admirably well primarily in random writes at 2045.27 MB/s, the highest in our product stack.
IOPS Performance
IOPS or Input/Output Operations Per Second measure of how many inputs or outputs an SSD can perform in a short period. IOPS is a useful parameter to measure how fast it can process small amounts of workload that are similar to real-world usage, such as loading a webpage and launching apps.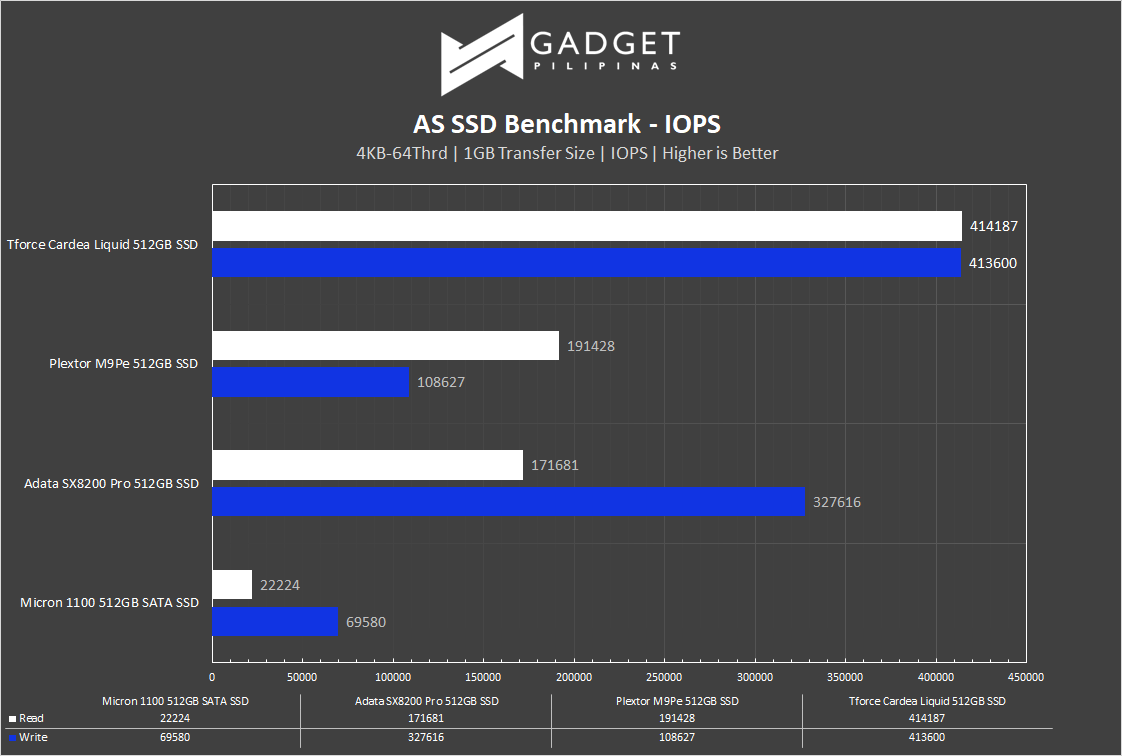 We used AS SSD Benchmark for our IOPS benchmark. Results show the consistent performance of the TForce Cardea Liquid with a value of over 413k in both read and write.
ACCESS TIME
Access time or latency is just as crucial as sequential, random, and IOPS for an SSD. It wraps up all the values from the previous performance and shows the SSD's responsiveness, whether it be small or heavy workloads.
TForce Cardea Liquid 512GB SSD Review AS SSD Access Time 1GB
TForce Cardea Liquid 512GB SSD Review AS SSD Access Time 10GB
The TForce Cardea Liquid has a slower read access time versus the popular Adata SX8200 Pro but takes revenge by having a faster write access time.
TForce Cardea Liquid 512GB SSD Review AS SSD Copy Speed
TForce Cardea Liquid 512GB SSD Review AS SSD Copy SSD
AS SSD's Copy benchmark simulates copying various file types namely, ISOs, Games, and applications.
TEMPS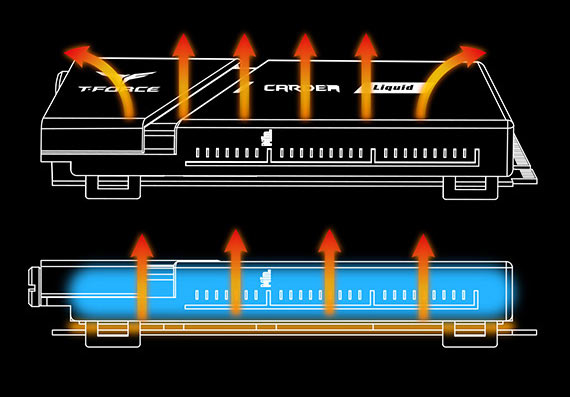 Unlike any other water-cooled setups which require a pump and a radiator for an effective heat transfer, the TForce Cardea Liquid relies on a vapor-chamber-like design. Its water block separates into two chambers for a self-circulation effect similar to air coolers. The coolant absorbs heat from the controller and flash memory via the aluminum heatsink and the thermal pad. Once the coolant gets hot enough, it travels to the second chamber to cool down, hence the small vents on the side of the water block. It also uses a low-boiling point liquid for an effective heat transfer as opposed to using water with a 100c boiling point.
Using water as a means of heat transfer significantly improves its thermal performance. Teamgroup's claim of up to 10c cooler on their marketing material holds as seen in our temperature graph. The TForce Cardea Liquid has the lowest idle temperature with a slightly higher max temp compared to the Micron and Plextor SSDs. The Micron 1100 SSD is SATA, which makes it naturally cooler versus NVMe SSDs. While the Plextor M9Pe is an NVMe PCIe SSD, its heatsink has the largest density and dramatically benefits from airflow.
That said, the 1:1 competitor of the Cardea Liquid is the SX8200 as it has the same form factor and is only cooled by a heatsink attached via a thermal pad. There's a 7c and 17c temperature delta thanks to the Cardea Liquid's cooler.
CONCLUSION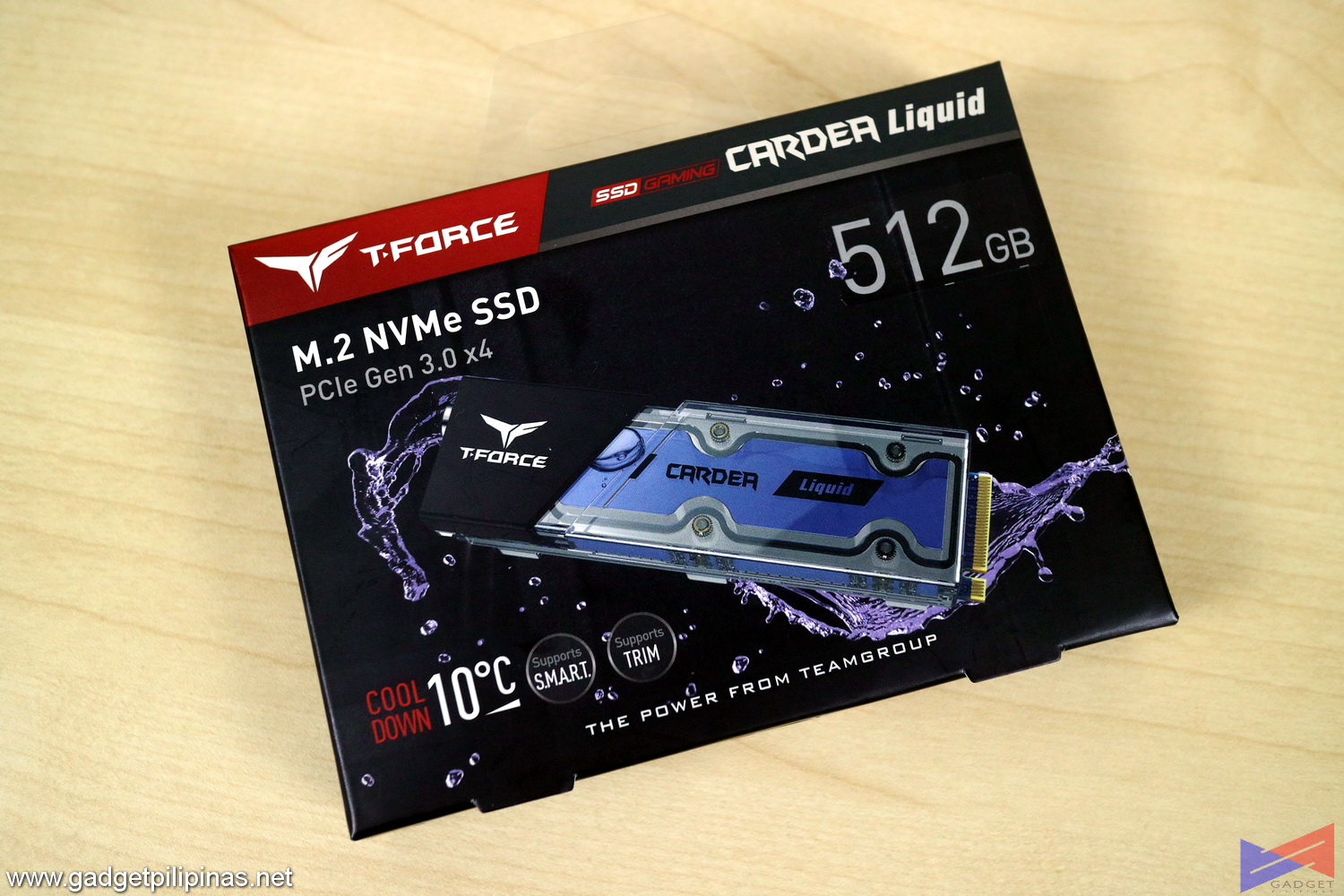 Performance-wise, the TForce Cardea is one tier above the average NVMe SSDs available today. Its main asset does not rely on sequential, random, IOPS, or responsiveness, but instead on the drive's consistency in the metrics mentioned above. The water block removes the thermal issues that most SSDs face that results in crippled performance in the long run. In addition to that, it solves the heat issue stemmed from most motherboard manufacturers by their absurd M.2 slot placement. In a typical system, M.2 slots are positioned above or below the first PCIe slot where the graphics card sits, resulting in a higher ambient temp. Placement is not an issue for the Cardea Liquid as its cooler is more than enough in cooling the SSD.
Applying a water block in PC components is a double-edged sword as it places some drawbacks. Once water is involved, there's always a risk of leaking, which could fry your SSD, or worse, your motherboard and graphics cards. Moreover, Cardea Liquid's height due to the added water block automatically removes the option of installing the SSD on a laptop, let alone ultrabooks. Though the Cardea Liquid uses an M.2 slot leaving your PCIe slots free for any additional add-in cards.
It's worth noting that PCIe Gen 3.0 SSDs does not give the water block justice as its almost overkill in cooling the Cardea Liquid. It seems that TForce is one step ahead in the market as they may have solved PCIe Gen 4 SSD's extreme heat issue. Like the TForce Delta RGB SSD, the Cardea Liquid is a trendsetter for Gen 4.0 SSDs in terms of cooling.
In a nutshell, the TForce Cardea Liquid may not be the fastest PCIe Gen 3.0 x4 NVMe SSD in the market, but it is one of the coolest SSDs available to date. But does that translate to a must-have? If temps are of priority for your system, then getting the TForce Cardea Liquid is the practical choice versus purchasing a third-party water block and larger heatsinks. Furthermore, TeamGroup bundles the TForce Cardea Liquid with a 5-year warranty for your peace of mind.
Grant is a Financial Management graduate from UST. His passion for gadgets and tech crossed him over in the industry where he could apply his knowledge as an enthusiast and in-depth analytic skills as a Finance Major. His passion allows him to earn at the same time help Gadget Pilipinas' readers in making smart, value-based decisions and purchases with his reviews and guides.