Samsung Galaxy S20 Ultra is now official and as the most powerful smartphone to date, we thought that it's but proper to pit it against ASUS powerhouse, the ASUS ROG Phone 2.
While Samsung does not need to promote S20 Ultra as the ultimate gaming smartphone, it has the obvious set of specifications to be labeled as one. 7nm processor with powerful ARM-powered graphics processing unit, 120Hz display and 5000mAh battery. Specs-wise, does it really have what it takes to actually topple the reigning fastest smartphone in the market? We think so, but it takes the right amount of time and benchmarking activities to out judgement, which we have not done yet.
For the purpose of reference, here's a quick run of specs comparison of both devices:
Galaxy S20 Ultra
ASUS ROG Phone 2
Display
6.9-inch Quad HD+ Dynamic AMOLED 2X
6.59″ FHD+ AMOLED
511 ppi
391 ppi
HDR10+ certified
Not HDR10+ certified
120Hz display support
120HzHz/1ms
Rear
Quad Camera
Dual Camera
Ultra Wide: 12MP, 120°, f2.2
Ultra Wide: 13 MP, f2.4
Wide: 108MP, 79°, f1.8
Wide: 48 MP, f1.8
Telephoto: 64MP, 24°, f3.5
Depth Vision
Space Zoom
Hybrid Optic Zoom 10x
Super Resolution Zoom up to 100X
Front
Selfie: 40MP, 80°, f2.2
Selfie: 24M, f2.2
Dimension
166.9 x 76.0 x 8.8mm, 220g
171 x 77.6 x 9.5 mm
Processor
Exynos 990
Qualcomm SDM855 Plus 2.96Ghz
GPU
Mali G77 MP11
Adreno 640
Memory
12GB RAM (LPDDR5)
12GB RAM (LPDDR4X)
128GB internal storage
1TB internal storage
Micro SD Slot (up to 1TB microSD)
Micro SD Slot (up to 1TB microSD)
Battery
5,000mAh
6,000mAh
5G
Non Standard (NSA), Sub6
N/A
Authentication
Lock types: pattern, PIN, password; Biometric lock types: Fingerprint, Face recognition
Lock types: pattern, PIN, password; Biometric lock types: Fingerprint, Face recognition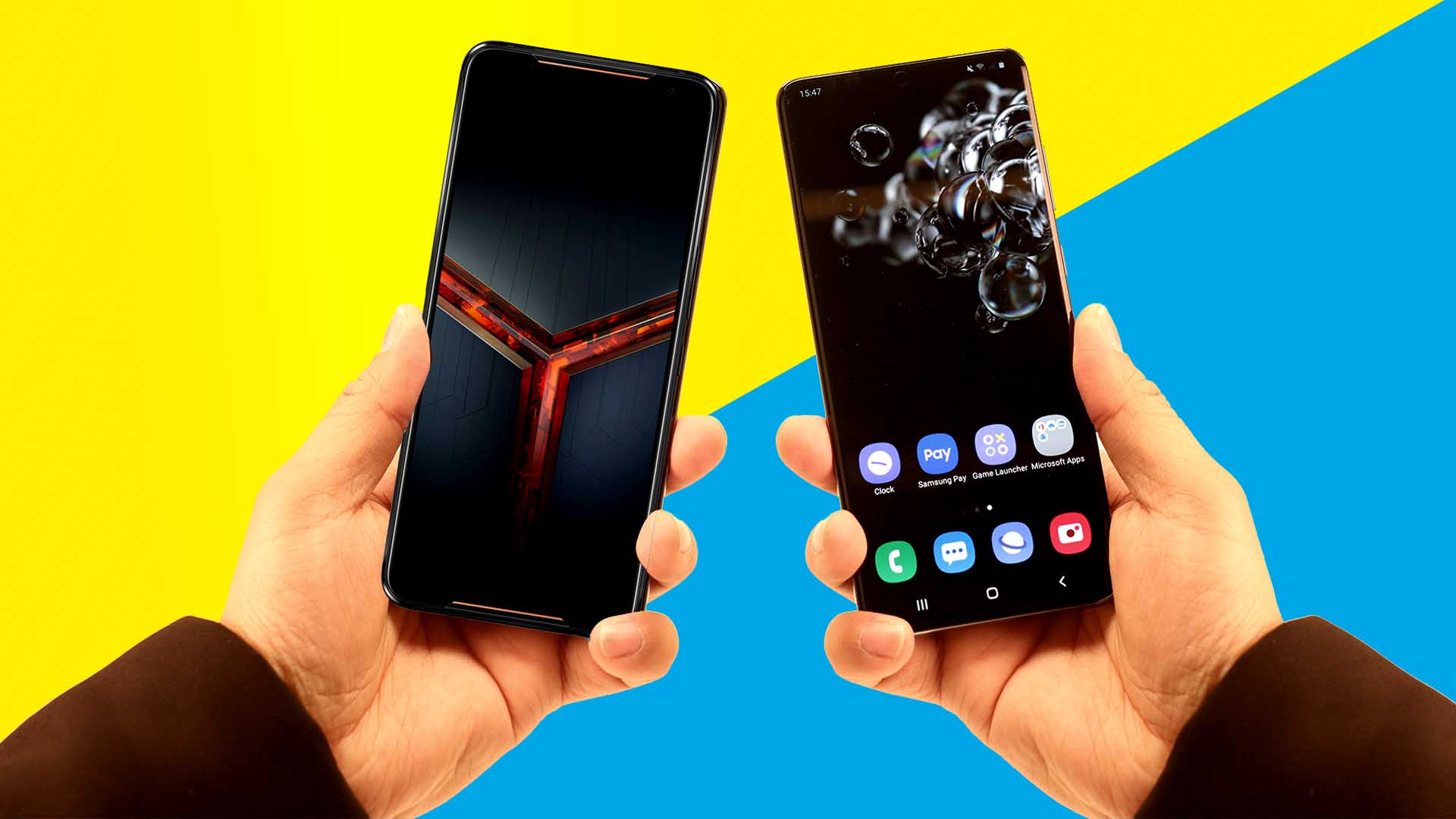 Now, here's what we can say about the specs comparison chart above:
On paper, Exynos 990 is a superior and smarter processor despite its size. It also natively supports 5G in various configuration.
The Ultimate ROG Phone 2 has better internal storage setup than S20 Ultra. Just how many videos and games can you fit in ROG Phone 2's 1TB storage?
S20 Ultra features a more powerful and modern RAM configuration – LPDDR5 vs LPDDR4X.
Galaxy S20 Ultra's Mali G77 is a new GPU, and we won't really know if it's better than ROG Phone 2's Adreno 640.
Galaxy S20 Ultra, overall, has better display than ROG Phone 2. It is also HDR10+ certified, so it's far better especially for content producers.
By a huge margin, we can already tell that Galaxy S20 Ultra's camera set is better than ROG Phone 2's. From sensor down to features, Galaxy S20 Ultra is better in this department.
ROG Phone 2 is cheaper than Galaxy S20 Ultra. If you're looking for a flagship smartphone device that's built for gaming, offers more to the table with its offer price. If, however, you are into professional content creation, you'll never go wrong with Samsung Galaxy S20 Ultra.